Paso Robles couple says landlord covered up unhealthy mold problem. So they sued
Image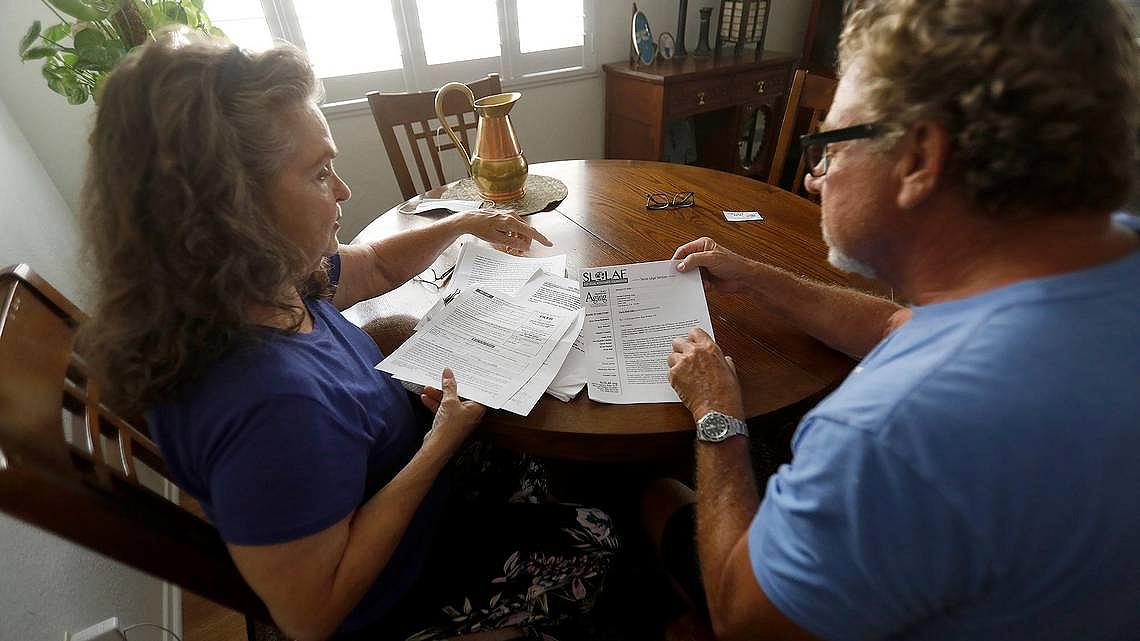 LAURA DICKINSON LDICKINSON@THETRIBUNENEWS.COM
Published on
October 9, 2020
Editor's note: This story is part of The Tribune's monthlong "Substandard of Living" series examining the experiences of low-income renters living in poorly maintained housing in San Luis Obispo County. The Tribune spent nine months investigating the issue by talking to residents, conducting surveys, speaking to experts and evaluating government resources.
Many San Luis Obispo County tenants struggle with substandard housing — and find it challenging to relocate if landlords are unwilling to make needed repairs at their rentals.
As part of a nine-month investigation, The Tribune and the Promotores Collaborative of San Luis Obispo County surveyed nearly 200 tenants online and in-person to learn more about their housing conditions.
While the investigation focused on the most vulnerable communities, people of color, undocumented immigrants and residents who primarily speak a language other than English, those weren't the only people who reported poor living conditions in local rental housing.
Substandard conditions can also impact retired residents living on fixed incomes.
Although they may have an easier time finding rentals, moving can be expensive, and landlords can easily take advantage of older residents with limited funds.
One Paso Robles couple sued their landlord in San Luis Obispo County Superior Court after they moved out of their mold-infested rental home, spending thousands of dollars to relocated after only two months when the landlord wouldn't fix the problem, they said.
'I DON'T KNOW IF YOU WANT TO LIVE HERE'
Soon after retirees Mike and Linda moved into their Paso Robles house in December 2019, they began to smell mold nearly all the time. The couple didn't notice the smell when they came to view the property, they said, as the person showing the house kept the windows and doors open during the visit.
The Tribune is not using Mike and Linda's full names to protect their privacy and prevent retaliation.
Mike and Linda also smelled something sweet, which they later suspected was perfume meant to cover up the scent of mold.
Linda mentioned the moldy smell to a neighbor, who told them about a flood that had occurred at the house when the previous tenant was out of town and showed them mold growing on the walls in the garage.
The couple told their landlord, who hired a mold doctor to inspect the house. But the landlord initially wouldn't provide them with a copy of the inspection report.
"He came over and said, 'I don't know if you want to live here,'" Linda said. "I said, 'I don't know where I would go. And we will work with you. If it's back in one end of the house, we'll sleep in the other bedroom. You can section it off with the tarp that they do, take care of it.' I never asked him to lower the rent. I truly was going to work with him."
But Linda later fell ill, went to the emergency room and was diagnosed with pleurisy. She said her doctor advised her to leave the house if she could.
Once they finally received the mold doctor report, they realized the house needed extensive work to remediate the problem in the home's two bathrooms. The landlord was willing to paint the garage and make minor fixes, they said, but he wouldn't complete the more comprehensive work the report suggested.
The couple decided to move out, but the new house they found cost $200 more per month than their current house.
They had to borrow money to cover the cost of moving, which added up to thousands of dollars between the extra rent and hiring movers — which was essential for the couple because Mike was preparing to have back surgery, which meant he was unable to do the heavy lifting that occurs during a move.
Image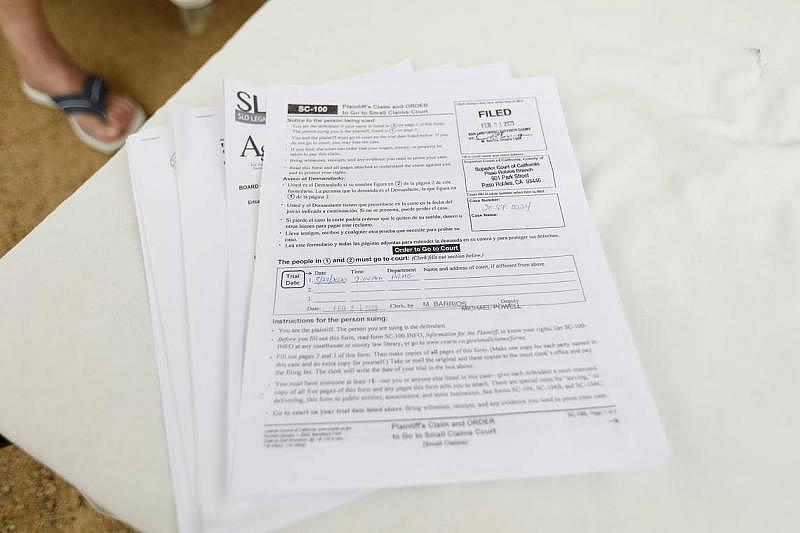 FINDING LEGAL HELP
A woman Linda knew at the Albertsons grocery store told her about the San Luis Obispo Legal Assistance Foundation and encouraged her to call and ask for help.
"That was a weight off, when we had somebody in the legal position that understood it to help us," Linda said. "I wasn't as scared. I was pretty terrified living there. And once I got sick, it was really bad."
A lawyer from the nonprofit wrote a letter to the landlord on their behalf, requesting moving expenses.
Linda also took a class offered by California Rural Legal Assistance to learn more about her rights as a renter and to understand how much money she was legally entitled due to the move.
Eventually, the couple filed a small claims case against their landlord asking for more than $4,000 in moving expenses, fees and deposits.
Linda and Mike provided The Tribune with copies of the mold doctor report and the letter a SLOLAF attorney wrote on their behalf.
The Tribune reached out to the couple's landlord, who declined to comment "in light of the pending legal action initiated by (Mike and Linda), which will shortly resolve these issues and bring to light the inaccuracy of (their) allegations," Justine Cannon, his attorney, wrote in an email.
When asked what inspired them to sue their landlord, Mike said it was "just the whole incident."
"From the cover-up and the perfume everywhere, trying to cover up the mold everywhere," he said. "And then when the report finally came out and he wouldn't give it to us and he wouldn't give it to us, then he finally did. And we saw it and said, 'We're out of here.'"
The couple's suit is still pending. Court records show they're expected to receive a ruling in October — months after they left their old house.
Ultimately, Linda thinks it's important for both landlords and tenants to have respect for each other. Linda called the relationship a "two-way street" and said she and Mike show the same regard for their rentals as they did for the Southern California home they owned for decades.
"If he knew there was mold and he didn't fix it, he covered it up, that was disrespectful to whoever rented that place," Linda said. "And I know not every tenant is respectful of property that they don't own. But we owned our house for 30 years — we treated it exactly the same way."
[This story was originally published by The Tribune.]