Pittsylvania board member who raised questions ends up suspended by state
Image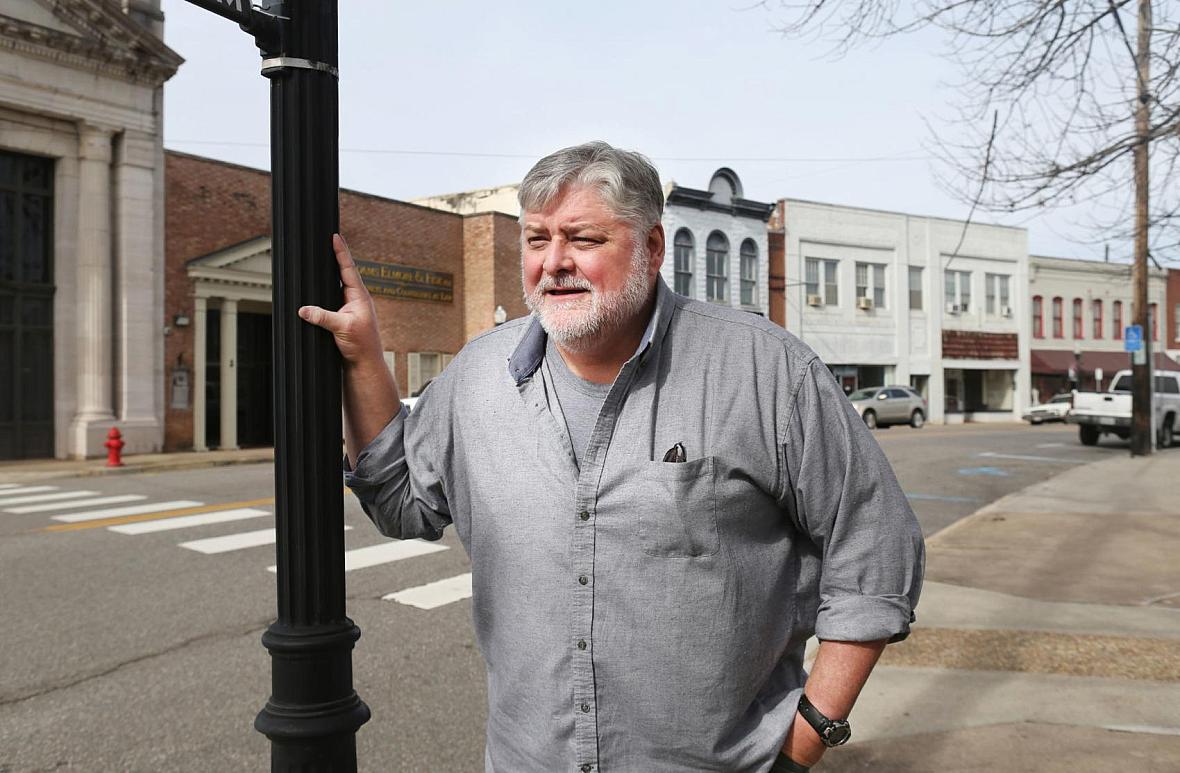 Published on
February 29, 2020
CHATHAM — Ron Scearce was the newest member of the Pittsylvania County Department of Social Services board when he strolled through the office handing out business cards in August 2017.
Soon after, he started receiving anonymous phone calls from unhappy department employees.
What followed over the course of the next 18 months would roil a divided Pittsylvania community. The ongoing debate about the work environment at the county's social services department led to the firing of its director, Sherry Flanagan, who has filed a defamation and wrongful termination lawsuit against the county and Scearce. Four employees filed their own lawsuit three months later, claiming a hostile workplace and an unfair grievance procedure that ultimately led to what they described as forced resignations.
The turmoil also resulted in investigations into allegations of a toxic work environment at the department, first by the local social services board and later by state commissioner Duke Storen, that did not support that conclusion. Eventually, Scearce was temporarily suspended from the local board by the state board of social services, an unprecedented step by state officials denounced by the Pittsylvania County Board of Supervisors chairman, who charged overreach by the state board into local affairs.
At its heart, the events in Pittsylvania County centered on questions of oversight for local departments of social services. The conflicting roles of the state board, the social services commissioner, local board members, members of the board of supervisors and the local director came under scrutiny.
Virginia's social services system has grappled with these questions for years. Pittsylvania County served as the latest example of what can happen when those questions continue to go unanswered.
In addition to the state and regional social services offices, oversight of a local agency comes from a local governing body and the local social services board. City councils and county boards of supervisors appoint members to a local social services board and review the annual budget for the department. These governing bodies also have the ability to suspend or remove any local board member for cause, according to state law.
Some boards — as in Pittsylvania County — are considered administrative boards, which means they provide direct oversight to the director and the department, according to the state's local board member handbook.
Administrative boards are responsible for monitoring and reviewing the performance of a local department. The board in most cases also hires the local director and provides an annual performance review.
The local board member handbook does not provide specific protocols for engaging with citizens, hearing concerns or responding to them. Many local boards provide a period for public comment near the beginning of the meeting, but the handbook does not require it. Board members are instructed to serve as champions for citizens and represent those in need.
"Local board members perform work under the premise that an educated, engaged board is best prepared to represent and advocate for the community's citizens," the handbook reads.
But the handbook also specifically tells board members to "serve as a champion of the agency" and "enhance the public image of the LDSS," while also being publicly accountable for local social services.
The contradictory directives can make it difficult for board members to determine whom they represent — the citizens or the agency.
Scearce, who is also a member of the Pittsylvania County Board of Supervisors, said he was caught in the middle of confusing directives from the state about the nature of a local board member's role.
He said he heard from more than 20 employees about their experiences working at the local social services department under Flanagan.
The Roanoke Times contacted half of these employees, but each declined to speak on the record for fear that Flanagan could retaliate against them.
"I just can't believe they're still thinking that she's going to have some way to affect their life," Scearce said. "I've never come across anything like that. I've been in war zones and never seen the kind of stress these people were under."
The former employees never spoke publicly before they filed their lawsuit, which has since been withdrawn. Though Scearce brought the grievances to the public's attention during board meetings, the silence from the former employees created doubt in the community over whether a hostile work environment existed in the local agency. The employees who did speak publicly consistently said positive things about Flanagan and her department.
With furor growing in the county and on social media, the board of supervisors chairman sent a letter to the social services board asking for an independent investigation of the department in February 2018. It conducted a brief investigation through closed board meetings and interviews with several employees. The board returned a letter saying it did not uncover any specific allegations.
In April, the local social services board accepted an offer from commissioner Storen to visit Pittsylvania County after several months of volatile social media posts and the community's calls for an investigation. Storen sent an anonymous online survey and conducted in-person interviews to assess whether there was a hostile work environment at the office. The survey was sent to current employees of the office and about 80% participated in either the survey or the interviews. Using the results, and without speaking to any former employees, the state department determined there was no hostile work environment.
The survey results showed that 35% of the employees who responded said they felt only partial or no support in their job from their colleagues or management. About 25% of the respondents said they did not feel valued. And 40% said they did not think there were any opportunities to move up or believed that some people had been preselected for promotions.
In an interview in February, Flanagan said she was not overly surprised by the results of the survey.
"You're always going to have a percentage of people that are never happy," said Flanagan, who was the department's director for nine years. "You can put the golden sidewalk down and it's still not going to be OK. To some degree, I never want anybody to not feel valued and I never want anybody to not feel good about themselves, but there are certain parts of our jobs that we're not thrilled with."
The state's assessment also included a list of state mandates the agency did not meet, including its "high" number of foster children placed in nonfamily group homes. In April 2018, about 25% of the department's foster care children were placed in these settings. The state's target is less than 16%.
The agency was able to complete visitation with family members, which is crucial to reunification and healthy ongoing relationships, only about 25% of the time. Additionally, no staff person had completed 100% of the mandated training in their respective program areas.
The report delivered these statistics with the caveat that these problems are common across the state and Pittsylvania County was performing better than other agencies in the region. The report said the agency was "a solid local department of social services."
The board of supervisors issued a letter in response to the state assessment requesting the social services board create a corrective action plan to address each concern within 30 days. The letter also requested the local board relinquish control of the department's finances and human resources to the county administration, which it eventually did.
Scearce said he was disturbed by the findings, and at a board of supervisors meeting in July 2018, he directed people to the social media pages of Henry Hurt and Vic Ingram.
Ingram and Hurt posted more than 100 updates on Facebook about their own investigations into the department that garnered thousands of comments. Ingram is a retired sheriff's deputy who previously worked with the department on child protective services investigations. Since the events regarding social services, he has been elected to the county board of supervisors. Hurt is a county resident with no direct connection to social services.
Hurt and Ingram chronicled alleged incidents of gambling in the office, employees not showing up to work on Fridays, forced resignations and inappropriate Halloween costumes, including one employee dressed as Lorena Bobbitt, a woman who became famous for severing her husband's penis. Social media posts — including one with photos provided by a former employee — said the costume included a bloody knife and dildo. The allegations later appeared in the lawsuit filed by four former employees.
Flanagan denies numerous allegations in the lawsuit and claims the false information was an effort to destroy her reputation in the community. The lawsuit quotes social media posts and comments concerning gambling, a hostile work environment and Halloween costumes, and one insinuating proper services weren't being provided to residents, but states all of the facts in these posts were false.
After social media posts and news articles continued to create division in the county, commissioner Storen asked the state board of social services in August 2018 to open an investigation into Scearce.
"The representative on the board of social services from the board of supervisors, in my observation, has been actively disparaging and working against the local department of social services," Storen said at the meeting. "The board of supervisors has not been acting in the best interest of the social services department."
The state board had just wrapped up its investigation into Rockbridge County, where it determined local board members were not negligent and did not need to be removed. In the years prior, the state discovered a Rockbridge County child protective services supervisor shredded child abuse complaints before they could be investigated. Two children died after the Rockbridge County department failed to remove them from unsafe homes and two other children suffered horrific sexual abuse.
The state board wrote a report that claimed the Rockbridge County board members had acted passively, but they didn't know how to act as a board because they weren't properly trained by the state. Training for local board members became a requirement in 2018.
At that same meeting, the state board agreed to investigate Scearce. It was only the second investigation the board had ever done into a member of a local social services board.
Two weeks later, the Pittsylvania County Board of Social Services voted to fire Flanagan.
"The state supported my actions as a director," Flanagan said. "The state protected the work I was doing. After our assessment they felt that I had been exonerated and our agency was in good working order. And we were excited to move forward. But unfortunately, members on my board were still not satisfied and I'm still not sure with what."
The day after Flanagan was fired, the board of supervisors, county administrator and county attorney received a notice of injunction relating to a Freedom of Information Act request Flanagan filed. Soon after, she filed a lawsuit against Scearce, Ingram, Hurt and members of the social services board for defamation, First Amendment retaliation, wrongful termination and due process violations.
Flanagan, who now works as a trainer and instructor with the state social services department, said she was fired with no explanation. Her $4 million defamation and wrongful termination lawsuit says her termination was a direct result of a "stigmatizing and defamatory public smear campaign" intended "to rally county community members to advance a political agenda to weaken DSS autonomy and authority."
Flanagan's lawsuit is pending in U.S. District Court in Roanoke.
The four former employees filed their own lawsuit against Flanagan and the board of supervisors, saying they failed to protect them from a hostile work environment because of an inadequate grievance procedure.
The employees stated in their lawsuit that Scearce became the go-to person for issues at the agency because the social services board was not involved in monitoring the department.
The lawsuit called Storen's survey "little more than a cover-up" and compared Pittsylvania County's situation to the one that unfolded in Rockbridge County.
"The record of numerous grievances sought could have been an early-warning sign, like the canaries in a coal mine, predicting the potential of a crisis that was becoming apparent, if not lethal," the lawsuit said.
The employees' lawyer requested the lawsuit be dismissed, which she said was at her clients' request. The employees later refuted this and requested a judge reverse the decision, but the dismissal was upheld in October.
Flanagan spoke to members of the state board of social services at their meeting in October 2018 and told them it was too late for her, but asked that they continue their investigation so something similar couldn't happen to another social services director.
"I want to give my personal thanks to the commissioner and the state," Flanagan said. "I can tell you that they were an advocate for the department. But as long as a locality can come in, and if they choose not to like social services, or they choose not to like the services we offer, they can choose to come in and there is no protection for a local director."
In December 2018, the state board took an unprecedented step and voted to temporarily suspend Scearce from his duties on the board. It was the first disciplinary action the board had ever taken. It planned to reconvene and further discuss the issue at the next meeting, but by that time, Scearce had vacated his seat on the social services board and a new supervisor was appointed.
Unlike the investigation into Rockbridge County, the state social services board did not issue an investigative report detailing its findings related to Scearce's removal. An email to fellow board members from then-chairman Danny Avula, who was not present at the December board meeting, said he did not think the board had cause to remove Scearce.
"Ron Scearce acted in ways that created a great deal of turmoil and heartache for a handful of current employees of Pittsylvania DSS," he wrote. "He engaged the media actively — both mainstream media and individuals with social media platforms — which resulted in a very public, and very contentious, community conversation about the state of an agency that he had oversight of. That said, he was very careful with his language, and did not badmouth specific employees in his emails and social media posts. He seemed to be using the media to raise public awareness about an agency that, in his opinion, had severe administrative and cultural issues."
Scearce received a letter dated Jan. 2, 2019, informing him of his suspension. He said he thought the board expected him to be a cheerleader for the department, and when he wasn't, he was punished.
"They tell you in the training that's what you're there for, as an administrative board, accountability and oversight," he said. "I raise my hand up and say we need to fix this and I get suspended for it."
Avula said in his email that Scearce could have accomplished his goals by working more closely with his fellow board members behind the scenes. He said he didn't agree with his tactics, "particularly his engagement of the media."
"He became a safe place for employees who were having a difficult time at DSS to go, which seems like an inappropriate role for a board member to play," Avula writes. "However, it was happening with enough volume and frequency that I see how it fueled his sense of urgency to take action."
Scearce said he was disgusted with the state board's decision and procedure. He said when he first brought forth the allegations, they should have been investigated immediately, but local and state authorities dragged their feet.
Now, Scearce said he believes authority over a social services agency should rest with local officials.
"It's obvious Richmond isn't keeping a good eye on them," he said. "When a locality doesn't have a lot of input, and you got these deep departments that are semi-separated from your county, there's not a whole lot you can do."
Flanagan said she believes the opposite. She said the situation in Pittsylvania County demonstrates that when one person doesn't like the direction of the department, they can wreak havoc.
She said she thinks the state should have more power to ensure a locality is driving the agency in the right direction — from administration all the way down to services. A decision to fire a director should require collaboration between the state and the locality, she said.
"They can come in and turn everything upside down," she said. "And you have no protection as a local director."