Plaintiffs demand a halt to discrimination on SSI in Puerto Rico
Image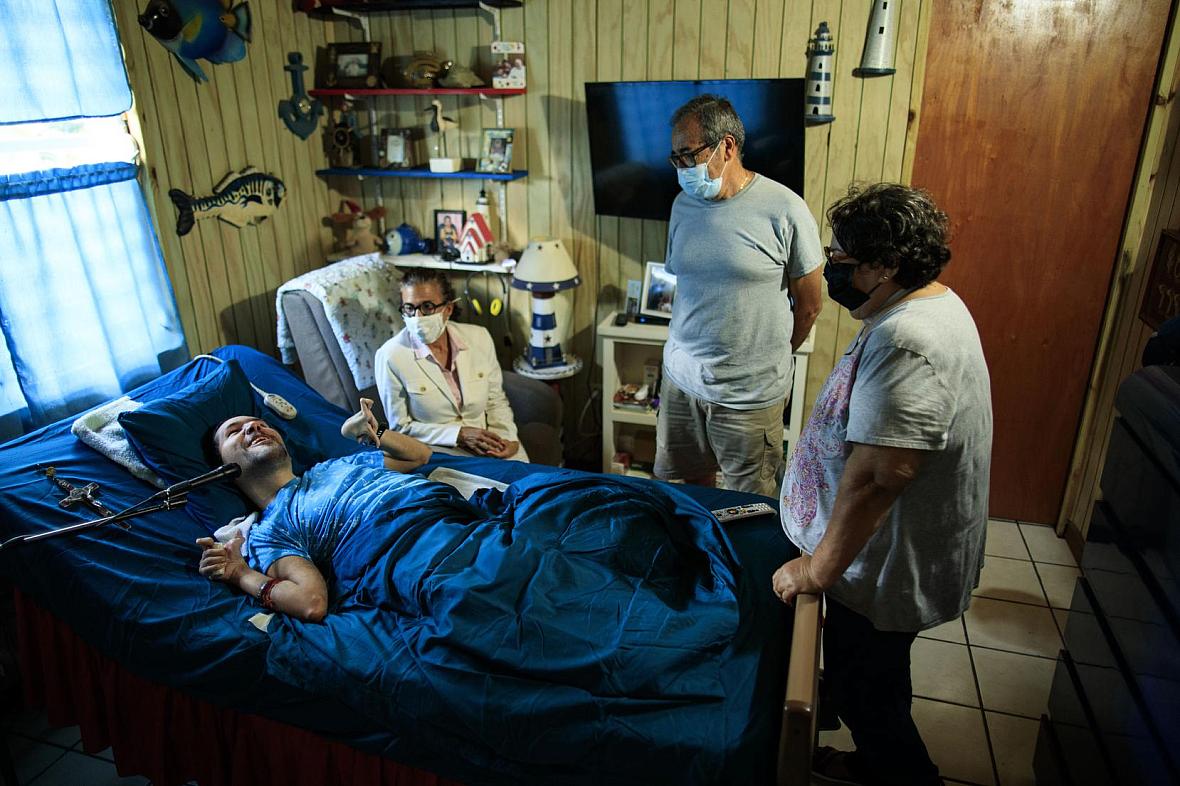 Published on
June 5, 2022
He was born prematurely and without prenatal care. Emanuel Rivera Fuentes has lived his 36 years bedridden due to multiple conditions, among them cerebral palsy, severe reflux, dislocated hips, and scoliosis.
When he contracted COVID-19 several weeks ago, his family grew concerned. Days before, he had been hospitalized due to a mycoplasma infection and, with his other diagnoses, even a common cold could become complicated.
Emanuel and 11 others, including his mother, Gladys Fuentes Lozada, filed a class-action lawsuit against the Social Security Administration (SSA) to seek access to the Supplemental Security Income (SSI) program, which provides federal benefits to individuals with limited incomes who are disabled, blind or elderly. Puerto Ricans have been excluded from the program since Congress created it in 1972.
The U.S. Supreme Court carried out a further killing blow 50 years later when, in a resounding majority decision, it upheld Congress's discrimination against Puerto Rico residents.
On April 21, the Supreme Court resolved the case of José Luis Vaello Madero, who, after moving from New York to Puerto Rico when he fell ill, continued to receive SSI benefits. Upon learning about the move, the SSA demanded that Vaello Madero repay $28,081 in SSI benefits that he had received while living on the island.
The Supreme Court ruled against Vaello Madero, holding that the federal Constitution's Territorial Clause grants Congress the power to extend a social welfare program or not, without any obligation to do so. It also determined that the exclusion of Puerto Rico residents from the SSI program does not represent a constitutional violation of the Fifth Amendment's Due Process Clause since island inhabitants usually do not pay the same taxes as residents in the states.
Emanuel's lawsuit —a situation that El Nuevo Día has covered since 2019— was filed before the Federal Court for the District of Puerto Rico on August 26, 2020, but since then has been hobbled due to the Vaello Madero controversy, which at the time was being reviewed by the Supreme Court.
Isabel Abislaimán, a lawyer in Emanuel's lawsuit, reiterated before the court that her case differs from that of Vaello Madero.
On May 13, Abislaimán filed an amendment to the lawsuit to emphasize that the SSI exclusion of US citizens residing in Puerto Rico violates the Fourteenth Amendment, specifically the Citizenship Clause, which states that "all persons born or naturalized in the United States, and subject to its jurisdiction, are citizens of the United States."
"I have tried to address the argument by separating the concepts of what is a territory and what is being a citizen within the territory," the lawyer said in an interview with El Nuevo Día.
A claim out of necessity
Emanuel was born at the Bayamón Regional Hospital when his mother was five and a half months pregnant. His health has been a challenge ever since. A lack of oxygen when he was prematurely born caused brain damage and a complicated clinical picture that has kept him bedridden. Despite this scenario, Abraham Rivera Berríos, 71, and Fuentes Lozada, 66, did not hesitate when a social worker called them to answer their request to adopt
It was a decision the couple made after undergoing six miscarriages. They wanted to give a home to children in need, even those with special conditions. Overcoming all medical predictions, the newborn survived the initial setbacks. At three months, he weighed just over three pounds instead of a normal 11 pounds. Abraham and Gladys say that during his first year, Emanuel cried almost continuously, day and night, in part because of the effects of his biological mother's drug addiction while pregnant.
"It was a critical time. He almost died on us more than once," Abraham recalled.
Under the care of his adoptive parents, Emanuel studied at a specialized school and received services at SER de Puerto Rico, a non-profit. Radio and television have also served as his school alongside his maternal grandfather, Juan Ramón Fuentes.
"He learned to speak, to listen, he sees, he is alert… his passion is wrestling, politics and religion. Emanuel even votes," said Abraham, who commented that the family even accepted a doctor's recommendation for them to move to the countryside to lead a calmer life, with cleaner air.
Within the complicated situation that the Rivera Fuentes family is experiencing, Gladys' deteriorating health has exacerbated matters.
Before Emanuel, the couple had adopted Brenda Margarita, who suffered from intellectual disability, blindness, epilepsy, and schizophrenia. The family grew again when Gladys became pregnant with Francheska María.
Abraham had to stop working to take care of his children full-time, since Gladys was also looking after her father, who got cancer and died shortly thereafter. Gladys then cared for her Alzheimer's-afflicted mother for a year, until one day in 2014 when she sneezed blood, and her daughter Francheska took her to the hospital.
Gladys was hospitalized for over four months after several respiratory arrests in addition to kidney damage. Since then, her health has deteriorated further. She is a kidney patient with diabetes, hypertension, gout, vision loss, sleep apnea, and diabetic neuropathy. She also receives dialysis four times a week, has a tracheotomy, and must always carry a suction machine. One of the most recent blows was the death of Brenda Margarita, on March 16, 2020, of a heart attack.
"In Puerto Rico, there are hundreds of people with different health conditions. Not being able to claim (SSI) is like not being there. The only way to ask for it is to sue the government," Abraham said.
On May 5, 2019, Abraham went to the SSA office in Plaza Los Palacios, in the municipality of Toa Alta, to apply for SSI on behalf of Emanuel and Brenda Margarita. Although local management informed him that they did not qualify because they lived in Puerto Rico, Abraham insisted and filled out an application.
After following up on the request by phone and through letters, he finally received confirmation that the SSI benefit did not apply in Puerto Rico. A little over a year later, with the certainty that his son meets the eligibility requirements to receive the assistance, Abraham sued the federal government for denying access to the program. Alongside Emanuel and Gladys, another 10 people joined the claim.
The class of plaintiffs includes seven women and five men between the ages of 26 and 75, all US citizens. Some, like Emanuel, are represented by a parent. All, the lawsuit contends, should be eligible for SSI, but access is blocked.
"The plaintiffs demand their right to participate in the SSI program, that is, to apply and be fairly assessed to receive the same benefits as equally disabled, blind, elderly and poor people throughout the country," Abislaimán said in court records.
Three of the plaintiffs are 65 years of age or older who, despite meeting the age established by one of the eligibility categories, cannot receive SSI in Puerto Rico. The rest are individuals suffering from various disabling health conditions, such as severe intellectual disability, severe cerebral palsy, spastic quadriplegia, lupus, schizophrenia, spina bifida hydrocephalus and total vision loss.
Gladys not only meets the age eligibility but is disabled as a result of various conditions.
Meanwhile, the daily needs of her family are piling up with the addition of inflation in the cost of fuel and food. Emanuel's diapers, for example, cost about $200 a month, not counting wipes, underpads and deductibles for medicine, one of which costs $98.50 a month. The electricity bill, the couple said, does not fall below $200, which is added to other expenses that the family has had to absorb, such as suction therapy, an oxygenation machine, and an adjustable bed.
"I walk with a walker when it's closer. When I must walk far, I have an electric wheelchair that he (Abraham) had to pay for. [...] We took the savings that we had left, and he paid for the car so that I could move to places further away. [...] You take out (the savings), but later you can't replace them and, when the baby gets sick, expenses go up even more so," Gladys said.
There are other needs that the family has not been able to cover due to their limited income, such as acquiring a bus adapted with a ramp to transport Emanuel, a "lifter" or type of automatic crane to help lift him out of bed, a new wheelchair, wheels, bathroom repair and specialized therapies.
"I dream of my son having a lifter in the room so that I can change him, because the father does everything with the baby now that I can't. As a mother, it is very frustrating that I can no longer even change his diaper because I used to do heavy lifting with this arm and now with the fistula, I can't carry him," said Gladys.
What is the benefit?
SSI currently provides up to $841 per month for an individual and up to $1,261 for eligible couples. Unlike other types of aid intended for restricted uses, the SSI payment can be used to cover any expense that results in the well-being of the beneficiary, including the payment of a mortgage, basic service bills, such as electricity and drinking water, medications, among others.
Gladys's expenses include a new tracheostomy tube every six months, at a cost of $125, and the monthly visit to the surgeon, which is about $160, in addition to other equipment and medications, such as saline solution (two boxes a month at $36), wet wipes, suction sleeves, insulin, and seven weekly collars at a cost of $7.50 each for tracheostomy. On a weekly basis, Gladys has to travel from Toa Alta to Guaynabo to receive her dialysis. Faced with so many expenses, she has said that there are months in which she has to ration the purchase of medicines.
"We made the decision to sue so that they realize they are discriminating. We are not claiming anything that we do not need and have no right to. Sadly, we have been discriminated against by the United States because of our race," Abraham said.
He questioned why, in order to receive a benefit for which his son and wife would be eligible, they would have to make the difficult decision of moving to a state in the US instead of receiving it in Puerto Rico.
Citizenship versus territory argument
For attorney Abislaimán, the class action simply deals with an issue of "access to justice." But the federal government's first response related to the suit was to oppose it.
"Plaintiff's proposed amendments would not remedy the fundamental flaw in this lawsuit, namely, that it has been closed by the Supreme Court's decision in United States v. Vaello Madero," said Brian Boynton, Principal Deputy Assistant Attorney General for the Department of Justice, which represents the defendant SSA.
The opposition, filed May 27, also notes that "no individual is eligible for SSI benefits" when outside the United States, "and for purposes of the SSI program, the term 'United States,' when used in a geographic sense," defines as "the 50 states and the District of Columbia."
Abislaimán said she was not surprised by the SSA's response, although she found it "much more adversarial" than she would have expected from the Biden administration.
"From the first paragraph, they understand that the application based on (US) citizenship has no merit. If we thought the approach of (the Trump administration) was cruel, I find these words even more so. (They say) that it is not worth trying based on citizenship," the lawyer said.
The amendment in the class action must be approved or have the court's permission. Federal Judge Francisco Besosa, who is presiding over the case, lifted the suspension of the case on May 31, but has not ruled on the amendment.
Abislaimán argued that the Supreme Court decision omitted the fact that people born in Puerto Rico have been US citizens since 1917. "The court did not examine the case based on the citizenship rights of the plaintiffs, who are US citizens eligible for SSI," she argued.
The proposed amendment emphasizes that the plaintiffs "are United States citizens whose rights, privileges, and immunities are not diminished by the Territorial Clause."
When claiming the right of the plaintiffs to receive SSI, Abislaimán also pointed out that the federal government is wrong to refer to the territory of Puerto Rico from a geographical point of view as something "purely spatial", without considering the people who inhabit it.
"Unless the territory is literally uninhabited, a national law whose purpose is to help individuals cannot rationally remove individuals and their constitutional rights from the equation when the territory is in fact populated. Therefore, the respondent's 'geography' terminology is not acceptable and does not rationally support that legislating on a territory does not inherently take into account the characteristics of the population in it, including their ancestry, racial and ethnic composition," the lawyer stressed.
The plaintiffs also point out that the law makes SSI available even to people who are not US citizens, and without considering the fiscal impact or contribution in terms of federal taxes. They further argue that the payment of federal income tax as a prerequisite to justify the exclusion of US citizens in Puerto Rico from SSI is not rational, regardless of the "benefits and burdens" analysis.
In submitting their arguments, they stressed that they are not opposed to non-citizens receiving SSI. "Instead, everyone who meets the SSI criteria by definition suffers from such poor health and poverty that the federal government has a duty to extend this minimum protection to all such people equally, regardless of where they reside or come from," the amendment states.
Other similar claims
Abislaimán is also handling the case of Arnold Jay Ruiz Avilés separately, the first lawsuit to be filed after the district and appellate courts' initial decisions on the Vaello Madero case.
Ruiz Avilés is a United States citizen born on February 28, 1981. Since his birth, he suffers from various conditions that leave him completely disabled and unable to care for himself. In the lawsuit, filed on May 26, 2020, he is represented by his parents, Arnold Dean Ruiz Guadarrama and Sandra Avilés Ríos.
The case is on hold.
The Supreme Court's decision in the Vaello Madero case has already caused the dismissal of another lawsuit that was also frozen.
This is the case of Sixta Gladys Peña Martínez against the Department of Health and Human Services, in which nine plaintiffs, all residents of Puerto Rico, challenged their exclusion from the SSI program, the Supplemental Nutrition Assistance Program (SNAP) and the Medicare Part D Low Income Subsidy (LIS) program on constitutional grounds.
The group argued that their exclusion from those programs solely because they live in Puerto Rico violates the equal protection component of the Due Process Clause of the Fifth Amendment, a claim similar to Vaello Madero's.
The visiting judge from Massachusetts in the Federal Court for the District of Puerto Rico, William Young, had decided this case in favor of the group on September 11, 2020, after Judge Gustavo Gelpí validated Vaello Madero's claim in San Juan. But the Peña Martínez case was dismissed on May 17, by order of the US Court of Appeals.
Meanwhile, in Puerto Rico the most vulnerable populations that would benefit from SSI continue to face what Abislaimán described as "a daily emergency."
"We are not rushing to the hospital literally every day, but anything is an emergency. What we have seen after the hurricane (María), when something as simple as (lack of) insulin can result in death. So we're dealing with this every day. It is the hurricane of every day because any of these people, with this condition, any piece that does not fall into place can quickly end up in a very precarious position," she lamented.
She warned that the possibility of moving to the United States to gain access to SSI is not on the horizon for many who want to stay in their country with the support of their loved ones.
"You ask yourself that question of 'why don't you leave?' These people can cope with day to day because they have love, community, support from neighbors. When things happen, a community infrastructure is mobilized, which are the ones that, in the absence of certain things, provide emotionally, psychologically, are very valuable. Suggesting to a person that they leave their house to receive a check, that's not what this is about. It seems very inhumane to translate it to that," she stressed.
[This article was originally published by El Nuevodia.]
Did you like this story? Your support means a lot! Your tax-deductible donation will advance our mission of supporting journalism as a catalyst for change.