Prognosis uncertain for closing racial health disparities Amid pandemic and recession, there's awareness
Image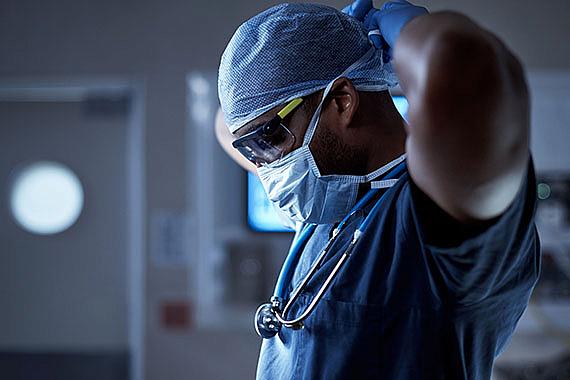 Published on
November 24, 2020
This article was produced as a project for the Dennis A. Hunt Fund for Health Journalism, a program of the USC Annenberg Center for Health Journalism's 2020 National Fellowship.
Who's responsible for Charlotte's health?
While there are long-acknowledged gaps fueled by economic and racial disparities, there's more awareness and activism to close them. In addition to growing demands to expand insurance coverage to the poorest Americans, individuals can also make a difference, especially in building awareness.
In a nation split over whether access to health care should be a right, the discussion has moved to the forefront, especially given the country's erratic response to the COVID-19 pandemic. It's incumbent upon health care providers, communities and lawmakers to have an honest discussion given the backdrop of racism that creates gaps, said Dr. Jerome Williams, Novant Health's senior vice president of consumer engagement.
"We have to understand that's the foundation that we're dealing with, and ultimately we have to change those structures," he said. "Far too many times, there are organizations that go into communities, grab data and exit communities, but they don't listen to the community. Often, a number of the answers and solutions to the challenges are right there in the community if we just take time to listen.
"Now, some of those solutions may require a business plan, may require financing, may require some type of partnership and support, but often those answers are already in the community, and we have to go and listen to them."
For vulnerable populations, the needs are pressing given the intersection of economics and race. In Charlotte, for instance, where you live often determines exposure to negative health outcomes. A study by the American Lung Association on air pollution and health issues especially among Blacks found direct correlations between air quality and health issues.
"We know quite a few things actually," said Dr. Cheryl Lynn Walker-McGill, a Charlotte allergy and immunology specialist and former president of the local National Medical Association's affiliate. "One is that air pollution negatively impacts health in many ways. Even if you have normal lungs when you're exposed to really bad air quality it can impact them. But, if you have underlying lung disease such as asthma or emphysema, or COPD, the impact can be much worse, and so it can cause inflammation in the lungs."
Historically, that's the hand Charlotte's working-class Blacks were dealt – low-wage and often more dangerous jobs in the city's most environmentally-challenged areas. Even with the evolution of technology, that role hasn't changed for people who lack the education or economic stature to aspire higher.
"Many African Americans were service workers, maids, and there was a whole class of errand runners which is now handled by the internet and Amazon and things like that," said Tom Hanchett, staff historian at Charlotte Mecklenburg Library. "A lot of the hard labor at places like Charlotte Pipe and Foundry… the Highland Park Mill, which is now Heist Brewery in NoDa. The folks who picked up the cotton bales from Luton where they needed to go. The people who handled the hot iron coming in to make pipes. Traditionally, African Americans had to do the jobs that a lot of other folks did not want, and those jobs were either dirty or harder on your health."
Even breathing is harder on Blacks, where in North Carolina the disparity in cardiopulmonary disease is clear-cut. More than 264,000 children and 736,000 adults were diagnosed with asthma as of 2019, according to the American Lung Association's State of the Air report, but African Americans had a hospitalization rate of 19.4 per 10,000 people, according to the Department of Health and Human Services. By comparison, whites were hospitalized at a rate of 6.7 per 10,000. Combined with underlying co-morbidities such as obesity and heart disease, environmental challenges have life-and-death consequences.
"People who have underlying heart disease are going to be even more susceptible to some of the challenges with air pollution with exposure," Walker-McGill said. "But the reality for African Americans [is they are] are more likely to have asthma, more likely to have heart disease. And so, given that and then more likely to live in areas where there are higher amounts of poor air quality, the two combined equal increased risk of having complications, and even increased risk of mortality."
For Black women, pregnancy and childbirth have increased levels of risk.
African Americans are three times more likely to die in childbirth than their white counterparts, and U.S. Rep. Alma Adams, a Charlotte Democrat and co-founder and co-chair of the Black Maternal Health Caucus, is pushing Congress to pass her bill, the Kira Johnson Act, before dismissing for the year.
H.R. 6144, which gained 13 additional cosponsors last week, is part of the Black Maternal Health Momnibus, a series of bills that would invest federal funding for programs to improve childbirth survivor rates.
"Prior to the pandemic, Black moms were three to four times more likely than white moms to die in childbirth," Adams said. "Since January, 38,000 pregnant women in the U.S. have been diagnosed with COVID-19. As pregnant women continue to seek necessary maternal health care during the pandemic, we must invest in culturally competent organizations. Community-based health care providers are leading the charge in improving outcomes for Black women and birthing persons. …Black moms matter, and we need every member of Congress to stand up and join us in supporting policies that save lives."
A nurse by profession, state Rep. Carla Cunningham has been a leading advocate for wider health access, with mixed results. The Republican-leaning legislature passed a law in 2013 that blocked Medicaid expansion, essentially freezing federal eligibility at current levels. An alternative, Carolina Cares, never came up for a vote in either chamber of the General Assembly after courts shot down work requirements for similar bills in other states.
Since then, COVID has occurred," Cunningham said, "and the subject matter still is discussed of how to do it. Legislation was put in place in 2013 that we could not expand Medicaid, so the first thing that would have to happen is we would have to repeal that statute removed."
Essential workers who live on the economic margins and the unemployed are also more likely to go without access to health insurance. Even with Medicaid, the federal insurance program for low-income Americans, an estimated minimum of 500,000 North Carolinians still lack coverage. The state is one of 12 that hasn't expanded eligibility to tap into the program. Without employer-provided insurance, the gap is widening.
"I think people are starting to realize that healthcare is attached to corporate positions, higher paying jobs that comes with it [as] part of your benefits," said DonnaMarie Woodson, a two-time cancer survivor and advocate for universal medical insurance. "So as people are losing their businesses, their jobs, they're going, 'where's the health insurance? I don't have that anymore.' So, it's speaking to our community."
Cunningham, the House Democratic whip, agrees.
"According to the numbers, we know that if Medicaid expansion was to take place, it will significantly help African Americans [and other] people of color significantly, because in most cases, they are essential workers. Besides, the healthcare professionals that are not making wages that are high enough, and even like your employees at Amazon, Walmart in those places, still a lot of them qualify for Medicaid because their income is still not high enough."
An October survey by the American Cancer Society Cancer Action Network found that access to comprehensive medical care that covers necessary services is the top health concern of 51% of cancer patients and survivors. Twenty percent cited the availability of coverage with job change.
"Cancer patients and survivors are acutely aware of the critical importance of comprehensive coverage and the need to have access to quality care even if your job changes or you're laid off," said Lisa Lacasse, ACS CAN's president. "Sadly, the pandemic and its associated economic fallout have made these priorities clear to many millions more Americans. The survey underscores the imperative that elected lawmakers at every level of government prioritize access to affordable, comprehensive care that maintains protections for those with pre-existing conditions."
Nearly 110,000 Mecklenburg residents suffer from asthma, according to the lung association survey, including 30,000 children and more than 61,000 people have chronic obstructive pulmonary disease.
There's even a gulf in air quality among the state's most populous counties, where urban living means major sources of air pollution. Mecklenburg and Wake each have more than 1 million residents, but Mecklenburg County, with 1.1 million people, has the state's dirtiest air, scoring the lone "F" grade according to the lung association's pollution score card. Charlotte is No. 41 in the nation among most-polluted cities for ozone, a major source of contamination.
Ozone is especially prevalent in lower-income and mostly Black neighborhoods on the westside near heavily traveled roads and industry. In essence, they are far more susceptible than upper-income communities like Myers Park or Ballantyne, which is why westside residents have urged city officials to reduce vehicle emissions and even plant more trees, which produce oxygen, reduce erosion and mitigate flooding, a source of mold.
"Living close to high traffic areas will result in exposure to more pollution," Walker-McGill said. "It's certainly living closer to well-traveled highways, but also highly traveled streets. So, if you live near a street where there's a lot of [industrial] work, there's a lot of traffic by cars, then your exposure is just going to be more. A concern, of course, would be for young children who are more susceptible to the impact of air pollution playing outside for long periods of time in those areas."
Ultimately, Woodson believes, social justice is key to eliminating health disparities. Whether it's a living wage, insurance coverage or the environment, everything is related to what disproportionately ails African Americans.
"It's housing, it's food deserts, it's the wealth gap," she said. "It's not being paid. [A minimum wage of $7.50 an hour] you're working poor. You can't live on $7 an hour. And rent? Holy crap, the pricing of rent has skyrocketed, so it's just all of the elements overall. We're just a microcosm here in Charlotte, but it's representative of the rest of the country."
[This story was originally published by The Charlotte Post].