Pushing to keep exercise in the school curriculum
When school budgets are cut, what does it take to keep physical education afloat in one Northern California school district? Outsourcing to fitness organizations plus a small army of parents, educators and foundations.
This article is a component of a three-part investigation of the physical fitness of children in the Bay Area and the constraints schools face in encouraging exercise, given the state's budget crisis.
Part 1. Pushing to keep exercise in the school curriculum
Part 2. The Haves' Children Are Healthier Than the Have-Nots'
Image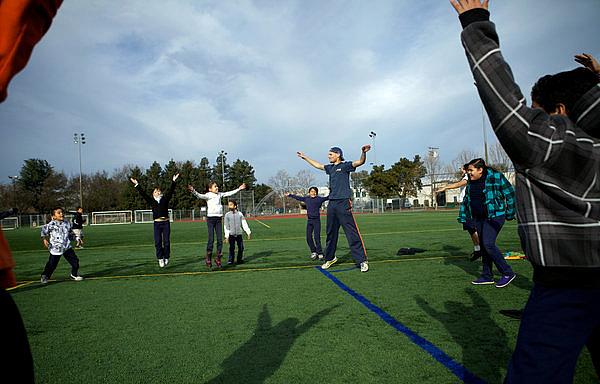 Published on
February 11, 2012
REDWOOD CITY — On the blacktop at Clifford School recently, a fourth-grade class played two-on-two keep-away with basketballs. Jessica Mazeau, a physical education instructor who teaches at Clifford five days a week, led the students in dribbling and passing drills.
She does not actually work for the school or for the Redwood City School District. The school's parent-teacher organization pays $71,000 a year to Rhythm and Moves, a company based in Burlingame, which sends Ms. Mazeau to the school along with sports equipment including hula hoops, jump ropes and basketballs.
Clifford has its own physical education teacher for students in grades six through eight, but none for younger students. Parents fear that without Rhythm and Moves there would be no physical education instruction for kindergarten to fifth grade.
"Clearly, if we don't fund it the kids are not getting any activity outside, except for minimum recess time and lunch time," said Marilyn Ezrin, co-president of the Clifford School Parent-Teacher Organization.
But experts say such efforts are a symptom of how physical education has become a luxury as California schools have cut budgets.
The state requires students in grades one through six to receive 200 minutes of physical education every 10 school days. Schools in Redwood City have struggled for years to meet that mandate. Statewide, it is fairly common for younger students to receive less physical education than the state requires, said Doug Jann, education programs consultant for the California Department of Education.
The Redwood City School District's budget for physical education has shrunk with the state budget crisis, leaving fewer than nine positions in the subject for all 16 schools in the district, which borders two towns where some of the wealthiest people in Silicon Valley live.
It employs no physical education teachers who instruct younger students and has not done so for many years, according to Naomi Hunter, a district spokeswoman. Responsibility for teaching physical education to younger students falls to the classroom teachers, who may not have the same enthusiasm for the subject as for math or reading.
A patchwork approach to teaching physical education to younger students has emerged throughout the district, relying on parents to donate time and money, as well as support from foundations and nonprofit organizations.
"We have found creative ways to make sure that students are getting P.E.," said John Baker, deputy superintendent for the district.
But that is not good enough for many health experts.
"It's a Band-Aid," said Drisha Leggitt, executive director of the California Association for Health, Physical Education, Recreation and Dance, a nonprofit organization. "Let's say the parent-teacher organization had a bad year, or the parent volunteer's kid moved into a different school. What happens with the P.E. program?"
At seven schools in the district, coaches from Peninsula Community Center, a fitness club, teach weekly sessions of sports like basketball, volleyball, Frisbee and soccer while classroom teachers observe from the sidelines.
Serve the Peninsula, a nonprofit in Redwood City that supports public schools, created the program three years ago. It now costs about $160,000 annually, supported by the Sequoia Healthcare District, which receives its financing through property taxes.
At Hoover Community School, Michele McLaren, a teacher, watched from a bench as her 31 third- and fourth-grade students played capture the flag with a Frisbee on a turf field. Coaches from Peninsula Community Center led the game, chose the teams, explained the rules and comforted disappointed players who had been tagged out.
"We don't have P.E. when they are not here," Ms. McLaren said. "Most of the exercise my students are getting is through this program and recess at school."
Ninety-four percent of Hoover students are on the free and reduced school lunch plan. "In our neighborhood, there is more fear of sending out your kids to play in the streets," said Amanda Rothengast, the principal.
Less than 10 percent of Hoover's fifth graders who took the statewide 2011 Physical Fitness Test got healthy scores in all six of the test's measurements of fitness, which range from aerobic capacity to flexibility. Statewide, 25 percent of fifth graders received healthy scores in all areas.
A survey done in 2005 and 2006 for the district found very few of its schools were able to meet the state's physical education expectations. In March 2008, the California Department of Education found that the Redwood City School District was failing to provide the required instructional minutes for physical education.
The district responded by creating a "FitFun Game Guide" to help teachers integrate physical activity throughout the school day. Recommended activities for the kindergarteners, first and second graders include "wiggles" — jogging in place at their desks while wiggling various parts of their bodies.
"P.E. minutes are mandated by the state, but the state hasn't given us sufficient funds to cover that," said Ms. Rothengast, the Hoover principal. "It's hard to find time to fit in the P.E., and the teachers do the best that they can."
At Roy Cloud School, parent docents, including Meredith McLean, co-president of the school's parent-teacher organization, lead physical education in kindergarten through second grade.
During a recent class, Ms. McLean led the children through a warm-up, including 14 jumping jacks in honor of Valentine's Day. Their teacher, Denise Chappelle, gamely jumped along with them.
"With all the cuts, we need the parents to step it up," Ms. Chappelle said.
The district's budget shrank by $13 million in the last five years. Resources for physical education also shrank, even as the number of students grew. In the 2007-8 school year, the district had 11.7 physical education positions. This school year, it has 8.5, with all of those dedicated to students in grades six through eight.
Before the state budget crisis, Ms. Hunter said, schools had more discretionary money, which some principals directed toward physical education for younger students.
Ms. Rothengast, the Hoover principal, said, "Now, with all the budget cuts, we can't afford anything additional. We are just trying to supply the classrooms with the basics."
The Redwood City Education Foundation will distribute $15,000 in grants this year to district schools to pay for programs that may include dance or yoga.
"Physical education is not really taken seriously as part of the core curriculum at the elementary level in the way that it should be," said Heather Diaz, an assistant professor in the Department of Kinesiology and Health Science at California State University, Sacramento. "If a child is unhealthy, that carries through all the other subject matters."
Article originally published in The Bay Citizen.