Solving the mystery of Room 106
This story was originally published in The Inquirer with support from the USC Annenberg Center for Health Journalism.
Image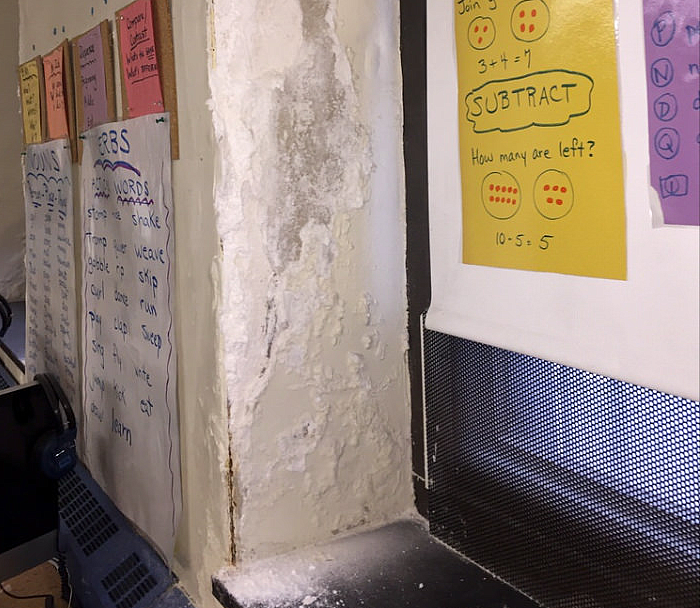 Published on
June 13, 2018
By Wendy Ruderman, Barbara Laker, and Dylan Purcell
Teacher Maria Greco wanted her classroom to be a welcoming, safe haven for her second graders at A.S. Jenks Elementary. For years, she waged a battle against peeling paint, black splotches that looked like mold, and crumbling plaster. How could this be healthy for her and her students?
Greco was relieved to learn that the School District of Philadelphia had hired painters from Pepper Environmental this past December to repair the paint and plaster in Room 106, her classroom.
But when Greco arrived the morning after the painters had left, she found a mess. A layer of white dust covered the desks and floor. In the closet, where her students hung their coats and backpacks, the paint was still flaking off the walls.
And worse, the workers left a 5-foot gouge across the asbestos tile on the classroom floor. So we asked a district staffer to swab a small area on the scratched tile for testing. The lab result came back at an alarming 1.15 million asbestos fibers per square centimeter. That's far higher than the 100,000 measure that experts say requires immediate action. When inhaled, the microscopic fibers can cause cancer. Tests also showed hazardous levels of lead dust.
In early May, we published a three-part series, "Toxic City: Sick Schools." The stories revealed asbestos contamination in Room 106.
Lisa Rudi-Davis, whose son was in Greco's class, read it with horror. She complained to  the city health department and Councilman Mark Squilla, whose South Philly district includes A.S. Jenks, pleading with him for help.
Squilla emailed School Superintendent William R. Hite Jr. to try to get answers for parents. Hite directed him to Danielle Floyd, the district's chief operating officer. Two days later, Floyd assured Squilla  that damaged pipe insulation in Greco's classroom was repaired and then air sampling was done.
Greco was stumped. Her classroom looked the same. Lead paint chips still littered the closet floor. Both she and Rudi-Davis repeatedly asked officials whether Room 106 had been cleaned of asbestos fibers and lead dust, to no avail. We asked, too, but the School District, as of early Tuesday evening, had not answered.
To try to solve the mystery, we had the room retested. On June 8, test results came back from the lab and provided an answer. Six areas of the classroom floor and the closet still contained millions of asbestos fibers. The paint chips from the closet tested positive for lead.
Room 106 had not been cleaned.