State fines firms for exposing workers to valley fever in Monterey County
Image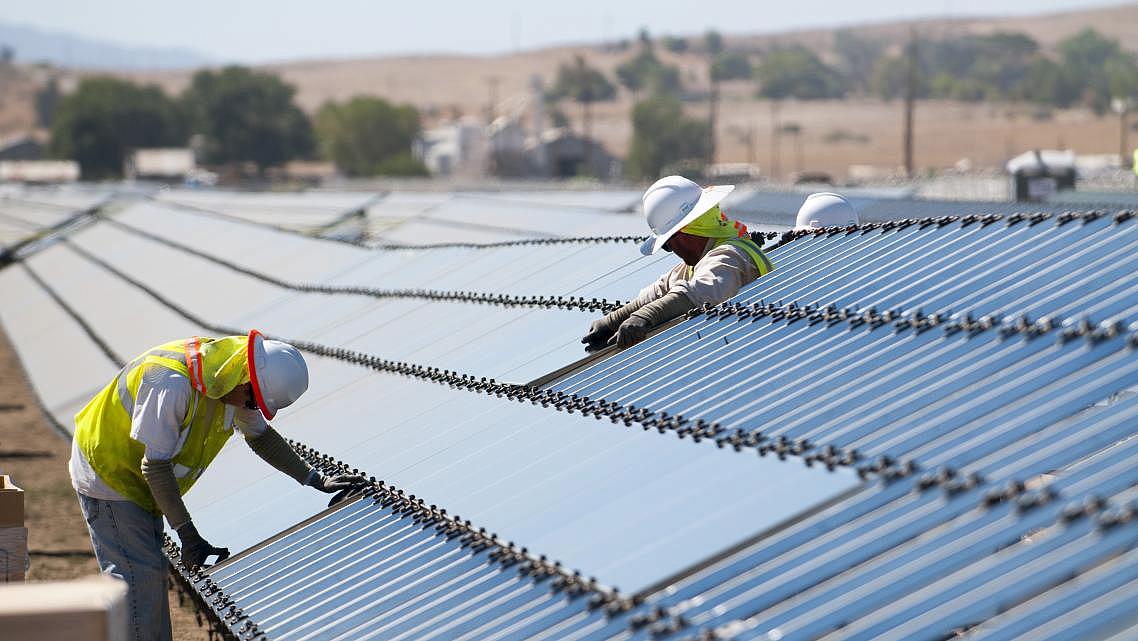 Published on
November 19, 2017
Six construction firms working on a solar project in Monterey County were fined more than $240,000 this week for failing to protect their workers from valley fever, an insidious respiratory disease caused by a fungus that grows in the soil throughout the Southwestern United States.
California Division of Occupational Safety and Health (Cal/OSHA) officials could not say how many people got sick — or whether they were hospitalized. A whistleblower reported their employer in May while working on The California Flats Solar Project, which promises to convert 2,900 acres of Cholame Hills farmland into a sprawling energy field that would power 100,000 homes annually.
It's possible that hundreds of workers were exposed, said Cal/OSHA spokeswoman Erika Monterroza.
Cal/OSHA fined McCarthy Building Companies, Inc. and five subcontractors amounts ranging from $9,900 to $68,900 for violations such as not ensuring employees were using respirator masks; not properly training and retraining to employees required to use respirators; and not implementing an injury and illness prevention program that trains employees to identify and evaluate workplace hazards, including the coccidioides fungus that grows in the soil and can cause valley fever when inhaled.
McCarthy Building Companies, Althouse and Meade Inc., Sachs Electric Company, and Papich Construction Company and Dudek, an environmental consulting firm, all declined to comment or did not return calls before press time. Bakersfield-based Granite Construction Company said it plans to contest its fine, along with Missouri-based Sachs Electric Company.
The fines come as the state contends with a rising number of valley fever cases. Just this month, the California Department of Public Health reported that cases this year had spiked by 34 percent, putting 2017 on track to be one of the worst in recorded history for the disease. When cases spiked in 2013, Cal/OSHA sent California employers a notice informing them that valley fever posed a hazard to workers and steps needed to be taken to address the threat, Monterroza said.
"Employers who work in areas endemic to valley fever must take preventative measures to protect workers who may be exposed," Cal/OSHA Chief Juliann Sum said.
Valley fever, the common name for Coccidioidomycosis (or cocci for short), can be acquired by the simple act of breathing. It's caused by a fungus that grows in desert climates throughout the Southwestern United States and is endemic throughout much of California's Central Coast and Central Valley.
When the fungus is disturbed in the soil, often through agricultural tilling and construction, fungal spores can get swept into the wind and inhaled. The majority of people who have valley fever – about 60 percent – don't get sick, but others develop flu-like symptoms, including fever, cough and extreme fatigue that can last months. In rarer cases, the spores can enter the bloodstream and lead to a lifetime of health issues, sometimes resulting in death.
That fungus cannot be detected in soil with the naked eye, but the National Institute for Occupational Safety and Health encourages workers on sites in affected areas to take common sense precautions to prevent the disease, including soaking dirt while digging, staying upwind of digging, using N95 respirator masks and using heavy equipment with enclosed, air-conditioned, HEPA-filtered cabs when possible.
Employers have no excuse for not training employees since they were required to sign conditional permits acknowledging that they had valley fever program to prevent infection before they could start work, said Monterroza.
"The underlying reason why Cal/OSHA issued citations is to advise the employers that they are not fully protecting workers the way they should be. What we're looking for is abatement and for them to resolve those issues," Monterroza said, highlighting that all of the violations carried a "serious" level classification which could result in injury or death.
"Those violations can have grave repercussions," Monterroza said.
The violation marks the second time that Grover Beach-based Papich Construction Company has been fined by Cal/OSHA for missteps related to valley fever. The construction outfit failed to report to Cal/OSHA in 2013 that at least one of its employees was hospitalized for valley fever after breathing in fungal spores while at work on another solar farm project in San Luis Obispo County, state records show.
Papich Construction Corporate Safety Manager Charles Evans declined to comment on the matter and said the company's general counsel planned to release a statement, but wasn't available by press time.
Meanwhile, an official from Granite Construction's parent company questioned the violation and said the company had implemented training programs for valley fever.
"The safety and health of our employees is our utmost concern and we take allegations like this very seriously. Each and every project undertaken by Granite Industrial Inc. implements a safety and health management system, which includes preventative measures, controls, and on-site awareness training to help prevent exposure to, and help protect employees from, such things as valley fever," Granite Spokeswoman Jacqueline Fourchy said in an emailed statement.
Valley Fever Americas Foundation board member Rob Purdie said the citations open a door for more conversations about preventing valley fever among businesses. Purdie and others have been working on setting up a roundtable among human resources professionals and business leaders to educate them on the dangers of valley fever in the workplace and the cost to employers if workers get sick.
"I count six potential businesses to participate," Purdie said, referring to the employers fined this month.
Beyond the loss of productivity, valley fever is a drain because of hefty workers' compensation claims. The charges statewide for valley fever-related hospitalizations for government funded healthcare programs, including Medicare, Medi-Cal and county indigent programs, totaled more than $1.4 billion between 2000 and 2011, according to CDPH data.
Individual workers' compensation claims in Bakersfield, where valley fever is endemic, typically cost about $60,000, but have totaled into the millions of dollars in extreme circumstances, USC's Center for Health Journalism Collaborative has previously reported. 
For more stories in this series, click here.