Technology could improve pregnancy care for low-income patients — if health systems can pay for it
Image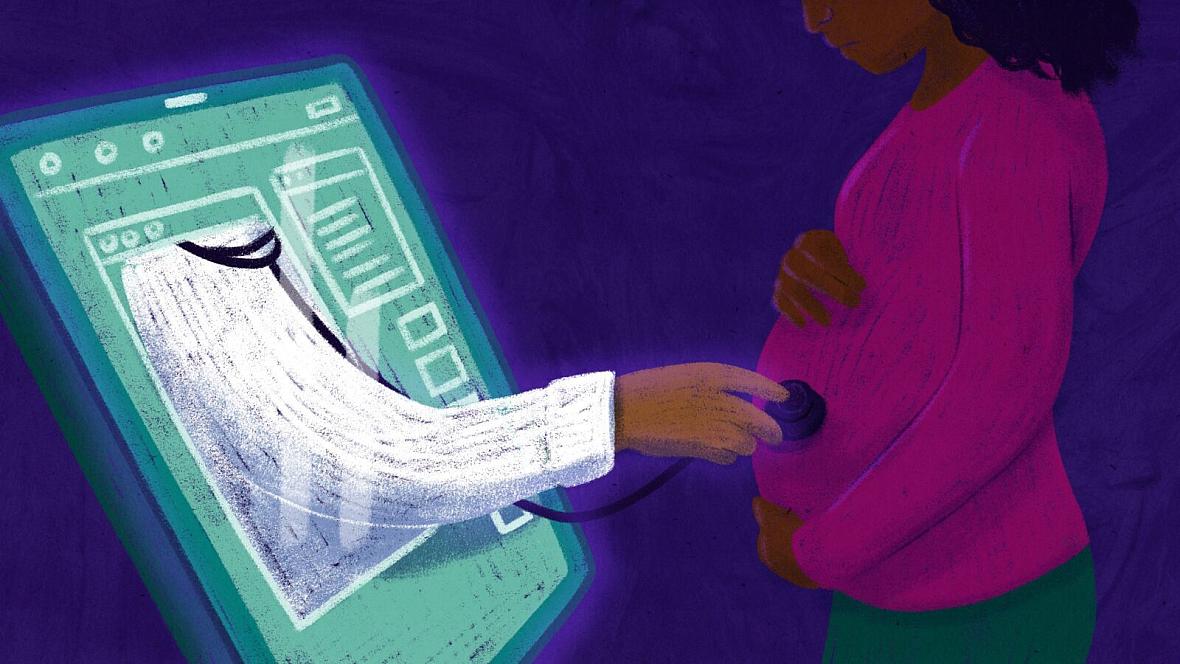 Published on
January 24, 2023
For low-income patients, the challenges of pregnancy are only compounded by the challenges of prenatal care: the dozen or so doctors' appointments, the time off work or childcare, the cost of parking and public transit.
"Even just getting to appointments can be huge trouble," said Kathryn Marko, an OB-GYN at George Washington, a Washington, D.C.-based health system looking to technology like video calls, apps, and digital blood pressure cuffs to make maternal health care more equitable.
For years, Marko has collaborated on that effort with Babyscripts, one of a handful of startups working with health systems to deliver virtual maternal health care specifically for low-income patients, including those on Medicaid, which account for half of all births in the U.S. These companies have struck partnerships with several large health systems to send patients home with their own blood pressure cuffs and apps that keep tabs on their vital signs, weight, mental health, and other factors that can influence maternal health.
 Making maternal care more accessible could in turn prevent dangerous complications that lead to expensive emergency treatment. Already, physicians say, they've seen significant reductions in hospitalizations in piloting the technologies. But inconsistent Medicaid coverage policies that vary by state — and a reluctance from insurers to pay for these technologies — means the patients who need these services the most can't always get them. In desperation, some health systems are dipping into thin operating budgets or resorting to grant funding to continue giving patients tools that they believe could be potentially lifesaving.
"We do it because of the passion we have for doing the right thing for our patients," said Kelly Leggett, an OB-GYN and clinical transformation officer for North Carolina health system Cone Health. "We really want insurance companies to [see] that this is what their patients need to be healthy. It may not be what's traditionally brick and mortar."
Without broader coverage, these already vulnerable patients may continue to be excluded from  programs such as Babyscripts and others that said they aimed to close the gaps in access.
The need for better care is clear: The maternal mortality rate in the U.S. outpaces other high-income countries, and is disproportionately high for Black patients. Medically underserved patients often also live in maternity health deserts, which, along with factors like systemic and medical racism, puts them at higher risk for certain complications.
Virtual treatment promises solutions to at least some of those structural challenges, starting with easing the burden of getting to and from the doctor. Recording their own data and sending it to a provider could save patients a handful of those visits without impacting their health, and makes it easier for them to take measurements more frequently, Marko said. "You're actually getting more touchpoints with a patient."
It also might make it possible for clinicians to spot escalating blood pressure and weight gain or loss in closer to real-time. A slow but steady uptick in blood pressure, or a rapid increase in weight, might suggest gestational hypertension or preeclampsia.
When providers spot those signs, they nudge specific patients to come in when necessary, said Leggett. For the past five years, Cone Health has offered thousands of its patients a year access to Babyscripts, whose app stores blood pressure, weight and other measurements and sends it to their electronic health records. Cone Health's clinicians routinely monitor pregnant patients' records, and Babyscripts' app is trained to flag any abnormal values and nudges patients to retake measurements or answer followup questions about headaches or dizziness.
"What we have found is we can see someone start to crescendo early," she said. "You can see this gradual increase in blood pressure and we can then increase the medication."
The technology isn't designed to replace all prenatal visits, and isn't a perfect substitute for in-person care. Some patients who don't have consistent access to Wi-Fi might only be able to upload their measurements when they're connected to public internet, for instance, limiting the timeliness of the information their providers receive.
But without the ability to measure at home, for some patients, "we'd have zero insight into what was going on," Leggett said.
Many of Cone Health's patients — 80% of whom are on Medicaid or uninsured — miss some of their scheduled appointments because of structural reasons, she explained. Using the app lets the health system safely schedule fewer in-person appointments for patients who may not make them, "but we're getting a touchpoint every week.  We get 30 points instead of 13 so we can intervene much quicker," she said.
Costs remain a challenge, as insurers are slow to pay for new tech services. Health systems that purchase Babyscripts typically give their patients an app and digital blood pressure cuffs, which could come from Babyscripts or elsewhere. The providers generally pay upfront for the app and remote monitoring service, though sometimes payers cover some of the cost for medical equipment like blood pressure cuffs. Babyscripts said the service typically costs health systems between $15 to $75 per pregnancy — not including hardware like blood pressure cuffs or wireless scales, or implementation expenses — based on the features they choose to offer to patients.
George Washington Hospital offers Babyscripts to thousands of patients a year, and D.C. Medicaid payer AmeriHealth covers the cost for its patients. "That cost is something we get [back as] a return on investment," Marko said.
Medicaid itself is a powerful tool to prevent serious pregnancy complications and improve outcomes for babies. Research has linked the public assistance to lower rates of maternal and infant mortality. During the pandemic, states were given the option to extend Medicaid coverage for pregnancy care for up to a year postpartum — an option that stays in effect through 2027.
National lawmakers are pushing for permanent extensions, but it's not clear if those efforts will take hold at the federal level, nor if states will choose to expand coverage. The Congressional Black Caucus' Health Braintrust, for instance, pushed for legislation in April that would allow states to permanently extend Medicaid coverage for patients a year after they'd given birth. Reps. Robin Kelly and Lauren Underwood, Democrats who have pushed for more virtual care coverage more broadly, led that effort.
Still, some states have been slow to embrace remote patient monitoring — about 20 of them don't cover the technology at all, and many others only cover limited use, according to the Center for Connected Health Policy.
Marko said health systems may need to work directly with payers if they want vulnerable patients to be able to access these technologies.
"We need to continually talk about and demonstrate the value in this," she said, adding that Babyscripts is most successful when jointly deployed with payers. But community clinics and health systems that haven't found willing payers, or who can't afford to pay for it on their own, "really aren't going to be able to provide this for the patients you care for."