Valley fever has its champion: Kern County Sheriff stars in awareness campaign
Image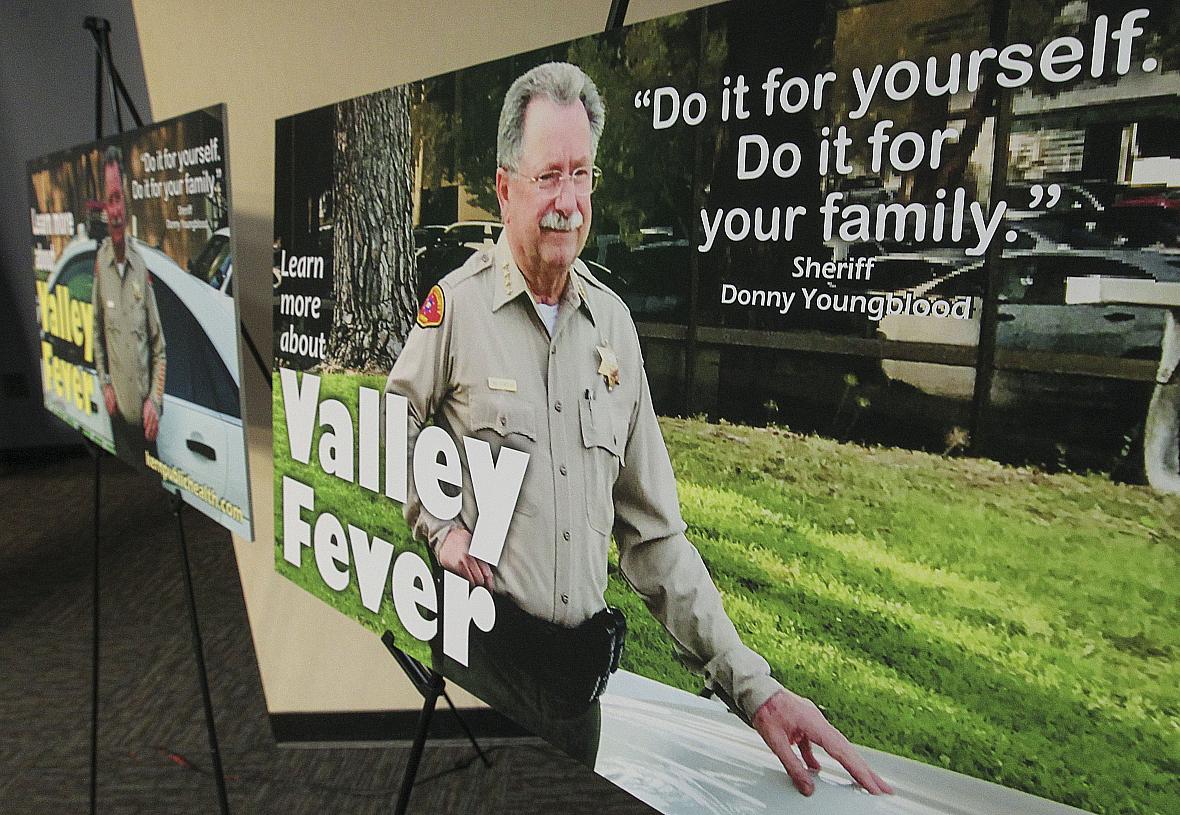 Credit: Kern County Public Health Services Department
Published on
November 7, 2017
Kern County Sheriff Donny Youngblood grew up in Kern County. He hikes here, he rides horses here and he golfs here. He remembers elementary school field trips to Shark's Tooth Hill to dig for relics here. He has done just about everything that could put him at risk for breathing in the coccidioidal fungal spore that causes valley fever, the insidious respiratory disease endemic to the area.
A relative got sick and died from the disease years ago after he was misdiagnosed. Then, a few months ago, Youngblood's significant other got sick. Youngblood decided to get tested.
He took the antigen skin test offered at the Kern County Public Health Clinic and found out that at some point in his life he'd breathed in a fungal spore, but he never developed symptoms.
"I kind of hoped I had it already, because if not, then you have to worry about it more," Youngblood said, noting that in most cases, if someone breathes in a fungal spore and doesn't get sick, they likely develop an immunity. "It was kind of a relief that I had it."
But the experience – especially for his significant other, who has endured three months of extreme fatigue and treatment – has spurred the longtime lawman to turn advocate.
He's starring in a series of televised public service announcements developed by the Kern County Public Health Services Department – the first of their kind for valley fever awareness – that began airing on three Bakersfield television stations this month. He also plans to leverage his relationship with Gov. Jerry Brown to educate him about cocci after he vetoed a bill this year that would have raised the profile of the little-known disease.
"This is personal," Youngblood said of the disease's impact on his family. "But it's also my community."
Valley fever, the common name for Coccidioidomycosis (or cocci for short), can be acquired by the simple act of breathing. It's caused by a fungus that grows in loamy desert climates throughout the southwestern United States. When that fungus gets disturbed in the soil, often through agricultural tilling and construction, fungal spores can get swept into the wind and inhaled. The majority of people who have valley fever – roughly 60 percent – don't get sick, but others develop flu-like symptoms, including fever, cough and extreme fatigue that can last months. In rarer cases, the spores can spread to the bloodstream and lead to a lifetime of health issues, sometimes resulting in death.
Researchers, doctors and advocates say the best defense against the disease is awareness, but comprehensive efforts have for years foundered.
Two major obstacles have stood in the way of government agencies developing a meaningful valley fever awareness campaign: money, and a lack of a celebrity to champion the cause.
The new ads have found their champion, and Kern County Public Health found the money.
The ads feature Youngblood riding a horse, playing golf, and most importantly, getting the valley fever antigen skin test – Spherusol – that the Kern County Public Health clinic began offering this year.
"I was familiar with valley fever and knew that it was a disease that someone could get by breathing in spores from our soil, but it wasn't until it impacted my family members that I realized how serious it could be," Youngblood says in one of two 30-second spots he recorded.
"Early detection is key," the longtime Kern County Sheriff says after listing off the disease's most common symptoms, including fever, fatigue, rash and a cough. "Ask your doctor to test you. Learn more about valley fever. Do it for yourself. Do it for your family."
Youngblood will also star in a series of billboards throughout town urging valley fever awareness.
But Youngblood's advocacy work will extend beyond the local awareness campaign. He's trying to set up a meeting that would include himself, Gov. Brown, Kern County Public Health officials and Assemblyman Rudy Salas, D-Bakersfield, who attempted to pass robust legislation this year that would have addressed deficiencies valley fever reporting guidelines and brought millions of dollars to the disease. It was stripped down in the legislative process to only require the California Department of Public Health launch an awareness program, but Brown vetoed the bill.
"We're looking for a meeting with the governor to make sure the governor is aware of valley fever. If you live in Sacramento, and the life the governor has lived, he may not even be aware of what valley fever is. We want to educate him," Youngblood said. "We want him to learn that this whole state belongs to the governor and that he represents all of us."
So how much leverage could Youngblood, a staunch conservative sheriff who's been at odds with the Democratic governor over past policy issues, have with Brown?
"I don't know," Brown chuckled. "But I'm going to use it. I can tell you that."
The Kern County Public Health Services Department reallocated more than $15,000 from its general fund for the awareness campaign. The department found that money through savings from staff vacancies and coming in under budget for other projects, Kern County Public Health Director Matthew Constantine said.
Television and radio PSAs will be on the airwaves for three weeks at a cost of $11,750. They'll play in local movie theaters during previews and on YouTube at a cost of $2,934 through the end of the year, Public Health spokeswoman Michelle Corson said.
Sandra Larson, former executive director of the Bakersfield-based Valley Fever Americas Foundation, said that she's never seen an awareness campaign of such magnitude in her more than two decades of advocacy work.
"It's so rewarding and encouraging to see this kind of effort being made and the money being spent," Larson said, adding that Youngblood's local celebrity factor and stature as a respected lawman in the community will add to the campaign's power. "It's moving to see him talk about something that causes pain and suffering to so many in our community."
Rob Purdie, a VFAF member, said the PSAs are a sure sign that "the path has changed" and that awareness efforts are coming to the forefront.
The amplification of the department's public awareness campaign comes months after the state suffered its worst year for valley fever in decades – and local public health officials say that cases next year could be worse.
"We do not have our confirmed data for 2017 yet, but our preliminary data for 2017 indicates that we may likely see a significant rise in the number of cases yet again," Constantine said.
Statewide last year, 5,372 people were infected, including 2,310 in Kern County alone, where six died of the disease. Doctors and researchers, however, believe the numbers don't capture the full scope of the disease. The U.S. Centers for Disease Control and Prevention estimates 150,000 people go undiagnosed annually. Researchers blame a lack of awareness.
In response to those rising cases, Kern County Public Health spent $5,731 to run digital billboards through the end of the year warning people to stay inside during dusty days and to get tested.
All these efforts came after a year-long reporting project on valley fever by the Center for Health Journalism, dubbed "Just One Breath," revealed among other things that the state provides no money whatsoever for valley fever awareness campaigns.
For more stories in this series, click here.