For valley fever survivors, a growing need: wigs
Published on
August 8, 2018
Image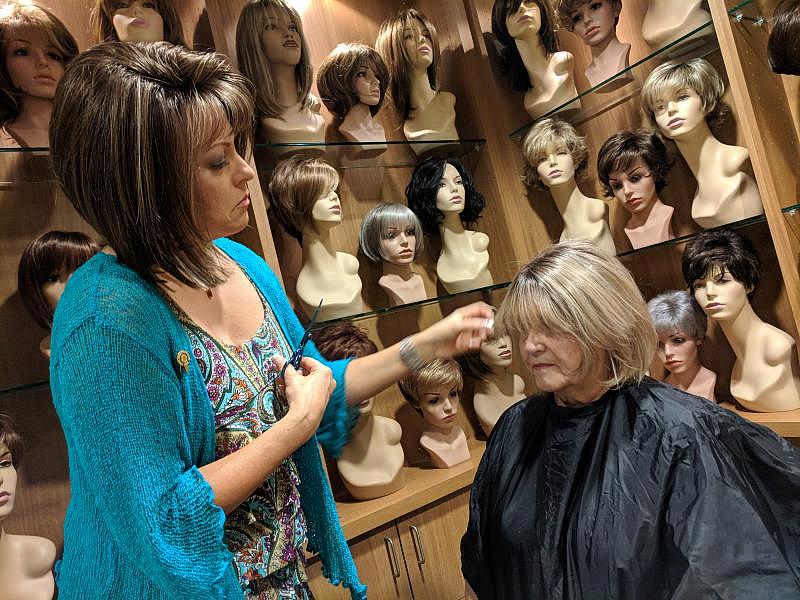 (Photo by Kerry Klein/KVPR)
Click HERE for Spanish version.
In a small boutique in downtown Bakersfield, Brenda Blanton donned a styling gown and settled into a salon chair facing a mirror. Shop owner Kelly Giblin approached, not carrying scissors or a curling iron, but a small hairpiece resembling a dirty blonde bob with dark roots. "This is an amazing hairpiece," Giblin said excitedly, clipping it onto Blanton's thinning, shoulder-length hair. "We can put it on, trim it in, and it will blend with your hair and no one will ever now." 
Mannequin heads in wigs of brown, blonde, pink and purple gazed over Blanton's chair. The realtor has been coming for years to Giblin's shop, called Lemonade Locks, after a successful first fitting: A brown bob with blonde highlights. "I was giggling," Blanton said, "and my mom was going 'oh it looks so good, it looks like your hair!'"
Lemonade Locks is located within a cancer center. And while Giblin said most of her clients lose their hair to either chemotherapy or hormones, Blanton's story is different. She began coming into the shop around two years ago to disguise thinning hair on the crown of her head.
Earlier this year, that all changed when she was diagnosed with valley fever, the fungal disease with pneumonia-like symptoms caused by inhaling spores that grow in the dry dusty soil of California and Arizona. Valley fever itself doesn't cause substantial hair loss, but the antifungal drugs used to treat it can. "My eyelashes broke off, and I have no hair on my arms and legs," Blanton said. 
She knew she had to call up Giblin. "I said I've got valley fever and my hair is actually falling out," Blanton recalled. "It's not just that it's baby fine anymore, it's falling out. I need to come in."
Giblin said over time, she's seen more and more clients suffering from valley fever. "I probably get a couple of patients at least a week" suffering from hair loss associated with the disease, she said. Until two years ago, she said, "that was just never something I saw."
The most commonly prescribed valley fever medication is fluconazole — brand name Diflucan — a daily pill that patients may need to take for months to years to keep valley fever's worst symptoms at bay. It's considered the first course of action for patients with the disease, which has reached epidemic levels in California and Arizona in recent years. 
"We clearly do know that particularly the most commonly used antifungal, fluconazole, does cause hair loss," said Dr. Royce Johnson, an epidemiologist and the medical director of the Valley Fever Institute at Kern Medical in Bakersfield. "In some people, it's negligible. In other people, it's considerable."
But hair loss doesn't need to be considerable for it to matter psychologically. "People are very attached to their appearance and anything that substantially alters your appearance causes psychological trauma," Johnson said.
Treating valley fever can be a conundrum. While most who contract the disease don't experience symptoms, more severe cases require antifungals like fluconazole. And like any drugs designed to kill harmful cells, there's always a risk antifungals can damage healthy tissue, too. Other antifungal medications may cause less hair loss, but they're associated with other problems, including sun sensitivity and salt retention, and can conflict with diseases like diabetes and heart disease. Many cost thousands of dollars per month.
"There's no good treatment options for valley fever," said Rob Purdie, a valley fever survivor and vice president of the nonprofit Valley Fever Americas Foundation. "There are drugs that work satisfactorily to control the disease, but there's no drug that kills the disease, and the trade-offs for controlling the disease among these drugs are pretty harsh." 
Demand for these drugs is likely increasing. The years 2016 and 2017 both set records for valley fever cases statewide, and more than half of those occurred in the San Joaquin Valley. Kern County consistently suffers the highest caseloads in the state. "We get 2000 to 3000 people reported each year with valley fever, so it's definitely a large burden of our communicable illnesses here," said Kim Hernandez, epidemiology manager for Kern County Public Health Services.
Kern County's 2017 case rate was its second highest on record, after the peak of the so-called "great epidemic" in 1992. Based on provisional data through June, the 2018 case rate isn't likely to be any less severe than last year. "It's hard to predict how many cases we'll have for the entire year," Hernandez cautioned, "but we're looking at least the number we had last year." 
Valley fever survivors turning to fluconazole, however, may take comfort in one small solace: Hair loss from the drug is not necessarily permanent. Once the medication is out of the body's system, hair typically grows back. 
Brenda Blanton finished her fluconazole regimen earlier this summer. For that, she acknowledged, she's lucky. "I'm going to probably get my hair back," she said, but "there are women out there who are going to deal with it the rest of their lives, and it's important that they feel good about themselves."
It's a tenet she embraces herself, as she runs her fingers through the hair that began thinning years before her valley fever diagnosis. She just purchased her eighth hairpiece, and doesn't expect to stop shopping for them anytime soon.