Where COVID-19 hit hardest in Kern
This story is part of a larger project led by Stacey Shepard, a 2020 Data Fellow, seeking to illuminate the unique characteristics of Kern County that made it so conducive to widespread viral transmission.
Image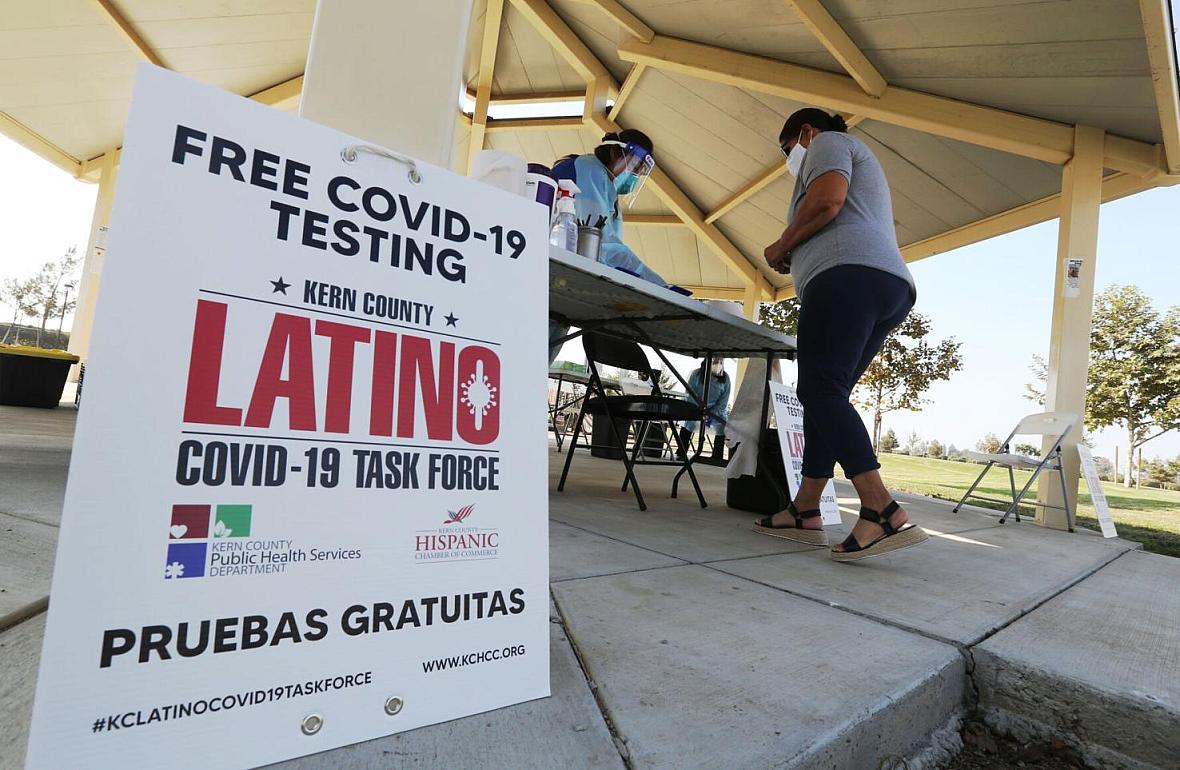 Alex Horvath / The Californian
Published on
March 13, 2021
As COVID-19 swept through Kern County in the past year, it took hold in some areas more than others. 
An analysis of cases in 50 ZIP codes in Kern by The Californian shows that rural valley communities surrounding Bakersfield — many of which are home to prisons, farmworkers and some of the county's most impoverished pockets — were hardest hit. 
Wasco, known for its fields of roses and small-town feel, saw the highest cases of COVID-19 per capita in the past year. The county's fifth-largest city may not immediately jump out as a virus hotspot, but a closer look reveals a perfect confluence of factors that experts now know to be conditions in which the virus thrives. 
For starters, of the 5,200 cases in Wasco, about one-third were infections among Wasco State Prison inmates, according to numbers  on the California Department of Corrections and Rehabilitation's website.
But because so many people who live in the community work at the prison, when cases spiked there in late December it became a major concern for community spread, Mayor Alex Garcia said.
"One of our largest employers (in Wasco) is the state prison so you can imagine all these folks are going into these hotspots. They go to work and potentially bring that infection home to their families," Garcia said.
There were an additional 500 cases among the prison's employees, according to CDCR. Because those cases are reported in the various ZIP codes where those individuals reside it's impossible to know how many were in Wasco's ZIP code. 
The community is also home to Primex Farms, which operates a pistachio processing plant where dozens of workers became sick with the virus over the summer. Primex told Valley Public Radio in late July that a total of 150 employees were infected. The United Farm Workers union had said an additional 85 family members eventually contracted the virus.
At least one employee died, according to the UFW.
Both the prison and Primex, as well as the nut processor's associated labor contractors, were eventually fined by the California Division of Occupational Safety and Health after investigations into COVID-19 protections for employees.
Most of the other communities that had the highest COVID-19 rates as a share of their population share similarities with Wasco. Delano, for example, is home to two prisons. McFarland, Arvin, Shafter and Lamont also have high numbers of farmworkers, and struggle with poverty and high numbers of uninsured individuals. All these communities also have populations that are heavily Hispanic — in most cases they comprise 80 percent or more of the population. 
A hallmark of COVID-19 has been its disproportionate incidence among Black and Hispanics. That has been a trend statewide, however, Kern County does not have reliable data available on the race and ethnicity of its cases to know for sure the situation locally. While the county does include race and ethnicity data on its dashboards almost 30 percent of total cases are reported as unknown.
Kern County Public Health Services Director Brynn Carrigan said her office, which conducted contact tracing, did pay attention to where points of transmission were occurring during the two major surges that swept through the county — one in summer and the other from November through February. It found that transmission happened primarily in households and among friends and family members, she said. 
"We weren't seeing as much transmission from businesses as were were within people's homes," Carrigan said.
In sheer numbers, Bakersfield had by far the most cases of any city in Kern, with about 65,000 cases in its 11 ZIP Codes, which have a combined population of about 550,000 people. However, the low-income, more densely-populated and more Hispanic areas of the city had the highest rates. ZIP codes in northwest and southwest Bakersfield had some of the lowest rates of COVID-19 in the metro area whereas ZIP codes for areas east of Highway 99 and in south Bakersfield saw high incidence of the virus.
Eastern Kern County, as a whole, fared better than valley portions of Kern. Even communities like the Kern River Valley, which also struggles with issues like poverty and lack of insurance, did well compared to other communities.
"We did have quite a few (cases) up here, but they didn't hit all at one time. They were scattered around," said Tim McGlew, CEO of the Kern Valley Hospital District.