Fellowship Story Showcase
'This is unacceptable': Air-polluting industries face increased scrutiny in East Oakland
In the 10 years that Zinia Gangopadhyay has taught at Acorn Woodland Elementary in East Oakland, she says she's noticed a "shocking" number of people around her getting sick, from cancer to breathing problems.
"We've heard of parents and families in the community, seemingly healthy parents who at very young ages have had strokes, and high numbers of students with inhalers and asthma," said Gangopadhyay, who currently teaches fifth grade. 
The elementary school, which shares its campus with a preschool and the 81st Avenue public library branch, is less than half a mile from the AB&I Foundry, which manufactures cast iron pipes. For years, staff at Acorn Woodland have suspected that AB&I—which melts down scrap metal and emits dangerous chemicals into the air through its smokestacks—and other industrial polluters in the area are causing the unusual health problems, and members of the school community have joined neighbors and environmental justice organizers in East Oakland in calling on environmental regulatory agencies to do more to protect them from air pollution.
The message these groups have long received from the Bay Area Air Quality Management District, a state agency tasked with monitoring air pollution, is that while their air isn't clean, it's also not a major source of danger and that facilities like AB&I are not a source of excessive toxins.
The dispute over whether AB&I is a harmless neighbor or a public health danger pits environmental activists and members of the majority Black and brown communities that live, work, and learn near industrial facilities in East Oakland, against regulatory agencies such as the Bay Area Air Quality Management District, Environmental Protection Agency (EPA), and California Air Resources Board, which establish guidelines intended to protect the public but have limited power or political will to enforce these rules.
Community members say they've long suffered from air pollution, and that businesses haven't accepted responsibility. They also feel that government regulators haven't been effective in monitoring the air and stepping in to ensure their safety. 
But after years of advocacy, things are slowly changing.
In April, the Air District recognized for the first time the health risks East Oakland residents are facing, releasing a report showing that the AB&I Foundry is spewing higher levels of toxic emissions into nearby neighborhoods than previously acknowledged by the company and environmental authorities and that these emissions exceed risk thresholds. Recent air pollution research also shows that the stationary monitors the federal EPA and Air District use to measure air pollution levels in Oakland and in other cities often fail to capture air pollution dispersed across small distances. 
Meanwhile, a report released last August by the Oakland Unified School District—conducted by a team of environmental scientists and toxicologists—revealed elevated levels of three cancer-causing chemicals at the Acorn Woodland campus. One is benzene, a commonly-used chemical that is found in cigarettes and other materials. Benzene is also one of the carcinogens emitted by AB&I Foundry, and likely other industrial businesses in the area. 
East Oakland residents and environmental justice organizations are now building off this research to campaign for cleaner air. But they still face an uphill battle to hold polluting industries accountable and force regulators to clean up East Oakland's skies.
A new mandate to clean up industrial pollution
For decades, AB&I has ranked as one of the top polluters in the city of Oakland, according to data collected by the state Air Resources Board. The foundry emits a noxious combination of heavy metals like lead and arsenic, and gases like nitrous oxide and carbon monoxide, as well as invisible but dangerous chemicals like benzene, hexavalent chromium, and cadmium, which are known to cause cancer, according to the U.S. Centers for Disease Control and Prevention.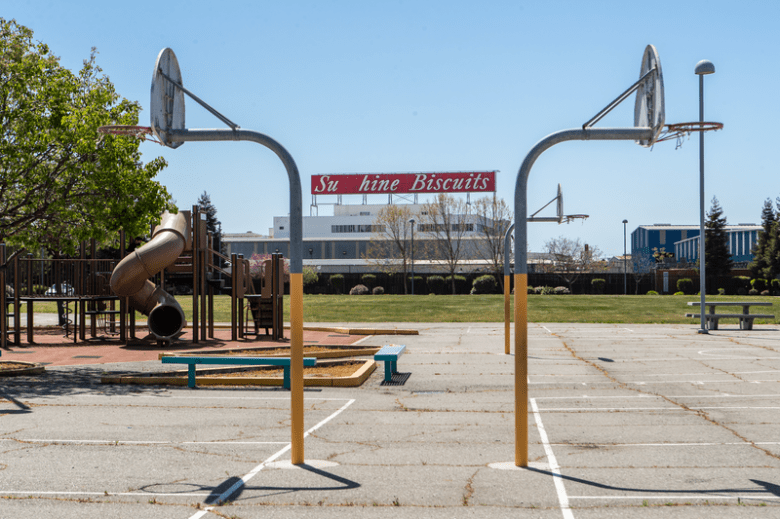 In addition to Acorn Woodland Elementary, thousands of residents live in the densely populated neighborhoods located a half-mile from the foundry. Wind blowing off the San Francisco Bay can carry emissions from the foundry into these residential zones, where it mixes with other sources of pollution, including from heavily trafficked truck routes and other factories.
Historically, environmental regulators haven't taken many steps to significantly reduce emissions from AB&I. Part of the reason is that the foundry has been operating since 1906, long before most state and federal environmental laws were even on the books. AB&I's permits to operate were issued long ago and, unless the foundry wanted to expand or change its equipment or processes, isn't subject to a comprehensive review of community health risks by the Air District. 
For many years, air quality authorities recorded pollution levels coming from the foundry but did not associate the pollution concentrated in residential areas, schools, and nearby workplaces with the illnesses being experienced by people in the community. But after years of reporting oppressive odors and health issues to authorities, residents' concerns were finally substantiated in a draft health risk assessment report about AB&I published by the Air District in April. 
The report is one of the first health risk assessments of an industrial facility permitted by the Air District since the agency adopted Rule 11-18 in 2017, which aims to reduce health risks and toxic emissions from existing industrial facilities in the Bay Area. Created in response to Bay Area residents' concerns about the health impacts of air pollution, Rule 11-18 sets a cap on the risk levels posed by dangerous chemicals that polluting facilities, even those that have existed for many decades, can emit. 
Under the rule, if a facility exceeds a "risk action level" of 10 in one million, it must present a plan to reduce its pollution levels. A risk action level of 10 in one million essentially means that a person with long-term exposure to air pollution from a specific source has a 10 in one million chance of developing cancer because of it. The assessment of AB&I revealed a risk action level of 46 in one million, more than four times the acceptable limit set by the Air District.
The Air District estimates nearly 1,000 facilities throughout the Bay Area may have to take action to reduce their emissions levels because of the new rule. Aside from AB&I Foundry, there are two additional health risk assessments currently under public review—one for a crematory in Fremont, and the other for a power plant managed by the city of Santa Clara—and another 36 facilities in various stages of review by the Air District. AB&I was identified as a top priority for a comprehensive health risk assessment back in 2017, when the Air District found its toxic emissions on par with major polluters like a power plant or landfill, Carol Allen, engineering manager with the Air District, explained during a May 2021 presentation on the report.  
"While we have measured an 80% reduction in the average cancer risk due to air toxics since 1990, recent evaluations demonstrate that some Bay Area communities like East Oakland have higher health risk due to air toxics than other communities," said Allen in the meeting. "This is unacceptable, and we are using all of our tools available to reduce Bay Area health risks and especially to reduce those health risk disparities in already overburdened communities."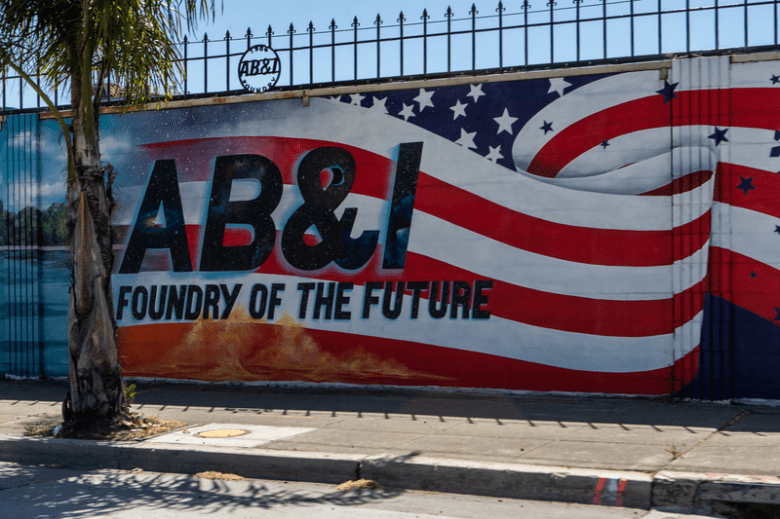 None of this was a surprise to the neighbors and activists on the Zoom call, but it did mark a shift in the way the Air District has characterized the environmental threat facing East Oakland.