Center for Health Journalism announces 2023 Grantees for Impact Fund for Reporting on Health Equity and Health Systems
Image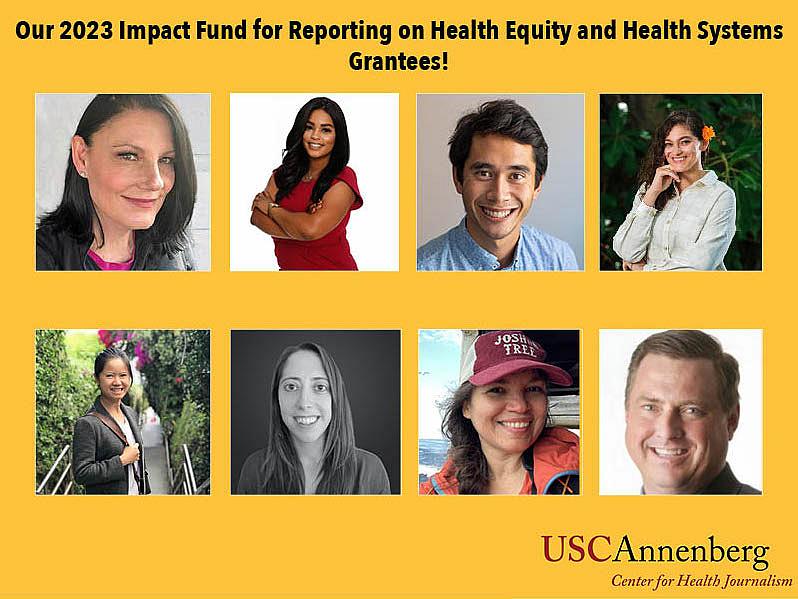 Published on
November 2, 2023
The USC Annenberg Center for Health Journalism is delighted to announce the 2023-2024 class for our Impact Fund for Reporting on Health Equity and Health Systems.
This talented and diverse group of grantees — three-quarters of whom are journalists of color — will report for a range of national and regional outlets, including TIME, Harvard Public Health magazine, South Dakota News Watch, Mountain State Spotlight, and multiple ethnic media publications, including palabra, the Indianapolis Recorder and Nguoi Viet News.
We are pleased to have the opportunity to work with journalists tackling some of the most important challenges facing health care today. Journalists have a critical role to play if we are to change conditions in health care systems. Accountability journalism can call out and document systemic barriers to care for people of color. Powerful narratives can bring home the toll of discrimination and bias. And conversations with communities can help us shape reporting that surfaces the best path forward.
In partnership with the Center for Health Journalism, grantees will produce ambitious explanatory and investigative projects that explore how health systems can impede health equity. Topics include how Native American health needs are going unmet; health inequities and their impact on Black boys; the failure of maternal healthcare to properly provide for pregnant Muslim women; the lack of mental health services for immigrant youth; and the health inequities facing residents of the remote island town of Vieques, Puerto Rico. Projects also will explore the health and socioeconomic outcomes of people who lived through the Flint, Michigan water crisis and women's health in the wake of abortion restrictions.
The Impact Fund for Reporting on Health Equity and Health Systems is supported by the Commonwealth Fund, a national, private foundation based in New York City that supports independent research on health care issues and makes grants to improve health care practice and policy. 
"The journalists chosen to participate in this project will help expose — and identify solutions to — some of the most insidious inequities in the U.S. health system," said Barry Scholl, senior vice president for communications at the Commonwealth Fund. "Every American should have access to affordable, equitable, high-quality health care, and we are proud to support this diverse group and the Center in this important work."
We are pleased to announce our 2023 Grantees: 
---
The USC Annenberg Center for Health Journalism, founded in 2004, educates journalists and partners with newsrooms across America to support reporting on health equity, child, youth and family well-being and the social determinants of health. Through its intensive Fellowships, the Center for Health Journalism has trained more than 1,600 journalists on "impact reporting," which combines powerful narratives, unassailable data and community engagement. Its Fellows have produced thousands of major investigative and explanatory projects that have illuminated health issues, won journalism honors and changed laws and policies across the United States.