Coronavirus Files: The beginning of the end
Image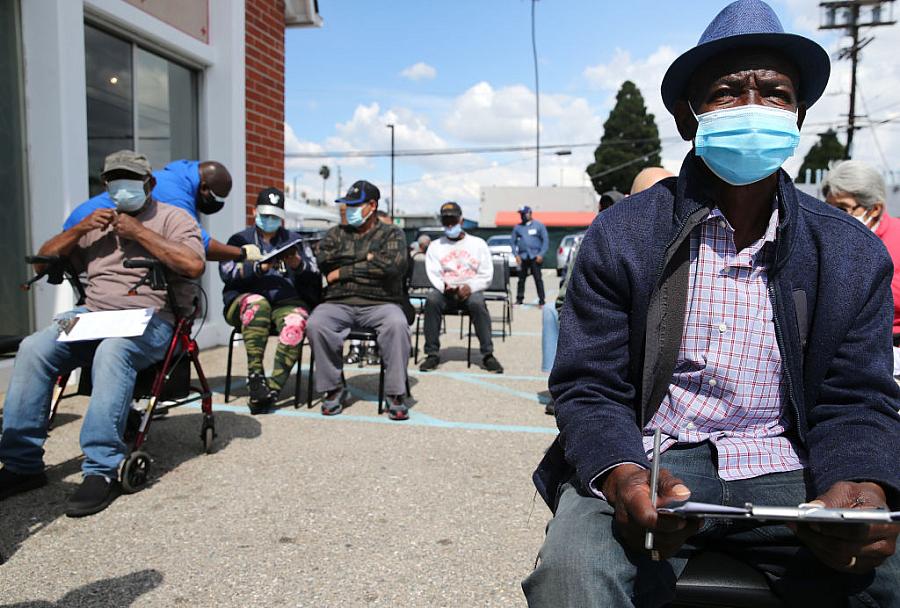 Photo by Mario Tama/Getty Images
Published on
February 6, 2023
Dearth of pandemic data on race, ethnicity 'beyond bad'
When a trio of health equity scholars set out to study racial and ethnic inequities during the pandemic, they failed, the researchers write in STAT. The data just weren't there.
"Even in 2022, the degree of missing data on race and ethnicity in federal COVID-19 databases was simply too high," the authors write. "How bad has the problem been? Far beyond bad."
For example, in a CDC dataset of more than 50 million COVID cases, 34% were missing race and ethnicity information. (In contrast, 99% of cases included age and sex.)
The researchers, stymied by the lack of answers to their original questions, turned to studying the differences in how well states collect the relevant data. They found the lack of race and ethnicity data for those with confirmed COVID cases ranged widely, from 8.7% of cases in Utah to 100% in North Dakota. 
"The pervasive missing-ness of racial and ethnic data amounts to nothing short of data genocide," write the authors. "This categorical erasure of viral transmission networks, lives lost, and missed vaccination opportunities in data collected from Black, Hispanic, Asian, and Indigenous communities represents a dismissal that may reverberate inequities for generations to come."
There are opportunities to improve, they note. For example, the CDC, as part of its ongoing restructuring, recently announced the creation of an Office of Health Equity and office of Public Health Data, Surveillance and Technology, reports Joseph Choi at The Hill.
Biden administration signals end of emergency phase
May 11 marks a big day: Both the national COVID-19 emergency and the public health emergency declarations will expire, the Biden administration has announced. 
The White House's sudden move comes in response to Republican-led bills that aimed to end the emergencies immediately, reports Zoë Richards at NBC News. House Republicans have also passed a bill to end telework in federal agencies, writes Mychael Schnell at The Hill.
The Biden administration argued that some advance notice was needed to help states wind down assistance programs and avoid "wide-ranging chaos and uncertainty throughout the health care system" that a more abrupt change would create.
The change will mean Americans will have to pay their share for COVID-19 tests and treatments, and maybe even vaccines, that have been free.
Starting April 1, states will again be able to remove people from Medicaid if they no longer qualify. Some 13% of enrollees could lose coverage as a result.
Medicare coverage of telehealth will continue through the end of 2024.
The change could also interfere with pandemic data collection, because states would become exempt from sharing case counts and death rates with the CDC, notes Cheyenne Haslett at ABC News.
The end of the emergencies also has other political consequences. It ends the Title 42 policy that has limited entry of migrants at the U.S. border. It could also scuttle the Biden administration's plans for student loan forgiveness, writes Solcyre Burga at Time.
In addition to these practical considerations, the end of the emergencies sends a powerful message about ongoing risks from the coronavirus, Jennifer Kates, senior vice president at the Kaiser Family Foundation, told The New York Times. "It might let people let their guard down," she said.
Many have already done that. Fewer than 16% of people have received the latest vaccine, for example, while COVID continues to kill hundreds of Americans every day. 
The World Health Organization still considers the pandemic a public health emergency, but has indicated the crisis is in transition.
"There is no 'level of disease' that defines a pandemic or emergency," notes epidemiologist Katelyn Jetelina on her blog. The winter so far has stress-tested the health system with ongoing omicron infections, and thus far, hospitals haven't been utterly overwhelmed. "Given this," writes Jetelina, "I agree that we are not in an emergency phase in the U.S."
But the nation is not yet in an endemic, predictable phase either, she adds. "This will likely take years."
Experts support additional oversight of pathogen research
The nation's biosecurity advisors have backed a new set of tighter regulations for studies of pathogens with the potential to harm humans.
However, they raised so many concerns that the new recommendations will likely be modified before they're finalized as guidelines, reports Sara Reardon at Nature.
In the past, scientists aiming to alter pathogens were subject to extra oversight if their organisms of interest were on a list of "select agents" — such as the coronavirus or the bacterium that causes anthrax. This additional review kicks in if the scientists plan certain categories of concerning research, such as adding drug resistance or changing the species a pathogen could infect.
The National Science Advisory Board for Biosecurity (NSABB) unanimously — if hesitantly, on the part of some members — supported new rules that would add to oversight on studies of any pathogen that infects people, animals, or plants at the Jan. 27 meeting. The regulations would apply to work "reasonably anticipated" to generate a pathogen that could create a "severe threat to public health."
"The recommendation reflects the heightened concern about biosafety and biosecurity catalyzed by the COVID-19 pandemic," writes Jocelyn Kaiser at Science. "Many virologists worry the new reviews could delay work with relatively benign agents such as cold viruses, herpesviruses, and viruses modified to treat cancer."
Some board members suggested the new rules might make it more difficult to develop vaccines and treatments for rapidly evolving pathogens, reports Sarah Owermohle at STAT.
Gerald Parker, the chair of NSABB and a biosecurity expert at Texas A&M, said the full review would likely be required for "a very small subset of research."
It's not clear when the new rules might be modified and adopted by the National Institutes of Health, which funds much of the nation's biological research. The NSABB recommended the nation create a special office to help researchers deal with the additional review.
The changes would only apply to studies funded by the U.S. government, though some committee members expressed interest in regulating privately funded research as well. Such a change would likely require Congressional action.
COVID is No. 8 cause of death among children
The coronavirus has leapt over influenza and pneumonia to become the most common infectious disease that kills U.S. children, according to a report in JAMA Pediatrics.
Overall, it's the eighth most common cause of death in kids. Because child death is rare, the rate was just one death per 100,000 children from August 2021 to July 2022.
"Just because the numbers are so much lower in children does not mean that they're not impactful," Dr. Sean O'Leary, chair of the American Academy of Pediatrics (AAP) Committee on Infectious Diseases, told Deidre McPhillips at CNN.
However, experts who spoke with the U.K.'s Science Media Centre criticized some of the study's methods, and noted it doesn't include data from the latest waves of infectious disease that hit in autumn. "These methodological choices result in an overestimation of rates, and make the claim that COVID is the leading cause of infectious disease deaths in children a misleading one in my view," said Dr. Michael Absoud of King's College London.
COVID-19 "caused 'substantially' more deaths than any vaccine-preventable disease historically," notes McPhillips.
As of mid-January, approximately 43% of U.S. children had received at least their first dose of the COVID vaccine; fewer than one in ten have received the updated booster, McPhillips reports.
A recent JAMA Network study of more than 10 million children, ages 5 through 11, who received mRNA COVID vaccines confirmed the shots are safe and effective, reports Kenneth Bender at Contagion Live. Data show the vaccines reduce risk for infection, illness, and long-term complications, and that they pose lower risk for heart inflammation than the coronavirus itself.
"Children are still at risk of serious and rarely fatal infections," wrote Dr. Paul Offit of Children's Hospital of Philadelphia in a JAMA Pediatrics editorial. "Given the amount of information currently available to parents, the decision to vaccinate their children should be an easy one."
What we're reading
Events & Resources