Coronavirus Files: FDA supports spring booster; new drug authorized for severe COVID
Image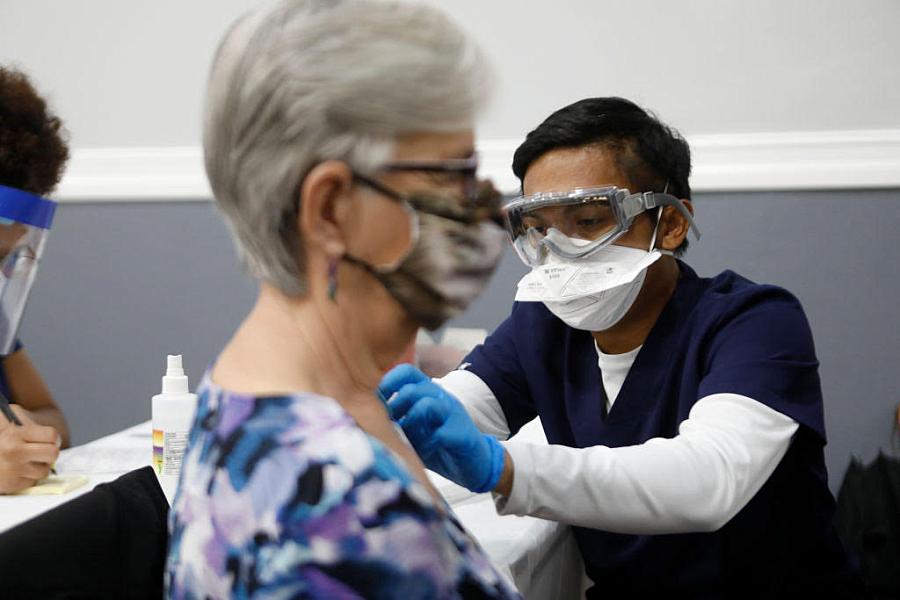 Photo by Octavia Jones/Getty Images
Published on
April 9, 2023
FDA, CDC will likely back another booster for at-risk groups
After weeks of rumors about spring boosters, the FDA is expected to approve a second round of omicron-specific shots for people who are 65 and older or immunocompromised, report Laurie McGinley and Lena H. Sun at The Washington Post.
The official announcement and CDC endorsement is expected within weeks, officials told the reporters.
The FDA will not specifically recommend the shots, but will allow anyone in those high-risk groups who is at least four months out from their first omicron booster to get another.
About 42% of people 65 and older have received the initial omicron booster shot.
These shots will be free since the federal government still has an ample stockpile of the boosters.
POC, non-English speakers at higher risk to lose Medicaid
As of April 1, a handful of states have begun removing people from Medicaid rolls for the first time in three years, as a pandemic-aid program that prevented them from doing so has come to an end.
Other states are expected to begin cutting people from their Medicaid lists this spring or summer.
Medicaid and the Children's Health Insurance Program gained about 20 million enrollees during the pandemic, reports Noah Weiland at The New York Times.
An estimated 15 million stand to lose that coverage over the next 14 months as states gradually step up programs to verify eligibility.
Many of those kicked off Medicaid will likely sign up for other coverage via the Affordable Care Act, but others will likely wind up without insurance. Those who earn too much for Medicaid but not enough for Obamacare subsidies are particularly at risk.
About 7 million of those who are likely to lose coverage are probably still eligible for Medicaid but will fail to reenroll for one reason or another.
For example, if they've moved, crucial letters might not reach their new address.
"Whenever these sorts of moments happen, it's people of color, it's kids, it's people that don't speak English that are always hit the hardest," Natalie Davis of the nonpartisan advocacy group United States of Care told The Times.
As pandemic-era benefits like Medicaid and food stamps return to their pre-COVID levels, low-income Americans will spend less, which could damage the economy overall, notes Abha Bhattaraj at The Washington Post.
FDA authorizes new medication for severe cases
Physicians have a new option for severely ill COVID patients, reports Ingrid Hein at MedPage Today.
The FDA has granted emergency use authorization for an antibody that should tamp down the overactive immune response that endangers people with severe COVID.
Dr. Patrizia Cavazzoni, director of the FDA's Center for Drug Evaluation and Research, called the medicine a "potentially life-saving treatment option for the sickest COVID-19 patients."
While the immune system is needed to fight off the virus, too much immune activity can worsen the disease, causing inflammation and blood clots.
The new antibody, called vilobelimab, sticks to one of the early cellular activators of that inflammation to stop it.
In an international trial, vilobelimab reduced the death rate for critically ill COVID patients by about 19%.
It's authorized for hospitalized patients who require machines to support their breathing or blood circulation.
The FDA warned the medicine comes with downsides: It can lower the body's ability to fight off other infections and cause allergic reactions.
Long COVID researchers push for more funding
Investigators studying long COVID have called for a much larger investment in the problem, which they say affects one in 13 U.S. adults.
The researchers, part of the NIH's Researching COVID-19 to Enhance Recovery (RECOVER) Initiative, say the current health care system isn't set up to help people with long COVID. 
There are no best practices for clinical care of long COVID, nor is there a coordinated national effort to develop such practices.
"Long COVID sufferers must navigate health care resources on their own," write the collaborators in their call to action. "Many don't know where to go or whom to call."
The investigators are calling for $37.5 million from Congress to establish a network of long COVID care centers to study the condition, educate other providers, reach out to people with long COVID, and help coordinate their treatment.
The RECOVER program has also drawn fire for planned studies on exercise therapy, reports Rachel Fairbank at Nature.
Patient advocates note that many people with long COVID have symptoms that are exacerbated by exercise, so the study could put them at risk.
"In a world where there's hundreds of things to trial, why are we choosing this one thing that we know has the potential to cause harm to a substantial portion of patients?" asked Lisa McCorkell, co-founder of the Patient-Led Research Collaborative advocacy group.
Advocates asked the NIH to release the exercise study's rationale and protocol, and invite public commentary, before proceeding. They also urged researcher to screen out patients whose symptoms are likely to get worse after exertion.
From the Center for Health Journalism
National Fellowship Applications Now Open
The 2023 Fellowship will provide $2,000 to $10,000 reporting grants, five months of mentoring from a veteran journalist, and a week of intensive training at USC Annenberg in Los Angeles from July 16–20. 
Click here for more information and the application, due May 5.
What we're reading
Events & Resources