Energy, resolve after CapRadio's gathering on rural suicide
Image
Published on
September 26, 2018
This post, written by engagement editor Olivia Henry, was originally published by Capital Public Radio as part of health reporter Sammy Caiola's 2018 California Fellowship project on rural suicide. Sammy worked with Olivia and Capital Public Radio's engagement team to mount an extensive community outreach and involvement process.

 
Last week, nearly 100 people gathered in Jackson to connect with their neighbors around a troubling statistic: Amador County has the third-highest suicide rate in California.
The event was organized by CapRadio and Amador County Behavioral Health following reporter Sammy Caiola's six-month investigation into the topic. Her series examines the factors that contribute to the high rate, existing services and barriers to accessing those services. Listen here.
Many attendees came from groups already engaged in suicide prevention — NAMI Amador, Sierra Wind Wellness & Recovery Center, Nexus, Operation Care, WellSpace Health, Tribal TANF, Victory Village and more. Some attendees were sources in Sammy's reporting. Others came after reading or hearing the series in local media. But everyone came with a story: about their own struggles, the struggles of a loved one, or someone who died by suicide.
After a meal, attendees listened to clips from the stories and discussed them in 16 small groups. People shared reactions, questions and advice: Two students said boredom is a risk factor for teens. One woman asked how seniors are expected access services when they don't have a computer or a cell phone. Some traded suggestions for LGBTQ resources. Others asked about the data driving Sammy's reporting — read her data explainer here.
Image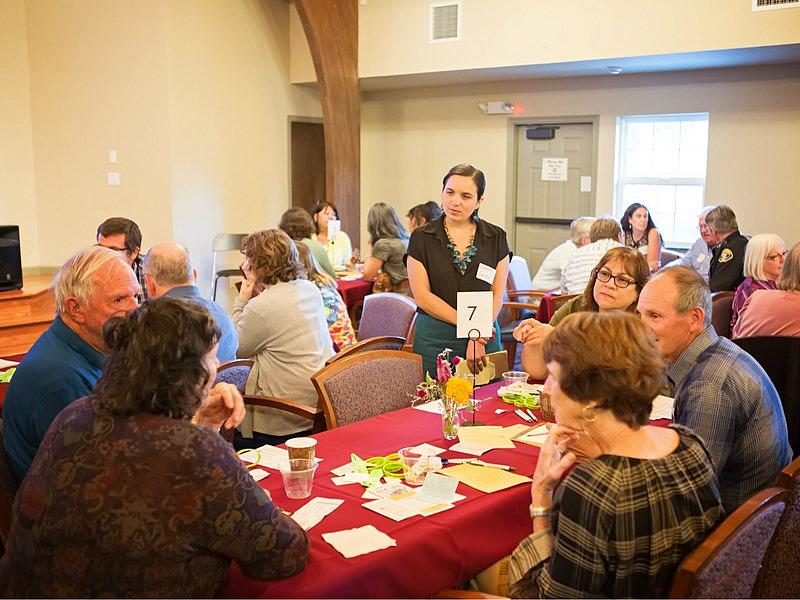 The most common message was about ending the culture of silence around mental illness and suicide. The seeds of that change were in the room: On the dessert table, local mental health workers laid out sign-up sheets for upcoming safeTalk trainings, and CapRadio staff previewed the Conservation Kit, a collection of audio clips and questions to support dialogue around suicide.
The event marked the close of reporter Sammy's reporting series on suicide prevention, but many attendees expressed hope that it was the beginning of a broader commitment — not just to reducing the suicide rate, but bringing it to zero.
[This story was originally published by Capital Public Radio.]