Even as COVID-19 rages, some states refuse to extend health insurance to their poorest residents
Image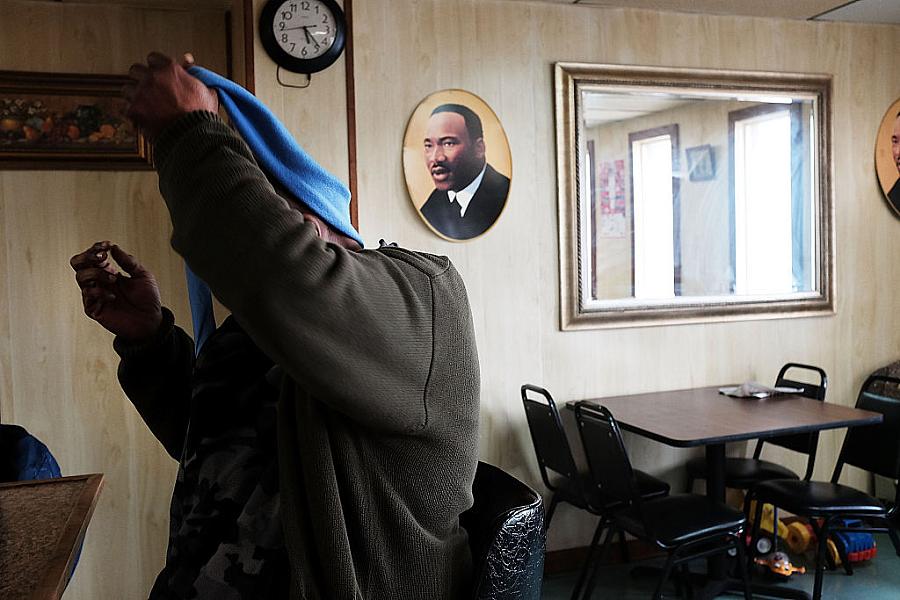 (Photo by Spencer Platt/Getty Images)
Published on
July 28, 2020
At a press conference before a speech to the Medical Committee for Human Rights in 1966, two years before his assassination, Dr. Martin Luther King Jr. noted, "Of all the forms of inequality, injustice in health is the most shocking and inhumane because it often results in physical death."
King's words come back to haunt us as the death statistics from COVID-19 roll in from every corner of the United States bearing the bad news.  
According to new data from the Centers for Disease Control and Prevention, analyzed by The New York Times, African Americans and Latinos are three times more likely to become infected with the virus than white people. They are nearly twice as likely to die. Those statistics are grim markers of a disease that has hit America's populations of color particularly hard.
What do those dismal numbers and the gaping health disparities they lay bare say about the refusal to expand Medicaid in some states, and the imposition of barriers that make expansion almost meaningless in others? Why are states continuing to turn down federal dollars to expand health care access during this time of historic need? Answers to those questions can help frame journalistic coverage as states prepare for new legislative sessions, where expansion will surely be on the agenda.
Recall that the Affordable Care Act, or ACA, expanded Medicaid to Americans with incomes up to 138 percent of the federal poverty level of $17,240 for a two-person family. But a 2012 U.S. Supreme Court decision made expansion optional. Legislatures in states that have not expanded, mostly in the South and Midwest, have refused to extend coverage to some of their poorest residents. Some 4.8 million people are in the so-called coverage gap: Their incomes are below the poverty level, and they are left out of the ACA because the law envisioned they'd be covered under the Medicaid expansion. They are too poor to buy commercial coverage and in many cases have too much money to qualify for regular Medicaid programs in their states because eligibility limits are so low.
I rang up Camara Phyllis Jones, a physician, epidemiologist, past president of the American Public Health Association, and recently a fellow at Harvard's Radcliffe Institute for Advanced Study. Where does the health care that King worried about so long ago fit into America's new reckoning with its racist past? 
Before she even began to discuss health insurance, Jones noted that many people of color are working in jobs that have exposed them more to the coronavirus and left them less protected. Think: workers in meatpacking plants or bus drivers, not program analysts or accountants who can work from home. When people of color do become infected, Jones said, they are more likely to die because they are more burdened by chronic diseases often brought on by poor diets, less access to healthy foods, and polluted environments. Compounding those burdens are stringent Medicaid rules, including work and reporting requirements, even in states that have expanded the program. These rules make access to medical care difficult to obtain.
"All these factors have the root cause of racism," Jones explained. She doesn't think the infection rate or the death rate are primarily health issues. "They are based in racism and how different populations are valued, and perhaps a wrong idea of what populations use Medicaid," she said.
Health equity in a state, she said, means valuing all individuals equally, recognizing and redefining historical injustices, and prioritizing resources according to need. That framework, or lack of it, helps explain why so many states have yet to expand Medicaid. It illuminates why three states – Idaho, Utah and Nebraska — whose voters approved expansion through ballot initiatives, and other states that have expanded, have imposed punitive or harsh requirements, such as compelling recipients to report periodically on efforts to find work or do hours of community service as a condition for retaining health insurance.
These are restrictions that Americans insured through their jobs or through the Affordable Care Act do not have to meet. The country has created a two-tired health insurance system based on racism.
Put another way, opposition to Medicaid expansion "is an ideological opposition, not a fact-based opposition to the ACA," says Joan Alker who heads the Center for Children and Families at Georgetown University's School of Public Policy. "It's tied up with a hatred of the ACA, which was President Obama's signature achievement." Alker points out that some 400 studies show Medicaid expansion reduces deaths. "I'm not sure what more evidence anyone can provide."
"The plurality of poor groups are white folks, but the idea politicians hold is that programs benefit people of color, and that's why there's not widespread support for them." — Dr. Camara Phyllis Jones, past president, American Public Health Association
To see how this opposition leaves people in poorer health and more vulnerable to the effects of the current pandemic and future calamities, I looked at two states, Mississippi and Nebraska. In Mississippi, which has not expanded its Medicaid program, 13% of uninsured residents are white, 16% are African American, and 30% are Hispanic.
In Nebraska, where 90,000 residents have been uninsured, the legislature has refused six times to expand Medicaid. Residents are awaiting implementation of an expansion voters approved two years ago, but state bureaucrats have been slow to begin the program, now scheduled to start in October.
In Mississippi, health department statistics show that as of July 21, African Americans accounted for about 52% of deaths from COVID-19, though they make up about 38% of the population.
"A poor food environment and lack of health care make the South a really vulnerable place," says Dr. Anne Cafer, an assistant professor or sociology at the University of Mississippi. "COVID has brought this out in a way we haven't seen before. It has highlighted the fact that if we don't improve access, we'll have a higher percentage of the population that gets it."
Cafer argues the nutritional deficits of COVID patients represent a drawn-out process that reveals the link between poor diets and diseases such as obesity, diabetes and heart disease. "COVID makes this process more immediate and brings it into sharper delineation."
The solutions pose familiar challenges. How do you get more food in the food deserts of Mississippi communities, and how do you pay for the services such as dietitians and food counselors when so much of the population in need is uninsured? Poor diets lead to poor health, and poor health without medical treatment is disastrous. That linkage needs more exploration.
Roy Mitchell, who directs the Mississippi Health Advocacy Program, told me, "Nobody has really talked about the underlying conditions of African Americans. To date there has not been an appreciable focus on health disparities and social determinants of health in Mississippi by policymakers."
In Nebraska there hasn't been much talk about that either, but there has been plenty of conversation about delaying implementation of Medicaid expansion the voters approved two years ago. Yet, says Sen. Machaela Cavanaugh, who represents a part of Omaha in the state legislature, "Everything about this plan is obstructionist. I'm not able to find good intentions in the plan. I have a small amount of confidence it will start in October, and it goes against the will and intent of the voters." She called the delay an "abuse of power" that has been happening since April 2019, when the state began to craft its program.
About 70% of the state population eligible for expansion coverage is working but gets no insurance from their employers, says Molly McCleery, a health attorney at Nebraska Appleseed. Yet the state's expansion calls for onerous work requirements in the second year of the program. If they are not met, recipients receive lesser coverage "Some policymakers get it," McCleery says. "They understand that if you want workers to be in good health, taking away their health care doesn't lead to those results. Other policymakers believe they need increased responsibility for this population." And that ties in with the racism, the unspoken barrier to expansion. In 2018, 41% of Medicaid participants in Nebraska were white, 20% were black, and 30% were Hispanic.
Nebraska has designated two levels of coverage with different benefit packages. Under the basic plan, Nebraskans will receive basic Medicaid benefits, excluding such important coverage as dental and vision services and over-the-counter drugs.
As prime members, recipient gets the full benefit package if they satisfy seven requirements that would be unthinkable to most Americans with employer or Affordable Care Act health insurance. These include not missing three or more doctor appointments in a six-month period, selecting a primary care doctor, notifying the state within 10 days if there's a change in status, and maintaining commercial health insurance, if available.
The state is also imposing work requirements under the waiver in the second year of the expansion, which present barriers that other insured Nebraskans do not have to hurdle. Medicaid recipients must work or volunteer for a public charity for at least 80 hours a month; enroll at least half time in an educational program; be a qualified caregiver or a foster parent; participate in certain government programs; or engage in certain job search activities for at least 20 hours per week. These requirements can be considered onerous in the extreme, given that most of the eligible population is already employed.
"Our approach better achieves the purpose of the Medicaid program by incentivizing positive activities that will improve health outcomes and encourage life successes for participants," the Nebraska Department of Health and Human Services said in a news release.
Other states that have expanded have imposed similar work requirements, giving them an easy way to kick people off the rolls if someone fails to comply. The waiver in Utah, for example, requires those covered under the state's expansion to conduct 48 job searches within the first three months of enrollment — an impossibility for all but the most dogged researcher. That requirement has been suspended because of the pandemic.
Work requirements in other states that have expanded Medicaid are tied up in the courts.
Nebraska estimates one-third of the people enrolled in the Medicaid expansion would not receive the full prime coverage and with it, coverage for dental, vision and over-the-counter drugs, which Medicaid policymakers seem to regard as inconsequential health care services. Amy Behnke, chief executive officer of the Health Center Association of Nebraska, told me that the seven federally qualified health centers in her association say dental care is a huge need. At one center in Gering, Nebraska, which serves 17 western and less populated counties, doctors see more patients for dental problems than for medical issues.
Jones argues that the way Medicaid expansion plays out in predominantly white states like Nebraska is also a function of racism. "The plurality of poor groups are white folks, but the idea politicians hold is that programs benefit people of color, and that's why there's not widespread support for them."
Veteran health care journalist Trudy Lieberman is a contributing editor at the Center for Health Journalism Digital and a regular contributor to the Remaking Health Care column.