The Health Divide: Physicians eliminate diagnosis linked to police brutality; abortion restrictions endanger pregnant people
Image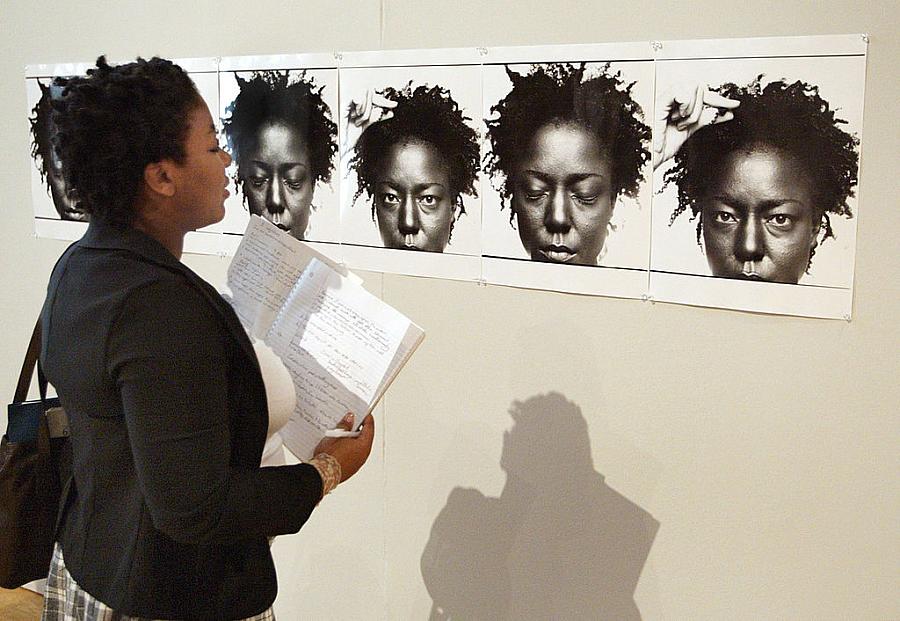 Published on
October 23, 2023
Dobbs decision led to rise in 'reproductive coercion,' imperiling women's lives
The 2022 Supreme Court decision that overturned federal abortion rights resulted in a near-doubling of domestic abuse reports involving reproductive coercion, according to the latest data from the National Domestic Violence Hotline (NDVH).
"Those experiencing domestic violence are facing a reality where an inability to receive this care is also further endangering their lives and safety," writes Jennifer Gerson at The 19th. 
Reproductive coercion, Gerson explains, can take a variety of forms: a domestic partner may force someone to engage in sex, forbid contraception, or restrict access to health care or an abortion. Once a person is pregnant, their partner may threaten to report them to authorities for abuse of the unborn child if they don't comply with demands.
Those most impacted by the link between domestic violence and abortion restrictions include people who are marginalized, lack financial resources, or live in rural areas.
"If you cannot make these decisions, it could mean unfortunately that you have to stay in an abusive situation longer," said Marium Durrani, vice president of public policy at the NDVH. "It could impact your escape; it could mean that potentially you're forced to have a child with someone you don't want to have a child with."
The hotline found that 1,230 callers reported reproductive coercion from June 2021 to May 2022, the months leading up to the June 2022 Supreme Court ruling. For the following year, the number of people making reproductive coercion reports rose to 2,442.
The increase is alarming experts who told Gerson that pregnancy increases a person's risk of homicide by a domestic partner. Murder is already a bigger cause of death for pregnant and postpartum people in the U.S. than medical conditions such as bleeding and eclampsia.
Black women, Gerson notes, are disproportionately impacted by abortion restrictions and make up 55% of pregnant homicide victims.
For domestic violence survivors, abortion access "means everything," said Kelie Sturgis, chief operations officer of the Los Angeles victims' advocacy agency Project: PeaceMakers.
FDA weighs move to protect Black women from carcinogens
The Food and Drug Administration is poised to ban a chemical in hair straighteners that endangers the health of Black women.
For many Black women and girls, the use of harsh chemicals to straighten their hair starts early, often in response to social and economic pressures to conform to Eurocentric beauty standards.
In the short term, the treatments can cause burning and breathing problems. Used long term, these chemicals disrupt hormones, and have been linked to cancer and reduced fertility, reports Claretta Bellamy at NBC News.
About half of the hair products advertised to Black women, but only about 7% of products aimed at white women, contain these chemicals, according to research from the Harvard T.H. Chan School of Public Health. 
In research published this month, the Black Women's Health Study found that postmenopausal Black women who used hair relaxers more than twice a year for more than five years had an increased rate of uterine cancer.
The same study, in 2021, reported a link between lye in hair relaxers and breast cancer.
And other research has linked hair relaxers to early puberty onset in girls and to fibroids, Bellamy reports.
The proposed ban, still awaiting public commentary and additional government review before the agency issues a final decision, would ban both formaldehyde and other chemicals that break down into formaldehyde. 
"The FDA's proposal to ban these harmful chemicals in hair straighteners and relaxers is a win for public health — especially the health of Black women who are disproportionately put at risk by these products as a result of systemic racism and anti-Black hair sentiment," said Rep. Ayanna Pressley (D-Mass.), one of the legislators who asked the agency to investigate the link between hair straighteners and uterine cancer, in a press release. 
"Regardless of how we wear our hair, we should be allowed to show up in the world without putting our health at risk."
Emergency physicians reject diagnosis used to justify police custody deaths
The American College of Emergency Physicians has officially disavowed the diagnosis of "excited delirium," a controversial term with no scientific backing that has been used to explain the deaths of people — particularly people of color — in police custody.
The group is one of the last medical organizations to reject the term, reports Jen Christensen at CNN. In 2021, the American Medical Association's incoming president Dr. Gerald E. Harmon called misuse of the diagnosis "a manifestation of systemic racism."
In addition, this month California Gov. Gavin Newsom signed a new law banning the use of "excited delirium" in police reports, civil court testimony, autopsy reports and death certificates. It's the first state to outlaw the practice, reports Samantha Young at KFF Health News. 
The "excited delirium" diagnosis has been used to describe people with aggressive behavior, super strength, and insensitivity to pain. It allowed courts to exonerate police officers for the deaths of people they arrested by laying blame on the agitated or disoriented state of the deceased person. 
The diagnosis has been disproportionately applied to the deaths of people of color. One study in the Virginia Law Review found 166 reports of "excited delirium" listed as the possible cause of death in police custody between 2010 and 2020, and 56% of those deaths were Black or Latino individuals. 
But the concept of "excited delirium" may live on under different terminology, warn Markian Hawryluk and Renuka Rayasam at KFF Health News. For example, the Minneapolis Police Department reportedly updated its training by changing the wording on a slide to "severe agitation with confusion (delirium)."
Inequities and stress shorten American lives
Stress, poverty and racism create a toxic brew that affects the body's DNA, chemistry and cells even before birth, leading to chronic disease, early aging and death, write Akilah Johnson and Charlotte Gomez at The Washington Post. 
It's all part of the "weathering process," a term coined by health equity researcher Arline T. Geronimus at the University of Michigan. (Geronimus spoke at the Center for Health Journalism's 2023 National Fellowship in July.) 
Weathering starts with external stressors, which can trigger elevated levels of the hormone cortisol in the body. That leads to a variety of responses, including an increased heart rate and a rise in blood pressure. That's fine if stress is short-term. But if the stress is ongoing, cortisol levels can get stuck on "high," and these responses can turn into chronic health problems such as anxiety, obesity and atherosclerosis.
"It isn't just living in an unequal society that makes people sick," write Johnson and Gomez. "It's the day-in, day-out effort of trying to be equal that wears bodies down."
Not surprisingly, Geronimus has found weathering disproportionately impacts people in marginalized communities, including Black and Latino people, immigrants, LGBTQ+ individuals, and those living in poverty. 
For example, many Black people endure racism on a daily basis, and events such as the 2020 police murder of George Floyd can exacerbate that stress. This ongoing stress in turn amplifies vulnerability to diseases such as COVID-19. 
"It's as if Black people have tightened their ab muscles, bracing for a gut punch but never relieving the pressure," wrote Margo Snipe at Capital B earlier this year. "They sleep knowing they have to do it all over again." 
A recent AP News project on health disparities affecting Black individuals identified higher rates of maternal and infant mortality, asthma among children, depression among teens, high blood pressure and Alzheimer's disease.
And racism in medical settings means Black individuals often go undiagnosed or undertreated, exacerbating the effects on health. 
"That's how racism gets under your skin and kills you," Dr. Tony Iton, a senior vice president at The California Endowment, a foundation that also funds Center for Health Journalism programs, told Snipe. 
Just this past week, newly published data indicate racial disparities in prescriptions for HIV prophylactics and survival after high-risk surgeries. 
And people with sickle cell anemia — most of whom are Black — often endure hours-long, life-endangering waits in the emergency room, reports Sara Hutchinson at KFF Health News. 
One woman Hutchinson interviewed, 42-year-old photographer Heather Avant, feels she must combat discrimination by dressing up and arranging her hair before visiting the emergency department for pain medication. "I have to put on an entire show to get you to believe I need care," Hutchinson said.
The effects start early: Brain scans show that poverty and stress alter the brains of Black children, reducing gray matter and putting them at higher risk for future mental health issues.
Snipe reported this month on new research suggesting that racism impacts teens by making cortisol spike.
School officials and parents can help adolescents cope, but the ultimate solution is to attack the root problem, said Rebecca Hasson of the University of Michigan, who led the study. 
"It's not enough to accept that racism is pervasive," Hasson said. "How do we disrupt the cycle?"
From the Center for Health Journalism
On Nov. 1, 11 a.m.–12 p.m. PDT, the Center hosts a webinar: "Reporting on Alzheimer's Unequal Toll in Communities of Color." Panelists are Stephanie J. Monroe, vice president at UsAgainstAlzheimer's; Kat Stafford, the global race and justice editor at Reuters; and Petra Niles, a gerontologist at Alzheimer's Los Angeles. 

Register here!

Nov. 19 is the deadline to apply for the California Health Equity Impact Fund, designed for journalists to cover systemic issues that stand in the way of health for California families and communities. The grant includes $2,000–$10,000 for reporting costs, five months of mentorship, and monthly online development.

Learn more here!
What we're reading