How the media laid bare the deadly new jungle in America's meatpacking plants
Image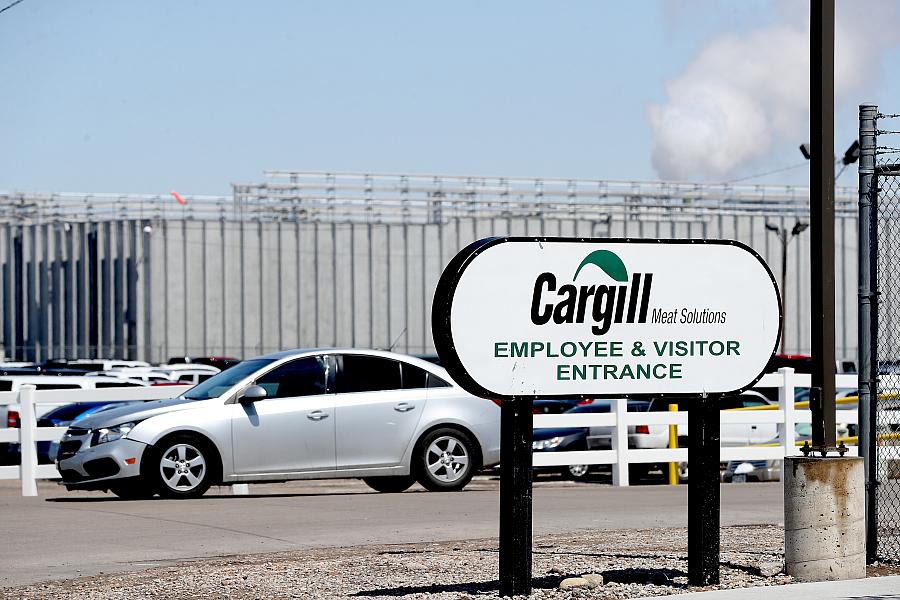 (Photo by Matthew Stockman/Getty Images)
Published on
May 18, 2020
You might call the nation's meatpacking plants the "New Jungle" and the journalists who chronicle their dangers modern-day Upton Sinclairs. Recall that it was Sinclair's novel, "The Jungle," which revealed the horrors in Chicago's meat processing industry that led to passage of the Pure Food and Drug Act and the Meat Inspection Act in 1906, forerunners of our current consumer protection laws. In the last few weeks, media coverage of thousands of workers toiling inside meat plants under dangerous working conditions, some brought on by the virus, once again shows that workers at the low end of the income scale pay the greatest price when calamity strikes.
"These were already workplaces with impossibly high injury rates for people in close-quarter work with cut injuries and crippling injuries from the high speed work," Darcy Tromanhauser, program director for immigrants and communities at the nonprofit advocacy group Nebraska Appleseed, told Mother Jones. "Now, there's this new layer of risk to life."
Indeed there is! Workers engaged in some of America's most dangerous work during the pandemic risk losing a paycheck or their life. The choice could not be clearer in the meat and poultry industries, the subject of much fine reporting over the past few weeks. The work of journalists across the country portrays a new kind of jungle in those meat processing plants, one that should give every meat eater pause next time he or she picks up a package of pork chops. The stories taken as a whole give strong voice to the women and men who work under dangerous conditions even in normal times and who now have no options to work remotely via Zoom in these abnormal ones. At the end of April, the CDC reported that in 19 states that reported their data, nearly 5,000 workers in 115 plants had tested positive for COVID-19, with states such as Nebraska and South Dakota especially hard hit. That the press has been on top of this story has undoubtedly sparked some of those plants to make changes to mitigate the virus risk to their workers and perhaps even save some lives. The stories on the packing houses have been a particularly compelling subplot in the broader coverage of the pandemic.
Let's take a brief look at some of the news outlets that that have told this story especially well in in recent weeks.
Mother Jones, in partnership with the Food & Environment Reporting Network, published a lengthy piece by Esther Honig and Ted Genoways that told the tale of life inside a JBS meat processing plant in Greeley, Colorado, where workers were not issued face masks or shields. While there was talk of installing protective plexiglass shields between work stations, they were erected only in the break room, shortly before the plant closed. Health information posted around the plant was only in English, not in Spanish, despite the fact that many spoke only Spanish as well as other languages. What made the Mother Jones piece so compelling was that the plant's lapses were graphically told through two stories: One employee who had spent 40 years working at the plant and survived, and another, a 78-year-old man who died from COVID-19 after more than 30 years on the job. The lives of those workers were woven together with plenty of examples of corporate intransigence, including one worker exposed to the virus who was told that if she wanted to take two weeks off to quarantine, she would lose her job and would need to reapply after 90 days. The man who survived says he wants to go back on the job. His daughter says: "For people like him, that's all they know: Hard work."
That the press has been on top of this story has undoubtedly sparked some of those plants to make changes to mitigate the virus risk to their workers and perhaps even save some lives. The stories on the packing houses have been a particularly compelling subplot in the broader coverage of the pandemic.
The Atlanta Journal-Constitution, in a piece by Ernie Suggs, chronicled the fear of poultry workers in Georgia chicken processing plants. About 40,000 people in the state, mostly African American and Latinos work in close quarters deboning and packing chicken. As many as 60 people can be on a line. There were lots of facts and figures about the importance of the poultry industry, but it was the story of Annie Grant that grabbed me. Grant had worked at a Tyson plant for 15 years and was earning $14 an hour. In late March she had been out sick for a couple of days, but the plant ordered her back to work after someone took her temperature and determined she had no fever. Suggs reported that less than an hour later, her family checked her into a hospital. She was put on a ventilator for more than a week before she died.
Bloomberg News dug into the story of 64-year-old Rafael Benjamin who worked at a Cargill beef and pork processing plant in Hazelton, Pennsylvania. Benjamin had told his children that in late March his supervisor had told him to take off a face mask because it was causing unnecessary anxiety among other workers. Other workers told reporters the same. Bloomberg also reported that at least 10 workers at the Hazelton plant said that supervisors and nurses at the plant sent them back to work even though they reported they were ill. Benjamin was taken by ambulance to the hospital in early April and died a few days later on a ventilator in the ICU, shortly after reaching his 17th anniversary at the Cargill plant. While Benjamin lay dying in the emergency room, Cargill closed the plant to disinfect it and install protective barriers. Nurses now talk to workers who have fevers higher than 100 degrees.
The Sioux Falls Argus Leader offered readers a compelling profile of 50-year-old John Deranamie, who escaped civil war in his native Liberia and came to Minnesota when he was 26. He eventually ended up in neighboring South Dakota at the Smithfield Foods pork processing plan in Sioux Falls, where deaths in the meat processing industry first caught public attention. Deranamie, was one of 800 workers out of 3,700 in the plant who became ill. He is now out of quarantine at home and needs to go back to the plant, where he earns $18.20 an hour as a night shift utility worker and clocks 50 to 60 hours a week. He has eight children to feed and sends money to his mother in Liberia, where he had hoped to visit before he pandemic struck. He is one of the nation's essential workers, but says, "I don't like the term essential worker. Essential worker just means you're on a death track." Still, he says there's another meaning of the term, one he takes pride in. It means "we're on the front lines working because we're the ones providing food and they're depending on us."
A story in The Washington Post last week fulfilled the media's watchdog mission by shining the proverbial spotlight on Nebraska Gov. Pete Ricketts, who announced last week that state health officials would no longer disclose how many workers had been infected with the virus at the state's packing plants. The plants weren't disclosing numbers either, "creating a silence that leaves workers, their families and the rest of the public blind to the severity of the crisis at each plant." The relative of one worker who died asked, "If the essential workers are being treated fairly and protected at meat packing plants, why aren't we allowed to know the numbers?" The governor said the numbers can be unreliable because some people who tested positive have given misleading information about where they work. Did he mean some workers lied about where they worked? The governor did not explain. The Post reported that Ricketts recommended that local health departments also withhold counts unless the plant agrees to release them. These health departments have also declined to give out the numbers of cases in their plants "because of privacy concerns and the fast-moving nature of the virus." However, Tyson and Elkorn Logan Valley Public Health Department have announced testing results at a plant in Madison, Nebraska, and the company said it would release the results of testing at other plants. 

The hero of this most recent chapter in the long-running saga of the American meatpacking industry may well be Tony Thompson, the sheriff of Black Hawk County, Iowa, home to Tyson Foods. It's Tyson's biggest pork processing operation in the country with 2,800 employees. About 37% have tested positive for the virus. Sheriff Thompson first toured the plant in early April, expecting to see masks, barriers, and other protective equipment. They weren't there, and he and other officials ordered the plant closed. "What I saw when we went into that plant was an absolute free-for-all," he told NPR. "Some people were wearing bandanas. Some people were wearing surgical masks. .... Most people weren't wearing anything. People working on the line were working elbow to elbow, sometimes reaching over each other, processing the meat that was coming down the line. There was absolutely no opportunity for social distancing," he says. "We left the plant thinking, 'Oh, my gosh, we've got a huge problem here.'"
The sheriff has become something of a media star of late, making the rounds on TV and the subject of print stories as well. His candor has been both amazing and refreshing. "Unfortunately, these are oftentimes marginalized citizens because they are refugees, because they don't speak English, because they do a job that not many people want to do," he continues. "So there's something inherent there that was not right that I hope that they have corrected it." 
Sheriff Thompson is asking the questions journalists should also be asking right now, as the pandemic continues, and after it subsides. Why has it taken a health catastrophe to install plastic barriers between workstations, check workers' temperatures, supply masks to protect vulnerable workers? Like the sheriff, one would have thought these were common sense, basic precautions for workers in a dangerous industry. Why weren't they commonplace in the plants from the start? Where are the regulations? Where is the enforcement? Where are the government protections passed to protect workers in dangerous jobs? Where were the unions? Journos have told a compelling story of lapses in worker safety. The challenge is to keep on digging.
Veteran health care journalist Trudy Lieberman is a contributing editor at the Center for Health Journalism Digital and a regular contributor to the Remaking Health Care column.