How a questionnaire helped me find people and tell the story of food insecurity in Louisville
Image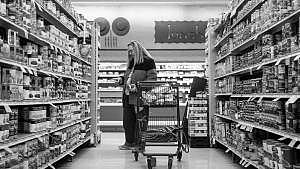 Published on
April 24, 2019
On a Monday in October, the Courier Journal published a story that we knew would get readers' attention: Where you live determines how much your eggs cost at Kroger.
The story explained that prices for staples like milk and eggs could vary by stores within the same company — with people often paying more for groceries in areas that lacked competition, including some of Louisville's most impoverished neighborhoods.
The story, on its face, was intended to break down why such a business practice occurs. But at a deeper level, it was also meant to start a wider conversation about food access in Louisville — about who can't get healthy food easily and what that lack of access means for the overall health of our city.
Three months before the story published, I had received a 2018 National Fellowship that allowed me to dive into the issues of food insecurity in Louisville and what solutions could potentially improve them.
From the start, I knew I wanted to create an online questionnaire that could help me find sources and learn from many peoples' personal experiences at once. I knew I had a better chance of getting people to respond if I launched the questionnaire alongside a story that resonated through the community. (Who doesn't want to know where they're paying more to shop?) So when the grocery prices article published, I embedded the questionnaire as a Google form at the bottom.
Within 24 hours, I received nearly 200 responses. And by the time my project published, the number had shot past 400.
Checking the number of responses was surreal, and I kept refreshing the document on my phone to see if more people had replied. I both could and couldn't believe how many people were willing to fill out the form. I knew the issues around food access interested more than just health officials and advocates, but I was overwhelmed by how many people wanted to connect and make their voices heard.
Through the questionnaire, I was able to speak with more than a dozen residents of different neighborhoods and backgrounds, who all faced different but similar problems. I was able to use their stories to guide my reporting. And, at the suggestion of mentor Terry Parris, I created a listserv of people who I could return to with new questions or share newly published stories.
Don't get me wrong, creating, sharing and monitoring the questionnaire and its responses was a lot of work. But the results showed me that people were interested in the project I was pursuing. And it kept me motivated through the weeks when I felt like I'd hit nothing but dead ends.
If you're considering a questionnaire of your own, here are a few things I learned through the process:
Be concise in your questions. What information can this question provide you as a journalist? That's what Terry Parris, the former engagement editor at ProPublica, kept asking me. You don't want to overwhelm people who elect to take your questionnaire, but you also want to get the best information you can. So be critical when choosing questions. And have a few friends or co-workers test it before you launch it to work out any kinks.

Tell people why you want the information and where it's going. When I called one person to follow up on her responses, she asked if I was part of a scam. People are wary of who's seeing their information, so let them know that it's for your eyes only and won't be willingly shared with outside parties.

Share it everywhere. For several months, I embedded my questionnaire at the bottom of any story that dealt with food access, and I created a landing page for it that I could share on social media and by email. I shared the link in Facebook groups and asked pages or people to share it on their accounts. I shared it on Reddit and Twitter and in the Nextdoor app, though that only reaches a certain geographic audience. I asked our Metro Council members to include it in their weekly newsletters, and I sent it to school resource counselors who deal with struggling families. By the time I closed the survey, I'd received responses from people in 33 local zip codes.

Follow up with people, but don't get overwhelmed. Terry suggested emailing everyone who responded to the questionnaire intermittently to let them know I was still working on my articles and to keep them engaged by asking follow-up questions. I used mail merge in Word to send everyone the same messages, and I generally received five to 10 responses back per email blast. At points, I found myself getting overwhelmed by the number of people I was attempting to stay connected with. But I think it's possible to find a balance between staying in touch with a group of sources and making that group your entire job.
In mid-January, the bulk of my fellowship project posted online and ran across two days in print. I've published several follow-up stories since then, and I plan to continue covering food insecurity locally through 2019.