How a story about childhood trauma in Paradise became one of community trauma
Image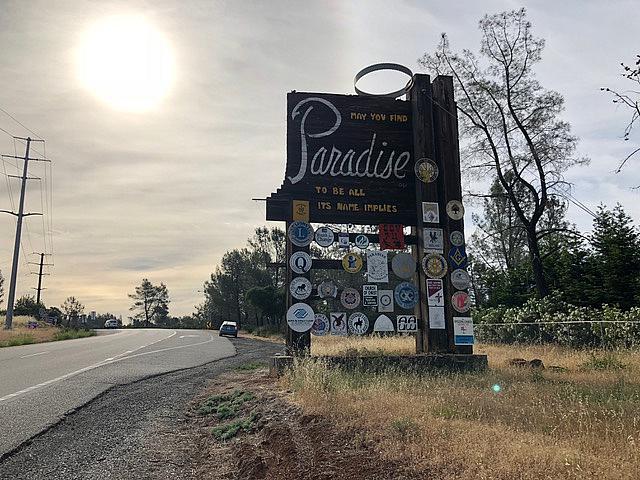 Published on
December 27, 2018
My project for the Center for Health Journalism's California Fellowship was focused on childhood trauma, zeroing in on a town in Northern California. In the fall, that town — Paradise, California — burned in a harrowing wildfire. The story quickly changed to one of community loss.
The story of trauma in two counties
My initial project was about Adverse Childhood Experiences, or ACEs. ACEs are one way to quantify how much childhood trauma a person has experienced before the age of 18. Through self-assessment, a person reviews whether they've experienced any of 10 categories of challenging experiences, such as emotional neglect, physical abuse, or a household riven by addiction or incarceration. For each negative experience a person has, his or her "ACE score" goes up by 1 point. The full range of the ACEs scale goes from zero (no ACEs) to 10 (a person who has experienced all 10 categories of adversity).
ACE scores matter because they are linked to poorer health in adulthood. A person with four or more ACEs has more than five times the risk of depression, four times the risk for chronic lung disease and double the risk for cancer. An ACE score of six or more shortens life expectancy by 20 years on average. What's more, ACEs are incredibly common across socioeconomic groups.
Doctors conducted the initial ACEs research in the late 1990s, and the work has experienced a resurgence in recent years, popularized by San Francisco pediatrician and author Nadine Burke Harris.
My goal for the fellowship was to look at ACEs in two California counties: one with high rates of ACE scores (Butte County), and another with low rates (San Francisco County). I wanted to explore what factors contributed to these disparities, and how treatments differed.
In the end, I focused my reporting solely on Butte County, which has some of the highest levels of serious childhood trauma in the state. I did this for two reasons: First, I met incredible people in Butte County — folks with compelling stories doing important work to heal themselves and others. There were more than enough stories to illustrate what ACEs are and how people can mitigate the long-term health impacts of trauma.
Second, the more I considered a story about comparison, the more I realized Butte and San Francisco Counties were incomparable: one county is rural, the other urban, one county has a booming economy, the other, a limited one, one county is flush with researchers, psychiatrists, and formal interventions. The other has a limited number of people who work in social services, and those folks are using interventions that likely aren't part of a medical school study.
The stories I chronicled through this fellowship are about a young mother with a high ACE score, who works to improve her parenting skills for her young daughter, and a school that works with middle and high school students who've been diverted from the traditional public school mostly due to suspension or involvement with the probation system. This school uses "trauma informed" approaches that shape how they teach.
My main takeaways were those relating to reporting in a rural community that was not my own, about topics that are sensitive and require building trust. I gathered some useful tips along the way:
Find your point people: Through conversations with various health providers in the Bay Area and Butte County, a few names continued to come up in conversation. These were the people who'd made addressing ACEs in Butte County their mission, and they were subsequently connected to many other movers and shakers in the region. Through phone calls with these key connectors, I was able to identify and schedule several interviews and meetings with other people before arriving in Butte.
Make a solid plan before traveling: After connecting with many people over the phone, I had set up a busy schedule for my time in Butte County before I actually arrived there. I had three to five meetings a day, and recorded them all. Even though these conversations were great, I still asked my sources for additional people they recommended I talk to. These meetings with providers were helpful, but ultimately were useful because they connected me with people who have high ACE scores.
Ask questions that get at a sense of place: I asked all my sources both what they loved about where they lived and what was challenging. This was incredibly helpful for me as an outsider stepping into this community.
Plan a follow-up trip to hone your reporting and grow relationships: After the first trip up to Butte County, I reviewed my tape and had helpful conversations with my editors and my fellowhsip mentor. I decided which stories were most compelling, mapped out the "scenes" and interviews I wanted for these stories, and returned again to Butte County. It was through this process that I decided to zero in on Paradise, a place with a depressed economy and a history of people struggling with meth addiction. It was important to return to Paradise because it gave me a second chance to see people I had met on the first visit, to learn more about their histories of trauma. Given the sensitivity of this subject, I felt it was important to give people time to share as they felt comfortable. 
Then the flames came
By the end of September, I thought most of my work was complete. But in November, Paradise was hit with an unimaginable natural disaster: California's deadliest wildfire — one that just about obliterated the town.
My sources were impacted terribly: those who lived in Paradise lost their homes, their belongings, their pets, and their places of work. The incredible upside of the earlier reporting was that it allowed me to share with our audience a glimpse of what Paradise was before the fire.
As the blaze continued — it took weeks to burn out — my reporting on Paradise morphed from a focus on childhood trauma into stories about how this trauma can be reignited when another serious trauma hits.
I reached back out to my sources, who were scattered across California, who were staying with family and friends in the days following the worst of the fire. As they suffered huge losses, they continued to generously share their experiences. I believe they did this because of the trust we'd already established and the sensitive topics we'd already covered, allowing for a depth in the reporting my news station was able to deliver to our audience immediately after the fire started.