How we pay doctors and hospitals is an overlooked driver of health disparities in this country
Image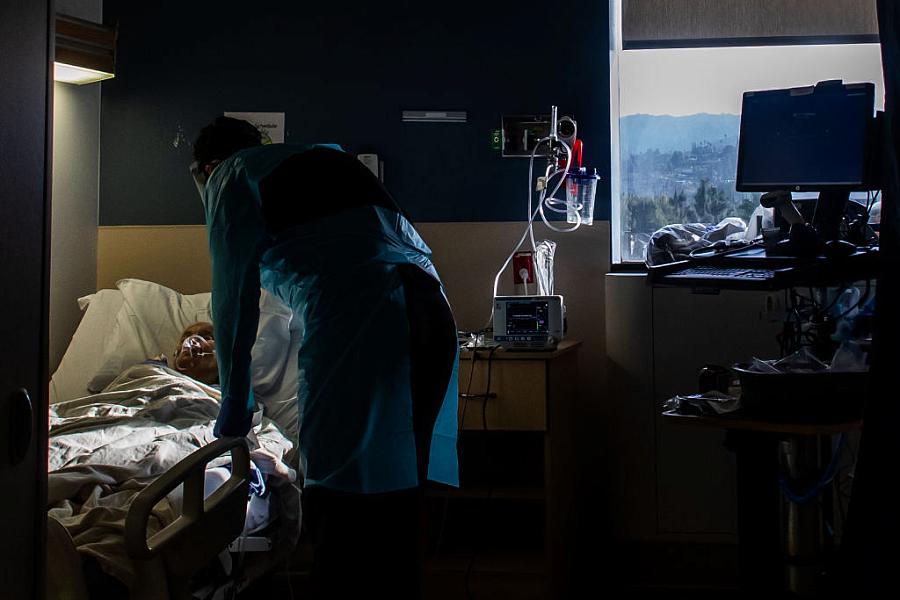 A patient rests in a hospital bed. (Getty Images)
Published on
August 16, 2022
When journalists cover health disparities and inequities, health care payments may not immediately come to mind.
But even though these payment models may not be overtly racist or classist, they can contribute to disparate outcomes, two leading experts on the issue said in a recent Center for Health Journalism webinar.
Journalists play a critical role in exposing these relatively hidden yet powerful forces that impact the health of marginalized people, said Dr. Marshall Chin, an internist, professor and researcher who focuses on health equity at the University of Chicago Medicine. Chin joined Dr. Amol Navathe, an associate professor of health policy and medicine at the University of Pennsylvania and a commissioner of the Medicare Payment Advisory Commission, to discuss how payment and incentive systems can encourage health systems to cater to healthier people while worsening health disparities for marginalized patients with more complex health needs.
Quiet drivers of inequities
In the U.S. health care system, providers and hospitals receive different payment amounts depending upon the patient's health insurance. Private insurance pays the highest while Medicare, the government's health insurance for older adults, falls in the middle. On the low end is Medicaid, the government's insurance for low-income adults, children, and people with disabilities.   
This tiered payment system has created well-reported access barriers. For example, patients with private insurance are much more likely to find a specialized provider such as a psychiatrist.
But there's another less obvious movement exacerbating health disparities: value-based payments.
As health care costs have risen, the country has taken steps to address the overuse of health care. Instead of paying separate fees for each medical service — known as the "fee-for-service model" — value-based programs incentivize providers and hospitals for better quality of care and outcomes. At first glance, this well-intentioned approach to managing care and creating accountability seemed like a silver bullet for the country's health care cost problem, Navathe said.
"But we should really worry," he said. "Value — in the context of how much health we get for dollar spent — does not equate to equity."
For one, value-based models depend on risk adjustments to incentivize taking care of sicker patients. But those risk adjustments are often incomplete for marginalized groups such as people of color and low-income populations, he said. The accuracy of risk assessments also depends on how well clinicians capture all the applicable codes. More affluent practices might be able to afford a dedicated coding staffer or better software to prompt providers. Meanwhile, a financially struggling safety net system may not have the same resources to capture a patient's myriad health challenges.
As a result, clinicians might avoid accepting patients that bring down their good outcomes – and the financial incentives that come with them. Safety net providers who do take on more of the high-risk patients might be unfairly financially penalized. 
Another example comes from a Medicare program designed to reduce hospital readmissions. The idea is to hold hospitals accountable for patients with certain conditions who are discharged yet return to the hospital within 30 days. The goal of this "noble-intentioned" idea to improve connections to follow up care and out-patient visits, avoiding costly return hospitalizations, Navathe said. But, once again, safety net hospitals that care for the sickest patients are the most likely to face these financial penalties, he noted, since their patients typically face added challenges with fewer resources. Meanwhile, hospitals with wealthier populations might be more likely to successfully transition their patients to physician offices for follow-up care.
"The poor equity outcome here is that safety net hospitals — hospitals that care for more racial and ethnic minorities — were more likely to receive financial penalties," he said.  
Another example arises from Medicare's bundled payment for hip and knee replacement surgery. This program gives hospitals a fixed payment for these procedures instead of paying piecemeal for each element of care. Some hospitals responded by directing patients away from costly rehabilitation facilities and back into their own homes with physical therapy visits. But for low-income patients with less social supports, recuperating at home can be harder.
Reasons for optimism
It's not all doom and gloom, Navathe said. Value-based payment models can align with health equity goals.
"We need to make policy intentional about achieving equity and be willing to put dollars and resources behind it," Navathe said.
He pointed to positive steps to address health equity such as the Pennsylvania Rural Health Model. Under this program, Medicare pays participating rural hospitals a fixed amount in advance to cover all inpatient and hospital-based outpatient services. Medicare has also created Accountable Care Organization (ACO) models designed to advance health equity in underserved communities.
Other steps that can advance health equity include culturally tailored care, team-based care, and using community health workers, Chin added.
The role for journalism
When reporting on payment reform overall, journalists should be mindful of situating these programs amid the broader context of health equity, speakers said. How, if at all, has a payment system been designed to advance health equity? What structurally racist policies are embedded in payment systems and are they being rooted out? How are new programs being monitored to ensure they don't worsen disparities?
Health reporters also play a key role in helping the public understand these complex policy issues by putting faces to the story and highlighting the human costs. For example, what does it mean in practical terms for a patient to return home after surgery instead of going to a nursing home?
Journalists can start with these individual stories and work backward: How does the system's design fail to address the medical and social needs of disadvantaged populations? What does that look like on the ground?
These are relatively hidden issues, yet they are so powerful and impact the health of so many, especially marginalized communities, Chin said.
"Much of the dialogue nationally has focused on access and affordability because they're easy to understand," he said. Reporting on payment systems provides "a huge opportunity to impact and do a lot of good."
**
 Watch the full presentation here: