A plan to hit the road with Punjabi truckers to report on their health hits a roadblock — COVID-19
Image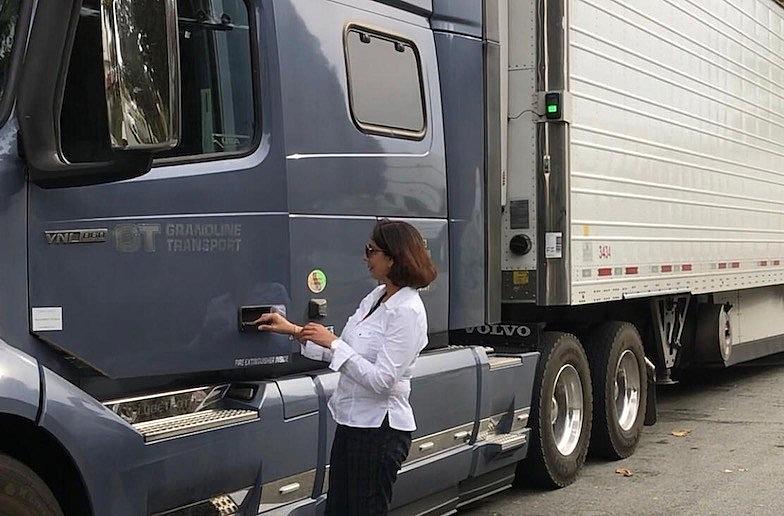 Photo credit: (Photo by Ritu Marwah)
Published on
October 9, 2020
The romance of being a truck driver, my innate desire to ride a truck across America, and the susceptibility of Punjabi truck drivers to coronary heart disease initially led me to start reporting on how the condition affects South Asian truck drivers.
As I embarked on my reporting for the 2020 California Fellowship, an entirely different experience unfolded. My dream of riding a truck and drinking endless cups of chai with truck drivers at dhabas or roadside eateries was shattered by COVID-19, as was my ability to work with doctors at Stanford and nearby hospitals on their research findings on the subject. I was bound to my desk chair and phone for my reporting.
Meanwhile, the health of truck drivers, their importance as essential workers, and the increased danger posed by COVID-19 to essential workers with comorbidities elevated them into the headlines. President Trump was meeting with truck drivers on the White House front lawn and tapping CEOs of trucking companies to help revive the economy by nominating them as part of the administration's Great American Economic Revival initiative.
My biggest challenge, however, was figuring how to speak and engage with Punjabi truck drivers during quarantine. I scoured the internet to find associations or advocacy groups for Punjabi truck drivers. All roads led to one man — Raman Dhillon — widely viewed on the internet as the spokesperson for Punjabi trucking.
My first phone interview with Dhillon provided a goldmine of insights on health and trucking licensing requirements. The trucking industry is tightly regulated by the Department of Transportation with mandates to ensure that truck drivers kept their diabetes and hypertension under control.
I discovered that about​ ​88%​ of long-haul truck drivers suffer from one or more health issues such as hypertension, smoking and obesity. Stress, fatigue, muscle strains, neck and back injuries, substance abuse, depression and sleep deprivation plague the drivers. However, the good news is that many of these health issues can be prevented before they become serious.
Dhillon, who is a diabetic and a former truck driver, had been about to embark on an experiment with a telemedicine diabetes tracker device before COVID-19 derailed the plan. After a few persistent calls, Dhillon introduced me to a Punjabi lady truck driver, a demographic I was keen to highlight. Gurjeet Kaur Randhwa, a Central Valley trucker and an ex- professor of nutrition, was featured in my first story,
Conversations with owners of businesses (like the Punjabi dhabas) that catered to the truckers revealed that many were former truckers themselves. Several had stopped driving because of poor health. The penurious and unhealthy nature of the job was lost on younger drivers who took to trucking to make a quick buck. For many young drivers, it was their first job in the United States, and sometimes they drove themselves to early deaths by taking no rest breaks between trips.
The aim of this project was to illuminate and expose critical health issues in this community, and share the suggestions made by health departments in the Punjabi language. Disparity and unequal access to health information and resources has marginalized essential workers.
The truckers' journey
Cocooned from the real world and running from one trip to another, the isolated truck driver was happy to talk. Long lonely journeys made the drivers garrulous. The conversation flowed easy. Some truckers are bloggers and active talkers to their cameras, recording social media videos along the way.
Structured conversations or questionnaires, however, met with a wall. A WhatsApp campaign soliciting their participation got no response. Text messages went unanswered.
Conversations were tucked into moments snatched on the journey. Calls had to be made earlier in the day when the driver called in an early night or vice versa.
Food stop owners had time for a quick chat during COVID-19 as not many diners were stopping by. They were happy to send photographs of their establishments and share stories of their life's journey. Not many people show interest in their lives.
As they talked, I traveled through their day with them — a visit to the doctor, waiting for a load pick up, a few quick WhatsApp jokes, and driving through smoke blowing from California's forest fires.
At the start of fellowship I had felt stymied by COVID-19, but by the end of it I had many new friends in the truck driving community and my dream of riding across America with them was fulfilled, albeit virtually.
Ritu Marwah is a 2020 California Fellow.
**
Read the stories here:
Punjabi Truckers Find A Warm Welcome At US Highway Dhabas
Doctors Open Doors To Sick Sikh Truckers Anywhere On Their Routes