This reporter has a gift for finding people. She'll be the first to tell you there are no shortcuts.
Image
(Photo by David Liu via Creative Commons)
Published on
March 15, 2023
Some reporters just seem to have a preternatural knack for finding people. Not just people, but the the most vivid, compelling subject to spring the story off the screen and into readers' minds.
By all accounts, Brittny Mejia, a metro reporter for the Los Angeles Times, has that gift. Yet to hear her describe the countless hours she spends chasing down tips, knocking on doors and building trust is to understand that relentless reporting is at the heart of her method.
Mejia shared her strategies and stories-behind-the-story with fellow journalists in her keynote address earlier this week at the 2023 California Health Equity Fellowship in Los Angeles.
Her talent for finding people and persuading them to talk is on full display in a 5,000-word story published last fall by her and three other Times reporters on COVID's deadly toll in LA's Pico-Union neighborhood, a largely immigrant neighborhood that is among the most overcrowded and poorest in the nation. The story's lead captures how deadly such cramped living conditions could be for those who couldn't afford social distance during the pandemic.
"The virus first struck Leonardo Miranda, who rented a shed and shared the kitchen, bathroom and dining room in the main house.
It spread to a man who slept on three red cushions in the laundry room. Then to a grandfather and grandson who wedged two mattresses into one room. By the time COVID-19 was finished with the three-bedroom home, shared by eight, Miranda and the grandfather were dead."
Finding that story and the ones that follow started with data. Reporter Ryan Menezes helped Mejia zero in on the most overcrowded tracts near downtown. The Pico-Union neighborhood, one of the densest in the country, has a 40% overcrowding rate, compared to 11% in LA more broadly. Then she hit the streets, seeking to talk to people as they returned home. It didn't work. People declined to discuss their housing situation with a stranger.
"It's incredibly difficult to build the trust you need in a person-on-the-street interview," Mejia said. "My leads and my stories have not come out that way."
She pivoted to other strategies: She called the numbers on fliers posted on telephone poles, advertising couches or living rooms for rent. She contacted every community group she could find. Eventually, she connected with Craig Taubman at the Pico Union Project, which runs a weekly food distribution event on Fridays. Mejia became a Friday regular, getting to know workers there and eventually visiting one of their homes.
Image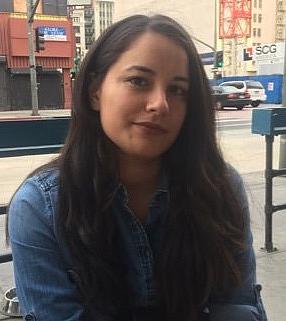 "It's important to identify a person of trust within communities," Mejia said. "Mejia also attended church services, where a pastor introduced her before hundreds of parishioners. She visited day laborer centers, messaged Facebook groups and Instagram accounts, and called renter groups. Her efforts paid off over time, and she was able to visit the homes of several families.
But the story of Leonardo Miranda came another way. Mejia had submitted a records request to the coroner's office for deaths in 2020 and 2021. Two weeks later, an Excel spreadsheet came back with tens of thousands of entries. She sorted and mapped the data, allowing her to focus on Pico-Union deaths from COVID, and then plugged individual case numbers from the spreadsheet into the coroner's website to find home addresses. With those fresh leads in hand, she was ready to knock on doors.
One of those doors was the former home of Leonardo Miranda, where she met two of his housemates. One was the daughter of the other man who died there. Mejia didn't go inside on that first visit or take out her notebook. Instead, she followed up by texting articles she had written, translated into Spanish, to show her approach as a reporter, and by sharing her own family's history.
"When I'm reporting in communities, especially Latino communities, I think of my family often," she said in her talk. "Of my mother immigrating here from Mexico when she was 14, of her older siblings who immediately got jobs in factories to help pay the rent on apartments they crowded into. I think of how I would want a reporter to have interacted with them, and use that to help guide my own reporting."
Mejia says that when she joined the Times in 2014, she approached stories with a "breaking-news mindset." "I didn't know yet what it meant to embed with families and really tell a tale," she said. "To be there for a person's highs and lows, to take a deeply personal story and do it justice through an investigation."
That has since changed. In 2021, Mejia and her Times colleague Jack Dolan were finalists for the Pulitzer Prize in local reporting for their investigative series on patients facing long delays while waiting for specialty care in LA County's safety-net health system.
The Pico-Union project taught her, once again, about the need for persistence in telling a powerful human tale.
"My biggest takeaway in reporting this story is that there are so many ways to find the best people to interview, and it's important not to get discouraged when some don't work," she said. "If I had to rely solely on going out in the neighborhood and just doing person-on-the-street interviews, it wouldn't have been as deeply a reported story as it was."
Mejia keeps in touch with people she got to know from her reporting on Pico-Union. She says she just got a phone call from someone she interviewed, offering her a fresh story tip she's pursuing.
"It's important, even if you are done reporting in a community, to build trust and maintain that trust for the next reporter who comes in."