Reporter uncovers the hidden tragedies of children left behind when mom goes to jail
Image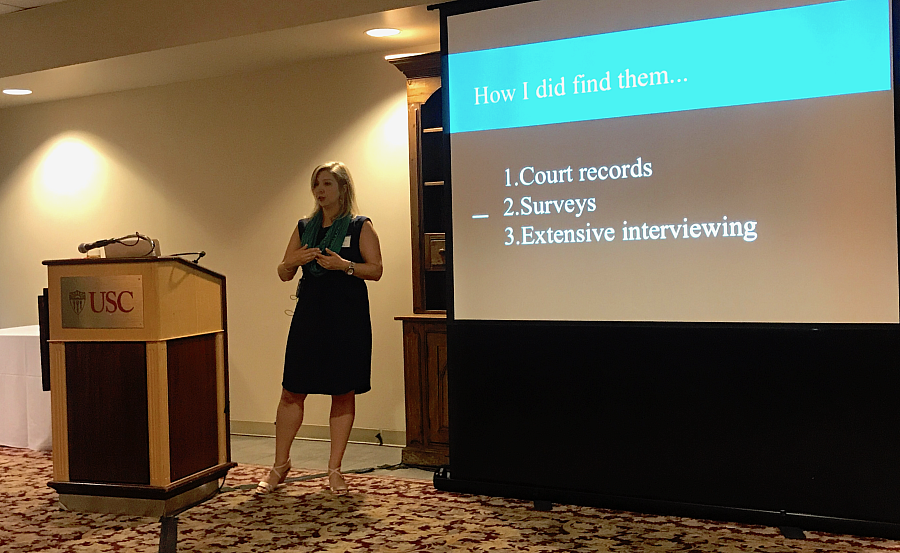 Published on
July 18, 2017
When women are sent to prison, the child welfare system is triggered. But when mothers are sent to county jail, there is no system in place to watch their kids. So what, exactly, happens? 
That was the question that led Cary Aspinwall, a 2016 National Fellow, to take on an ambitious journalism project that became "Overlooked," a deeply reported interactive story published last month in The Dallas Morning News.
"In my newsroom, reporters are encouraged to have obsessions rather than beats," Aspinwall said during her keynote address Sunday at the 2017 National Fellowship. "And my obsession is women in jail."
Aspinwall started the project while working in Oklahoma at Frontier, a nonprofit investigative journalism outlet. Oklahoma has the dubious distinction of having the highest rate of female inmates in the country. Nationwide, more than 201,200 women are locked up — almost one-third of the women in prison around the world are in the U.S.
One 2005 study by the Vera Institute estimated that almost 250,000 children nationwide had single mothers in jail. And the number is increasing: Women in jail have become the fastest-growing correctional population in the U.S.
The numbers can partly be traced back to U.S. drug policies: Women are more likely to be sentenced for drug-related crimes, said Aspinwall, and they tend to receive harsher sentences than men, especially if they have children.
Jail is not meant to be a place where people stay for long. It's generally where people are held before trial, and they may be released on bail. But jail is increasingly a place where women stay for months on end, unable to pay their fines or bail, and awaiting a trial. And 80 percent of women in jail, according to some estimates, are mothers.
To find out what happened to the children of these mothers, Aspinwall dug through thousands of pages of court records and interviewed dozens of experts. She was able to win permission from the Texas Department of Criminal Justice to mail surveys and return postage to 760 women between ages 18 and 50 North Texas sentenced within the past four years and serving time in state prison. She explained that she opted not to survey women held in jail before they were tried or sentenced, because answering the questions honestly could have resulted in additional criminal charges for them or loss of custody.
"These kids don't necessarily want to be found," Aspinwall told fellows at the keynote. "They are kind of little soldiers, taking care of their parents." No agency tracks or monitors them, so no one knows how many kids are home alone, on the streets or in foster care, and most police departments do not ask about possible children at home when booking inmates.
Through her reporting, Aspinwall found dozens of families whose kids were alone or staying with relatives — or homeless. In "Overlooked," she tells the story of the Booker sisters. When their mother, Malishia, was in jail in 2008, Kylia, then age 12, took care of her little sisters for a month on her own.
Aspinwall hopes her reporting could bring about some changes. For example, police departments could have a policy of at least asking about minor children at home when arresting women. She also points to two innovative Tulsa-based programs, Women in Recovery and Still She Rises, that teach parenting skills and help women break the cycle of incarceration and keep their kids in their lives.
"Jails were built for men — and bad men," said Aspinwall. "And the idea is that you're not supposed to stay there long. But when you have an increasing population of women who go to jail, especially women with children, it gets really complicated."
**