In reporting on mobile health, reality doesn't always match the hype
Image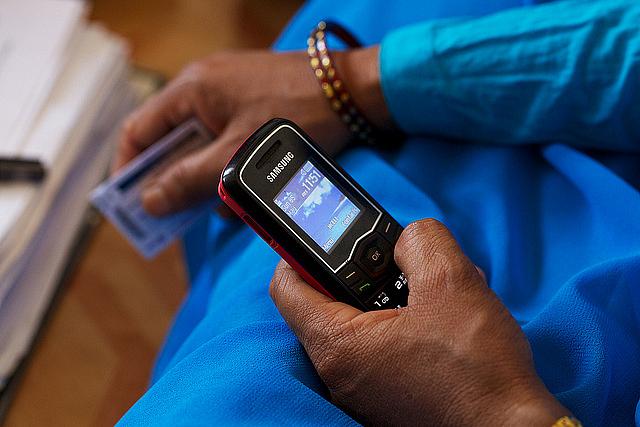 Published on
April 23, 2015
The room was buzzing. It was early 2014, and 200 academics and medical professionals — nearly three times the number organizers had expected — squeezed into a downtown Los Angeles conference room to hear the latest on an new technology in the battle against AIDS: the mobile phone.
It had a bit of the feel of a TED talk. Several groups of researchers were mulling ways to use social media to reach out to gay and bisexual men and provide health information. Another described her work with Bay Area teenagers — she paid them $10 to text five friends to promote HIV testing and had gotten great participation. Experiments were underway with recovering drug addicts, at-risk mothers and more. And companies were building tools to help researchers and health care providers make it all happen. A few had set up tables to display their wares in an outdoor plaza beside the conference room.
I had come to the UCLA-sponsored confab to find stories for my project for the California Endowment Health Journalism Fellowship. My plan was to write about mobile health, or "m-health" — how doctors and public health workers are reaching out to patients through their cell phones, nudging them to eat better or exercise more or take a pill or send their doctor a blood pressure reading. The meeting was a measure of the intensifying interest in the possibilities of m-health as a way to improve medical care, particularly for the disadvantaged.
Intuitively, the strategy makes a lot of sense. As experts are quick to note, almost everyone these days has a cell phone — even homeless teenagers, one researcher told me — and people get rather attached to the gadgets.
Exercise trackers like the Fitbit, many told me, were just the tip of the iceberg.
But I soon found that lining up the right m-health efforts to highlight in my series was easier imagined than achieved. Time after time, efforts that seemed like promising story material revealed themselves to be works in progress that weren't quite ready for their moment in the spotlight, for a variety of reasons.
Scientists don't want to talk about research that isn't yet published.
As a science and medicine reporter, I was used to writing about research that was completed, peer-reviewed and published. Generally, researchers are thrilled to talk about such projects. But medical research that's in process is an entirely different animal. Scientists I spoke to over the course of my reporting worried about violating research subjects' privacy, or about the journalistic process interfering with the study's integrity. I understood those concerns — as well as the apprehension borne from uncertainty: How would their experiments turn out?
But some hurdles to writing about research in process surprised me. In two cases, I had completed reporting on m-health experiments only to have concerns about embargoes materialize at the last minute, preventing publication of my stories. In one instance, a researcher was gun-shy about discussing results that were already public and available on the Internet, but had not yet been published in a peer-reviewed journal. (I wound up omitting this experiment from the series.) In another situation, some worried that including a description of an experiment in my stories, even when I wasn't planning to write about results, would violate their agreement with a journal. In that instance, we delayed publication to avoid concerns about conflicts.
It takes a long time to test technologies and see if they get results.
Even when participants weren't worried about talking about their apps or experiments, study timelines often didn't match up with our tighter newspaper deadlines. In the research arena, trials might have been fully designed, but weren't scheduled to progress until months in the future. Schedules often slipped. Most companies and health care providers that expressed enthusiasm for the technology hadn't set up apps yet. If they had, their tools didn't do much more than provide a way for patients to track appointments.
The hype factor: reality didn't (yet) measure up to the promise.
For all the excitement about m-health, I learned quickly that there was little proof that it has improved anyone's health. Even "successful" wearable m-health products like Fitbits didn't clearly have a lasting effect: One widely-cited survey of fitness-tracker wearers found that half of users abandoned the gadgets — half of those, within six months.
The place where this posed the greatest problem for my reporting was in my planned story about rural m-health. For years, experts have been hoping mobile phones might be able to bridge the wide geographic gap between rural dwellers, who suffer disproportionately from chronic illnesses, and far-flung medical providers. But on the ground in communities near Ridgecrest, Calif., I found that patients barely had access to working mobile phones and service — much less networked smartphones they could use to monitor their health. Rather than write about plans underway to leverage the technology, I ended up exploring why m-health probably won't have a major impact — for these patients, at least — anytime soon.
M-health could make a big difference for underserved patients, some day. But it's a story that will have to be written slowly, one small step at a time.
Photo by Possible via Flickr.
Read Eryn Brown's series on m-health here:
Mobile health faces a bumpy road in rural California
UCLA-backed project aids at-risk women using mobile phone fitness app
Medical and tech researchers see smartphones as health's next frontier