How Logan Airport almost destroyed East Boston — and how East Boston is still fighting back
Image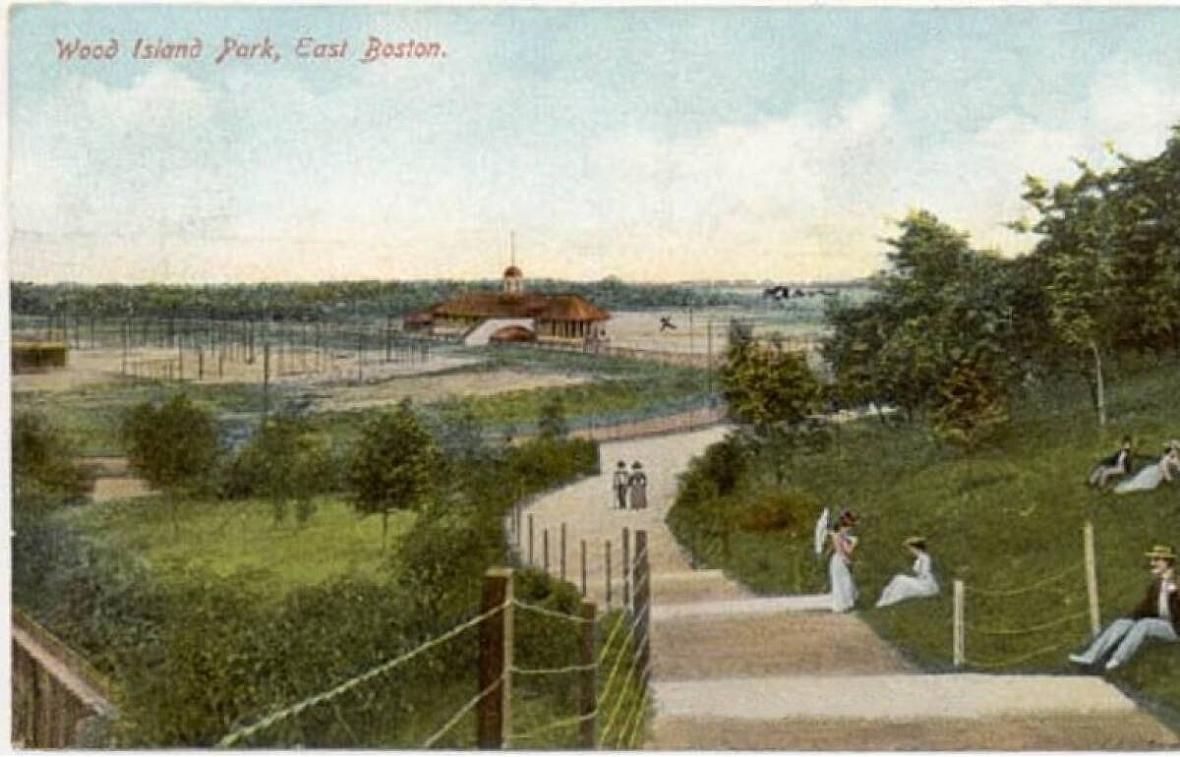 Published on
December 19, 2022
CHJ · The Price of Flight, Part III on Morning Edition | Dec. 15, 2022
CHJ · The Price of Flight, Part II on Morning Edition | Dec. 14, 2022
Click here to read the story in Spanish. 
As a child growing up in East Boston, Fran Riley delighted in chasing after frogs, collecting fireflies in a jar and relaxing in the shade of towering oak and elm trees. Riley, now 79, still remembers the gaiety of family picnics, when the sound of accordions and violins would float through her neighborhood.
"You could go fishing. You played. You weren't in fear of your life. Your parents weren't in fear," said Riley.
East Boston, where Riley still lives today, was once the home of a massive waterfront park.
Tennis courts, baseball fields, bathhouses, a gymnasium and picnic areas graced 50 acres of green space and beaches, with trees that had existed for nearly 200 years. Wood Island Park, designed by America's most lauded landscape architect, Frederick Law Olmsted, was the pièce de résistance of Boston's Emerald Necklace, a series of beautiful green spaces enjoyed by Bostonians to this day.
But search for Wood Island Park on a map today and you'll find nothing but a subway stop named in its honor. In the late 1960s, state authorities razed the entire park — the size of nearly 40 football fields — and surrounding homes in order to expand Boston's Logan Airport. The area where the park once stood is now an industrial site, fenced-off to residents of the neighborhood.
"My kids and my grandkids and my great-grandson can't imagine what I talk about," said Riley, one of the original "Maverick Mothers," a legendary group of activists who protested the airport's expansion in the 1960s. "It was beautiful. Beautiful."
Image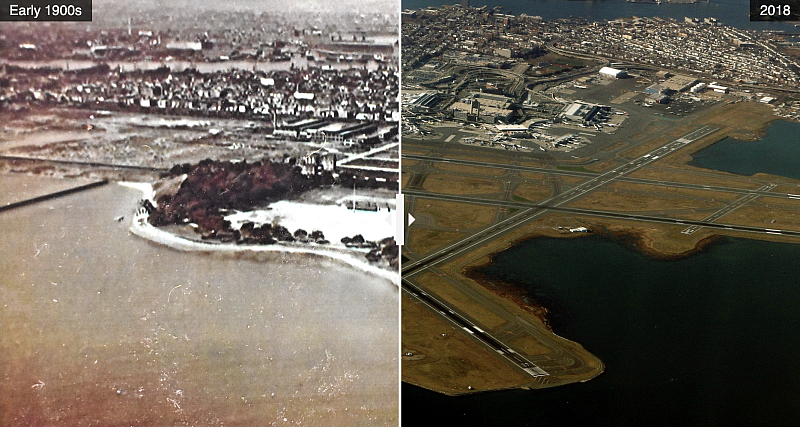 Today, Riley is among the last generation to fully remember Olmsted's gargantuan Boston achievement.
The death of Wood Island still haunts East Boston. Through dozens of conversations with activists, medical professionals and lifelong Eastie residents — and by poring over hundreds of historical documents, hours of archival tapes and troves of data surrounding health disparities — GBH News found that the neighborhood didn't only lose a park in the mid-20th century. It also lost its health and its agency.
Logan Airport emits tens of thousands of pounds of pollution daily into the air of East Boston, and hundreds of thousands of metric tons of greenhouse gases per year, according to Airport Impact Relief Inc., a local environmental group.
Highway traffic tangles its way through the neighborhood. Airplanes, trucks and idling cars form a chorus of noise pollution. Health disparities, ranging from childhood obesity and asthma to mental health challenges, plague Eastie's large Latino immigrant population — especially its children.
But this isn't just the story of a neighborhood upended by economic development. It's the story of a neighborhood still fighting back.
Image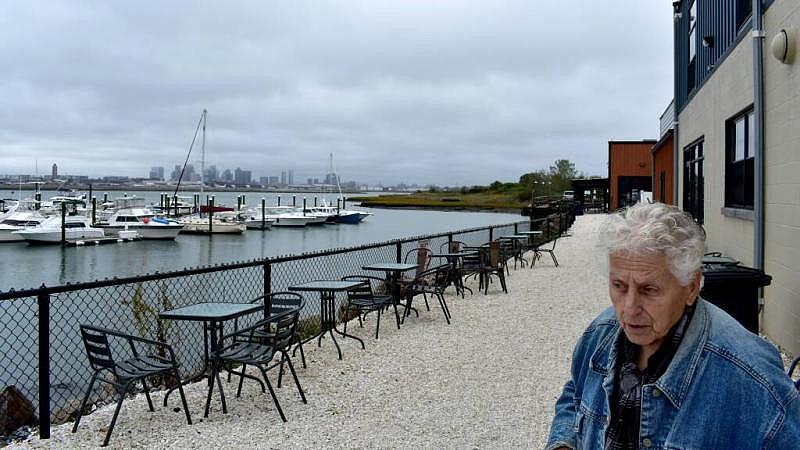 Paradise lost
Driving through East Boston with Fran Riley is like driving through Rome with Caesar after its fall. Exiting the Dunkin' parking lot along Bennington Street in Eastie's Orient Heights, she gazes out the window wistfully at a neighborhood that has been shattered and reshaped by the deliberate hands of industry.
Today, cars line the streets. Grand old homes converted to apartment buildings have a series of satellite dishes and cords cascading across their roofs. Concrete is abundant. Green space is not.
But in the 1940s and '50s, Riley watched neighbors practicing instruments on their porches and heard opera music pouring into the streets from nearby homes. And Wood Island was the star.
Riley remembers having cookouts with her Italian immigrant family "like Americans do," and in the winter, going ice skating at Wood Island.
Riley wears an old Dungaree jacket — a gift from her daughter who died in 2012 from breast cancer. And she's angry. Angry that her childhood was taken from her. Angry that her neighborhood — and the park that brought everyone together — was taken over by the airport. Angry that the economic, social and medical consequences of that loss are still playing out every day in East Boston.
"Young people today don't even realize that what's happening today is a direct result, a direct result, of that eminent domain position that they held years ago," she said. Eminent domain is the power of the government to take private property and convert it into public use — a power that was used in the destruction of Wood Island Park.
Image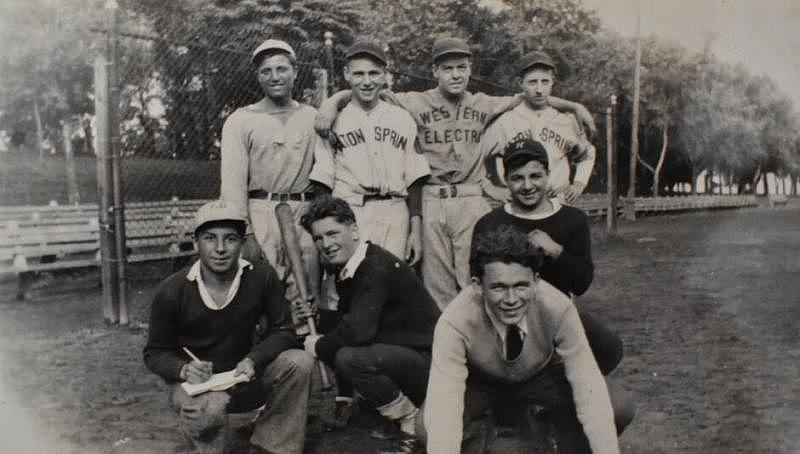 Image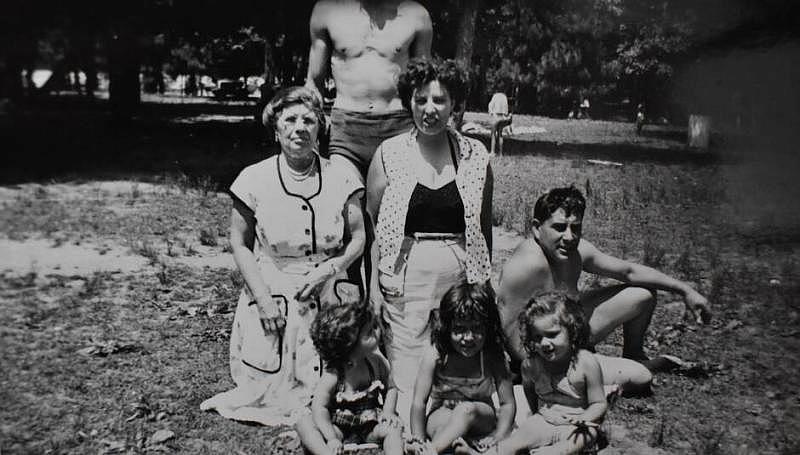 Image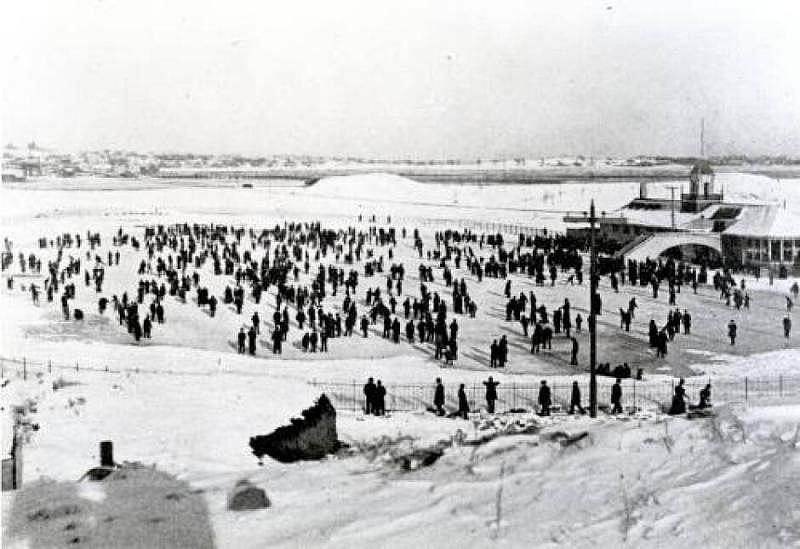 Image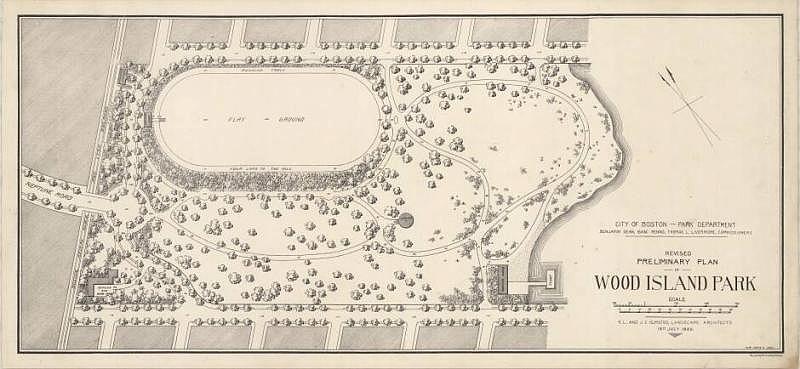 Image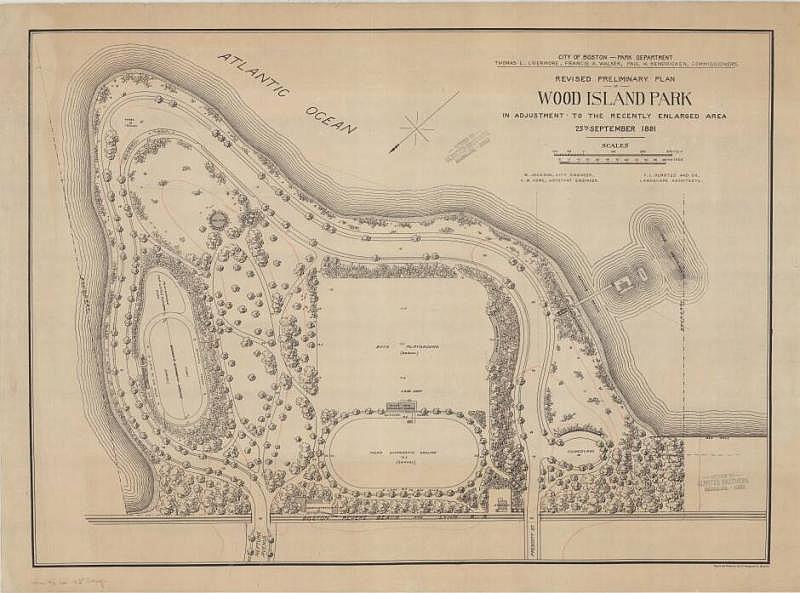 The park sat along the eastern waterfront, and in the decades after its construction in 1896 it served as the recreational and cultural hub of East Boston. As resident Anne L. Magnasco said in 1997, it was a "second home" for kids in Eastie during the Great Depression, with teens gathering to "swim and sit and smoke and eat potato chips." Her memories are preserved in Northeastern University's library as part of an oral history project on Wood Island.
The park was vast. "You could really get lost in Wood Island Park," Magnasco said. She met her husband Emillio on the beach in Wood Island.
"I never said two words to him," she said. "But going to the beach, we'd get very friendly."
Image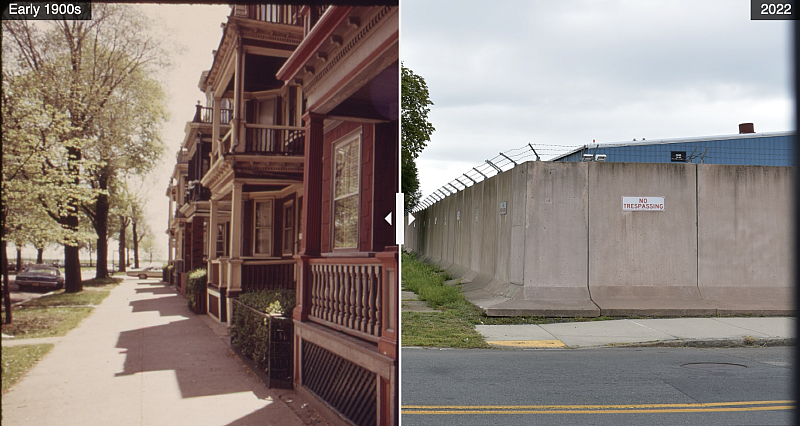 In the 1950s, Boston's Logan Airport — opened in 1923 — was rapidly growing. Commercial flights were taking off across the country, and there was more demand for air travel than ever. In 1956, the state created the Massachusetts Port Authority, commonly known as Massport, to oversee airport operations and rapidly expand flight capacity. Massport used landfill to build up shallow areas along the coast.
"This was a sign of modernity," said Jim Aloisi, a former Massachusetts secretary of transportation and author of the book "Massport at 60: Shaping the Future Since 1956." "An international airport that was responding to the jet age — it was very sexy. It was very exciting in that moment."
Massport officials believed they were justified in expanding. As they explained in a 1969 report, making the airport larger was part of an effort "to help guarantee that New England retains its reputation as the 'Hub of the Commercial Universe'."
Image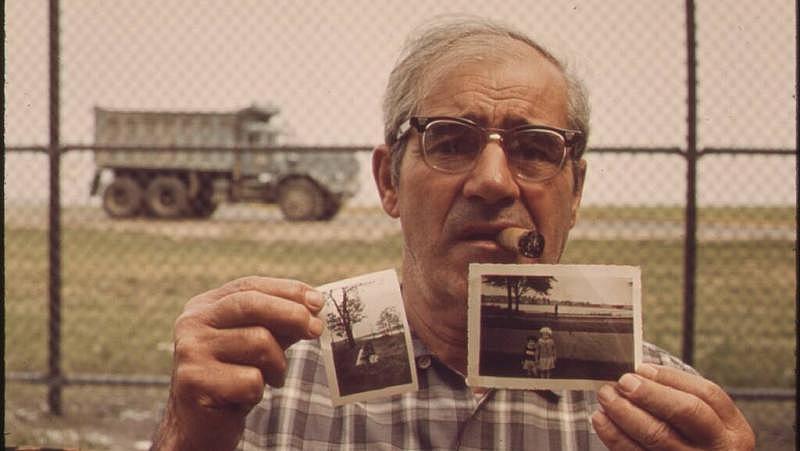 Today, Logan is among the nation's 20 busiest airports and is a major economic engine for the commonwealth. According to Massport, Logan generates more than $16 billion in regional economic benefits, supporting more than 160,000 direct and indirect jobs — with roughly 5,000 badged Logan employees living in East Boston, Revere, Chelsea and the surrounding communities.
What couldn't have been fully understood at the time of the airport's expansion, Aloisi says, is how the move would also hurt East Boston in the ensuing years. Unlike most major airports, Logan remains located within the heart of a city neighborhood, which is still home to thousands of residents.
"These things were happening at a time when people were not constrained by the law," Aloisi said. "After the 1970s, they would be constrained by the EPA, by the National Environmental Protection Act, by the Massachusetts Environmental Protection Act."
In short, Massport — perhaps unwittingly — put planes over people, a philosophy that came to a head with the destruction of Wood Island Park in 1967.
Aloisi, himself born and raised in Eastie, experienced it firsthand. "After losing Wood Island, there was literally no place to go," he said, adding that he and his cousins would play in the street because they didn't have a park.
Today, Massport acknowledges the faults in the decisions it made decades ago.
"The loss of Wood Island Park and the way it happened was unfortunate," Jennifer B. Mehigan, a Massport spokesperson, said in an email. "Those decisions were made during a time when environmental regulations were still being developed and major public infrastructure investments were being made without or with minimal local community input."
Image
The spokesperson also added that in the decades since, the airport has "done a ton of work" to try to repair its relationship with the community and "become an environmental leader."
But even 15 years before Wood Island Park was razed, Massport was already upending the lives of East Boston residents, mostly working-class Italian Americans. As Fran Riley remembers, homes were destroyed more than 15 years before Wood Island, including along Shrimpton Way, where her friend and activist-mentor Marian Curtis lived.
Massport used eminent domain to justify demolishing homes and green spaces across the neighborhood in the years that followed. But not without a fight.
When Massport decided to move forward with plans for runway expansion in 1965, it sparked a wave of activism. The plans called for destroying Wood Island and also clearing a portion of Neptune Road, a residential tree-lined street west of the airport.
The state bought up homes and paid many residents to leave. Some refused. For years, activists and the city fought back, even taking the case to the Supreme Court. But in 1969, Massport arrived with chainsaws, cutting down the trees that lined the street and evacuating several homes.
Massport donated thousands of dollars to local schools for their sports facilities. But that didn't do much to alleviate the tension. On Sept. 28, 1968, a group of protesters — largely mothers and their children — blocked dump and fuel trucks on a residential street leading to the airport's back entrance. This group, which included Fran Riley, became known as the Maverick Mothers.
"Police had their batons out," Riley said. "I remember that it could get really violent. When those trucks came down, it was like Nazi Germany, the roaring of those trucks in the sound of the boots of the state police banging on that curb. That was to intimidate you. Well, the women didn't get intimidated. ... I wasn't afraid. I didn't care because they were hurting my friends and neighbors."
Image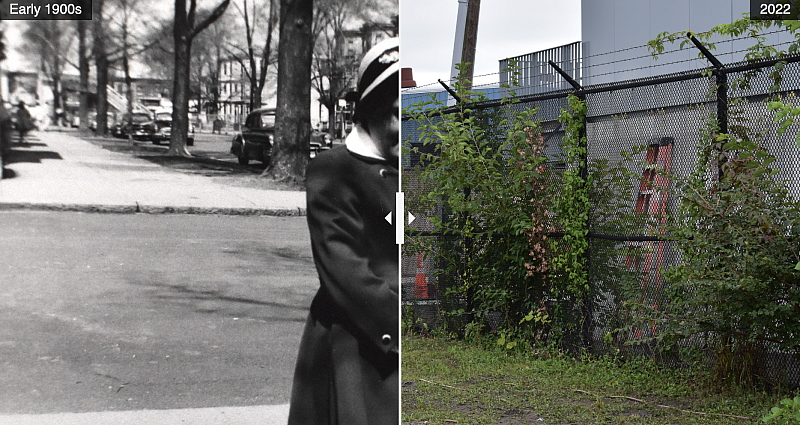 In the years that followed, the airport continued to chip away at the neighborhood, physically and culturally. Riley's family lost two of their homes to separate airport-related infrastructure projects. The last surviving home on Neptune Road was demolished in 2009.
Despite those losses, Riley and the other Maverick Mothers would go on to fuel decades of activism and resolve that still resonates in Eastie to this day. Throughout the 1970s and 1980s, thousands of Eastie residents lodged complaints against the airport. Their activism led to noise-mitigation programs, prevented airport expansion in some instances and even led to boosted funding for new parks in the neighborhood.
But Wood Island Park remains lost — and the health effects of that loss are still being felt in Eastie today.
There's something in the air
Liliana Vega was 39 years old when she was diagnosed with colon cancer. "It was a big shock," she said, sitting on a bench near Chelsea Creek along the northern edge of Eastie.
Before she found out she had cancer, Vega was diagnosed with asthma, which had worsened over the years. But she didn't connect her health issues to the airport.
Image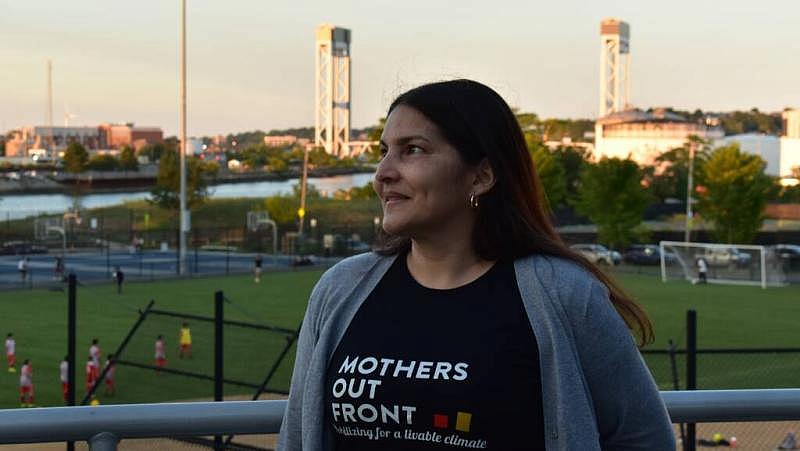 Vega was born and raised in Puerto Rico and moved to the mainland United States when she was 17. After trying out a few different cities, she settled in East Boston, eventually buying a home on Falcon Street in 2000.
East Boston has been an immigrant hub for centuries — first for Jewish and Irish communities in the 1800s, then mostly for Italian immigrants during Wood Island Park's heyday. Now, the neighborhood is home to the largest Latino community in Boston. Hispanic and Latino residents comprise half of Eastie's population.
After discussions with her doctors, Vega was left with the understanding that her neighborhood was seen as a "hotspot" for many different types of cancer, including colon cancer. This led her to believe her illness may have been rooted in environmental, rather than genetic, causes.
Curious to learn more, Vega took classes that included environmental science at the University of Massachusetts, Amherst, earning a bachelor's of science, and joined the environmental advocacy group Mothers Out Front East Boston.
Today, she attributes her cancer — and the diagnoses of several neighbors — to the airport.
Scientists have just begun studying the correlation between airplanes, jet fuel and cancer incidence. Recent research warns that jet engine emissions have similar effects to diesel fuel, putting people exposed to aircraft pollution at similar health risks to those who live by highway clusters, including cancer. One recent study conducted in Thailand directly connected colon cancer to airport emissions.
According to Dr. Tony Iton of the California Endowment, a leading medical expert on the interconnectedness of neighborhoods and health outcomes, it's difficult to pin the blame of one particular cancer case on the presence of an airport — but that doesn't mean they're unrelated.
"Unfortunately, we don't know whether you can attribute the pollution from the airport or other sources of toxicity in the neighborhood to anybody's particular disease," Iton said. "But I do think that if you see a cluster of cancers or a cluster of unusual diseases, and an epidemiological investigation can't pinpoint any particular source or cause, that doesn't mean that it didn't happen."
The evidence is clear when it comes to asthma and other respiratory diseases. A Logan Airport Health Study conducted by the Massachusetts Department of Public Health Bureau of Environmental Health in 2014 found that children in neighborhoods near Logan, including Eastie, are as much as four times more likely to exhibit signs of asthma compared with children in other areas; that adults are twice as likely to show signs of chronic obstructive pulmonary disease, or COPD; that there is a link between pollutants and respiratory problems like asthma and wheezing.
"We have been breathing in ultrafine particulates for generations, and we have passed that on to our children and our grandchildren," said City Councilor Gabriela Coletta, who represents East Boston. "And we also know that air pollution also impacts BIPOC [Black, Indigenous and people of color communities] more frequently."
Liliana Vega says she doesn't need the data to demonstrate Logan's dire effect on Eastie's health. In addition to her own asthma diagnosis, her oldest daughter, Diana, suffers from asthma and severe allergies.
"When we take walks and it's a heavy traffic day either for air or land, she starts coughing a lot," Vega said. Her youngest, Damien, also suffers from asthma.
Her middle child, Diego, doesn't have asthma. Liliana attributes that to the fact that "he never liked to go outside" as a child — which may be indicative of another big issue facing East Boston. Some children in the neighborhood aren't comfortable playing outdoors.
Air quality, airport traffic and a lack of access to green space are all barriers to outdoor activity. And research shows that physical activity is a core component of preventing weight-related medical conditions.
"It's kind of like the chicken and the egg," said Dr. Allison Brown, a pediatrician at the East Boston Neighborhood Health Center. "There's definitely a lot of kids with asthma and a lot of kids that are overweight."
Brown sees mostly Spanish-speaking Latino and Hispanic immigrant patients, the vast majority of whom are low income. Many of them suffer from childhood asthma and obesity — issues exacerbated by the COVID-19 pandemic, Brown says.
According to a community health needs assessment report conducted by Massachusetts General Hospital, 63% of adults in Eastie have obesity, which is significantly higher than most neighborhoods in the city. Public school students across all grades in Chelsea, Revere and Winthrop — districts near the airport — all have a higher percentage of overweight and obese students than Massachusetts as a whole.
And according to researchers like Iton with the California Endowment, zip codes can be more important than genetic codes when it comes to health. East Boston lays bare the way a neighborhood can shape health.
"The obvious manifestations of going from an Olmsted park to a polluting, noisy airport on the health of the community and population is as straightforward as you could imagine," Iton said.
East Boston also has hotter temperatures, on average, than most other neighborhoods in the region, according to a 2022 study spearheaded by the Mystic River Watershed Association and the Museum of Science. And it's a food desert, meaning residents have limited access to nutritious food. Residents also have higher rates of "chronic sadness," according to Mass General.
East Boston represents a convergence of factors that can negatively affect health — and activists in the neighborhood point to the destruction of Wood Island Park and the expansion of the airport as the initial point of convergence.
Image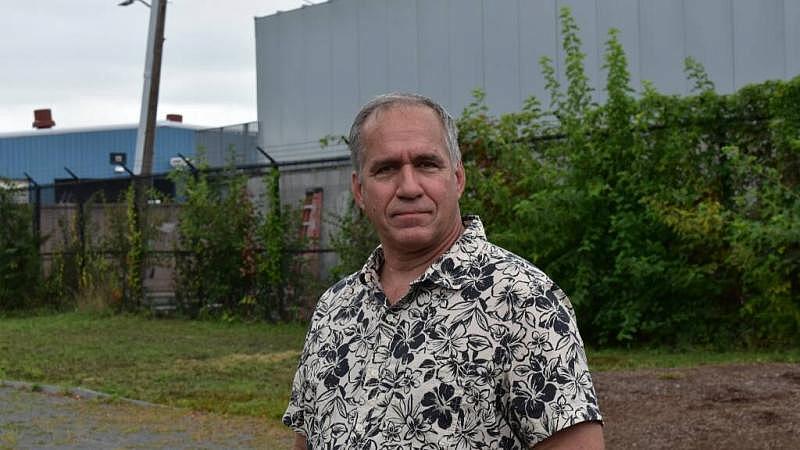 "We've got more asthma, diseases and hearing losses — why?" Fran Riley asked. "Because the airport has destroyed us."
A better East Boston
Sometimes, activist Chris Marchi likes to imagine an East Boston where the airport didn't expand in the mid-20th century.
"I can tell you that there would be a whole lot less [asthma, chronic obstructive pulmonary disease and weight-related illness] in the neighborhood," Marchi said. "There'd be safer streets. I think there'd be a lot better political cohesion and social cohesion."
Marchi believes, like many other activists in Eastie, that Massport destroyed the neighborhood's agency, both politically and socially, when it did away with Wood Island Park.
"I was two years old when they took Wood Island Park," Marchi said, standing in the industrial area at the end of Neptune Road — a spot that once served as an entrance to the grand park.
"My mother said she was walking me in a stroller to get down to the park. And when she got there, it was all fenced up and it was gone," he said.
Just like Fran Riley, Marchi is angry.
"Despite all the laws that our state has created to protect us, the city and state have truly designated us as a place and people for whom these protections do not apply," he said. "They think we are an acceptable and unavoidable sacrifice zone. We say otherwise."
Image
Marchi, vice president of the East Boston–based environmental group Airport Impact Relief, says this area feels like a maze of on- and off-ramps for cars driving to and from the airport.
According to data compiled by AIR, Logan Airport emits more than 35,000 pounds of pollution daily into Eastie's air and 810,000 metric tons of greenhouse gases per year. That's roughly the amount of greenhouse gases that 175,000 passenger cars emit every year.
Marchi has spent decades pushing for Massport to mitigate the health effects of the airport. Most recently, AIR has worked alongside the group Mothers Out Front — an environmental advocacy group inspired by the Maverick Mothers — in a push for new, high-efficiency particulate air filters to be placed in buildings like public schools.
Massport refused to sponsor a pollution mitigation program in classrooms. In an email, Massport spokesperson Mehigan noted that HEPA filters were not identified as an appropriate mitigation tool by the East Boston Neighborhood Health Center in response to the 2014 airport health impact study. The spokesperson also noted several efforts the airport has undertaken to reduce emissions, including investing in quieter and less polluting engines, and committing to become completely "net zero" by 2040.
It isn't just airplanes that pollute the air in Eastie. Cars do, too, driving in and out — and idling at curbs, in violation of state law.
Preliminary research conducted by AIR finds that idling at Logan produces 15 million pounds of pollution per year, a figure Massport disputes.
Image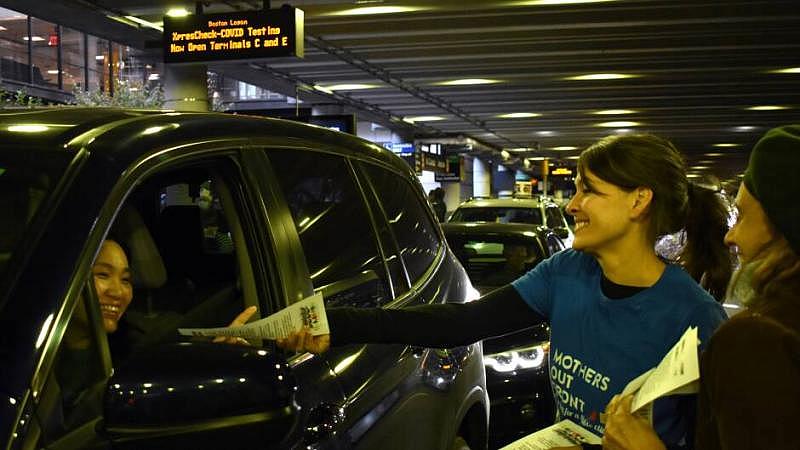 Image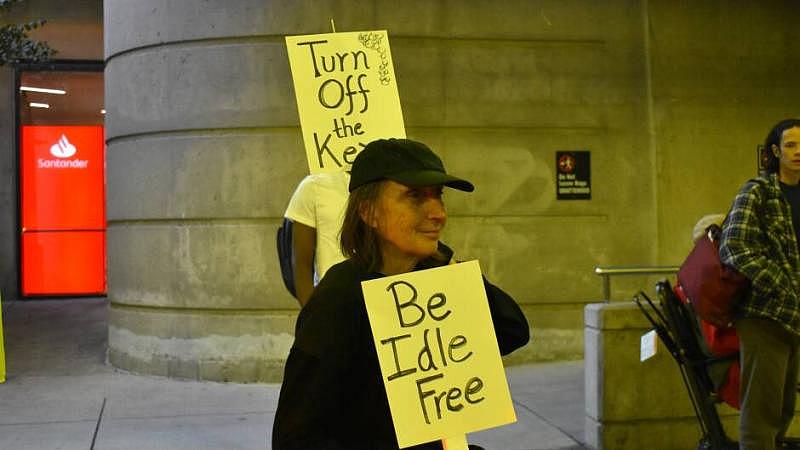 In October, just as the 5 p.m. rush hour hit Logan's busy Terminal B, Marchi decided to take matters into his own hands. He organized a demonstration with Mothers Out Front and Greater Boston Physicians for Social Responsibility, notifying motorists that they were breaking state law by idling for longer than five minutes.
"This is about us saying, 'Hey, Massport, step up, get serious,'" he said while handing out flyers to his fellow demonstrators.
For Sonja Tengblad, one of the activists knocking on car windows, that day marked a marriage of past and present activism.
"Those are amazing women, the Maverick Mothers, who stood in front of the streets with their babies, strollers, blocking construction vehicles," Tengblad said. "This is our neighborhood. It's where we live. This is our home. And whatever we can do to include more and keep advocating for better air quality, we will continue to do."
In a statement, Massport's Jennifer B. Mehigan acknowledged that the airport does negatively affect the air quality in East Boston. "We have an aggressive program to minimize our environmental footprint," Mehigan said, adding that "it's important to understand that Logan is not the only producer of emissions in this region."
Mehigan also said in an email that Logan has "numerous" signs around the airport and is considering adding more. Activists say the airport added some signage after their demonstration, but they still feel the warnings aren't prominent enough.
In the decades since Wood Island's destruction, East Boston has successfully fought for the expansion of green space, ranging from waterfront areas like Piers Park to the East Boston Greenway. And Massport has played a significant role in helping develop those parks. But for many East Boston residents, the space that they've won pales in comparison to the loss of Wood Island Park.
"I'll never be happy with what they give us," resident Eva Bisceglia said in a 1997 interview with Northeastern University. "'Cause they took away Wood Island."
Image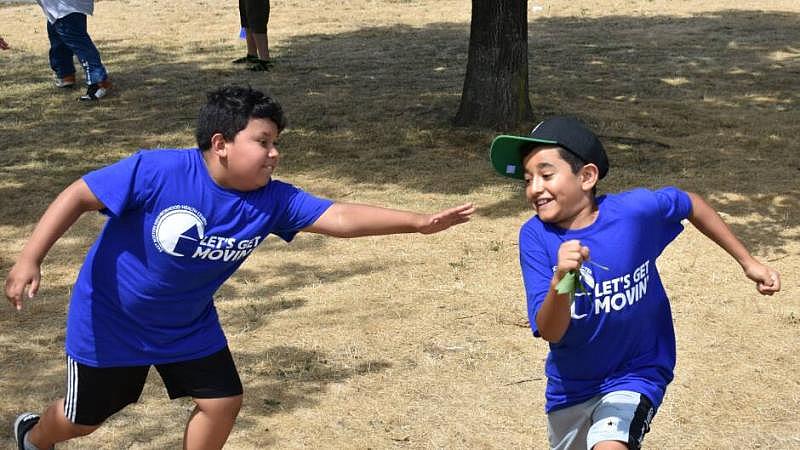 Image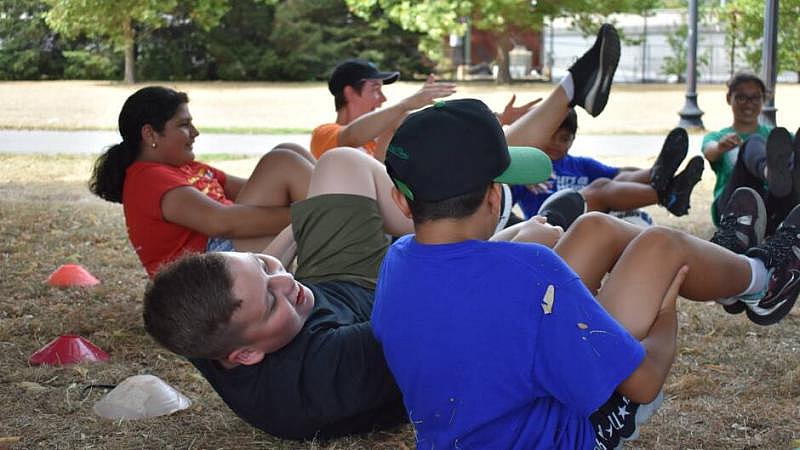 Image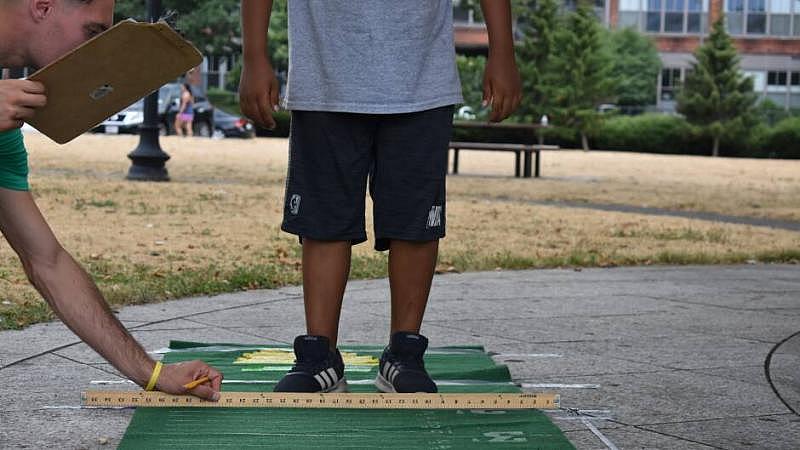 Image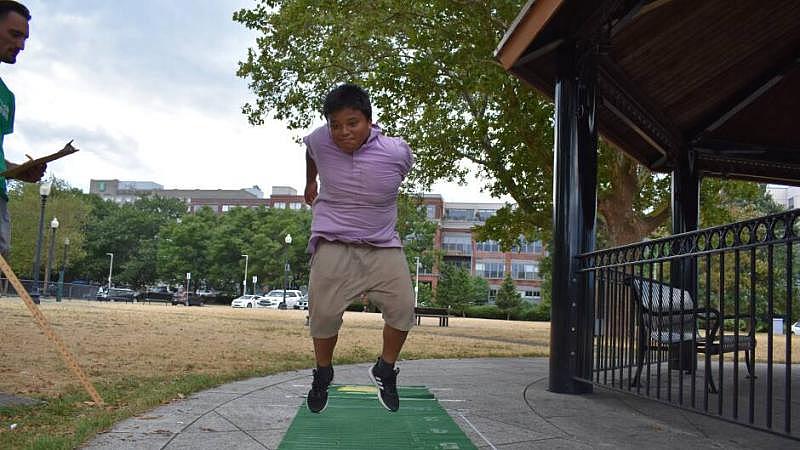 Undoing the destruction of Wood Island
One bright spot in the fight for East Boston's health is the program Let's Get Movin', an obesity-prevention program run by the East Boston Neighborhood Health Center.
Volunteers and health center staff take hundreds of children every year to parks, conduct cooking classes and take field trips to community gardens.
"Kids are much more confident being active," said Cristina Weddle, the program's coordinator. "From all the data, we're seeing that kids are building confidence in themselves."
On this day, several young children in her program — most of them Latino immigrants or the children of immigrants — play dodgeball in Memorial Park. At roughly 23 acres, the park is a little less than half the size of Wood Island. It rests on the edge of Logan and is bordered by train tracks and the highway. The sound of airplanes, cars and trains are constant.
None of the children playing have even heard of Wood Island Park — and they're too young to know how generations of East Boston residents have spent decades fighting to save their community.
They just want to play outside.
The City of Boston has made an effort to increase access to green space, including under Boston Mayor Michelle Wu's administration. Still, activists in Eastie say they wish they had a stronger ally in their fight for their health — especially in the effort to take on Logan Airport.
"We need pressure from the mayor," Chris Marchi of AIR said.
Wu's office declined multiple requests for an interview. In a statement, a city spokesperson noted recent increases in green space in the neighborhood.
"East Boston was formerly one of the neighborhoods with the least access to open space in Boston," the spokesperson said. "East Boston now has 5.33 acres of open space per 1,000 residents."
When it comes to pollution, Wu has called for a "Green New Deal" in Boston. In 2020, as a city councilor, Wu released her own plan called "Planning for a Boston Green New Deal and Just Recovery," aimed at creating a roadmap for a more sustainable and healthy city. The document, however, makes no mention of Logan Airport, despite it being among the city's largest polluters — an omission that has sparked criticism.
The Wu administration has also embraced recent plans for further expansion at Logan, where a $50 million renovation project is underway at Terminal E using federal infrastructure funding.
"This is an investment that will preserve Boston's legacy as a gateway to and for the world," Wu said during an appearance with President Joe Biden at the airport touting the project.
Wu's office deferred questions about Logan's emissions to state and federal regulators. In an email, Stacia Sheputa, director of communications for the Mayor's Office of Environment, Energy, and Open Space, noted that the city recently awarded two Clean Air Grants totalling roughly $146,000 to organizations in East Boston, including Mothers Out Front and the Neighborhood of Affordable Housing. The intent behind those grants was to help deploy air quality sensors and filters at local businesses and community hubs.
But undoing the decades of health disparities stemming from the destruction of Wood Island Park is near impossible, according to Iton of the California Endowment.
"It's very unlikely for a whole host of reasons," Iton said. "Undoing the health harm ... is going to require a comprehensive, long-term strategy that is highly resourced. And the decisions about how to proceed have to be in the hands of the community that is impacted. And that's something that our society has never done well."
That's a sentiment that's mirrored by Fran Riley, the Eastie resident who still grieves the loss of her beloved childhood park.
Sifting through old photos at her home, she mentions a gift she received from a class of MIT students she spoke to in 1988: A framed rendering of the site of Logan Airport alongside a rendering of what the site could look like in 2088.
Riley appreciates the gift, but she takes issue with it. The rendering shows the airport replaced with housing rather than a park.
"Nobody in East Boston would be happy with that," she said. "Not enough green space."