Two reporters put same-day spotlight on Medicaid gone wrong in Arkansas
Image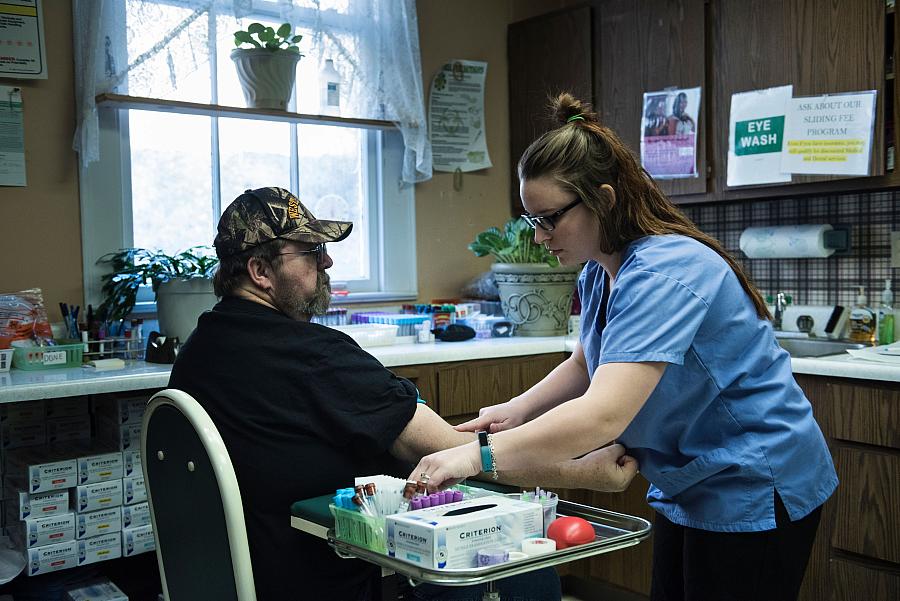 (Photo: Brendan Smialowski/AFP/Getty Images)
Published on
December 12, 2018
In America, we've been told again and again that we don't ration health care like the social insurance systems in England, Canada and Germany. Yet if readers want to disabuse themselves of that notion, all they have to do is check out Benjamin Hardy's description in the Arkansas Times and on the Arkansas Nonprofit News Network of what's happened to thousands of poor people in Arkansas who've been kicked off the state's Medicaid program until the first of the year. Why? Because, Hardy tells us, they didn't meet the state's work requirement of 80 hours a month, which also allows recipients to count time spent looking for a job, going to school, and doing community service.
Since September some 12,000 Arkansans have been purged from the state's Medicaid rolls, leaving them once again uninsured and without a way to pay for care. In particular, Hardy zooms in on the predicament faced by 38-year-old Nannette Ruelle, who has been rationing her medications until January 1 when she again becomes eligible for expanded Medicaid. The story of her rationing is painful. As of November 17, she had only 35 doses left in an Advair inhaler that controls her asthma. Usually she takes three doses each day. Only three pills remained in a bottle of Gabapentin, a drug she needs three times a day for chronic neuropathic pain in her feet and ankles.
Ruelle does work — 25 to 35 hours a week — at a chain restaurant and earns $9 an hour, hardly enough to buy her own health insurance given today's stratospheric prices. Arkansas requires certain residents on Medicaid to report their work hours through an online system, although the state lets beneficiaries report for other programs using other methods. Ruelle apparently didn't know this online portal existed and told Hardy she tried faxing, calling and even going to the Medicaid office to report her work hours.
Cindy Gillespie, who heads the state Department of Human Services, says the online portal is a means of pushing beneficiaries to gain computer skills. That means health insurance and health care depend on how proficient a beneficiary is with a computer. "From our clients' perspective, it seems like the state is trying to make it as hard as possible for people to retain coverage," said Kevin De Liban, an attorney for Legal Aid of Arkansas, which is representing nine plaintiffs in a federal lawsuit challenging the state's work requirements.
On the same day Hardy published his story, PBS NewsHour aired a fine segment about Arkansas's work requirements. Reported by NewsHour special correspondent Catherine Rampell, who also works for the Washington Post, the NewsHour's report was remarkably similar to Hardy's. It too featured a person snared in the reporting requirement rule — 40-year-old Adrian McGonigal, who has severe chronic obstructive pulmonary disease, worked at a chicken plant, and got confused by Arkansas's work rules. He didn't realize he had to report his hours monthly, and like others, lost his coverage. Without his medications he got sicker, landed in the hospital, ran up big bills he couldn't pay, and lost his job because he was too sick to work. McGonigal is also a plaintiff in the federal legal case brought by Legal Aid of Arkansas, the Southern Poverty Law Center and the National Health Law Program.
It's unusual these days to see two independently reported stories with depth and heft on an esoteric, complicated health policy topic appearing the same time. Both outlets and their reporters deserve kudos. 
Rampell also interviewed Cindy Gillespie, who as in Hardy's piece appeared to have little sympathy for Arkansas residents tossed off Medicaid. Why are 80 to 90 percent of those required to report their work hours not reporting them? Rampell asked. Gillespie said some were "not motivated." "They don't value the insurance, they're not using it. … That's what you do hear from some people. From others, it may just also be a case they don't know that they're uninsured and don't really care to be insured, if they received a notice," she said. Rampell tried to push back. "I would find it very surprising that people don't want to be insured if it's not costing them anything," Rampell said. Gillespie responded that insurance does cost them something. They have to engage with the system, and "report income they don't want to report."
It's unusual these days to see two independently reported stories with depth and heft on an esoteric, complicated health policy topic appearing the same time. Both outlets and their reporters deserve kudos. Yet there's a backstory here that tells us why it can be hard for local reporters to compete when the national press visits their playground. 
Hardy and Rampell both faced that age-old problem of reporters: How do you find good anecdotes — victims in today's parlance — to humanize an intensely political story? "It has been hard to find people," Hardy said. "It's normally easy to go to the health advisory groups or put out a call on Facebook that I'm looking for a case study or a beneficiary." But this time it was tough.
For one thing, people seriously affected by the state's new rules were not very willing to talk about their predicaments. They're vulnerable, often in poor health, and fearful what little they have will be taken away. "The more marginal a person's situation, the more likely they are not to keep up with the work requirements," Hardy told me. "These people are the hardest to find from a journalist's point of view." For another, he said, some of the advisory groups "were not willing to connect me" because of the political sensitivity. Community health centers, too, were reluctant. Eventually, Hardy, whose project was sponsored under a fellowship from the Association of Health Care Journalists and supported by The Commonwealth Fund, found what he needed. 
Hardy also said he ran into trouble with Legal Aid of Arkansas, an organization he had talked to many times before. Legal Aid worked with Rampell on her story and eventually shared the plight of Adrian McGonigal. De Liban, the Legal Aid attorney, said the legal group had made the decision to save their best ammunition for a national outlet. "We wanted to make sure it got to a national audience so they understood how destructive the work requirements were," said De Liban. The PBS piece, plus two columns by Rampell in The Washington Post, didn't disappoint. As journalists, we're used to agonizing over how we source our stories, but we're not always comfortable when the organizations we reach out to "source us."
Hurt feelings aside, the story of Medicaid work requirements is a big one nationally and locally, and there's tons of room for more reporting in Arkansas and in the 14 other states that have proposed or approved work requirements. Such requirements are fanning out like a prairie fire across many of the conservative states, presenting a radical change for the 54-year old program that serves some 66.5 million Americans. As Hardy and Rampell have shown, work requirements penalize the very people who need medical care but have the least wherewithal to get it.
Yes, America does ration care to those who are sickest and most needy. That's the story, which needs to be told and retold, at media outlets of all sizes. Everyone wants a great scoop, but there are plenty of attention-grabbing stories to go around. The stellar stories filed by Hardy and Rampell should inspire more good reporting in other conservative states.
Veteran health care journalist Trudy Lieberman is a contributing editor at the Center for Health Journalism Digital and a regular contributor to the Remaking Health Care blog.