Youth suicides were rising before COVID-19. How should we support kids now?
Image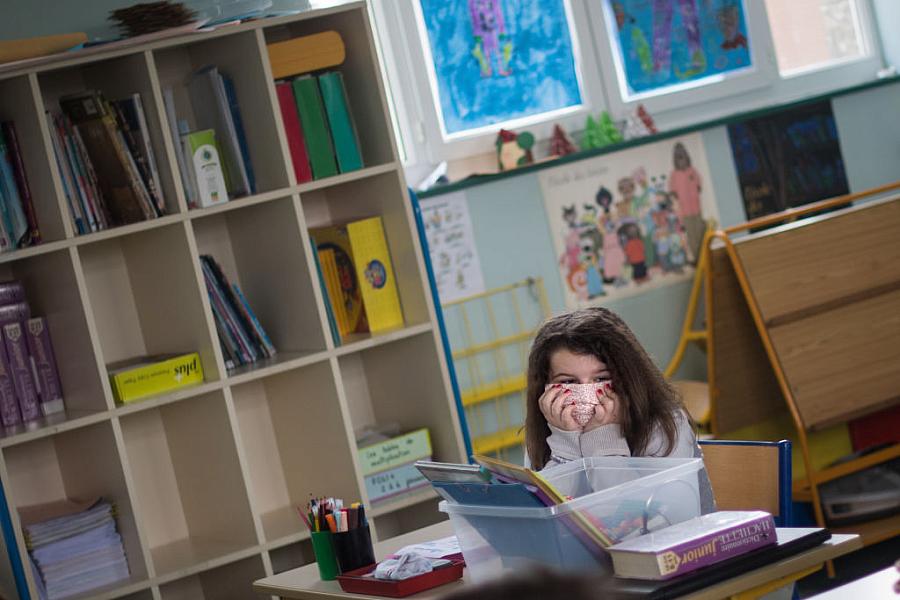 (Photo by Ina Fassbender/AFP)
Published on
May 14, 2020
A recently published study out of China found that children confined at home by the coronavirus lockdown had elevated rates of depression and anxiety, raising concerns about the risk for American kids as the pandemic sweeps the nation.
Nearly 23% of the 1,784 children who responded to a survey reported feeling depression, likely due to "the reduction of outdoor activities and social interactions," researchers noted in JAMA Pediatrics. Almost 19% said they had anxiety symptoms. Both figures were higher than the baseline rates of 17.2% for depression and 9.3% for anxiety. The study surveyed children in grades two through six in and around Wuhan.
With psychiatric problems already on the rise for American children, mental health experts weighed in on what interventions and policies might prevent similar trends here.
"I think everyone in our field is worrying about increasing depression. The suicide rate, as it is, has been going up," said Mary Alvord, a practicing psychologist in Maryland and author of multiple books on children's mental health.
She has observed that the pandemic has been hardest for social kids who thrive on in-person interaction and children who are naturally pessimistic. The China study found that youth who were less optimistic were more likely to experience symptoms of depression.
She recommends that parents and those who work with kids acknowledge the reality of the pandemic to children but emphasize that it's temporary, with comments like: "It's a bad situation. Nobody would have chosen this. We don't know what's coming up next. We're trying to stay as safe as possible with the precautions, and it's not going to last forever."
Robin Gurwitch, a psychologist and professor of psychiatry and behavioral sciences at Duke University Medical Center, said building resiliency starts with parents.
"What the science tells us is that one of the biggest predictors of how well children will do after a large-scale event, a big danger like a pandemic, is how well the parents are doing," she said. "It's not that kids can't see a parent or caregiver stressed or worried, because everyone is. The next step is equally important, that they can see their parent or caregiver cope and talk about, 'This is what we're going to do to pull it back together.'"
Beginning with the Oklahoma City bombing in 1995, Gurwitch has been studying how children and young adults respond to crises. This one, she noted, is different.
"A pandemic like this is unique because it's invisible," she said. "It's not like you can look outside and see where it is. People can be asymptomatic. This is more anxiety-provoking because we don't know how long it's going to last."
To keep children mentally well during this unprecedented time, she recommends having them help other people (by writing hopeful messages with sidewalk chalk, for example), focus on what they can control (such as washing their hands), and reframe negative thoughts. Instead of "I haven't seen my friends. They won't remember who I am," think: "I can't see my friends. That's hard, but how great will it be when I see them again? And here's how I can stay connected."
Ann Garland, a professor of counseling and marital and family therapy at the University of San Diego, said it's important that public health officials, through the media, educate parents and caregivers on which responses are normal for kids to have these days and which might require professional attention.
"If there's a pattern of emotional and social withdrawal, hopelessness, lack of interest in any of the activities that used to bring some pleasure, I would say a parent would want to reach out to a mental health professional," Garland said. She noted that community mental health agencies and county health departments are good resources for people who are uninsured or have public insurance.
"It's a slow-dripping kind of struggle that everybody is experiencing. With that said, I think one of the first and useful silver linings here is clearly an increased recognition of mental health needs and the impact of stress." — Prof. 

Steven Berkowitz

, University of Colorado
Even though most psychiatrists and therapists are currently offering services only remotely, Garland has been involved in research showing that so-called "telemental health" can be just as effective as in-person care. She noted that state and federal restrictions on telemedicine have been eased in the wake of COVID-19, a development she believes could expand access to mental health care even after the virus subsides.
Erica Fener Sitkoff, executive director of Voices for Georgia's Children, said governments and communities can protect kids' mental health amid the pandemic by supporting families.
That could include setting up mental health hotlines and "warmlines" (meant to avert crisis), and offering summer programs, even if they must be virtual, with a strong social-emotional component.
It also means helping families meet basic necessities, she said, such as providing food to those in need, increasing internet access, and arranging child care for essential workers. She noted that schools in Georgia have continued to supply free lunches to students and internet providers have furnished families with free broadband connections.
She said her nonprofit is working on a mental health awareness campaign to educate kids and families that it's normal, and understandable, to feel a variety of emotions nowadays. The campaign, set to start in June, will target parents, teachers, child care providers and middle- to high-school students through social media, newsletters and online summer programs.
"Every child has experienced some level of stress, from missing friends to more extreme things like, 'I've lost my home' or 'My family has to get food from the food bank,'" Fener Sitkoff said. "We're operating at a new baseline of how kids are feeling and we need to adjust to that.
"Acknowledging that is the first step. That allows and opens things up for parents to seek support and for kids to seek support. We don't need to pretend everything is OK and they should be OK and keep it moving, because they're not."
Families should also have regular mental health check-ins, where parents voice how they've been feeling as well, said Steven Berkowitz, a University of Colorado professor of psychiatry and director of the START (Stress, Trauma, Adversity Research, and Treatment) Center.
"Another useful approach, particularly in teens, is to ask them what their friends are saying," he said. "A lot of teens don't want to disclose their own thoughts and vulnerabilities. If you ask what their friends are saying, it gives you an opportunity to say, 'What do you think about that? How are you doing with that?'"
Berkowitz said it's inevitable the pandemic will cause increased psychiatric problems.
"It's a slow-dripping kind of struggle that everybody is experiencing," he remarked. "With that said, I think one of the first and useful silver linings here is clearly an increased recognition of mental health needs and the impact of stress."