2 Million Kids' series spurs support and quest for more data
Image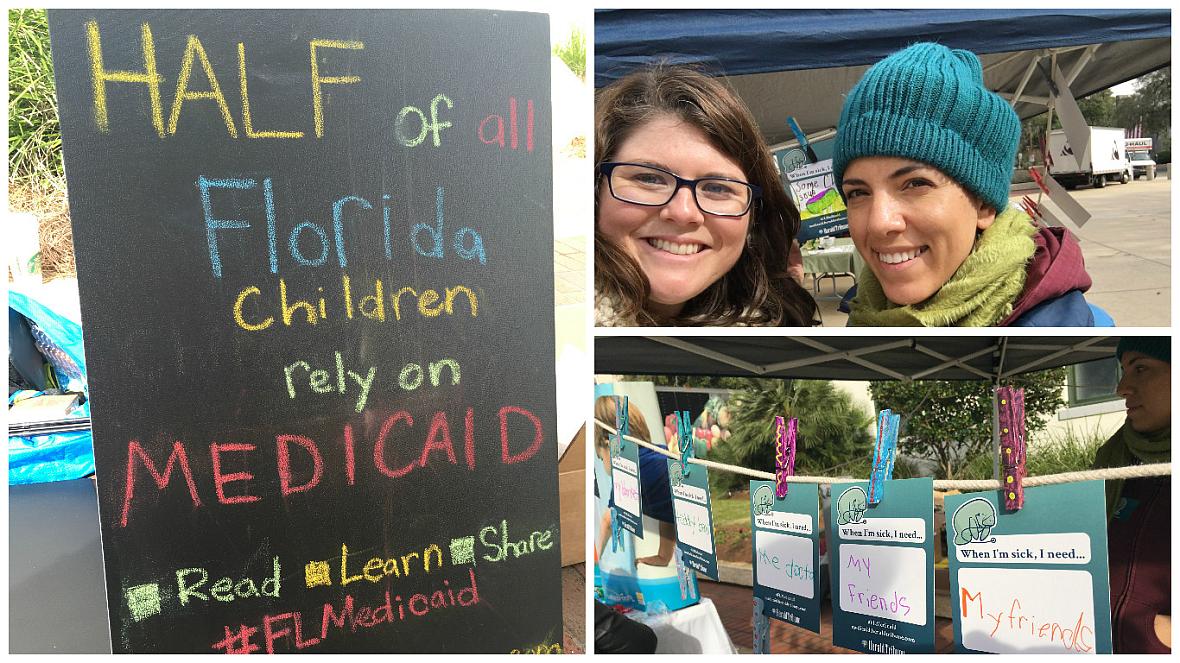 Published on
March 9, 2016
We shivered as we set up our booth on a cold Tallahassee morning in January, not quite sure what to expect. About a week after we published our series that exposed major problems in Florida's Medicaid program for kids, my reporting partner, Kim Doleatto, and I had traveled to Children's Week in Tallahassee to engage kids and parents on our report's findings and direct them to resources.
We designed postcards asking kids to write or draw a picture of what they need when they're sick, and crossed our fingers the kids would play along.
They ate it up. Over the next four hours, a nonstop stream of kids huddled around our table drawing pictures, writing their names and choosing the exact spot on the edges of our tent where their works of art would be displayed.
One little girl proudly posed in front of her postcard and showed off her drawings to her friends. She wrote that when she's sick, she needs hugs and soup.
The most popular answers — medicine, soup, mom — paralleled exactly with our findings in "2 Million Kids. $24 Billion Battle." Kids need access to health care and healthy food, and they need their parents to be educated to advocate for them.
One parent at the health fair had her three adopted children in tow, and lit up when we offered her a print copy of the series. She couldn't find a dentist for her Medicaid-enrolled children (kids adopted from the foster care system get Medicaid coverage regardless of whether their new families can afford private insurance) and wanted to hear about what other families were going through.
She said she hoped she could learn from their experiences. Plus, the stories might make the long bus ride to Jacksonville a little more tolerable, she said.
As we work on future stories, I'd like to highlight a few of the big things that happened after we published our series in January. 
A week after we published the stories, we broadcast two radio stories co-produced with WUSF 89.7 and Health News Florida on our findings. The broadcast, which included a feature story with Anya and Malik Staton about their struggle to get eating disorder treatment in the Medicaid program and a one-on-one interview with me and Health News Florida producer Lottie Watts, reached nearly 1 million public-radio listeners in Tampa, Orlando, Miami and Fort Myers.
We've also been working with local nonprofits, including All Faiths Food Bank, the Community Foundation of Sarasota County, the Suncoast Campaign for Grade-Level Reading, The Patterson Foundation and Girls Inc. Next month, we'll be speaking at a parent seminar at Girls Inc. and hope to reach out to other community groups that want to learn more about navigating the Medicaid maze.
Finally, we heard from you, the readers. A nurse just off an overnight shift called me to say he wished nurse practitioners could be reimbursed to do primary care and help serve more Medicaid patients. A speech and hearing clinic director called and told me she saw herself in our profile of the Sarasota Children's Clinic. She was empowered by the story — she'd previously thought her clinic was the only business struggling in the face of low reimbursement rates and children with special needs.
We value these calls, emails, Facebook posts and tweets, and they've helped us come up with the stories we're planning for the rest of the year.
Right now, we're reporting a solutions-focused series on ways to improve dental care for Medicaid-enrolled children. Two-thirds of Florida kids on Medicaid never see a dentist. It doesn't have to be that way.
We are also working with foundation partners and researchers from the Georgetown University Center for Children and Families to conduct a survey of about 5,000 Florida pediatricians and specialists to find out what the transition to Medicaid managed care means for their offices and their patients. We couldn't find good data on what's happening in doctor's offices, so we decided to get it ourselves.
Throughout the next year, we want to keep hearing from you and invite you to suggest your ideas or share your personal Medicaid story by visiting medicaid.heraldtribune.com and clicking on the "share your story" tab at the bottom of the homepage. You can also reach me via phone or text at 727-877-5724.
We're honored by the outpouring of community support we received for our initial efforts. The people featured in the stories — Anya and Malik Staton, Dr. Carola Fleener and the staff of the Sarasota Children's Clinic, and the many parents profiled — are thankful too.
[This story was originally published by Herald-Tribune.]
Photo by Maggie Clark/Herald-Tribune.