Bill aims to curb Florida's data-driven policing programs
Image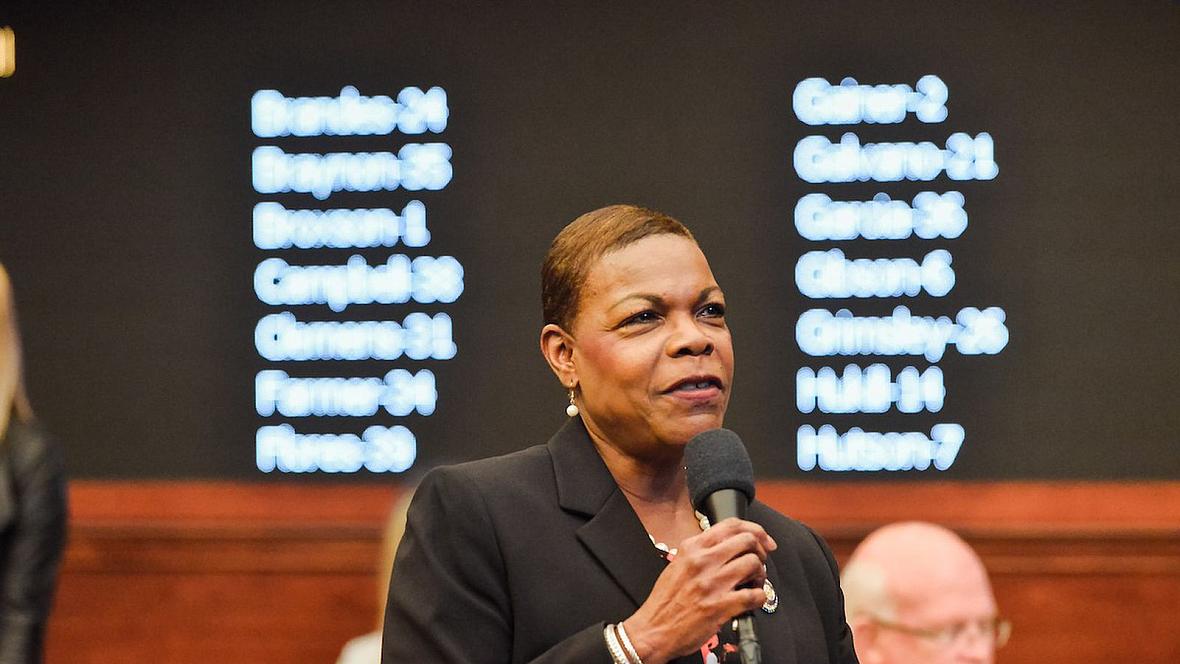 [ PATRICIA MAZZEI | Florida Senate ]
Published on
February 2, 2021
A state senator has filed a bill that would regulate how law enforcement agencies can use data to identify and target people who might break the law in the future.
The proposal, filed by Sen. Audrey Gibson, comes after a Tampa Bay Times investigation found the Pasco Sheriff's Office invented an algorithm to determine which residents were likely to commit crimes and sent deputies to their homes.
Former deputies told the Times they were ordered to harass the targets and look for reasons to fine or arrest them.
Gibson, a Jacksonville Democrat who is vice chairwoman of the Senate Judiciary Committee, said she read the Times' report and was moved to take action.
"I was thinking, 'Wow, this is out of control. This is totally out of control. It shouldn't be happening and there ought to be a law,' " she said.
Her proposal, SB 808, would apply to any police department or sheriff's office in Florida that uses similar data-driven techniques, which are sometimes called intelligence-led policing. It is not clear how many do.
The bill would require agencies to inform people deemed likely to break the law in the future of their status — and give them the opportunity to appeal.
It would also require agencies to keep accurate, up-to-date data on who is being targeted, including where they live and their demographic information, that Gibson said would be part of the public record. The agencies would have to create specific guidelines for visiting targets, too.
"There should be limits," Gibson said. "Otherwise, it is harassing people."
Asked about the proposal, Pasco Sheriff's Office spokesman Chase Daniels said his agency already had many of the policies and procedures that would be made mandatory.
The exceptions, he said, were proposed requirements that agencies notify individuals about their status as targets and allow them to appeal. Daniels said the Sheriff's Office believes those measures could "lead to negative stigmatization of the individual instead of helping them break the cycle of recidivism."
The Times investigation found that the Pasco Sheriff's Office had not followed at least one other policy that would be required.
Although the agency's internal intelligence-led policing manual says deputies should give targets information on community resources, a half-dozen targets told reporters they had received no such material.
Later, after reporters presented the finding to the Sheriff's Office, deputies brought printouts listing local health care providers and nonprofits to two of the targets' families.
Gibson said she was looking at several different ways to rein in intelligence-led policing. She has a separate proposal that would require the state Department of Law Enforcement to create minimum requirements for the practice across Florida.
That proposal (SB 942) would also require standards for use of force, canine operations and officer qualifications, compensation, hiring and firing.
The Pasco Sheriff's Office has been using data-driven strategies since 2011, when Chris Nocco was first appointed sheriff. But the details of its programs were not made public until the Times began reporting on them last year.
In September, the news organization revealed that the Sheriff's Office uses criminal records, social networks and other unspecified intelligence to make lists of people it considers likely to break the law.
People who appeared on the lists told the Times that deputies had surrounded their homes late at night and given them code enforcement citations for minor violations, like overgrown grass. On some occasions, confrontations over the practices led deputies to arrest members of the targets' families.
The Times later reported that the Sheriff's Office also mines data from the Pasco school district and the state Department of Children and Families to identify schoolchildren likely to fall into a life of crime.
That program secretly flags kids who have received a D or an F in school, as well as those who have been the victims of child abuse or witnessed domestic violence at home, for extra attention from the sheriff's deputies assigned to public schools.
The Sheriff's Office has said it stands behind its initiatives and accused the Times of painting "basic law enforcement functions" as harassment.
But national experts have decried the programs as abusive and "everything that's wrong about policing," and multiple civil rights groups are pursuing lawsuits and public awareness campaigns.
Last month, the Virginia congressman who leads the House Committee on Education and Labor called for a federal investigation into the school-data program.
[This story was originally published by Tampa Bay Times.]
Did you like this story? Your support means a lot! Your tax-deductible donation will advance our mission of supporting journalism as a catalyst for change.