Childhood trauma focus of new billboard, public awareness campaign
This story was produced as part of a project for the Dennis A. Hunt Fund for Health Journalism, a program of the USC Annenberg Center for Health Journalism.
Read related stories in this series here.
Image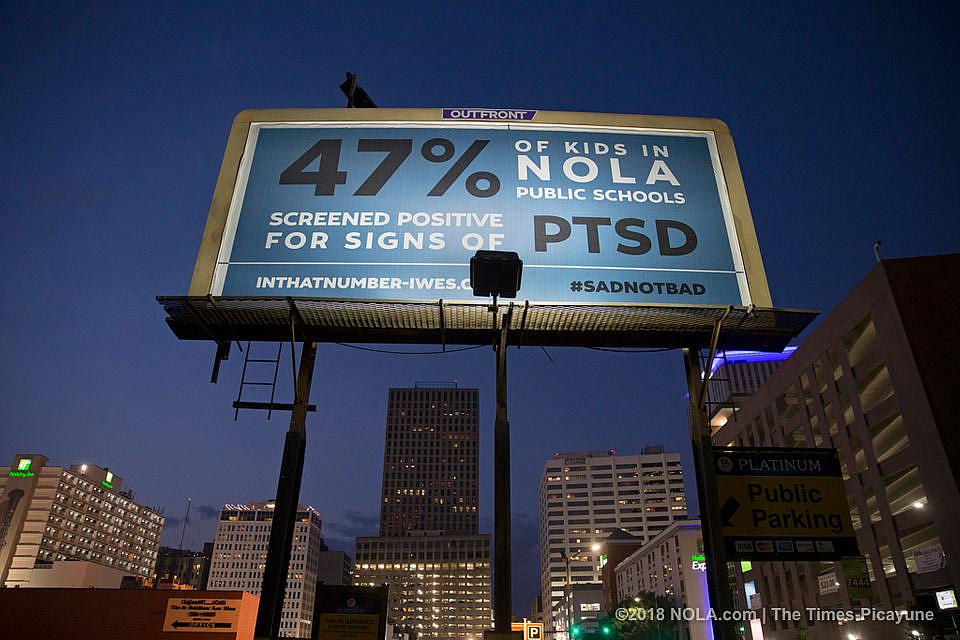 (Photo: Brett Duke/NOLA.com | The Times-Picayune)
Published on
August 23, 2018
Hovering above Broad Street in New Orleans, directly across from Criminal District Court, is a billboard depicting Dr. Denese Shervington standing along the Mississippi River. She stares confidently back into the camera next to an oft-repeated quote of hers: "Untreated trauma is the underbelly of violence."
"I really wanted to have that there because I want the judges to start thinking a little bit more about what they're doing, especially with young kids that come before them," said Shervington, president and CEO of the Institute of Women and Ethnic Studies.
The billboard, one of three that appeared across the city this week, is part of IWES' newly launched "In That Number" campaign that highlights the epidemic of untreated trauma among children and adolescents.
A second billboard in the 400 block of O'Keefe Avenue states that 47 percent of students in a survey of New Orleans public schools screened positive for post-traumatic stress disorder.
"We really want to make the city much more aware of what is happening and that, ultimately, we have to provide more psychological safety for our children," Shervington said. "Many people have no idea these issues exist in the lives' of young people."
The Institute's campaign is designed to continue the recent public discussion surrounding childhood trauma and the momentum in addressing its root causes. The City Council recently passed two resolutions: one calling for a comprehensive, citywide approach to the prevention, intervention and treatment of childhood trauma; and the other imploring all schools to build and implement trauma-informed systems to promote the well-being of children.
The two resolutions come on the heels of the NOLA.com | The Times-Picayune series, "The Children of Central City," which followed the A.L. Davis Park Panthers, a youth football team of 9- and 10-year-old boys. Through the players' stories, the series detailed how chronic exposure to violence alters a child's brain development and other systems in the body, and what - if anything - is being done to help the city's youngest residents cope with the scars of that trauma.
One of the people profiled in "The Children of Central City" is Brennan Jacques, a former Panthers player who spent five years in federal prison for drug dealing. After he was released, he graduated from college and became a math teacher and basketball coach at Phillis Wheatley Community School. He was just 11 years old when he first saw someone shot to death and throughout the course of his life he lost two brothers and a nephew to gun violence.
An IWES billboard in the 500 block of South Rampart Street features Jacques and a quote from the 31-year-old educator. "Teachers wonder why kids come to school acting out. It's because they're going through trauma and they have no one to talk to."
Shervington described Jacques as the perfect spokesman for childhood trauma and for the need for greater psychological and therapeutic services for boys and girls.
"He is such an example of a young man for whom things went really wrong. The whole system failed him and were it not for his own personal resilience, he probably would still be in and out of the prison industrial complex," she said. "But as much as it is a story about trauma, there is hope. His message is about how important it is for young people to understand that when bad things are happening to them that they really need help."
More information on IWES' "In That Number" campaign can be found here.
[This story was originally published by NOLA.com | The Times-Picayune.]