DeSantis should consider removing Pasco sheriff, GOP congressman says
Image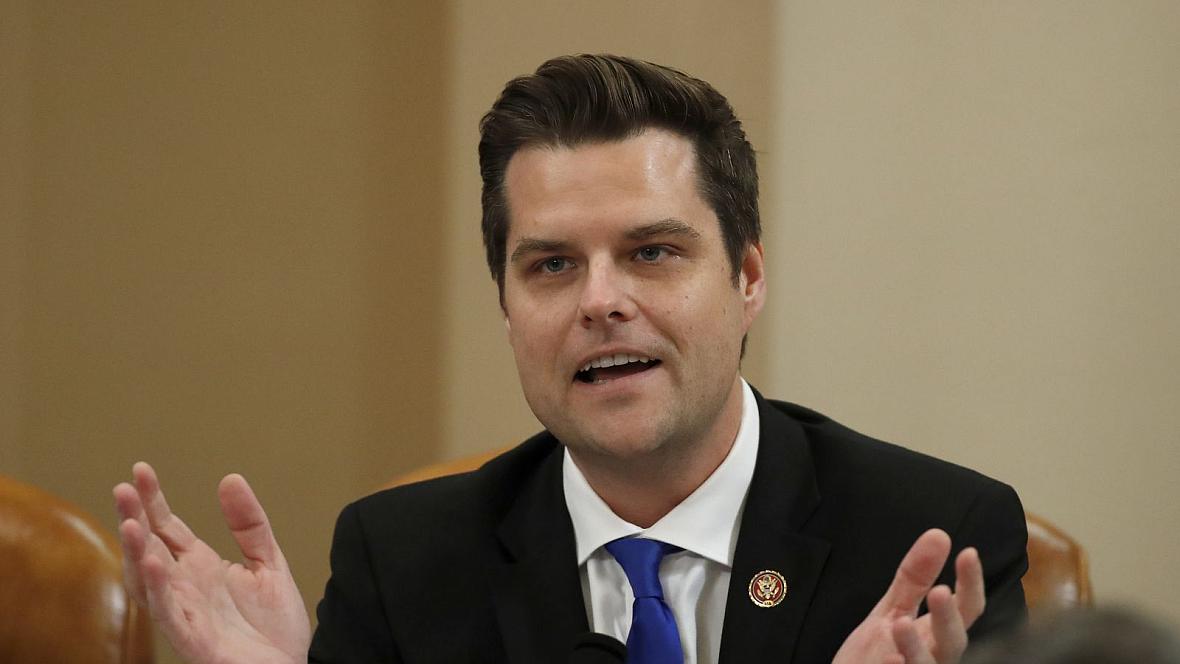 Published on
March 12, 2021
By Kirby Wilson and Kathleen McGrory
Republican U.S. Rep. Matt Gaetz blasted Pasco County's controversial police intelligence program on Twitter late Thursday and urged Gov. Ron DeSantis to consider removing Sheriff Chris Nocco from office.
The intelligence program, first detailed in a Tampa Bay Times investigation last year, uses criminal histories and other information from police reports to determine which residents are likely to break the law.
Gaetz weighed in the day after four of the program's targets sued Nocco in federal court, saying deputies had shown up at their homes for "suspicionless, warrantless" searches and fined or arrested them when they did not cooperate.
They are being represented by the Institute for Justice, a nonprofit libertarian law firm headquartered in Virginia.
"I don't care that this is being done by a GOP Sheriff," Gaetz wrote. "It's awful to harass citizens because you think they may commit crimes, hoping to 'make their lives miserable.' "
Gaetz, who represents the Florida Panhandle and serves on the House Judiciary Committee, did not respond to requests for comment from the Times on Friday.
Asked if DeSantis was considering removing Nocco, a spokeswoman told a reporter "the governor and his office are not involved."
The Sheriff's Office, meanwhile, expressed its continued pride in the program.
"This tweet is based on false information and reporting, and we welcome anyone with concerns to reach out to us directly to receive factual information," spokeswoman Amanda Hunter said.
Nocco's intelligence program has come under fire from top criminal justice experts and civil rights groups, who say it infringes on constitutional rights and represents "everything that's wrong about policing."
Gaetz is the first Republican member of Congress from Florida to publicly criticize the effort. Nocco enjoys immense popularity among voters and has strong ties to the state's GOP political establishment.
In December, three months after the Times first reported on the program, Pasco County's congressman, Gus Bilirakis, declined to comment on its merits. Instead, he issued a statement saying he "didn't pretend to know enough about Pasco's intelligence-led policing program," but considered Nocco "a good man and dedicated public servant."
Another member of Congress, Democratic U.S. Rep. Bobby Scott of Virginia, who leads the House Education and Labor Committee, has asked for a federal investigation into a separate, but related Pasco Sheriff's Office effort. That program uses school grades and child welfare records to determine which kids may become future criminals.
Gaetz's call for Nocco's potential removal followed the two major themes of his time in Congress: He's unafraid to buck party orthodoxy and knows how to gin up media attention.
Earlier this week, he called for the House Judiciary Committee to investigate cases in which people lose control of their own finances to arrangements called conservatorships. Gaetz's call seized on the much-publicized saga surrounding the recording artist Britney Spears, who is in a legal battle with her father over such a financial arrangement.
Gaetz also has proven to be out of step with Republican thinking on key social issues. While Republicans in the Florida House are trying to pass legislation which critics say would stifle the medical marijuana industry, Gaetz has supported decriminalizing the drug. He was one of just five Republicans to vote for the Marijuana Opportunity Reinvestment and Expungement Act last year.
• • •
[This article was originally published by the Tampa Bay Times.]
Did you like this story? Your support means a lot! Your tax-deductible donation will advance our mission of supporting journalism as a catalyst for change.