Florida farmworkers struggled to get vaccinated. But health officials finding ways to help
Image
Alex Driehaus/Naples Daily News/USA TODAY - FLORIDA NETWORK
Published on
April 15, 2021
To read this story in Spanish, click here.
This story was originally published April 15, before Florida lifted proof of residency requirements. People can now verbally confirm they live or work in Florida to be vaccinated. 
Well before the 9 a.m. start time, dozens of Immokalee farmworkers lined up for COVID-19 vaccines beneath an overhang near vacant stores at a strip mall. Polonne Colin, 65, was among the first at the pop-up clinic.
The main reason she opted for the vaccine now, though she was eligible earlier: she sees everyone she knows getting it.
Rural health advocates who have ramped up efforts to reach farmworkers say demand for the vaccine is strong. And despite media reports and lawmakers' concerns that Florida's residency requirements hindered vaccination efforts for farmworkers, advocates say health officials are finding ways around them. 
"I've seen some flexibility especially from local health centers and also from some local health departments. I don't know how much leeway they are supposed to have, but they have been accommodating and accepting," said Nezahualcoyotl Xiuhtecutli, general coordinator of Apopka-based Farmworker Association of Florida.  
"Hopefully officials are realizing the urgency and seeing this as a public health issue and not a political or immigration or whatever-else-you-want-to-make-it issue."
Image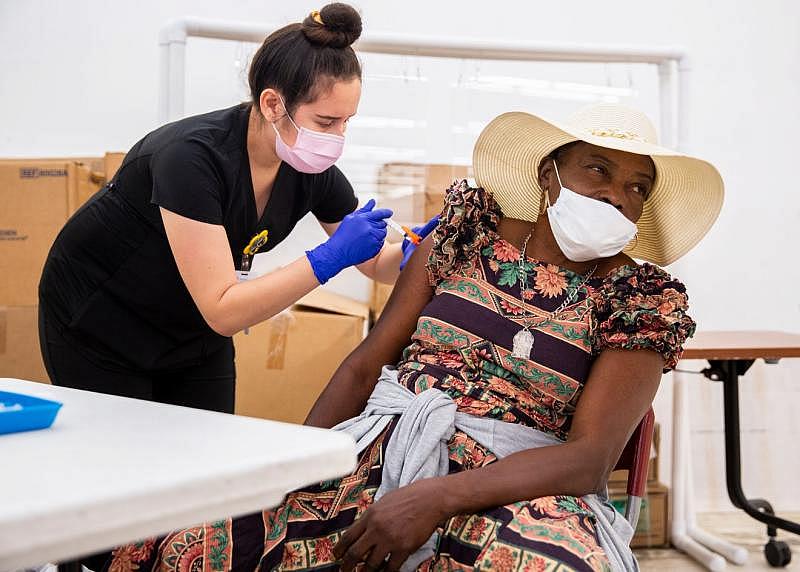 Florida Department of Health says a state ID or other proof of state residency is required to receive a vaccine. But health workers are accepting a variety of forms of identification and say they will find ways to reach people who have none.
Some non-Florida IDs being accepted: temporary work visas, passports or foreign government documents, membership IDs and letters from nonprofits.
But another complication emerged this week: the halting of the Johnson & Johnson vaccine. Health workers had been relying on the one-dose shot to vaccinate Florida's more than 100,000 farmworkers quickly as many begin migrating north this month.
The Healthcare Network reached more than 430 farmworkers Saturday in Immokalee with the shot but will now rely on the two-dose Moderna vaccines.
"Ensuring patients return for shot two is a major concern for organizations working with marginalized and underserved populations who struggle with poor access to transportation or cannot easily leave work," said Gabrielle O'Boyle, a network spokeswoman. 
U.S. government says vaccines should be available to undocumented immigrants
The federal government has been clear: vaccines should be available to all "individuals, regardless of immigration status," said a February statement from the Department of Homeland Security, which also vowed not to conduct enforcement operations at or near vaccine sites.
"It is a moral and public health imperative to ensure that all individuals residing in the United States have access to the vaccine."
States, however, have been less transparent on the issue.  
Only about one-quarter of states made it clear on their websites, as of early April, that undocumented immigrants were eligible for vaccines and that getting vaccinated would not negatively impact their immigration status, according to an analysis from KFF, a nonprofit focused on national health issues.
Health policy analysts said fear and uncertainty around immigration consequences could make families wary of seeking out the vaccine.
Image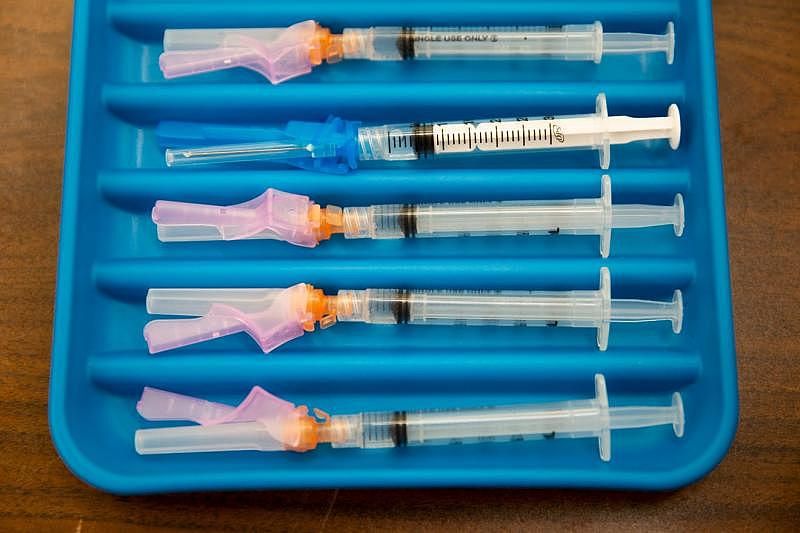 The Florida Department of Health, in the section of its site on vaccine eligibility, says: "To prove residency an adult resident must provide a copy of his or her valid Florida driver license or a copy of a valid Florida identification card." Seasonal residents can present other proof of residence such as a recent utility bill or mail from a government agency.
In Florida, farmworker and rural health advocates worried the requirement would prevent farmworkers, including those on seasonal agricultural H-2A work visas, from being vaccinated.  
"How do you prove you're a resident when you live in the shadows, or a few weeks here, a few weeks somewhere else? When you pay a crew leader who then pays a landlord, so you don't have a utility bill? If you're here on an H-2A visa?" said a March editorial from Gainesville's Interfaith Alliance for Immigrant Justice.
Some undocumented immigrants have had trouble accessing vaccines at brick-and-mortar pharmacies, according to reports. 
"We still have seen people facing hurdles," said Lindsay McElroy of the Guatemalan Maya Center in Palm Beach County. She noted undocumented individuals who had difficulty signing up with Publix.
And undocumented farmworkers in Homestead have been unable to access vaccines, found the Miami Herald, which prompted Florida Democrats this week to call on Gov. Ron DeSantis to ease vaccine residency restrictions.
Getting past the residency barrier
But that seems to have already happened at farmworker vaccination events in recent weeks, though it's unclear if it stems from a policy shift. In Immokalee and other agricultural hubs, proving Florida residency has not been a barrier to vaccinating farmworkers, health workers say.   
Image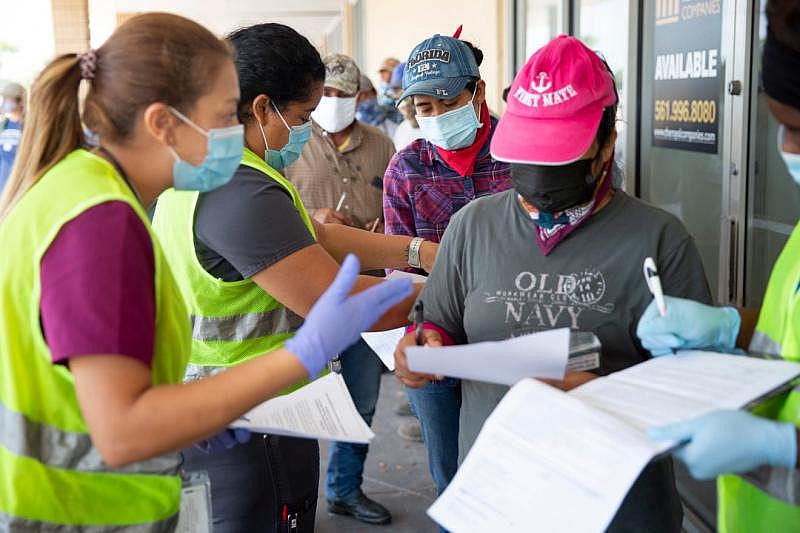 The Coalition of Immokalee Workers collaborated with the Florida Division of Emergency Management and others to distribute more than 3,000 one-dose vaccines, about 400 a day, in roughly a week this month. Nely Rodriguez, a coalition staff member, said the nonprofit and its partners worked with health officials to vaccinate people who did not have identification.
"We worked with the people who were bringing the vaccines, and they understood that our community doesn't always have that," she said.
Community health centers said they don't require Florida ID.
The Healthcare Network partnered with growers who last Saturday sent school buses of workers. The buses carry the workers to fields to pick tomatoes that help feed the nation. 
"Because vaccination is an in-scope service for health centers, we're not required to ask for that and also we know that these are folks who live and work here because their employers are bringing them. That could be a barrier, but we haven't experienced it," said Dr. Emily Ptaszek, CEO of the Healthcare Network.
The organization asks for some form of ID but can work around not having one.
Family Health Centers of Southwest Florida has organized targeted farmworker vaccination events in the LaBelle area.  
Image
Sylvia Delgado, director of social services for the organization, said the center doesn't ask for ID but most workers bring a form of it. "For farmworkers, the majority of them come with a crew leader so they have the H2-A documents."
The Florida Department of Health did not respond to questions about easing state residency requirements.
Florida agriculture commissioner Nikki Fried noted the state's progress in recent weeks.
"Commissioner Fried appreciates the Division of Emergency Management's efforts in helping us make these vaccinations happen, and the efforts of all farmworker advocates protecting these essential workers," said Franco Ripple, a Fried spokesman.
Fried was among the chorus calling for DeSantis to offer farmworkers early vaccine access given the higher infection and mortality risks they face. Federal guidance suggested they receive priority as at-risk essential workers. DeSantis did not provide early access, but once age limits dropped, the state directed mobile vaccination units to Immokalee, Belle Glade and Homestead, which have large farmworker populations. 
Palm Beach County Commissioner Melissa McKinlay choked up Easter Sunday as she thanked outgoing state emergency management director Jared Moskowitz for bringing the unit to a Belle Glade farm. "This has been a long time coming," said McKinlay in a Facebook Live video. "To have this happen on Easter morning, is, it's emotional. God is good."
Help for farmworkers 
The registration process at Saturday's mass vaccination in Immokalee revealed barriers, which health workers surmounted, but ones that would have left workers out of the state's mainstream vaccination efforts.
Many could not fill in their address on the form. They did not know their address. They relied on their employer for transportation to their employer-provided housing, both required under their temporary work visas. Most spoke only Spanish or Haitian Creole.
Some could not write or read, so tomato pickers circled healthcare workers who read the questions aloud, one by one. An older worker asked for help writing the date. 
Before and once vaccines arrived for Immokalee farmworkers, the Coalition of Immokalee Workers provided intensive outreach, including vaccine education through drawings. The group publicized vaccinations for farmworkers via its radio station and flyers they passed out in labor camps and spots where workers gather before dawn. 
"It's not enough to just bring the vaccine and say, 'Here it is,'" Rodriguez said. "You have to do the education, so the community learns about it in their languages, with people they trust and who take the time to go to their homes and to their workplaces."  
The outreach paid off.
"Every day there were more people interested in receiving the vaccine than the vaccines available," the coalition's Julia Perkins said.
Some agricultural workers viewed the vaccine as a form of income protection.  
"We're contracted workers, so when we want to return the next year, they might ask us for the vaccine," Mauricio Paz, a 27-year-old guest worker from Mexico, said in Spanish. "Also, we travel together from one place to another, so it's important to be protected." 
Others lost family members or friends or were infected by the virus themselves.
Several Florida towns with farmworker populations have been disproportionately impacted with infection rates higher than the state average and up to three times more than nearby wealthier communities of retirees, according to a USA TODAY Network - Florida March analysis of state data. 
Ruben Acevedo, 51, who drives tractors for produce companies, spent nearly a month in the hospital this winter with COVID-19, on oxygen for 15 days, wondering if he would leave alive. He could not work for three months as he recovered.  
"To anyone who says, 'I'm not going to get it,' I recommend that they do because I know how hard it hit me," he said, sighing. "I hope that everyone gets vaccinated."
Image
As soon as his doctor said it was safe to get vaccinated, he made an appointment at Family Health Centers in LaBelle, where he resides with his family full time. For migrants, the organization is coordinating for a second dose at the workers' next stop.    
Health workers said they see no more vaccine wariness among farmworkers than in the at-large population, especially now that more people are vaccinated. But they did point to the necessity of surmounting barriers that might keep them from getting vaccines such as transportation or people to answer questions or address misconceptions in their own languages.  
"To be honest, the community comes early to their appointments," said Robin Lewy, director of programming at Rural Women's Health Project in Gainesville. "I'm more worried about the hesitancy in the medical population."
The Guatemalan Maya Center in Lake Worth is working with local health officials to host a mass vaccination event in late April. Center staff booked a third of those appointments in two days, McElroy said. The nonprofit has produced videos about the vaccine in indigenous Mayan languages to reach the state's Guatemalan population.
"We've been promoting education for a long time now," McElroy said.
Janine Zeitlin is an enterprise reporter in Southwest Florida. Connect with her on Twitter @JanineZeitlin or at jzeitlin@gannett.com. She reported this story while participating in the USC Annenberg Center for Health Journalism's 2020 Data Fellowship.
[This story was originally published by Naples Daily News.]
Did you like this story? Your support means a lot! Your tax-deductible donation will advance our mission of supporting journalism as a catalyst for change.