Foreclosures hollow out a community
Even as much of California's housing market has begun to recover, foreclosures and vacant homes continue to plague the South Los Angeles community of Watts.
Image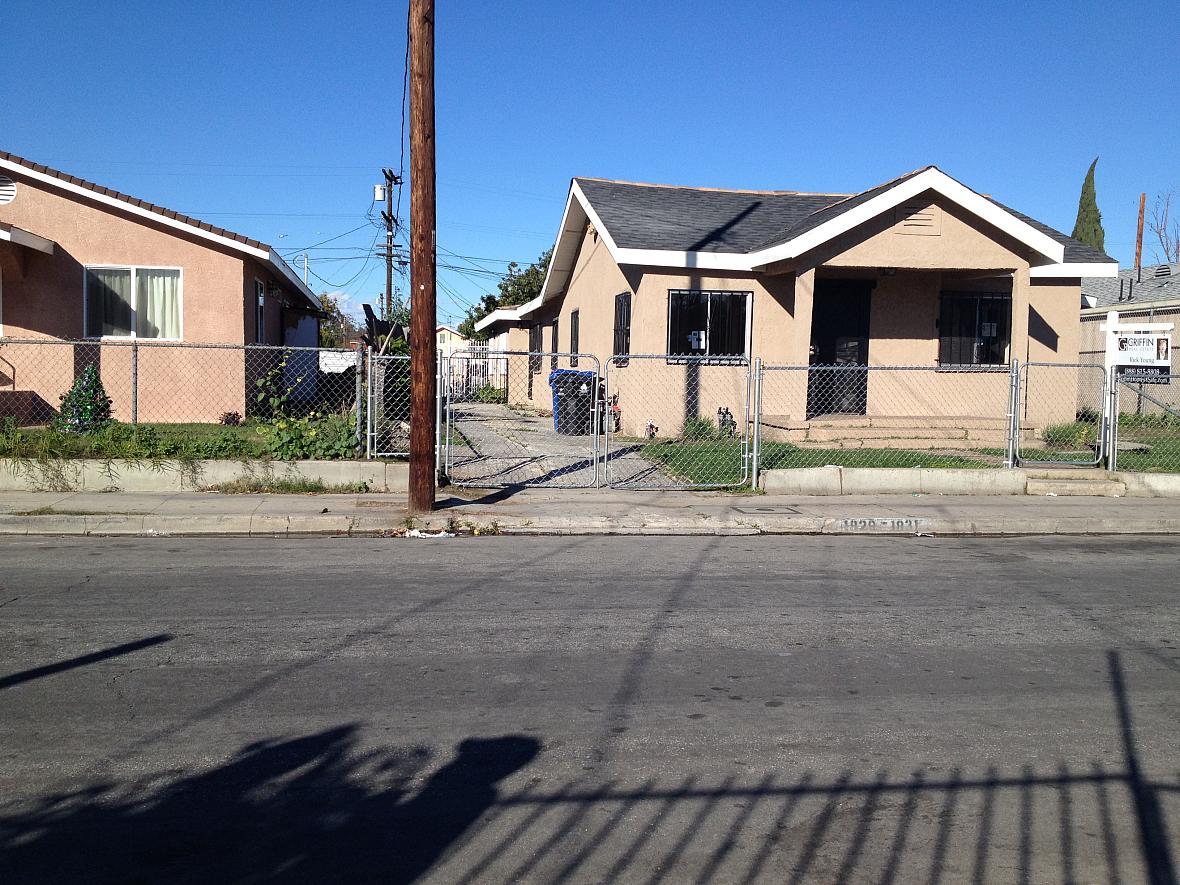 Published on
February 25, 2023
On a sunny afternoon, as a handful of tourists participated in guided tours and marveled at the Watts Towers, a National Historic Landmark, 19-year-old Jeremiah Cotton stood among a group of young men nearby gathered around a broken-down car.
As the men waited for mechanical assistance, Cotton stared pensively in the direction of a vacant home across the street. Cotton has lived in the South Los Angeles community of Watts since birth. He has experienced many changes within his community – the good and the bad.
Foreclosed and vacant homes are nothing new to Cotton – a common sight in his neighborhood. In an unaffected style, he discussed the high number of foreclosed, vacant, and abandoned homes.
"Just walk down the street. They're worse. They're everywhere. Everyday, everywhere," he said.
Despite declining foreclosure filings in California and Los Angeles County, the short block alone had five recently foreclosed homes, and the community is ridden with hundreds more. The home-foreclosure rate in Watts is more than triple the national average, according to RealtyTrac, a real estate information company and an online marketplace for foreclosed and defaulted properties in the U.S.
The vacant properties raise concern with community members for a number of reasons, but the foremost concern is the number of displaced families. Families are forced to leave their homes, their communities, and sometimes end up homeless.
"They just move to the projects," said Cotton. When asked if he believed that to be the fate of most families, he assuredly stated "pretty much."
Legislation extends new rights
New legislation that aims to protect homeowners took effect on Jan. 1. The California Homeowner Bill of Rights extends key mortgage and foreclosure protections to homeowners and borrowers such as a guaranteed single point of contact and restrictions on dual track foreclosure – the practice of initiating the foreclosure process against a homeowner while the homeowner is seeking to renegotiate their loan terms.
According to a statement from the office of the Attorney General, the Homeowner Bill of Rights "will provide basic fairness and transparency for homeowners, and improve the mortgage process for everyone."
"For too long, struggling homeowners in California have been denied fairness and transparency when dealing with their lending institutions," said Attorney General Kamala Harris. "These laws give homeowners new rights as they work through the foreclosure process and will give Californians a fair opportunity to stay in their homes."
Another key provision, tools to curb blight, assists local governments and receivers in combating blight and crime associated with multiple vacant homes in neighborhoods.
Some advocates think the Homeowner Bill of Rights came too late for the many families that were involved in unfair foreclosures, and fear that the positive impact will be minimal.
"It's very little, and it's coming kind of late. Certainly, it will help some troubled homeowners, but not to an extent that it will make a real impact," said Arturo Ybarra, director of Watts/Century Latino Organization, a HUD-approved agency that provides housing education and counseling to troubled homeowners.
Ybarra, also a resident of Watts, witnessed the damage foreclosures have caused his community over the years. When homes are foreclosed upon, the negative effects extend beyond the displaced individuals and families and adversely affect the entire community's health.
In Watts, many foreclosed homes become vacant, neglected or abandoned properties that increase the risk of blight and introduce community health risks such as crime, pest infestations, disorder, and violence.
Ybarra believes that Watts, Compton and Lynwood were hit the hardest by foreclosures. Entire blocks of homes that were in some stage of the foreclosure process were vacant, unattended, vandalized, and became eyesores as well as a health risk. Trash from foreclosed properties ends up in alleys and streets, invites pests and encourages further littering. Public services are also not responding as soon as they should.
Abandoned properties are used as drug houses, sleeping quarters for homeless people, and houses for prostitution.
"Many of those houses have been used as drug houses, some are taken by homeless people. There's prostitution. One way or another, it affects our community, our neighbors, and other properties," said Ybarra.
A study, soon to be published in the Journal of Urban Economics, found that recent foreclosures elevated the chances for criminal activity, especially on blocks with concentrated levels of foreclosure activity and in neighborhoods with moderate or high levels of crime.

Damaging the social fabric
Foreclosures have also contributed to decreased social cohesion and increased isolation within Watts. Relationships between families and neighbors have been damaged or strained, disrupting the health-promoting social networks and the sense of community. Residents that remain when families and neighbors are forced to leave the neighborhood are also often left with feelings of frustration, loneliness, and hopelessness.
"This automatically transmits a sense of hopelessness, not only for those that are affected but also for those that are witnessing the foreclosures. These situations hurt them because they know these people, too. This hurts us all; it hurts the social fabric," said Ybarra.
Paying the price
A report published by the Center for Responsible Lending states that people who live near foreclosed homes lose significant home equity, with communities of color bearing the largest share of the cost – a huge setback for homeowners who had previously made economic progress in the neighborhoods.
When a home falls into foreclosure, it affects the property value of the foreclosed home as well as neighboring properties. The decline in property values diminishes tax revenue streams that fund municipal services essential to community health, and increase the local government costs of responding to foreclosure-related problems such as maintenance, inspection, trash removal, or public safety calls.
The Alliance of Californians for Community Empowerment (ACCE) and The Home Defenders League published a report that estimates that between 2008 and 2012, the neighborhood of Watts (zip code 90002) experienced property value losses (foreclosed and neighboring homes) of $896 million; property tax losses of $5.5 million; and local government costs of $25.2 million.
Declining property values also spur neighborhood disinvestment, another effect with long-term impacts on community health.
"The foreclosure crisis has decimated the homeowner constituency in Watts. The African American and Latino communities were targeted to receive predatory loans, and during the housing crisis lost the most. Every foreclosed home in the city of L.A. costs the city about $20,000 in lost tax revenue," said David Mazariegos, lead organizer with ACCE.
"We need to keep the pressure on the big banks and make them pay for the damage they have caused our communities, cities, states, and country."