Former Eastie resident on losing Wood Island: 'How could you retaliate against a giant that's got all guns on?'
Image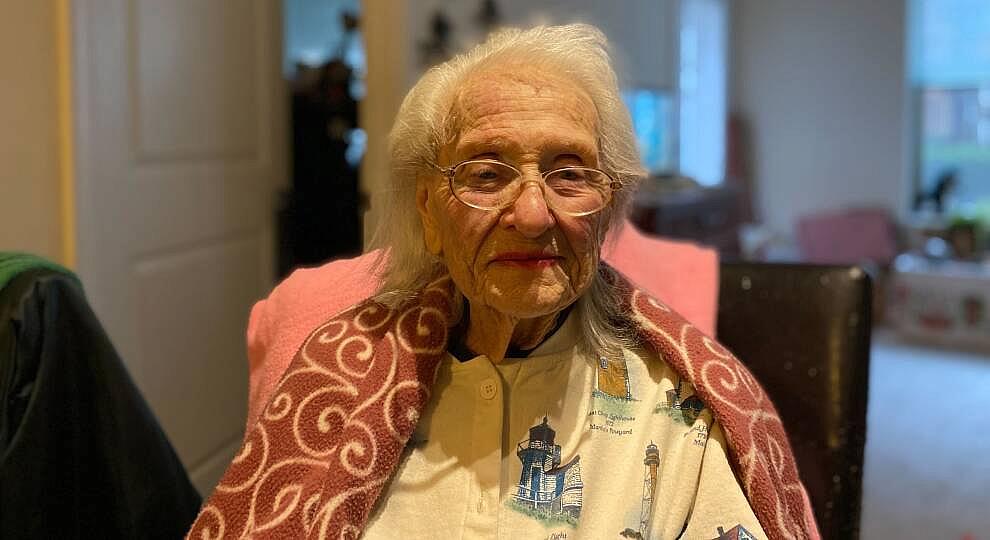 Published on
December 23, 2022
CHJ · Former Eastie resident on losing Wood Island
Marion Curtis was born and raised in East Boston in the 1920s. She grew up in a home on Shrimpton Street, close to Wood Island Park, 50 acres of green space designed by landscape architect Frederick Law Olmsted.
Today that park — and the home she grew up in — are long gone, demolished to make way for Logan International Airport's expansion in the 1960s. The health effects of that decision reverberate through East Boston to this day. For Curtis, who now lives in Revere, the memories of Wood Island and of Shrimpton Street are still vibrant, as explored in the GBH Morning Edition series The Price of Flight.
Now 98 and living in Revere, Curtis sat at a small table next to her kitchen and flipped through old photos of Wood Island Park.
"We had an enormous ball field that you could play four games at one time, and then we flooded it in the wintertime for ice skating," she told GBH's Morning Edition. "You get cold, you come in and have some hot chocolate and a cookie and then go back out again. ... We had, I think, six tennis courts and a track, one of those actually legal [regulation-length] running tracks. All kinds of games for the kids. It was my bailiwick because I was into sports."
Speaking with Curtis about the park and her life in Eastie decades ago is like traveling back in time. And hearing her describe her childhood home in East Boston along Shrimpton Street is like traveling to another world.
"We had a two-family house and with extra land would be chestnuts trees and grapevines. We had our garden. We grew all our vegetables in the back of the house. A pole for our clothesline," she said. "It was beautiful. Not fancy ... it was a plain house. But my grandmother buried three great-grandmothers and grandfathers and my mother from that house."
Curtis said she doesn't know when the house was built. It was long before her time. But she'll never forget when it was lost. As Curtis remembers it, while her family was still living in their home, the airport began building and doing work right next to them, harassing her family and slowly pushing them out.
"They turned our water off when they first built that up. We couldn't take a shower. We would hook up the hose and we'd take a bath, a shower underneath my grapevine," she said. "You'll never know the things that these people did: urinated on our homes. But we couldn't do anything nasty, negative and retaliate, because how could you retaliate against a giant that's got all guns on?"
No one ever compensated her family for losing their home, she said.
"We lost everything because we had no choice. We had to finally get out," she said.
Curtis said she lost a lot to the airport: her home, the World War II memorial close by it, and the park that was at the core of her neighborhood. But as she flipped through some of her old photos and pieces of writing she has about Wood Island, she said the good memories are what keep her from being bitter.
"I've done so much and tried to do so much good, and I had so much good done to me. And then some of the things that were going on here, I think that's probably what made it a little bit easier to handle," Curtis said. "And of course, reading these things, the emotion is quite something, because it's been one experience."
She paused.
"But that Wood Island," she said. "I'm telling you: It was beautiful."