Milwaukee's infant mortality numbers improve but the racial disparity is still wide
A recent report released by the Milwaukee Health Department shows how much progress Milwaukee has made in reducing infant mortality — and how it still falls short.
Image
Published on
May 20, 2017
In the summer of 2014, the year 85 babies died in Milwaukee in the first year of their lives, Tonda Thompson had a dream.
Tonda's own baby, Terrell, had died the year before, 17 hours after he was born. He was one of 113 babies who died in the city in 2013.
Terrell's death broke loose an embolism of pain that, as it coursed through her life, destroyed her marriage, derailed her career and drove her into a depression so deep that it seemed to her to have no bottom.
In Tonda's dream, she was washing her clothes. She stuffed them into a front-loading machine, turned it on and watched through the little round window as the tub filled with water. The soapy clothes begin to slosh back and forth when she noticed a baby, brown like she is, floating among them.
She pulled at the washing machine door, but it wouldn't open. She pulled and pulled. Frantic, she yelled to her mother: The door is locked. I don't know the combination.
You have to figure it out, her mother called back.
Image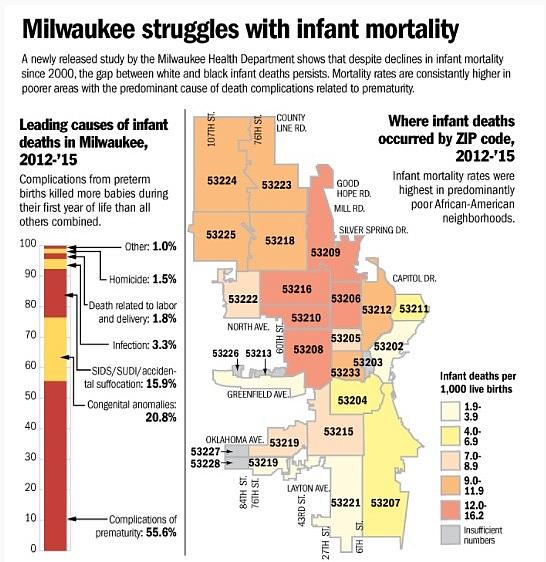 The dream that Tonda had that summer night, that was her finding the bottom. It was a call to rise up, to take action.
In the months after the dream, Tonda would enlist in a war on infant mortality that had been going on, unnoticed by her, for years.
The call to arms was first sounded in 2004, when the Wisconsin Medical Journal reported that Wisconsin's black infant mortality rate had collapsed from the third best in the nation to the second worst. Most of those babies — 77% — died in Milwaukee.
Now, a report to be released Monday by the Milwaukee Health Department shows how much progress Milwaukee has made — and how it still falls short.
In the 2004 Fetal Infant Mortality Review, or FIMR report, the African-American infant mortality rate was 18.2 deaths for every 1,000 live births, calculated for statistical clarity on a three-year rolling average. The new FIMR shows that by 2016, the African-American rate had dropped to 13.6 deaths per 1,000 live births, which places Milwaukee on par with Detroit, Dallas and Minneapolis.
In 2004, the white infant mortality rate was 5.6 deaths; in 2016 it was 5.0 per 1,000 live births.
And in 2004, the overall rate was 11.0 deaths; by 2016 it had dropped to 9.0 per 1,000 live births.
Still troubling: Although the gap between the African-American and white infant mortality rates narrowed, black babies in Milwaukee died at nearly three times the rate of white babies. Further, the goal set by the health department and by Mayor Tom Barrett in 2011, to reduce the African-American rate to 12.0 per 1,000 by 2017, appears all but unachievable.
The U.S. experience
Preterm birth kills more babies in Milwaukee than anything else. Nothing comes close.
Complications of preterm birth — that is, births before 37 weeks of gestation — caused nearly 56% of the infant deaths studied in the latest FIMR report, which analyzes the 390 deaths that occurred between 2012 and 2015.
Congenital anomalies such as heart defects accounted for almost 21% of deaths. Deaths considered sleep-related, such as sudden infant death syndrome and accidental suffocation, accounted for less than 16% — and about one in five of those deaths involved babies born too soon. The remainder is comprised of infections, deaths related to labor and delivery, and homicide.
The racial disparities that manifest themselves in infant deaths also exist in preterm births. The FIMR report found that almost two-thirds of the infant deaths among black babies were due to preterm birth, compared with about one-third of deaths among white babies.
Scientists have wondered if the difference between black and white preterm birth rates, which is seen nationwide, might be genetic. Are black women genetically predisposed to abbreviated pregnancies?
 "The quest for a 'preterm birth gene' to explain racial differences is now underway," said neonatologists Richard Davis and James Collins in a still often-cited article published in 2007 in the American Journal of Public Health.
The researchers used birth weight as a proxy for gestational maturity; in other words, low birth weight became the equivalent of preterm birth.
They found that babies of African-born women delivered in the United States were the same size as the babies of U.S.-born white women. However, the babies of U.S.-born black women had much higher rates of low birth weight.
Furthermore, daughters of African-born black women, the first generation to be born and to grow up in the United States, then had daughters whose birth weights were on average lower than their own. No such patterns were detected among European immigrants and their descendants.
Image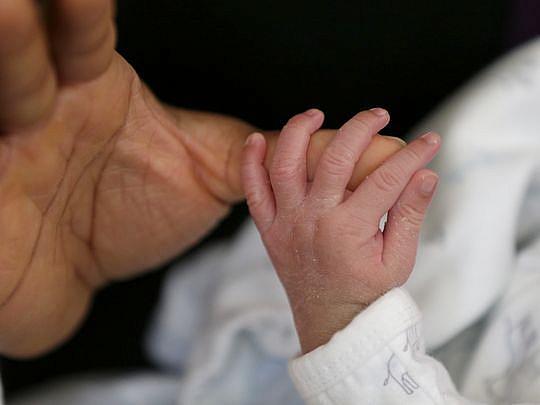 In other words, for black mothers, the experience of living in the U.S. adversely affected the health of their babies.
"Evidence suggests that public health planners look to social and environmental rather than genetic differences between black and white women in the campaign to eliminate health disparities," they wrote.
When Tonda Thompson read this, she was both appalled and galvanized.
It seemed grotesque and unfair that the babies of her neighbors and family were, somehow by the geography of their births, more likely to die in their first year of life.
But if the explanation was not genetic, if the reason neighborhoods such as her own had high infant mortality rates was not because the majority of people that lived in them were genetically predisposed to prematurity, then maybe there was something she could do to help.
She could not change her genome. But she could change her neighborhood.
She could make it healthier.
Geographic factors
Tonda grew up in ZIP code 53206, which was the most lethal ZIP code for babies in 2004 and remains the city's most lethal ZIP code in the new report.
Even in Milwaukee, one of the nation's poorest cities, a city in which intergenerational trauma is epidemic, 53206 is particularly distressed. It was described in a 2014 University of Wisconsin-Milwaukee Center for Economic Development report as the city's "epicenter of social and economic disadvantage."
No ZIP code in the nation matches 53206's per-capita rate of residents who are or have been incarcerated.
It leads the city in percentage of women ages of 18 through 24 without high school diplomas. It leads the city in percentage of female-headed single-parent homes with children under the age 18. It leads the city in percentage of families living in poverty.
Image
All that comes with a word of caution: It is unfair to reduce individuals to the characteristics of their ZIP codes. Tonda, for example, finds the statistics describing 53206 surprising.
Both her parents work. Her grandmother kept an eye on her and her siblings. Her mother took care of foster children, some of whom Tonda considers family. When the Thompson children grew out their clothes, they passed them along to neighbors. When there was enough food, kids in the neighborhood joined them for dinner.
"It was, to me, second nature," she said. "It was home."
Nevertheless, the FIMR report attempts to illuminate some of the broader social determinants that shape the health and well-being of the people that live in those communities.
The four Milwaukee ZIP codes with the highest infant mortality rates — 53206, 53209, 53210 and 53216 —are contiguous and located on Milwaukee's mostly African-American north side. Even in this small group, 53206 stands out. According to the most recent census estimates, 25,000 of its 26,600 residents are black. Less than 300 are white.
Greater than a quarter of all families in each ZIP code live below the poverty level. Greater than 60% of all families in each ZIP code are headed by a single female with children 18 or younger. More than one in five women ages 18 through 24 do not have a high school diploma in all but one of the ZIP codes.
Picking the lock
Maternal health conditions — such as hypertension, diabetes, obesity, mental unhealthiness, sexually transmitted disease and urinary tract infections — contribute to the risk of preterm birth and infant death.
So do maternal behaviors during pregnancy, such as smoking, drug use, delayed or no prenatal care and close intervals between pregnancies.
But the FIMR report, in seeking to explain the difference between black and white infant mortality rates, drills down on an ever-growing body of research that suggests that a combination of economic, social and environmental factors, including higher levels of chronic, toxic stress, are not only also to blame, but indeed explain the differences in the white and black infant death rates.
"It's the difference in lived experience, the difference in social and economic conditions, the difference in chronic stress, that are driving these differences," said the FIMR report's principal investigator, Emmanuel Ngui, associate professor at the University of Wisconsin-Milwaukee Zilber School of Public Health.
Citing the Davis and Collins study, it's not one's race but rather the experience of racism that adds to this stress, he said.
"Something about the lived experience of being black in America is contributing to poor birth outcomes," he said.
Geoffrey Swain, a professor at the University of Wisconsin School of Medicine and Public Health and the health department's medical director and chief medical officer, put it this way:
"Lots of people have stress, but the level for chronic stress is higher. Experiencing poverty, experiencing unemployment, experiencing racism, experiencing the difficulties in getting medical care, the risk of having a chronic condition, the experience of having that condition well managed — they're all the difference."
A hard year
Consider the 29-year-old African-American mother of a boy born in July 2016 three months premature.
The Journal Sentinel is not identifying the mother, who said the boy's conception was the result of a sexual assault.
The mother grew up in a predominantly white Milwaukee suburb, attended college in the South, moved back to Milwaukee and began a professional career.
The sexual assault was more than horrible enough, but when she discovered she was pregnant, she did not know what to do. She said she delayed getting prenatal care, considered getting an abortion, and tried to hide her condition from family and friends.
Then, according to the woman and to court records, she began to have trouble with her landlord. In April, her electricity was cut off. Believing her situation was temporary, she bought battery-operated lanterns and was able to cook on her gas stove.
She took a leave from her job to deal with her pregnancy and her dispute with her landlord. Eventually, she was laid off. As the heat of the summer set in, she spent her days in parks and in fast-food restaurants. By July, she was hospitalized for a life-threatening blood pressure condition called preeclampsia.
Her son was delivered by cesarean section. He weighed 2 pounds, 3 ounces. A week later, still not healed from her surgery, the boy critically ill, the mother was in court challenging her eviction.
On Aug. 15, her son still in the hospital, the landlord had her belongings removed from the home and placed on the lawn. Most of her things were looted.
The woman spent her days at the hospital and her nights staying at hotels, or with family and friends, or sleeping in her car. She returned to work, but when her son was discharged from the hospital in October, she had nowhere permanent to take him.
The mother was at work when, on Nov. 23, while he was being cared for by his grandmother, the boy succumbed to bronchopneumonia, with prematurity as a contributing cause, and became one of an estimated 88 babies to die in Milwaukee in 2016.
"Anyone who doesn't know how hard life can be," the mother said recently, "look at my life in 2016."
Making a difference
In the fall of 2014, a few months after her dream about the baby in the washing machine, Tonda Thompson became an outreach worker for the Milwaukee Lifecourse Initiative for Healthy Families.
LIHF had its origins in the concerns raised in 2004 about Wisconsin's black infant mortality rate. In 2009, the Wisconsin Partnership Program at the University of Wisconsin School of Medicine and Public Health announced it was committing up to $10 million to reduce black infant mortality in Beloit, Kenosha, Racine and Milwaukee.
More than $4 million has gone to the Milwaukee collaborative, co-chaired by Barrett and coordinated by United Way of Greater Milwaukee & County. United Way also has its own initiative, Healthy Birth Outcomes.
Milwaukee LIHF was slow to get started, and if its impact on Milwaukee's black infant mortality rate is difficult to measure, public health experts say that only underlines the complexity of the problem.
"Inherently, it's really hard if not impossible to know what the outcome of our work is," said Patrick Remington, a member of the partnership program's oversight and advisory committee and associate dean for public health at UW's School of Medicine and Public Health.
"When you get into problems that have such vexing and complex causes that are tied to economic and social factors such as poverty and race, measuring the widgets that have been developed, or services delivered, is really hard."
United Way and LIHF, Swain said, "are not designed to or are capable of really transforming the structural issues facing Milwaukee, especially facing African-Americans in Milwaukee."
Still, Tonda figured she could make some kind of difference, however hard to measure.
So last summer, on Aug. 6, with the support of Milwaukee LIHF and United Way, she organized a run/walk through her neighborhood, Harambee, in honor of her son.
"The problem is not the community," she said. "The solution is the community. I wanted the race to say: 'We can handle this. Come. Look how beautiful we are.'"
She called the event "HaRUNbee." On the run's T-shirts, "RUN" is printed over an enlarged image of her son's footprint, made shortly after his birth.
Organizers had 250 T-shirts made. They ran out. People paid the entry fee anyway.
Tonda had planned to run herself, even up to the last moment, but then decided against it.
A few days before the race, she had discovered she was pregnant.
Tonda's son, Jehlani Rashid, was born on March 10 at 8:59 p.m. He weighed 8 pounds, 9 ounces.
Like all God's children, Tonda says, he's perfect.
[This story was originally published by the Milwaukee Journal Sentinel.]
[Photos by Mike De Sisti / Milwaukee Journal Sentinel]