Sarasota kids can get free dental sealants
Image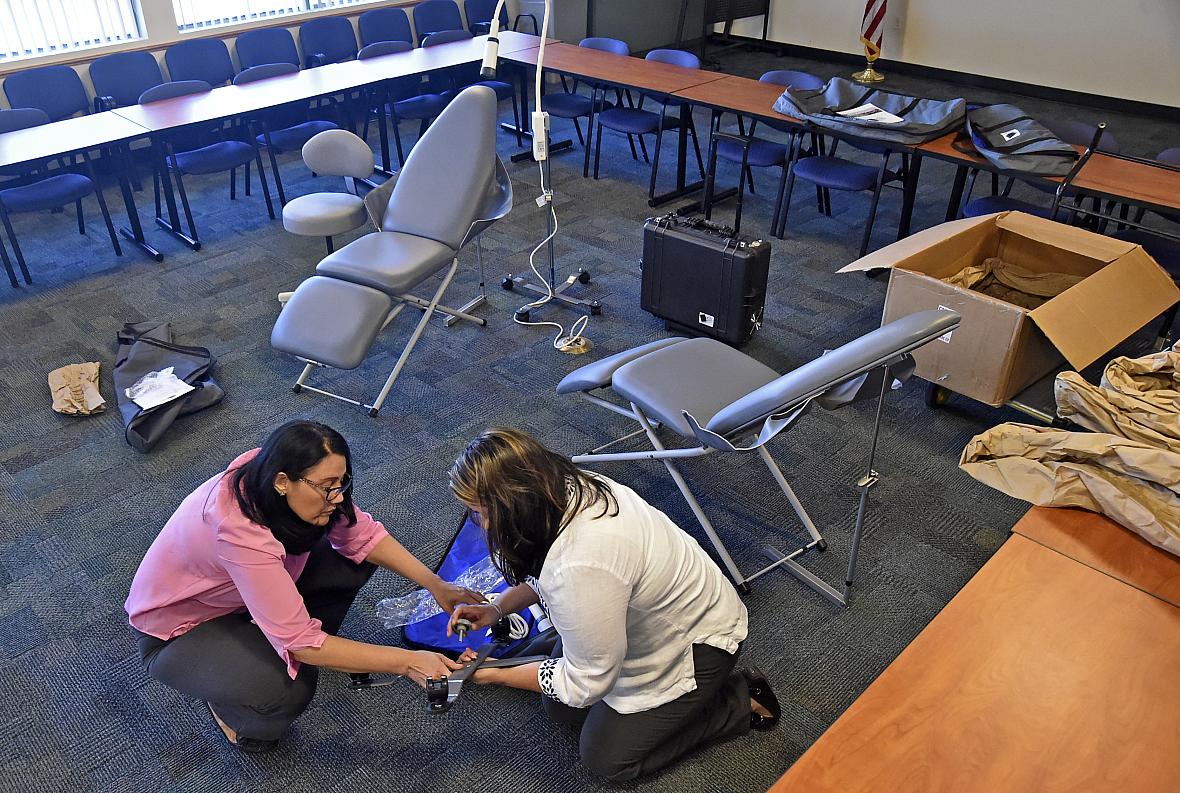 Published on
September 20, 2016
SARASOTA COUNTY — Starting in January, second-graders at 14 Sarasota County schools will have the chance to receive free dental sealants on their molars through a partnership between the Department of Health in Sarasota County and four local foundations.
It's an effort to improve oral health, and thereby school success. Dental care is the leading cause of absence among children and the disease that causes cavities, known as dental caries, is the nation's most common chronic childhood illness, five times more prevalent than asthma.
The idea for a program to help local students fight the lifelong consequences of dental disease was sparked by an email.
Jim Henry, a longtime leader in the Sarasota Rotary Foundation, was looking for a way his group could help improve children's early school success. He contacted Barbara Shirley, the principal at Alta Vista Elementary in Sarasota, and asked if her students, the majority of whom come from low-income families, were getting vision screenings when they started school.
The children already receive vision screenings, Shirley said, but they really need dental care.
Shirley's observation is backed up by extensive research showing that low-income children are the group most likely experiencing dental caries, and are the least likely to get treatment, because of a toxic combination of low Medicaid reimbursement rates, few dentists willing to accept Medicaid patients and a lack of parental education on oral health.
Low-income children are the group most likely experiencing the disease that causes tooth decay, and are the least likely to get treatment due to a toxic combination of low Medicaid reimbursement rates, few dentists willing to accept Medicaid patients and a lack of parental education on oral health.
A Herald-Tribune series published this summer found that while teachers and school nurses observe children with dental pain nearly every day, they don't have many options for referring Medicaid-enrolled children to dental care.
In Sarasota County, the health department's two locations in Sarasota and North Port see about 7,000 children per year. But the county has more than 20,000 children from birth to age 17 enrolled in Medicaid.
Last year in Florida, just one-third of Medicaid-enrolled children received any dental care at all, according to state data submitted to the federal government. Only 18 percent of Florida dentists accepted Medicaid patients, a Florida Department of the Health dentist survey showed.
Partnerships emerge
The more he learned about this problem, the more Henry wanted to help. It turned out he wasn't the only one.
A call to the Department of Health in Sarasota County revealed that experts there had been working on a grant application to hire a dental hygienist to provide dental sealants to every second-grader attending one of the county's 11 Title I schools, which include any school where more than 40 percent of the students come from low income families and are eligible for free or reduced-price lunch.
At the same time, leaders from The Patterson Foundation, the Community Foundation of Sarasota County and the Gulf Coast Community Foundation were all interested in working to stem the tide of childhood tooth decay. By the time the groups met in July, plans for a dental sealant program for second-graders fell quickly into place, and three more low-income schools were added to the list.
Last week came more welcome news: the local health department secured a $42,000 state grant to hire a hygienist and dental assistant, and the portable dental equipment bought by the foundations arrived in Sarasota this week.
The sealant program is a key initiative for the Florida Department of Health and national experts because of the sealants' effectiveness in preventing cavities and saving money.
Sealants reduced the number of children experiencing dental disease by 86 percent in the first year after application, according to a report published in the Journal of the American Dental Association, and for every $1 spent on sealants, the state of Florida saved $1.88 on fillings, the state reported.
Over the next few months, the Department of Health in Sarasota County will hire a hygienist who will also help connect uninsured children with health coverage, and a dental assistant who will both help place the sealants and file billing paperwork to the Florida Medicaid program to receive reimbursement for any Medicaid-enrolled children they treat.
The dual roles of health worker and advocate helps turn the program into a way to chip away at the number of uninsured kids in the county, said Beth Duda, director of the Suncoast Campaign for Grade-Level Reading at The Patterson Foundation.
"Yes, we want every child's teeth to be sealed, but this program is also a good entry point for some of the families who qualify for coverage and may not know about it," Duda said.
How it works
Any child with either private coverage or no insurance will get the dental sealants free. For Medicaid-enrolled children, the service will be billed to their Medicaid insurance, which covers the service at no cost to the family.
The Medicaid reimbursements should be enough to keep the program financially sustainable, but any extra money needed to support the program will be provided by the foundations, up to a total of $60,000, Henry said.
The foundations also will have money set aside to pay for extra dental care for second-graders who need more than just sealants, Henry said.
Those students will be linked with oral health care provided by the Department of Health in Sarasota County, and leaders hope that the whole family will benefit.
"This program is just for second-graders, but if a family has multiple children, we will try and embrace the entire family and make sure they are connected to the health system," said Linda Glover, school health supervisor for the Department of Health in Sarasota County.
Parents should see permission slips coming home over the next few months, and the sealant appointments are slated to begin in January. Because the dental care will be on campus, dental program administrator Lorany Vasquez anticipates that children won't be out of the classroom for more than about 10 to 15 minutes, so as not to disrupt instructional time.
The program is starting in second grade because that's when children get their first set of permanent molars, which can then be sealed to protect against cavity-causing bacteria. But the program's leaders hope to eventually offer on-campus dental care to older and younger children in Sarasota County, and eventually expand into Manatee County and communities across the country looking to make a difference in child health and school success.
Overall, the program is an example of the collaboration that can happen when people get together with the same goal, Henry said.
"We saw dental care as a need we can fill, and with the partnership, we now have a way to get it done."
[This story was originally published by the Herald-Tribune.]
[Photo by Thomas Bender/Herald-Tribune.]