Chasing the Fix: When sobriety is not enough
Image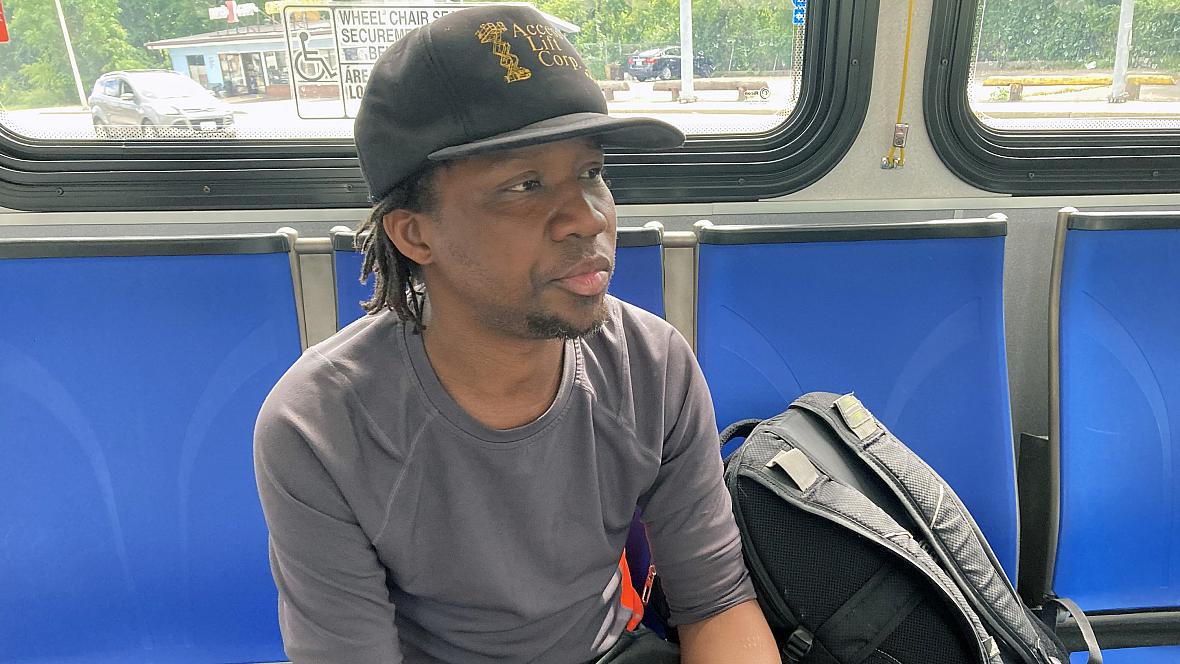 Lynn Arditi / The public's Radio
Published on
December 20, 2022
Mack Blackie had five dollars to his name. But he had a debt to pay.
So in late October, he walked from a local drop-in center for homeless people down the street to Woonsocket City Hall.
Inside, a municipal court clerk found his name on her computer.
"You gonna make a payment?"
"Yup."
"OK, how much are you paying? The balance is $80.''
The City of Woonsocket had fined Mack last April for drinking in public.
Mack had no place to live. He had no job. And he ate frozen meals from the Dollar Store. But he was paying off his fine, a dollar or two a month.
Click here for more stories from Chasing The Fix
The Public's Radio · Chasing the Fix: When sobriety is not enough
He handed the clerk a five dollar bill – all the money he had.
"Do you need change?"
"Yes please."
He'd still have more than enough to get a bus pass to Providence that weekend to visit his 13-year-old daughter. The clerk handed Mack his change, and an envelope with the date of his next payment.
As he headed back to Safe Haven, the drop-in center where he spent most afternoons, Mack's mood was lighter than usual. He was six weeks sober. And after months of sleeping on a park bench after the winter shelters closed, a friend was letting him crash on his couch.
He said he wanted to get a job, earn some money. He'd been living off about $250 a month in Supplemental Nutrition Assistance Program benefits, formerly known as food stamps. The week before, he'd made $60 helping a friend at the drop-in center clean out a rental house.
Mack had immigrated from Liberia at 17. And now, at 35, he was thinking again about his future.
"If I get my own place by the grace of God, you know, I will bounce back on my feet,'' he said. "Try to get a job…Go back to school…Learn a trade, you know?
Image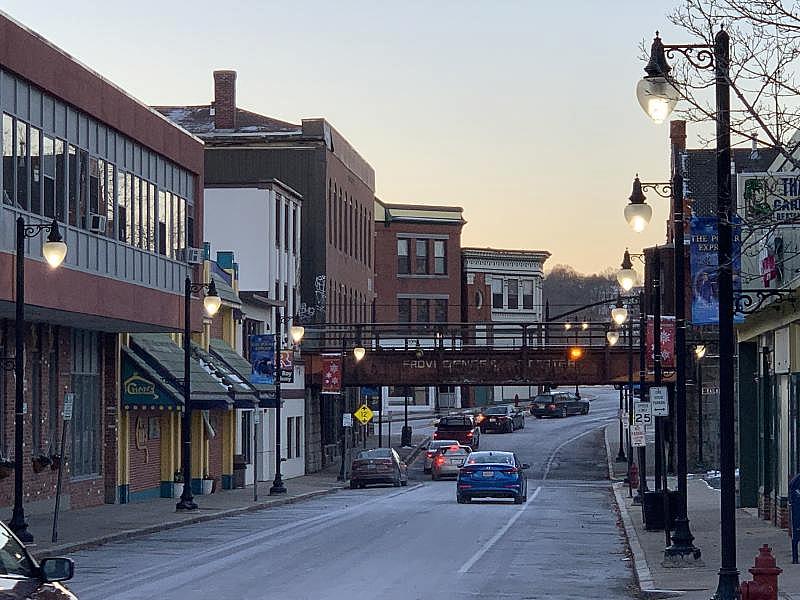 Woonsocket also seemed poised for a comeback. Once so broke it had to shut off half of its street lights, this former mill city 13 miles from the state capital had boot-strapped its way back to solvency.
The city's improved financial outlook in 2021 prompted the New York-based Fitch Ratings to upgrade Woonsocket's general obligation bonds from an A to A+ rating, making it less expensive for the city to borrow for projects like repairing schools and bridges. City officials also were eyeing a downtown revitalization plan to attract investors that would include hotels, shops and river walks modeled on cities like Amsterdam and San Antonio, Texas.
But like so many other American cities, since the start of the COVID-19 pandemic, Woonsocket also has a growing population of unhoused residents.
Woonsocket is Rhode Island's sixth-largest city, yet it had the second-highest number of people who were unsheltered behind Providence, according to October 2022 data from the Rhode Island Coalition to End Homelessness.
The number of unhoused people who are living outside tends to rise in the warmer months, when emergency shelters close for the season. In August, outreach workers counted 56 people in Woonsocket who were living outside, according to Christa Thomas-Sowers, community outreach coordinator for the nonprofit Community Care Alliance. These unhoused residents slept in donated tents in the woods behind shopping plazas, along the Blackstone River or, as in Mack's case, in city parks.
Nationwide, roughly half of all people who are chronically homeless have substance use disorders; and 30% have mental health conditions, according to the Substance Abuse and Mental Health Services Administration. And Mack was afflicted by both.
The Macks of the world are mostly seen by their housed neighbors from a distance, holding up cardboard signs by the side of the road or panhandling outside package stores. At various points, Mack was one of those people begging for change and sleeping outside. He would later say he felt ashamed; that it wasn't how a grown man was supposed to live.
Image
When I first met Mack in May of 2022, five months before his visit to Woonsocket City Hall, he was living at Safe Haven.
The drop-in center was also one of the only places in the city where Mack could escape the elements, microwave his lunch and charge his cell phone — even if he was intoxicated.
Inside the center's third-floor offices, Mack and the other clients could get free coffee, snacks, occasional bag lunches and even home cooked meals. The center also kept a small supply of free bus passes, used clothing, toiletries and naloxone, a medication that can reverse an opioid overdose.
The staff included a clinical social worker, peer recovery counselors and case managers who could help clients sign up for housing and other services.
Last winter, when the pandemic left hundreds of people around Rhode Island on waiting lists for shelter beds, Safe Haven opened its doors. The place had no showers and clients shared one toilet.
Mack was one of about a dozen homeless men who spent their nights on stained sofas and Army-style cots. But Mack was barely sleeping.
He told this to Dr. Gabriel Pleasants, a family physician from the nonprofit Thundermist Health Center when the doctor came by the center for his weekly visit one May morning.
"All night…off and on, off and on,'' Mack said." One hour, two hours. And (I) get up."
Pleasants listened in an unhurried way that only a doctor can when not clocking 15-minute visits. "Like you've talked about,'' Pleasants said, "the homelessness has led to problems with your mood, that's made it really hard to sleep."
"Yes,'' Mack said, nodding.
When he was sleeping outside, Mack said that he'd drink two 32-ounce cans of beer and pass out. But he wasn't allowed to drink at the shelter. And the alcohol withdrawal made his hands shake.
"I don't like drinking,'' Mack said, "but I had to drink because of my anxiety and my depression. That's how it is. I on the street all day walking around. Like an animal.''
At night, Mack said, he'd often wake up gasping for air. Years ago, a doctor had diagnosed him with sleep apnea. And before he became homeless, Mack said he used a CPAP machine at night to help him breathe. But Mack's state-subsidized health plan required that he undergo another "sleep study," the doctor said, to get approval for a new machine.
"I'm gonna call them, see if we can get you the device,'' Pleasants said. "And then hopefully that gets you sleeping better."
But weeks passed and the CPAP machine never materialized. And Mack continued to sleep poorly. He looked tired and seemed to have trouble focusing.
By the end of June, Safe Haven's staff and funding were depleted. And the drop-in center closed its overnight shelter.
Mack was back to sleeping on a park bench. And he sounded really down.
"While I was sleeping they robbed me,'' he said.
Mack said that a group of guys stole his wallet, which had $40 in it from his sister.
"It's dangerous out there. I don't want to die out there,'' he said, tearfully. "God forbid, I don't want to die."
Since he lost his job working on a delivery truck for a food distributor in 2019, Mack had joined the ranks of the chronically homeless. The Rhode Island Coalition to End Homelessness reports that more than 360 people across the state fit the definition.
Now, soaring rents and community resistance to building more shelters are leaving people like Mack out of options.
"Single men traditionally will wait years for shelter placement or for placement in permanent supportive housing,'' said Michelle Taylor, a vice president at Community Care Alliance, which runs Safe Haven. "Anyone, you know, 20s, 30s 40s, they literally will wait years for a placement.''
And for people who need housing and addiction treatment, the options are few and far between.
Mack tried for years to get sober. But every night that he slept on the streets, he'd drink.
That was, until he landed in the hospital.
Image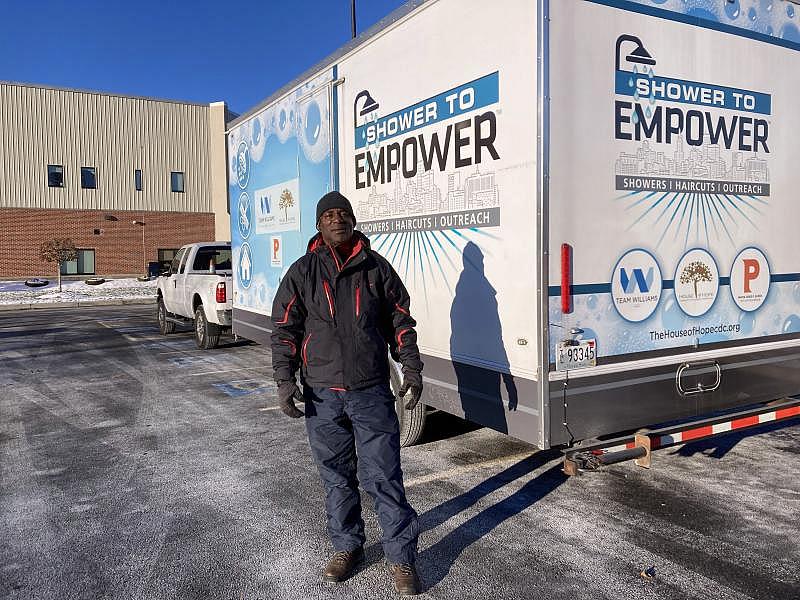 "Showers! Showers! Showers!'' a woman in the parking lot of Thundermist Health Center called out. "Who was here first?"
On this chilly September morning, a crowd had gathered in the parking lot outside a trailer offering free showers.
The Shower to Empower program, run by the nonprofit House of Hope, offers free showers each week for people living on the streets.
Pleasants, the doctor who had been treating Mack, was at the van making his morning rounds.
Mack hadn't been seen in more than a week. Then, seemingly out of nowhere, Mack appeared.
"What's up Johnnie?" Mack said to Johnnie Williams, the program's operations manager.
The doctor smiled. Mack's eyes were clear and focused. And his hands no longer trembled.
Two weeks earlier, Mack had been arrested outside the Woonsocket Harris Public Library when police recognized him from an outstanding warrant. Mack said he didn't understand why he'd been arrested, and he never got a chance to ask the judge. When the police brought Mack to court the next morning for his arraignment, he collapsed on the courtroom floor.
Mack spent nine days at Landmark Medical Center getting treatment for severe alcohol withdrawal. He emerged sober, and pledged to stay that way.
"I'm not gonna go back again,'' he said. "I did it for myself. I did it for my daughter."
But he left the hospital with no home to go to.
And that's especially risky for people in early recovery. "For every day that a patient is unhoused," Pleasants said, "the chances of them relapsing...are just much higher."
That first week, a friend let Mack sleep on his couch. And Mack was hoping to get a place of his own.
"It's life, you know?'' he said. "Don't never give up. Sometimes you fall and you rise again like the sun."
Image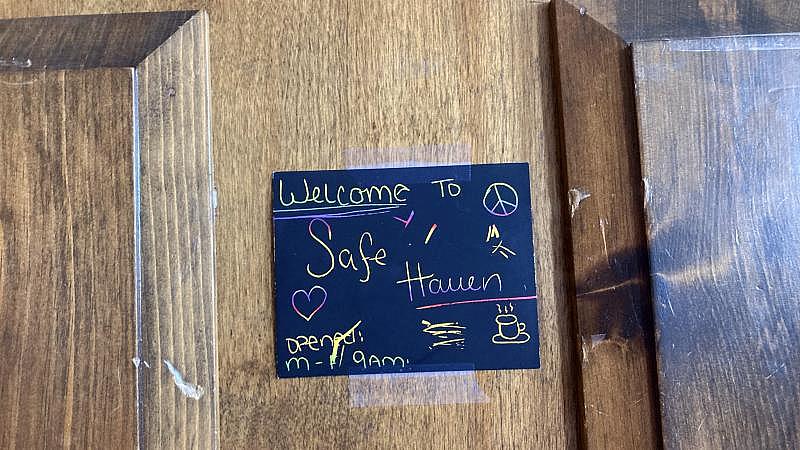 The October morning that I accompanied Mack to pay his fine at City Hall, we arranged to meet at Safe Haven. When I arrived, he was dousing hot sauce on breakfast sausages that he'd cooked in the microwave. He'd been sober for six weeks. And he'd been taking medication that helped him sleep.
Mack said that he still had no idea why he'd been arrested. So I pulled out my cell phone and read him the police report.
The Woonsocket Police had received a call that a man wearing a hoodie walked through an unlocked apartment door looking for his cellphone. After a resident handed him a phone, he left, kicking the door on his way out. The caller said he knew the man as "Black." And now police had charged Mack Blackie with "breaking and entering," a felony.
Mack said that he never went to that house, and nobody ever called him "Black."
"They call me Mack, Mac D…Mack the Knife. Mac and cheese. Machiavelli. But nobody call me 'hey Black!''' he said. "They got the wrong person."
Mack thought it would all work out. So he headed over to Woonsocket City Hall to pay his fine.
He pushed open a set of heavy doors, his image captured on an overhead surveillance camera, humming to himself.
And at that moment, Mack was just a guy with a few extra bucks in his wallet. And a mind to do the right thing.
***
Two days later, Woonsocket police arrested Mack at a downtown bus stop on the felony breaking and entering charge. He spent the next 31 days at the Adult Correctional Institutions. The day before Thanksgiving, Mack's caseworker at Safe Haven, paid $100 on his $1,000 surety bail and Mack was released back to the streets. He is scheduled to appear in Superior Court on the felony charge in February.
[This article was originally published by The Public's Radio.]
Click here for more stories from Chasing The Fix
This story was produced with support from the USC Annenberg Center for Health Journalism's 2022 National Fellowship.
Health reporter Lynn Arditi can be reached at larditi@thepublicsradio.org. Follow her on Twitter @LynnArditi.
Did you like this story? Your support means a lot! Your tax-deductible donation will advance our mission of supporting journalism as a catalyst for change.