This Week in Fresnoland: Dreaming about better air quality through transportation $$$
Image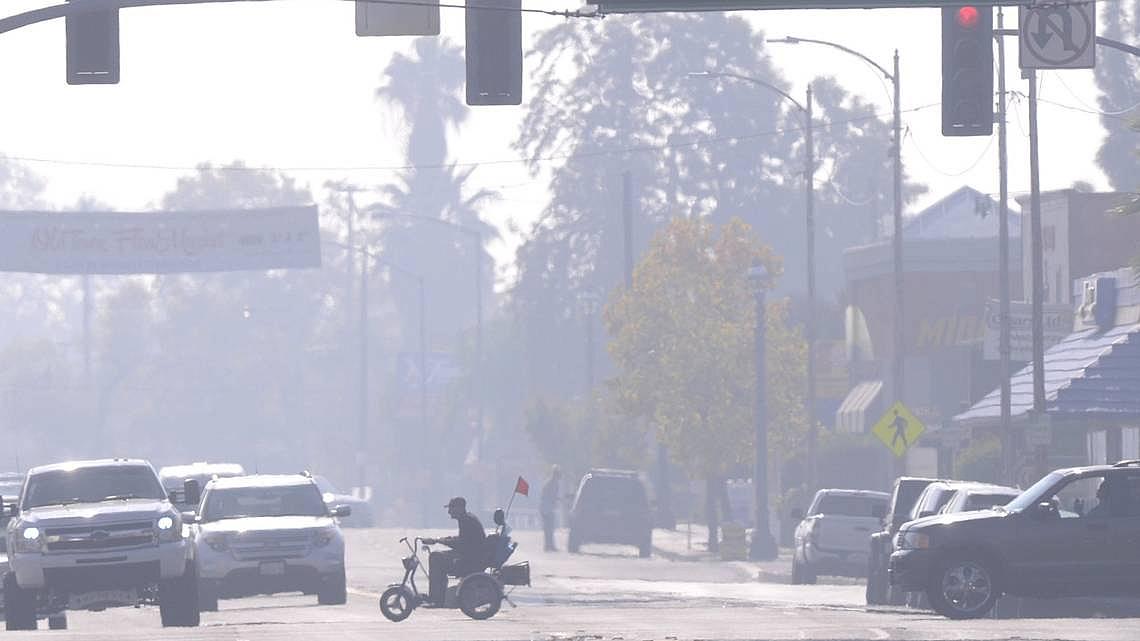 JOHN WALKER FRESNO BEE FILE
Published on
October 10, 2021
Good morning.
This week in Fresnoland, Cassandra Garibay reported on the visit by members of the California Assembly Housing Working Group assessing affordable housing sites and homeless shelters in Fresno.
Earlier in the week, as residents of Fresno and other central San Joaquin Valley communities struggled to breathe air that was clogged with smoke from various fires, Monica Vaughan wrote two critical stories. The first explores whether outside events should be canceled on bad air days while the second is a guide on how to determine if the air quality in your neighborhood is safe enough for outside activities.
It's Monica Vaughan, water and development reporter for Fresnoland, here.
Imagine taking your kids on a trolley to visit the neighborhood park. Now, picture an electric transit system that's fast and cheap and can take you to work right from your doorstep. What if Fresno could do all that, and reduce the local rate of childhood asthma?
These are some of Kevin Hamilton's visions for Fresno's future. A co-director and co-founder of Central California Asthma Collaborative, he has worked for decades to reduce the burden of respiratory health disease and environmental pollution on underserved communities in the San Joaquin Valley.
He also serves on a committee for Measure C, the half-cent sales tax for transportation funds in Fresno County that may be showing up again on our ballots next year. His role is to advocate for public health in the decision making of how the measure is shaped.
"My goal is to see that health is considered in all the areas that the new Measure C is designed to put funding into," Hamilton said. "The biggest problem I see is the way the leadership team is basically old-school transportation folks. They think in terms of piles of concrete and asphalt. And it's really difficult to move them off of that conversation."
Measure C funds should not pay for "more highway lanes," Hamilton said.
He said the costs to operate and maintain roads to new developments should be paid by developers, and any new highway lanes should be paid by those profiting from the truck traffic: Companies that run warehouses and distribution centers in south Fresno, like Amazon.
"You're the one that needs this highway. You need it more than anybody and you're making more money off of it than anybody else is," he said. "That price shouldn't be dumped on the truck driver or the people. It should be dumped off on the Jeff Bezoses of the world. How do you think he became a bazzilionaire?"
That would free up money for innovative projects that could improve residents' health, "to decrease the stress in their lives and improve their quality of life." Fresno residents should see the benefits of transportation projects that they fund with their taxes, he said.
"The transit system needs to evolve to get people to work. People need to get to work. They don't need to walk 10 blocks from their house out to Blackstone Avenue or any other main street to go to work," Hamilton said.
Instead, other cities and districts have large SUVs or cars that travel through communities from major transit lines deep into neighborhoods.
"Those vehicles need to be electric and they need to reach where they can get you almost to your driveway or certainly within a couple of blocks of it," he said. "It needs to get you to places where workplaces are, not to (just) shopping centers. … Focus on getting kids to college, to community college campuses and to schools."
He envisions more bus stops with solar panels on the roofs that can power fans to keep passengers cool while they wait. And, Fresno should copy electric buses seen in other metro areas, with charging plates under the street so buses recharge at every stop.
"Every day, the majority of people are going to work. So where are those places? Hospitals, the airport area, and the other industrial areas… a lot of people work there. We don't have mass transit that goes there, from the places where people live. And that's what's got to happen and then there should be an incentive for people to ride it."
While Hamilton has strong opinions about how Measure C could help shape Fresno's future, whether his input on the committee will be influential is "yet to be seen."
THIS WEEK IN LOCAL PUBLIC MEETINGS
Be sure to catch live-tweeting of the Clovis City Council (Oct. 10) by Heather Halsey Martinez at @heatherhalsey as well as the Fresno City Council (Oct. 14) by Andy Hansen-Smith at @AndyHS.
At the Fresno Planning Commission's meeting on Oct. 6, Documenter Heather Halsey Martinez reported that a broken Zoom link led the commission to continue all the items on the agenda, including an agreement with Fagundes Bros. Dairy for 599 single-family lots and a two-acre park in the Oasis Master Plan Area in southwest Fresno, a tract map for a development near Grantland Avenue and a discussion on open meeting laws. Read here for more info.
At the Tulare County Board of Supervisors' meeting on Oct. 5, Documenter Dani Huerta reported that Paul Yoder with Shaw, Yoder, Antwih, Schmelzer & Lange presented an update on the state budget and legislation, showing that there is lots of funding for homelessness and mental health, but not as much funding for drought and public health. Read here for more info.
At the Clovis City Council meeting on Oct. 4, Documenter Heather Halsey Martinez reported that Fresno County Sheriff Margaret Mims was in council chambers to show appreciation for the Clovis Police Department's support for the 2020 Creek Fire. She presented Clovis Police Chief Curt Fleming with a special challenge coin and thanked him for his cooperation that helped successfully evacuate 22,000 people with no serious injuries or deaths. Read here for more info.
[This article was originally published by The Fresno Bee.]
Did you like this story? Your support means a lot! Your tax-deductible donation will advance our mission of supporting journalism as a catalyst for change.