Wellstar to close Atlanta Medical Center
Ariel Hart's reporting on gaps in medical services in Georgia was undertaken for the USC Annenberg Center for Health Journalism 2022 National Fellowship.
Image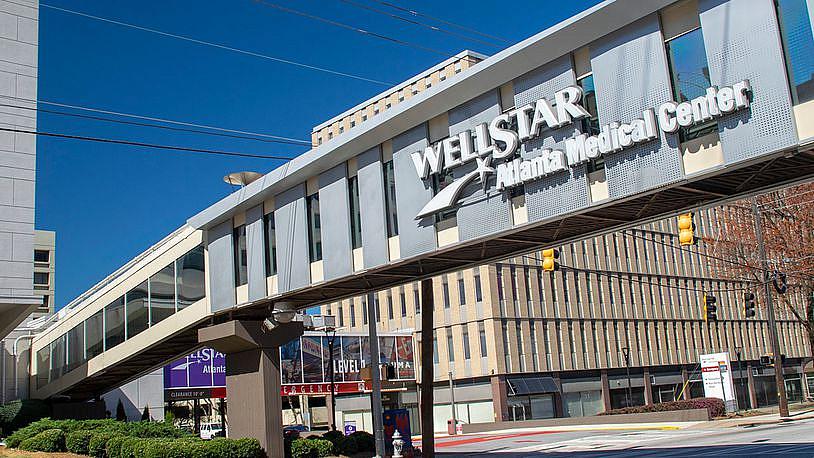 Published on
August 31, 2022
Wellstar Health System confirmed Wednesday evening that it will close Atlanta Medical Center, a 460-bed hospital in downtown Atlanta and a century-old anchor of the city's health care. The hospital will wind down and then cease operations on Nov. 1.
 In a written statement to the press, Wellstar said it tried everything.
"For several years, Wellstar has continued to invest in and operate AMC with significant losses to provide more time to partner on a creative, long-term, sustainable solution for the hospital's future," Wellstar CEO Candice Saunders said in the statement. "We are disappointed that a sustainable solution at AMC has not emerged."
The news marks the second time this year that Wellstar has moved to close hospital functions that were a financial drain. Earlier this year it shuttered the emergency room and regular hospital beds at Atlanta Medical Center South in East Point. That was the only ER in Fulton County south of I-20.
The Atlanta Journal-Constitution first reported Wednesday morning the health system's talk of closing the Atlanta hospital.
Atlanta Mayor Andre Dickens' office released a letter he sent to Saunders expressing "extreme concerns" about the closure, adding "This decision will have deep and reverberating consequences for the half a million residents of Atlanta and the hundreds of thousands of visitors and commuters to our city each day."
Dickens also noted that the city had received no advanced notice of the announcement. "I require immediate information about your company's plans, what you are doing to mitigate the enormous health and economic impacts the closure will have on our community, plans for the multi-building campus once operations cease, and how you will be supporting the impacted personnel."
Gov. Brian Kemp's spokesman Andrew Isenhour said Wednesday evening, "The governor shares the concerns of the community on the impact this will have. Other local hospitals and healthcare providers are in active talks on how this closure will shift their needs and services. As they work to make the appropriate adjustments, Governor Kemp will continue to build on the policy innovations introduced over the past four years that have grown access to quality healthcare while bringing down costs for Georgians across the state."
Fulton County Commission Chairman Robb Pitts, contacted by the AJC prior to the announcement, responded to the news by saying, "I am not surprised, given my past conversations with them," which occurred at the time AMC South closed its ER in East Point.
Pitts said if Wellstar were making such a business decision for lack of sufficient revenues, there is little the county can do. However, he said if a decision is made to close the hospital, he is deeply concerned for the potential loss of jobs and the patients that would be spread across metro hospitals that are already at capacity, especially Grady Memorial Hospital.
"That would have some serious implications for Fulton County and the people that we serve," Pitts said. "But more than Fulton County — it would have implications for Grady, for Piedmont, for Northside, and all of these, because how would we be able to serve the population that they serve if (AMC) were to close?"
AMC's emergency room on Parkway Drive sees more than 100 patients a day. While Grady Memorial Hospital's ER is busier, the Atlanta region's emergency rooms and trauma centers run full or close to full most of the time, with few emergency beds to spare.
AMC is one of five state-designated Level I trauma centers in Georgia, only two of which are in metro Atlanta. Together with Grady, two miles away, it serves as a hub for thousands of victims of violence, car crashes and brain trauma who have no time to lose.
On Wednesday mid-afternoon both Grady and Wellstar AMC were reporting their ER statuses as severely crowded. Wellstar was signaling to ambulances not to come to AMC with new patients for ER, intensive care and regular medical beds.
In statements this spring regarding the changes at its AMC facility in East Point, Wellstar officials strongly made the argument that patients themselves had chosen other hospitals when they needed inpatient care, and too many patients there didn't need a full-fledged hospital.
Wellstar is a major health system across the northwestern part of the state. It purchased AMC and AMC South in 2015 as part of a package of five hospitals, from the private hospital company Tenet. The financial prize in that package was North Fulton Hospital in Roswell.
Tenet at that time told the AJC that "We have a deep respect for WellStar's commitment to the Atlanta community and its people. We are pleased our people and operations are joining a network with a shared vision to continuously improve health care and invest in its system's growth."
Wellstar, like most hospital systems, is a nonprofit organization and so is excused from paying taxes because of the expectation it will work for the public good.
Still, nonprofit hospitals work hard to make money, and Wellstar makes more money from its hospitals outside of downtown.
Where a hospital is located has important financial implications. Being in an upper-income area means patients who walk in the door are more likely to be able to pay their bills, either with commercial insurance or cash. In a less affluent area, they are less likely able to pay.
Lower-income people are more likely than in almost any other state to be completely uninsured. Part of the reason for that, experts say, is that Georgia is one of 12 remaining states that have declined to expand Medicaid to all its adult poor.
The Wellstar news quickly factored into the race for Georgia's top office between Kemp and Stacey Abrams.
The Democrat has long maintained that expanding Medicaid in the state would have prevented a spate of closures of healthcare facilities around the state.
"Brian Kemp has once again placed his extremist agenda before the lives of Georgians," said Abrams. "Sadly, whether you live in rural, urban or suburban Georgia, Kemp has united every region in a healthcare crisis of spiraling costs and declining access."
Kemp and other top state Republicans have opposed Medicaid expansion as too costly for the state and too inflexible for patients.
The governor has instead pursued a more limited Medicaid expansion tied to work and academic requirements. His program was recently upheld in the federal courts, a key victory for his healthcare agenda ahead of his November bid for a second term.
According to documents filed with the state, Wellstar AMC saw indigent and charity patients more than 50,000 times in the latest year available, 2020. That's nearly 8,000 more than Wellstar's Flagship hospital in Marietta, Wellstar Kennestone, the same year. Wellstar put the cost of indigent and charity care at $308.6 million for both AMC locations.
Both AMC locations had been losing money: $40 million last year, according to its most recent posted financial statement.
Overall, the system was quite healthy, Wellstar told bond investors. Wellstar reported earlier this year that it had $2.8 billion in net assets as of September, and enough cash on hand to run the entire hospital system for more than half a year if necessary.
Wellstar has faced criticism that it has disinvested in AMC and in AMC-South.
In April, when Wellstar announced the closure of the AMC South ER, Wellstar officials said that AMC in Atlanta would be part of a new joint system for Wellstar service in that part of Fulton County.
Wellstar CEO Candice Saunders told the AJC in April that in closing the South Fulton ER, Wellstar was actually giving patients what they needed, moving "to consolidate the services from AMC South to AMC main."
"We'll be moving the acute care services to Atlanta Medical Center in May. And we do have the capacity there," Saunders said in the interview this spring. "So those patients who do need the higher level of emergency care, they will be working with EMS and we will get them to the emergency department in one of the surrounding hospitals...we have capacity at Atlanta Medical Center main campus."
Atlanta Medical Center started out as an infirmary at the turn of the 20th century. It grew, became Georgia Baptist Hospital and in 1921 and 1922 moved from Luckie Street to its present location on Boulevard and what is now Parkway Drive.
[This article was originally published by The Atlanta Journal Constitution.]
Did you like this story? Your support means a lot! Your tax-deductible donation will advance our mission of supporting journalism as a catalyst for change.