Why In-Home Dialysis Is Becoming A More Popular Option In Hawaii
Image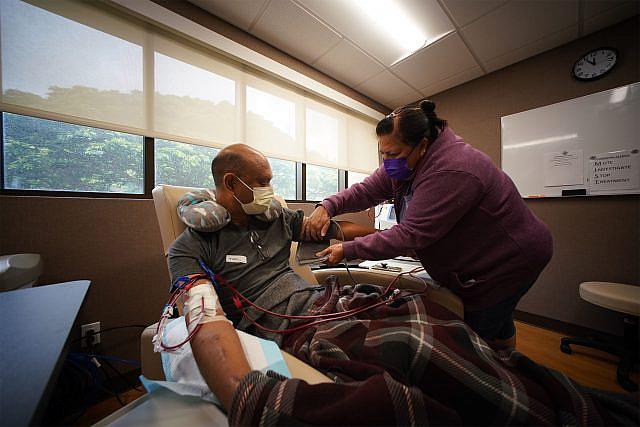 Published on
June 20, 2022
To read this story in Hawaiian, click here.
Kevin Kalani Pagan lifts the white handheld monitor displaying his blood pressure as his wife Kim peers over his shoulder and types his latest vitals into a blue touchscreen tablet.
Pagan, 48, is sitting in a room at St. Francis Medical Center in Honolulu, blood tubing lying diagonally across his lap leading to a white whirring dialysis machine.
It's day two of week two of training on how to use the machine. After five weeks, the couple will take the machine home with them to Molokai, where Pagan and his wife will manage the treatments themselves.
Pagan is joining a growing minority of dialysis patients in Hawaii and nationwide who don't have to go into a clinic three times a week in order to get the blood-filtering treatment.
Image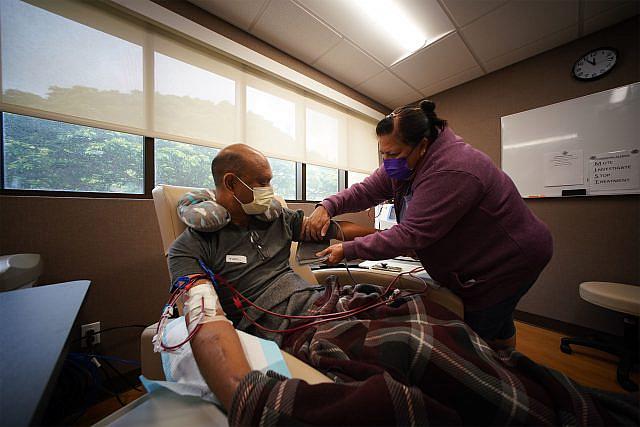 The number of dialysis clinics in Hawaii is multiplying in response to the growing prevalence of chronic kidney disease and U.S. Renal Care's decadelong effort to double its clinics statewide by 2023.
But some nephrologists say training patients on how to filter their own blood at home is a better option that could improve patient outcomes and quality of life. That's important for Native Hawaiians like Pagan who face disproportionately high rates of diabetes, a leading cause of kidney problems that require dialysis.
Statewide, the age-adjusted diabetes rate in Hawaii for all residents was just over 9% in 2019, compared with nearly 15% for Native Hawaiians and more than 18% for non-Hawaiian Pacific Islanders.
Some patients must drive or ride an hour or longer to get to their dialysis appointments three times a week. Others move closer to clinics to avoid commutes, even if that means leaving their families or communities.
And even though dialysis centers are ramping up, it's still a slow, multiyear process of getting government approvals, permits and finishing construction.
Shiuh-Feng Sherwin Cheng, a nephrologist at the Kidney Clinic of Hawaii, says over the years his approach to in-home dialysis has changed.
He used to favor the option mainly for young professionals. Now he asks himself of every patient, "Is there a reason not to?"
Image
Ready To Give Up
To Pagan, the ability to do dialysis at home can't come soon enough.
He was diagnosed with polycystic kidney disease and hypertension at age 18 and diabetes when he was 23.
Pagan started going to dialysis in 2007, after suffering from kidney problems. It took years to accept that the procedure was a part of his new reality. He would wake up at 4.am. to get to his dialysis appointment about half an hour away before going to work as an office clerk at Maunaloa Elementary School.
It was exhausting, and after a while, he shifted his dialysis schedule to the afternoon. Still, the process wore on him, sometimes leading to painful cramps. He noticed that over the years the dialysis center got busier and the nurses became rushed. Once, he fell asleep and woke up to a puddle of blood — his tubes had been leaking without anyone noticing.
Image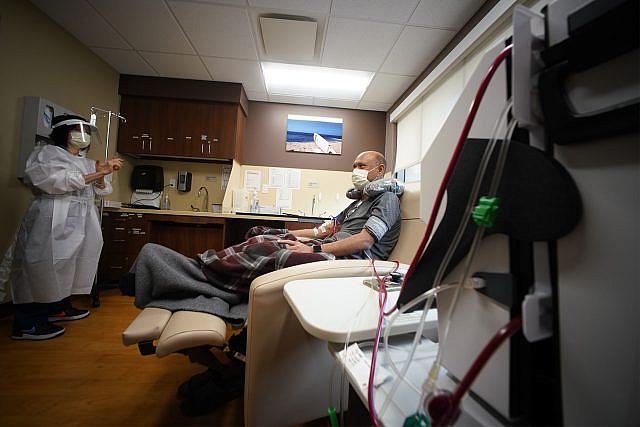 There are two types of in-home dialysis — peritoneal dialysis and hemodialysis. The vast majority of patients who dialyze themselves at home use peritoneal dialysis, a process that involves infusing a cleaning solution into the abdomen. The process takes longer than hemodialysis and must be done every day. But some patients find that it's gentler on their bodies and they can do it while they sleep.
Pagan inquired about switching to peritoneal dialysis years ago but was told he had too much scar tissue on his abdomen to qualify for that option.  He didn't realize that in-home hemodialysis was possible until early May, when he decided he was so tired of dialysis that he wanted to stop completely, even if that meant ending up in hospice care.
The news that there was another option was a relief. A week after the school year wrapped up on May 27, he and Kim flew to Oahu for training.
Growing Popularity
In-home dialysis has been an option for patients for decades but has gained steam over the past several years as technology improved and studies found it is correlated with better patient outcomes.
It's also become more attractive as dialysis-related Medicare costs have ballooned. Former President Donald Trump issued an executive order in 2019 that set a goal to have 80% of dialysis patients doing the treatment at home by 2025.
At the time, just over 13% of dialysis patients in the U.S. utilized at-home therapy, up from less than 9% in 2009, according to the U.S. Renal Data System.
A year later, the Trump administration increased the Medicare reimbursement for at-home dialysis to financially incentivize dialysis companies to support in-home care.
Image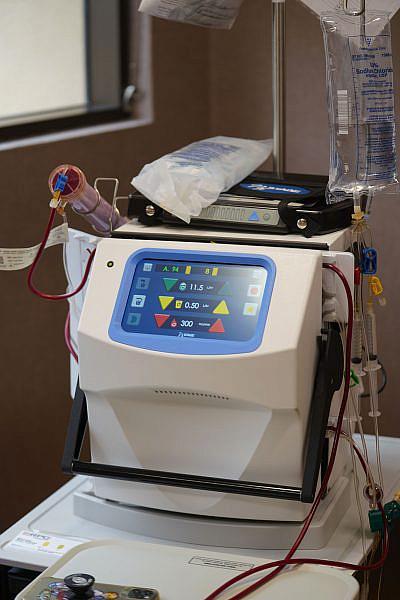 In Hawaii, the state's two largest dialysis providers say the use of at-home therapy is growing quickly. U.S. Renal Care officials say that 14% of their dialysis patients in Hawaii are at-home patients.
At Fresenius Kidney Care, which runs Liberty Dialysis, that figure is nearly 17%, a rate that has jumped more than 18% over the past three years. The company wants 25% of its patients nationwide doing at-home therapy by 2025.
Support For Patients
Nephrologists like Cheng and Rick Hayashi want in-home dialysis to be a first choice, rather than a last resort, for patients.
Hayashi, who grew up on Maui and practices on Oahu and Hawaii island, says patients who do dialysis at home are more likely to live longer and less likely to be hospitalized.
One reason for that is that they're dialyzing more frequently, which is more similar to how kidneys actually work.
The at-home process also makes it easier for patients to work.
Cheng noted his patients include an attorney, an Uber driver and somebody who works at Panda Express.
Catherine Heflin, one of Hayashi's patients, was on the Diamond Princess cruise ship in 2020 when she became one of the first U.S. Covid cases. She ended up stuck in a hospital in Japan for three months and started dialysis there in February 2020.
The 75-year-old Aiea resident now does peritoneal dialysis for nine or 10 hours overnight several times a week and says for her, the main benefit of the treatment is the privacy.
"I'm a light sleeper, so I get to sleep probably through half of the sessions, but I'm not on display," she said.
Hayashi says he often has to reassure patients that at-home dialysis comes with a lot of support. In addition to initial training, nurses can see real-time data on whether their treatments are working effectively and dialysis companies offer 24/7 phone support.
"We don't just give them the machine and say, 'Good luck,'" he said.
Drawbacks
It's still not necessarily easy. For Kim Pagan, figuring out where to stick the needle and how to adjust the machine and tubes so that everything is flowing properly is overwhelming.
"It's a lot," she says as she sits in her husband's room waiting for his treatment to finish.
It's also not for everyone. At a minimum, patients need a stable home where the equipment can go. And they need space to store at least a couple of weeks of solution.
Image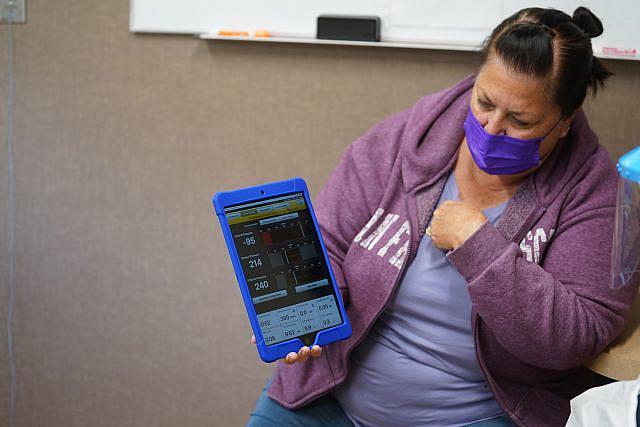 The Pagans cleared out a whole room in their house, which has more space now that their children are grown. They even bought an air conditioner to ensure the room would be cool enough to properly store the solution.
That's not possible for many other Indigenous Pacific families, who face high rates of homelessness and overcrowding in Hawaii. Cheng thinks that may create a disparity for patients using in-home dialysis.
Language barriers also make it hard for all patients to learn about and get access to the therapy. Mabel Cheng-Leung, home therapies market manager for Fresenius Kidney Care, said the company has brought in interpreters to help train Chuukese families on in-home dialysis. But interpreters are not always available.
Patients who have limited mobility or live alone might also need a caregiver to help them navigate the procedure. Incorrectly managing the needles and tubes can lead to infection and put some patients in the hospital.
The upshot is that not everyone can start the process, and of those who do, not everyone succeeds. At U.S. Renal Care, just under 40% of their patients nationally begin at-home dialysis but eventually go back to in-center treatments.
Infection and patient or caregiver burnout are the biggest reasons for patients to decide to go back to a center, says Waraporn Anantiyo, vice president of Home Therapies at U.S. Renal Care.
Another Shot At Life
In Hawaii, though, the percentage of patients who switch back to in-center dialysis is much lower at only 24%, Anantiyo said. She credits effective training for the "best-in-class" attrition rate.
The Pagans hope that they'll be one of the success stories. Kim already sees how the more frequent, shorter dialysis sessions are giving her husband more energy.
For so long, dialysis schedules have defined their lives. Every road trip on the mainland was designed around getting to a clinic on time so that Kalani could make his appointments.
Now, they'll have so much more freedom. Cheng says that his patients who visit Las Vegas even get their solution delivered to their hotels.
Kim feels like this opportunity is a blessing, another shot at life.
"He looks better," she says. "This will be good."
This story was produced with support from the USC Annenberg Center for Health Journalism's 2022 Impact Fund for Reporting on Health Equity and Health Systems, and Civil Beat supporter Dr. Mary Therese Perez Hattori.
[This article was originally published by Honolulu Civil Beat.]
Did you like this story? Your support means a lot! Your tax-deductible donation will advance our mission of supporting journalism as a catalyst for change.