Wolf pledges millions to tackle lead paint in city schools
Toxic City has been supported by grants from the Lenfest Institute for Journalism, the University of Southern California Center for Health Journalism, and the Dennis A. Hunt Fund for Health Journalism.
Image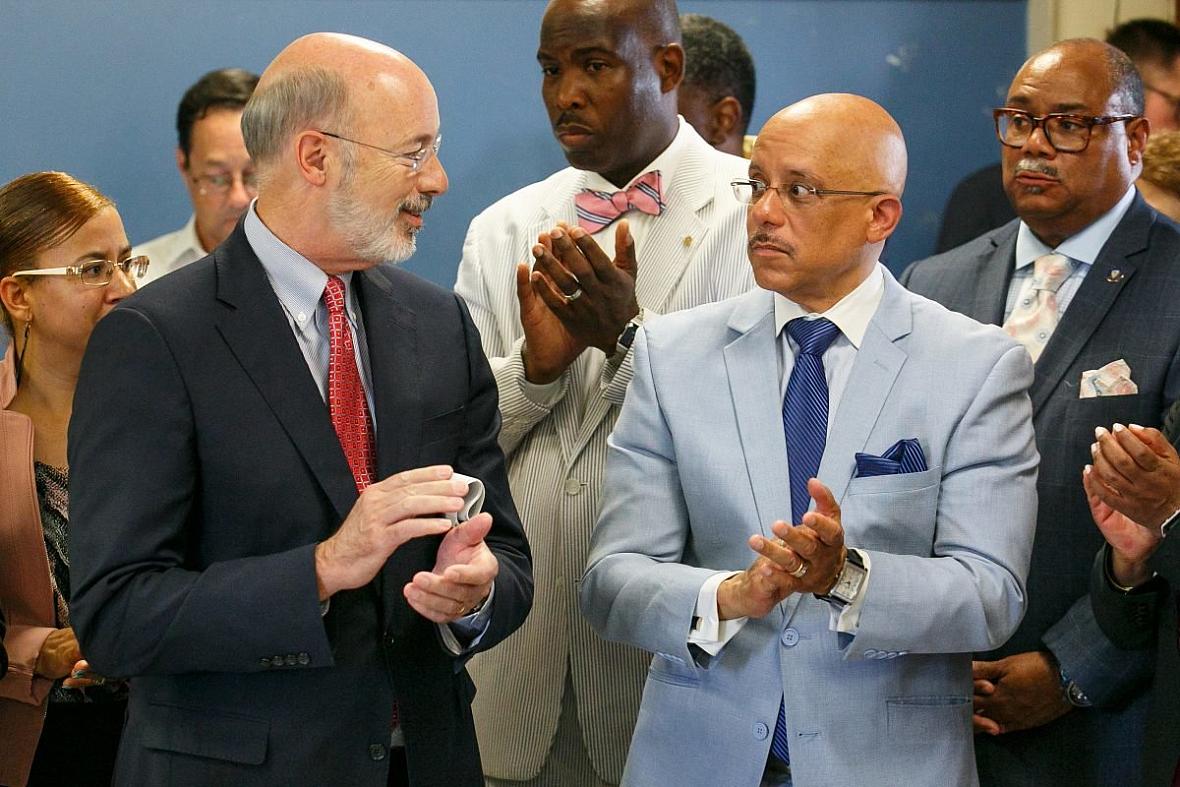 Published on
June 29, 2018
by Wendy Ruderman, Dylan Purcell & Kristen A. Graham 
Gov. Wolf on Friday said he was directing state funds to begin a $15.7 million emergency cleanup at some of Philadelphia's most rundown schools.
Of that, $7.6 million will come from state coffers and go toward repairing deteriorating lead paint at up to 40 schools, a project that will affect about 29,000 children. The rest will come from the Philadelphia School District's capital budget. It will be used this summer to clean up asbestos fibers found in a number of district schools and to replace aging heating and cooling systems to reduce mold problems. In all, the money will pay for  projects at 59 schools.
During a morning news conference, Wolf was flanked by Mayor Kenney, district and city officials, and members of the legislature, including State Sen. Vincent Hughes (D., Phila.), a chief architect of the funding package, and State Rep. Donna Bullock (D., Phila.).
"No parent should ever have to wonder if the air in their child's school, the water from the water fountain, or the paint falling from the ceiling is making their child sick," Bullock said during the event at Roosevelt Elementary School in East Germantown. "No child should go to a school that is toxic."
The emergency cleanup, which has begun, comes on the heels of an Inquirer and Daily News investigation, "Toxic City: Sick Schools," which examined how unchecked environmental hazards inside district schools put children and staff at risk for serious health problems.
"One of the great benefits we all get from a free and unfettered press is that we learn of issues that we really need to address," said Wolf,  adding that "maybe we should have done this sooner…. I learned about it just recently."
Hughes said the new money is a good start but much more is needed.
"This needs to be about a first step in a long process that hopefully shouldn't be too long in terms of responding to the physical crisis that exists in our schools," Hughes said.
The announcement comes at a crucial time in the district's history. The School Reform Commission, which has governed the school system for 17 years, dissolves Saturday, and a new local Board of Education appointed by Kenney takes control Sunday.
Four of the nine members of the new board were present at Roosevelt, touring the school and listening to Wolf and others speak. Kenney underscored the gravity of the problems they will inherit.
"You realize what a big job you've undertaken," the mayor said.
Kenney said the work — and the larger goal of lifting up the city's school system — was crucial to Philadelphia's future.
"If we can keep that tax base solid and not moving, and raise up the standards, and raise up the capabilities of people who are living in poverty, our city will shine," the mayor said. "Until we do that, it's never going to happen."
The location of the news conference was significant: Roosevelt Elementary is plagued by unhealthy conditions, including flaking lead paint in classrooms, damaged asbestos, mold and rodent droppings. The school was built in 1924.
Officials will soon launch a $7.8 million renovation at the school — separate from the new money announced Friday — modernizing classrooms, updating art and science spaces, improving the library and cafeteria, and adding a new playground. The school will also get a new roof. The project should take about 18 months to complete, a district official said.
With the summer in full swing, Superintendent William R. Hite Jr. hopes to seize the opportunity to eliminate hazards in as many schools as possible before students return in late August. Earlier this month, the district asked contractors to bid on a paint and plaster stabilization effort at 20 to 40 schools. The bids are due Tuesday.
During a walk-through at A.S. Jenks Elementary in South Philadelphia last week, Hite met with potential bidders. "This is a top priority for us," he told contractors. "This is a big deal for us. We have schools that need attention." Jenks is among the schools that the district has identified as in need of lead paint abatement.
District officials have said that they need almost $5 billion over the next decade for school construction and major repairs, such as roof replacements and new central heating systems.
Hughes said that the state of the district's buildings underscores the deep inequities in Pennsylvania, and that the cash infusion is a step toward tackling those.
He said he was motivated in part by the words of Chelsea Mungo, 11, a student at Cassidy Elementary in West Philadelphia. In a letter to Hughes, Chelsea wrote that when at school she felt like she was in a jail or a junkyard.
"School should not be that," Hughes said. "And this effort by the governor and all of us here is to help move us farther down the path to making sure that we realize the dreams of every child."
[This story was originally published by The Inquirer.]