Center for Health Journalism announces 2022 National Fellows
Image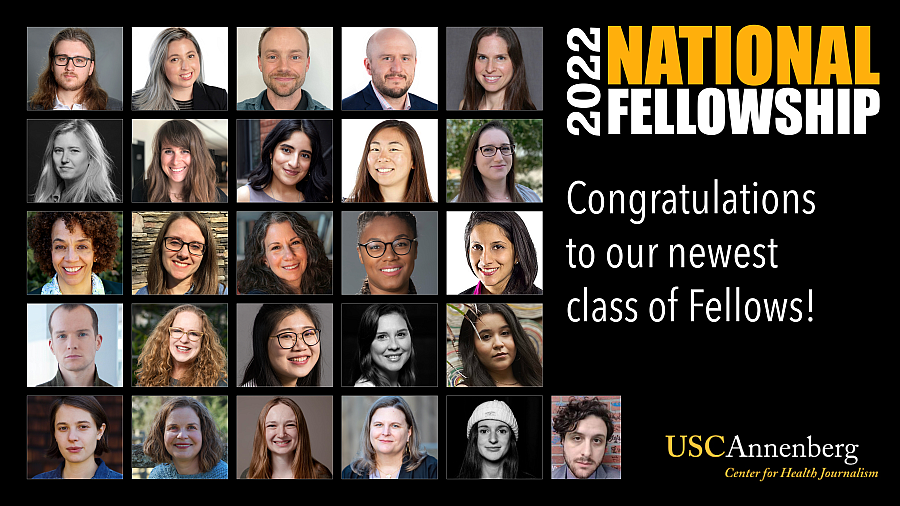 (Image by Harold Pierce/Center for Health Journalism)
Published on
July 6, 2022
The USC Annenberg Center for Health Journalism has selected 26 talented journalists to participate in its 2022 National Fellowship to investigate and explore challenges impacting child, youth and family health and well-being in the United States.
As the Center's director, I'm proud to welcome this group of reporters to the Los Angeles next week and look forward to partnering with them in the months to come as they produce powerful stories on health equity and systemic disparities, reporting that will have an impact in their communities.
The Fellowship class includes talented and diverse reporters from across the nation, including three public radio reporters; journalists from national outlets including NBC News, Politico, PBS News Hour and Snap Judgment; regional newsrooms, including the Houston Chronicle, the San Diego Union Tribune, the Atlanta Journal-Constitution and Tampa Bay Times; plus, Capital B, geared to Black audiences, and two Spanish-language outlets focused on coverage of Latinos.
The competitive program includes a five-day training that provides insights into how health and child, youth and family well-being is shaped by community conditions, systemic racism and opportunity. Through reporting stipends and months of expert mentoring, the Center for Health Journalism supports Fellows as they produce investigative and explanatory projects on challenges impacting child, youth and family wellness. Each project will receive a reporting grant ranging from $2,000 to $10,000, and several will receive additional community engagement grants and engagement mentoring.
In partnership with the Center for Health Journalism, Fellows will produce ambitious projects illuminating underreported health and equity issues in our country, including the childcare crisis in California; the health risks of pesticide exposure for teenage field workers, the limitations on reproductive health care for women living in the Rio Grande Valley; groundwater contamination in the Midwest and its impact on pediatric cancer rates; the psychological and physical toll Oklahoma's death row takes on incarcerated men and their children and families and the consequences of living in a maternal health or health care desert in Georgia.
The 2022 National Fellowship is generously funded by grants from the Robert Wood Johnson Foundation, the W.K. Kellogg Foundation and the Annie E. Casey Foundation. The National Fellowship also receives support from The California Endowment and the Internet Brands/WebMD Impact Fund, an initiative of the Social Impact Fund.
Whether a reporter covers politics, the city, child welfare, or the justice system, the Robert Wood Johnson Foundation believes that reporter is truly covering health," said Jordan Reese, director of media relations for the private health philanthropy. "We are proud to support these Fellowships, which provide timely training and resources to reporters who illuminate the often-hidden barriers to health and opportunity for all in America," said Reese.
"In an era of pervasive misinformation, trusted reporters rooted in the communities they cover and laser-focused on telling stories about health inequities are more critical than ever," said Monica Beltran, program officer at the W.K. Kellogg Foundation. "We need a strong ecosystem of journalists who represent the communities they report on to uncover health disparities, explore why they exist and shed light on solutions," she added.
"At a time when the effects of the COVID crisis continue to be felt and mental health pandemic has gripped America's youth, smart, in-depth health journalism has never been more important," said Beau Boughamer, senior communications manager for media relations at the Annie E. Casey Foundation, a national philanthropy advancing the well-being of young people that supports the Center for Health Journalism. "This year's roster of fellows is impressive, and their projects will raise public awareness of many critical needs."
Fellows attending the program will hear a keynote address from journalist Linda Villarosa, whose new book, "Under the Skin: The Hidden Toll of Racism on American Lives and the Health of Our Nation," examines the history of racism and systemic inequalities in health care and the poor outcomes it has created for Black Americans.
Other highlights of the program include a field visit to Homeboy Industries in Los Angeles to learn about its trauma-informed approach to gang intervention for teens and young adults; a talk with Center for Health Journalism Data Fellow Adam Mahoney of Capital B News about environmental inequities and COVID-19 disparities; a panel discussion with past Fellows on framing stories to highlight community resilience; Charles Nelson III, PhD, lead researcher for the seminal Bucharest Early Intervention Project at Harvard Medical School, speaking on the effects of adversity on early child development, and a conversation with ProPublica's Maryam Jameel on Engaged Journalism and how to rethink reporting approaches.
We are pleased to announce our 2022 National Fellows:
Lily Altavena & Dave Boucher, Detroit Free Press
Lynn Arditi, The Public's Radio
Jeremy Blackman, Houston Chronicle
Gabrielle Caplan & Ellie Lightfoot, Snap Judgment
Ariel Hart, The Atlanta Journal Constitution
Nick Judin, Mississippi Free Press
Mohana Ravindranath, STAT News
Inés Rénique, Radio Ambulante Studios
Kristen Taketa, San Diego Union Tribune
Yanqi Xu, Flatwater Free Press
Lori Yearwood, Economic Hardship Project
Carrie Arnold, Mother Jones
Lauren Caruba, Dallas Morning News
Elizabeth Chuck, NBC News Digital
Natalie Fertig, POLITICO
Laura Santhanam, PBS News Hour
Amy Silverman, KJZZ, Phoenix 
Patricia Clarembaux & Federica Narancio, Univision Noticias Digital
Eli Murray, Tampa Bay Times
Jeremy Siegel, WGBH Boston
Annabel Rocha, Latino News Network
Margo Snipe, Capital B 
Ginny Monk, CT Mirror