COVID isn't just about learning losses in kids, it's a mental and behavioral crisis too
Image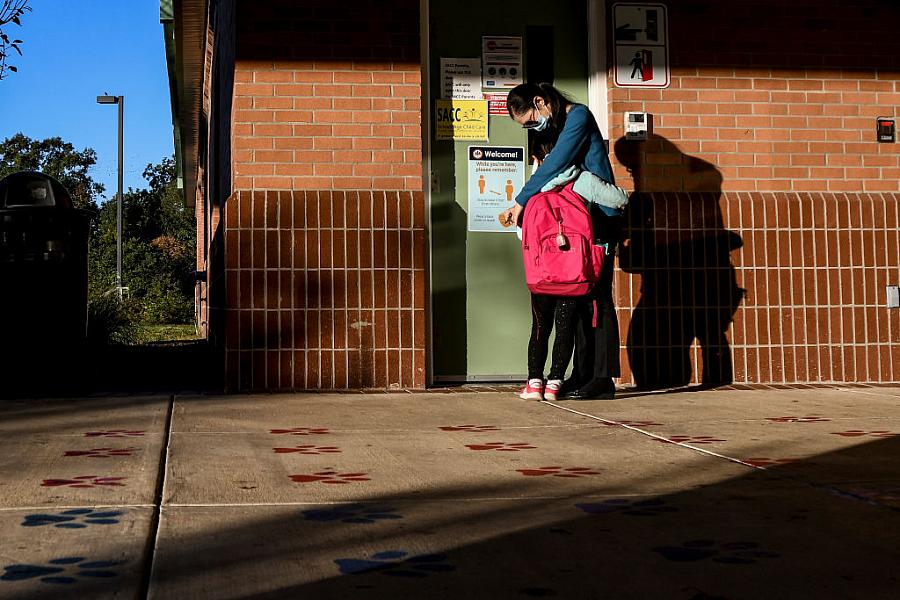 (Photo by Kenny Holston/Getty Images)
Published on
January 12, 2022
For parents of school-aged children, the last two years have been an especially long slog. After COVID-19 locked down schools in early 2020, many students went from remote learning to a hybrid approach and, finally, back to in-person instruction, allowing moms and dads to breathe again.
In recent weeks, some parents have been experiencing déjà vu. Amid the omicron surge, school districts around the U.S. have been canceling classes or returning to online learning, as too many staffers were either concerned about their safety or sick with the coronavirus. Meanwhile, research and experience continue to provide fresh evidence on how virtual classes can be bad for kids.
A paper published this week in JAMA Pediatrics investigated the association between remote education and behavioral problems in children. Kids who had to learn online instead of in person exhibited more maladaptive and dysregulated behaviors, like being aggressive and withdrawn, limited attention and difficulty switching tasks, their parents reported.
"It's not learning on the screen itself that's necessarily causing declines in children's behavioral health, but it's likely all that a switch to remote learning represents: instability and uncertainty in children's daily routines, added stress for families, and challenging public health conditions," the study's lead author, Harvard University researcher Emily Hanno, told me.
On four occasions between January and May 2021, researchers surveyed 405 Massachusetts parents taking part in Harvard's Early Learning Study. Nearly 60% of the students experienced at least one switch in learning formats in those 4.5 months. The behavioral differences were most pronounced when comparing remote to in-person learning; the gaps were smaller for hybrid versus in-person and remote versus hybrid.
I remember early 2021 well — and not fondly. My kids were at two separate schools, and constantly shifting between different combinations of hybrid, remote and in-person education. I juggled their schedules as I attempted to work from home. Being a freelance journalist, I'm lucky I had the flexibility I did.
Around that time, I wrote a story for Kaiser Health News about how the disruptions were affecting one already vulnerable school district in east-central Indiana, which had issues with poverty and child neglect even before the pandemic.
"A lot of our students are struggling emotionally," the middle school's principal, Scotia Brown, told me last winter. "They're stressed because they're falling behind in their work. Or they're stressed because of the conditions they're living with at home."
The reporting hit close to home. My oldest daughter's school had returned to remote learning right after winter break early last year. Then a few weeks later, it went hybrid — meaning she spent just four hours at the building, with no lunch, recess or switching classrooms.
I witnessed changes in her mood and sleep patterns. I wondered how my own stress was affecting her. She was only in first grade.
"We struggle with school anyway," Kathy Poff, a mother of an eighth grader at the Indiana school, told me last year. "Then when this pandemic came along, it just knocked our feet out from under us."
That school helped out by delivering food to students and providing them with other household needs, like microwaves or mattresses. Teachers dropped by to visit students unannounced. The social worker stayed connected with kids online or by phone.
But the staff could only do so much to counter a never-before-scene interruption on the scale of COVID-19.
"No screen can ever replace a teacher," said UNESCO Director-General Audrey Azoulay during a March 2021 gathering of world education ministers. The meeting's subtitle: "prioritizing education recovery to avoid a generational catastrophe."
The loss to learning from the pandemic is already well-established. The education research organization NWEA found that third- to eighth-grade students' math scores had dropped precipitously from 2019 to 2020. In the journal Child Development, researchers estimated the global loss from the first year of the health crisis: 10.8 million additional kids falling behind in their early development, 14.2 million grades of learning gone by adolescence, $308 billion fewer earnings in adulthood.
But the social and emotional impacts of the educational disruptions are still coming into starker focus. In a Centers for Disease Control and Prevention study of 1,290 households from March 2021, parents whose children were in remote or hybrid education reported higher rates of worsening mental or emotional health in their kids compared to in-person learners. Mental health difficulties associated with school closures were worse among Black, Hispanic and children from low-income families, according to a September 2021 survey of 2,324 adults published in JAMA Network Open.
U.S. Surgeon General Dr. Vivek Murthy recently released an advisory about the youth mental health crisis, noting that emergency room visits for suspected suicide attempts were 51% higher for adolescent boys and 4% higher for adolescent boys in early 2021 compared to the same time period two years earlier.
"Many of our children are living in a state of panic. Worry, languishing and depression would be putting it mildly. The kids I see have been flattened. Lifeless, listless, bored, you name it," mental health therapist Donna C. Moss wrote on this website recently. "Zoom school and Zoom fatigue are unlike other maladies. They just make you dull."
As for my kids, they're back in school, full time in person. I'll admit, every time their school emails with an "update," I get nervous. My older daughter, who's doing better now, started bringing her laptop home in case she had to do remote learning, giving me flashbacks to the ordeal that was last winter.
But given what the research continues to tell us about the experience of 2021, I take some comfort in the fact that schools like theirs are doing everything they can to stay open.
**