From cradle to grave, racial inequity is part of the Black Charlotte experience
Image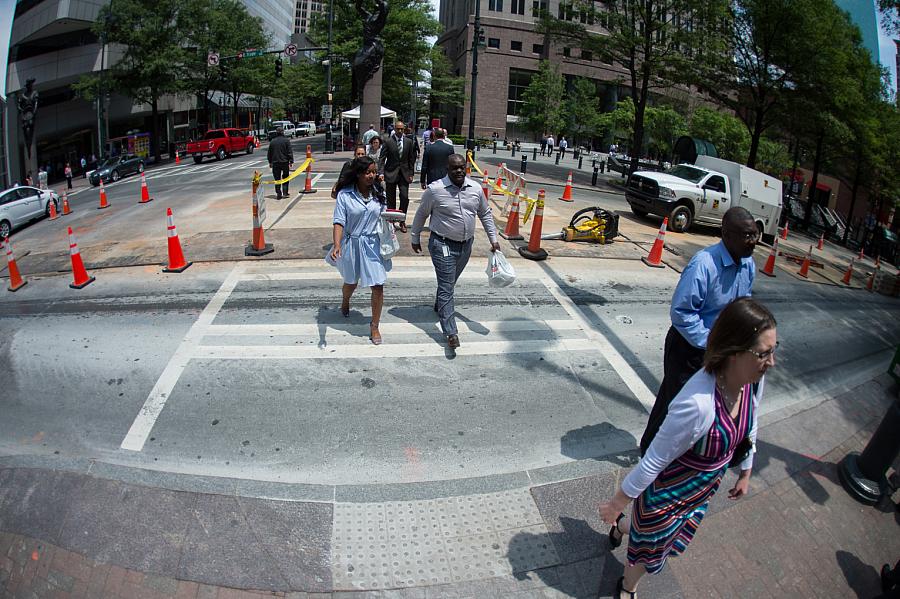 (Photo courtesy Herbert White)
Published on
July 31, 2020
Breathing is harder in Charlotte's Historic West End.
The urban corridor is wedged between interstates 85 and 77, which produce the dirtiest air in North Carolina, according to the American Lung Association's State of the Air research. It's also located near industrial sites that pour pollutants into the air. As a result, West End's residents — mostly African American — are more likely to have respiratory illnesses.
"Even if you have normal lungs, when you're exposed to really bad air quality, it can impact them," said Dr. Cheryl Lynn Walker-McGill, a Charlotte allergy and immunology specialist. "But, if you have underlying lung disease such as asthma or emphysema or COPD, the impact can be much worse."
That's life and breath for Black Charlotte. If you're born poor and African American, chances are you'll die that way, too.
This is the finding of a 2017 study of economic disparity in North Carolina's largest city, and four years after a University of California, Berkeley and Harvard University study found the Charlotte region was last among the nation's largest urban areas in economic mobility. An offshoot is that lifespans are more likely to be shortened due to poor health care, lack of social competence among the health care community, maternal and infant mortality and social norms that encourage poor health choices.
During the first two months of the COVID-19 pandemic, African Americans, who make up 32% of Mecklenburg County's population of 1.1 million people, accounted for 45% of the confirmed positive tests in which race was reported. In July, Blacks accounted for 14.5% of all infections, but made up 30.7% of all fatalities – an indication of slower response to test for and treat the disease.
Coronavirus pulled back a curtain to racial and economic inequities in Charlotte's African American community. Our series will examine how we arrived at this point and what steps have been taken since a 2015 Charlotte-Mecklenburg Opportunity Task Force report revealed a widening economic mobility gap – fueled in part by past and current racial bias. As a 2020 National Fellow, I look forward to reporting on how at-risk African Americans fare in terms of health care access and outcomes in Charlotte as COVID-19 spreads.
The Post is adept at the kid of service journalism where we cover issues of importance to the African American community and put them context — not only in the present, but with the backdrop of history and culture. Through our reporting, we deal not only in facts and figures but results — what it means to our readers, their families and communities. Our goal is to help readers gain a greater understanding of the impact of long-standing disparities on Back Charlotteans, who are disproportionately at risk for poor health outcomes due to a lack of health care that traces back to poverty as well as cultural gaps between them and the medical community.
What's on the ground — and in the background
Our reporting project will tackle the relationship between the lack of health care access for African Americans living in low-income and at-risk communities and the cost to society as a whole. The reporting will ask a basic question: Why do people of color in an affluent city lack basic medical attention?
The series will seek answers from the medical community, health and community justice advocates, historians, African American doctors and parents. We would leverage the power of photography and video to sharpen the journalistic focus.
An important addition to this reporting initiative is the stories of young people who have to navigate life where access to health care is limited, the ramifications of those limits, and what can be accomplished through greater awareness and involvement by the community, nonprofits, and government. These factors are exacerbated by growing rates of homelessness and food insecurity in Charlotte, which strains at-risk communities.
Statistical analysis will play an integral role in our reporting: We'll look at the demographics of the African American community, including poverty, the percentage of children from poor families, as well as those who are enrolled in federally funded health insurance programs.
In addition to medical crisis COVID-19 presents, it's an economic crisis due to the loss of jobs and wages to families. With fewer work opportunities or pathway to improving their economic mobility through self-sufficiency, the poor are also exposed to higher incidences of violence and resultant social and medical costs.
Charlotte trauma surgeon Dr. David Jacobs has been among the foremost advocates of community action over the past decade. In essence, young people cut down in the dawn of life drive up the cost to society in terms of emergency room visits, incarceration of perpetrators, and added social services needed for families impacted by violence.
At the root of the disparity are race, economics and class. Although Charlotte is portrayed as a New South city in attitude and industry, old racial and economic habits have endured. From redlining to gentrification, Black residents have been squeezed by the government and business on the economic front. Wealth was drained from their communities, deficits which in turn were passed down through generations. Without wealth-building vehicles such as homes and businesses, the economic viability of families and communities are stymied, which also limits their ability to access basic food, shelter and health care.
Housing insecurity, for example, leaves children and young adults hampered by the stress of uncertainty, which then impacts their physical and mental wellbeing. Without the permanency of a home, their economic station is constantly under threat — 94% percent of renter households and 80% of owner-occupied homes earn less than $20,000 a year, according to Mecklenburg County Community Support Services.
The lack of economic mobility hinders wellness and health care. Career and college readiness are generally seen as avenues to economic growth, yet gaps in education and workforce preparedness — especially in high-poverty neighborhoods — leave poorer African Americans unable to fully participate in their health care, as well as the uplift of their communities.