The GOP's last-ditch effort to repeal the Affordable Care Act is the worst one yet for California
Image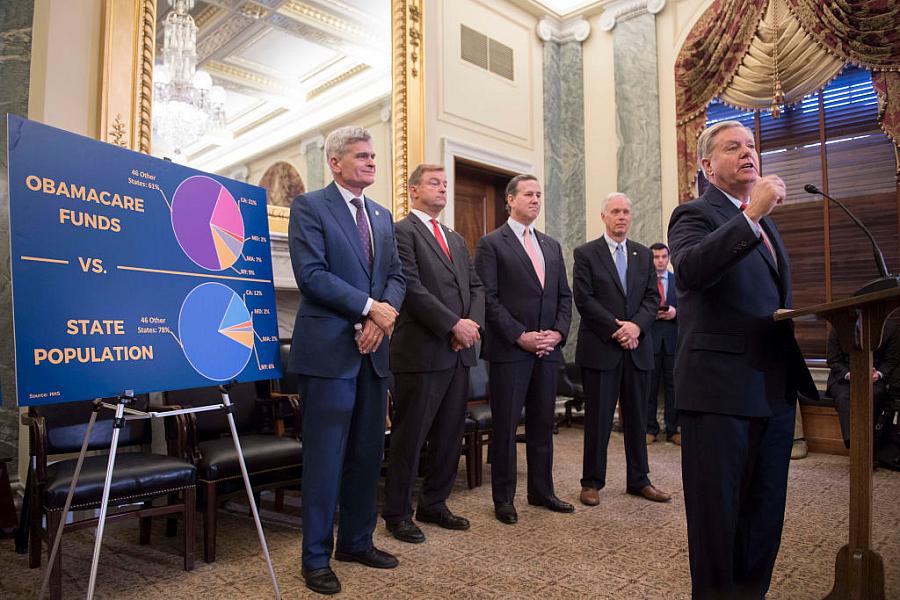 Published on
September 22, 2017
Once again, Congress is considering a bill that would repeal the Affordable Care Act (ACA) and make major cuts to Medicaid. Next week, the Senate may vote on this latest repeal effort, led by Senators Lindsey Graham of South Carolina and Bill Cassidy of Louisiana.
The Graham-Cassidy bill would convert federal funding for the Medicaid expansion and subsidized health coverage through the ACA Marketplaces into a block grant to states in 2020 through 2026, drastically reduce that funding, and then completely eliminate it starting in 2027. On top of that, the bill would make massive cuts to the overall Medicaid program, similar to the cuts that were included in the Better Care Reconciliation Act (BCRA) that the Senate voted down in July. Graham-Cassidy would also allow states to gut protections for people with pre-existing conditions, for instance by permitting insurers to charge sick people higher premiums and no longer requiring coverage of essential benefits such as maternity care or mental health services.
Federal funding losses
The Center on Budget and Policy Priorities (CBPP) estimates that the bill would result in unfathomable federal funding losses to California: phasing up to a loss of $27.8 billion in 2026, then jumping to $57.5 billion in losses in 2027.
Image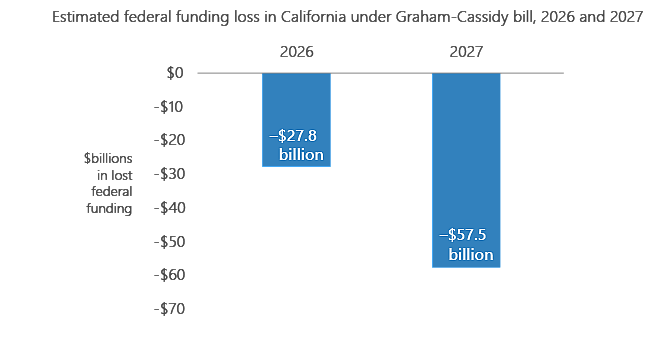 Source: Center on Budget and Policy Priorities reports on Graham-Cassidy bill on September 13, 2017and September 15, 2017
In 2027 dollars, a $57.5 billion federal funding loss is equivalent to more than one-third of all General Fund spending in California's budget. The cuts under the Graham-Cassidy bill in 2027 and beyond would be even larger than the projected $30 billion in Medi-Cal (California's Medicaid program) cuts in 2027 plus billions in reduced subsidies through Covered California that the state would have faced under the BCRA.
To demonstrate how difficult it would be for California to fill a federal funding gap of this magnitude, in a previous analysis we compared the $30 billion in Medi-Cal cuts the state would have faced under the BCRA to the state budget. We estimated that, in 2017 dollars, $30 billion was equivalent to all state spending for higher education; plus the California State Preschool Program; plus child care, cash assistance, employment services, and other services for certain low-income families eligible for CalWORKs; plus Caltrans, the department responsible for the state's roads and transportation system;plus state parks. The federal funding losses under Graham-Cassidy would be even worse.
California would be disproportionately harmed by the Graham-Cassidy bill because, in addition to reducing federal funding for ACA coverage between 2020 and 2026, the bill would also redistribute that funding between states. According to CBPP, "in general, over time, the plan would punish states that have adopted the Medicaid expansion or been more successful at enrolling low- and moderate-income people in marketplace coverage under the ACA." California is among the states with the strongest enrollment in both programs.
Health coverage losses
The Graham-Cassidy block grant would cease to exist in 2027, essentially repealing the ACA without replacing it beginning that year. A projected 4.0 million Californians enrolled in the Medi-Cal expansion plus 1.3 million individuals enrolled in subsidized coverage through Covered California (the state insurance Marketplace) would lose their coverage in 2027. (These estimates conservatively assume that enrollment in ACA coverage would otherwise grow only with population growth.)
The bill would also set a per-person cap on federal government spending for nearly all Medicaid enrollees, resulting in billions more dollars in lost federal funds on top of the losses for the Medi-Cal expansion and subsidies through Covered California. California policymakers would then face painful options for making up the difference: eliminating or reducing Medicaid benefits, reducing eligibility, finding comparable budget cuts outside of health services, raising taxes, or a combination of all these.
One way to imagine the coverage losses resulting from the per capita cap provisions is if California decided to address the funding loss by eliminating Medi-Cal eligibility for children enrolled in the Children's Health Insurance Program (CHIP) and capping enrollment for medically needy seniors and individuals with disabilities. Under this scenario, we estimate that 1.3 million children, plus 80,000 seniors, plus 80,000 individuals with disabilities could lose coverage. (These estimates are based on our analysis using CBPP's estimates of federal funding losses under Graham-Cassidy per capita cap provisions and state budget estimates of Medi-Cal costs per enrollee.)
In total, 6.7 million Californians would lose coverage in 2027 with the elimination of the Graham-Cassidy block grant and under the scenario in which the state responds to the per capita cap provisions by cutting Medi-Cal eligibility or capping enrollment for certain eligibility groups. That is equal to the entire population of the central Bay Area – Alameda, Contra Costa, Marin, San Francisco, San Mateo, and Santa Clara counties combined.
As with this year's earlier proposals to repeal the ACA, these coverage losses would be disproportionately felt in those parts of the state that have benefitted the most from the ACA – with the highest Medi-Cal enrollment, including the Central Valley, Imperial Valley, and parts of Los Angeles. The map below shows the number of Californians in each Congressional District that could lose coverage under the Graham-Cassidy bill. Estimates of coverage losses by county are also available here.
The federal funding and subsequent coverage losses California would experience under the Graham-Cassidy bill would be even more devastating to the state than the destructive ACA repeal bills that were voted down by the Senate in July.
Projected Health Insurance Coverage Loss by Congressional District, 2027, under Graham-Cassidy
These estimates reflect complete loss of federal funding for the Medi-Cal expansion and subsidized insurance through Covered California in 2027 under the Graham-Cassidy bill. These estimates also include the projected coverage loss under one possible state response to the per capita cap provisions of Graham-Cassidy: eliminating Medi-Cal eligibility for children enrolled through the Healthy Families Program and capping enrollment for certain seniors and individuals with disabilities.
To see how many individuals in your district would be projected to lose health insurance under this scenario, click on the map below:
Source: UC Berkeley analysis based on current ACA enrollment data by district, Center on Budget and Policy Priorities estimates of federal funding loss in 2027 under Graham-Cassidy per capita cap provisions, and California Department of Health Care Services estimates of annual cost per Medi-Cal enrollee by eligibility group inflated to 2027.