How the COVID-19 pandemic is worsening stark inequalities in Silicon Valley
Image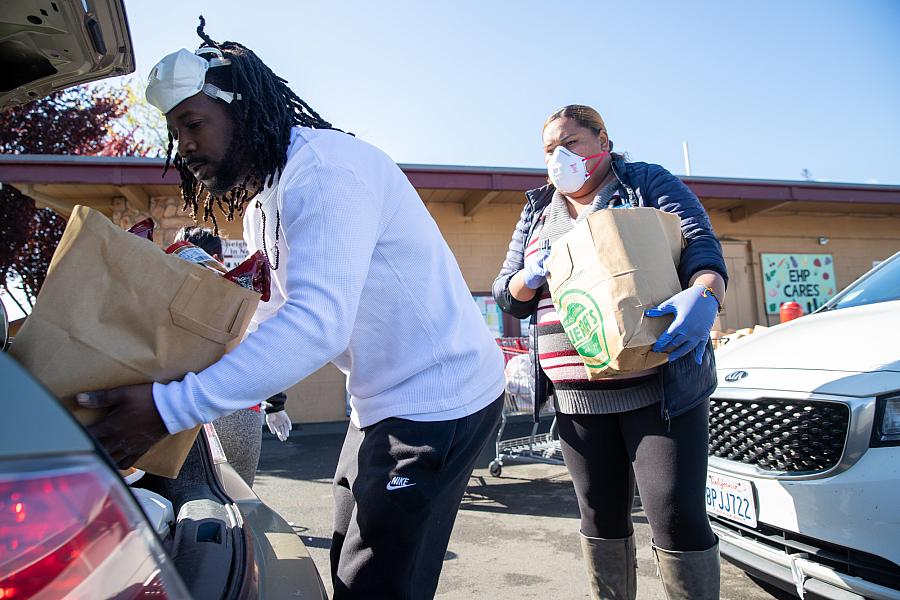 (Photo by Magali Gauthier)
Published on
December 1, 2020
Picturing Silicon Valley, one tends to imagine wealthy tech company employees, suburban mansions and Teslas by the dozen. This image isn't wrong — but it's not the full picture. A number of working- class neighborhoods like East Palo Alto, North Fair Oaks and Belle Haven, where a majority of residents of color live, reside next to more well-known, wealthier and whiter enclaves like Menlo Park, Palo Alto and Atherton. The differences between residents' experiences in my small newspaper's coverage area over the last nine months tell a starkly inequitable tale of two pandemics.
Among the wealthy, the pandemic is certainly still having an emotional and mental health impact, but many residents are insulated from having to take on daily risks of infection because of remote-work policies and easy access to on-demand delivery services, among other factors. Some even are weathering the pandemic in second homes. For instance, my publication recently reported that enrollment was down in the Palo Alto school district, in part because some families had temporarily relocated to second homes in other states.
Then there are experiences like that of Hector Alvarado, a construction worker from Redwood City who recently talked about his family's battle against the coronavirus at a virtual discussion hosted by the San Mateo County Public Health Department. In early September, he said, he and his coworkers had been mostly following safety protocols but let their guards down around a trusted colleague, who wasn't masked. Within days, he had contracted the virus, along with his wife, her parents and her sister, he said. Although he began quarantining away from other family members as soon as he felt symptoms, isolating himself in his kids' bedroom while the kids were relocated to an air mattress in the living room, it was too late, he said.
"I didn't know I had already put them at risk before," he said.
While he experienced fevers, his wife experienced more severe symptoms, including body pains, a fever for 10 days, dehydration and fainting, he said. Both she and his colleague also experienced severe insomnia for days while they were in recovery, he added.
"This virus is not a cold, it's not the flu," he said. "It's something completely different."
Looking for answers
For my 2020 Data Fellowship project, I want to know how the region's lower-income residents and communities of color are being adversely impacted by the pandemic; how, why, and to what degree the COVID-19 pandemic is worsening inequality in Silicon Valley; what people are doing about it, and whether those efforts are working. Specifically, I plan on using county health data and other data resources to explore the following questions:
What factors are shaping the variable COVID-19 case rates in different communities in southern San Mateo and northern Santa Clara counties?
What factors are driving the relatively high rate of infection among Hispanic and Latino residents in these counties?
How might the end of state-mandated eviction protections, currently set for February, impact the spread of COVID-19 locally?
What is being done to support households that are hardest-hit by COVID-19 and the related economic impacts, and are these efforts working?
Through my reporting, I hope to build on the work I started with the Center for Health Journalism as a 2019 California Fellow. That fellowship project mapped how the region's history of discriminatory housing policies has shaped geographic disparities in a number of social determinants of health, and explored how these disparities could further manifest in a future affected by climate change. Since then, the pandemic struck and further exposed those disparities, leaving the vulnerable even more vulnerable to a disease we're all still learning about.
We already know that the pandemic isn't affecting all communities equally. According to public health data reported by each county, in San Mateo County, about 50.6% of the confirmed 12,998 COVID-19 cases and 23% of the deaths have been among Hispanic or Latino residents, although this population only represents 24% of the population overall countywide. And in Santa Clara County, 58.6% of the confirmed cases and 35% of the deaths are among Latino residents, though this population makes up only 26% of the county's population. And the numbers of cases broken down by city that the two counties provide shows that cases are highest in communities where a larger proportion of residents are lower income.
In addition, state policies on housing could make additional households vulnerable to the spread of COVID-19. Starting February 1, tenants can be evicted if they do not pay back at least 25% of the back rent owed during the period between September 1 and January 31. I suspect that this "eviction time bomb" could worsen the conditions that have already made the COVID-19 more devastating in low-income communities and communities of color.
While some significant efforts are under way to help, there appears to be far more needs that are not being met. The local food bank, Second Harvest of Silicon Valley, reports it is now providing food assistance to half a million people, double from since the pandemic started. And while a public-private partnership called "Destination Home" has provided direct cash assistance to help about 11,000 households in need pay rent, there were more than 32,000 families that asked for help, according to a recent statement from the partnership's CEO Jennifer Loving. Of the families the effort helped, 94% were families of color and 60% had lost all their income, she reported.
I'm looking forward to diving into this project and learning new tools for data reporting to find answers to my questions.