Sweeps of homeless camps in S.F. are creating a public health crisis
Image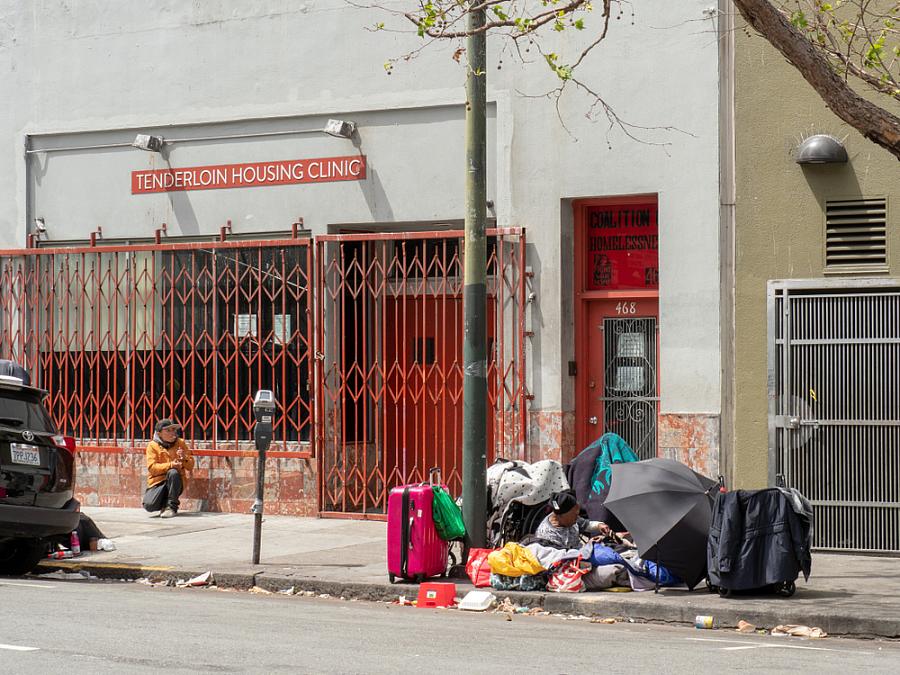 Published on
March 21, 2019
In April of 2018, former San Francisco Mayor Mark Farrell held a press conference to announce the city's recommitment to enforcing Proposition Q, which bans tents on sidewalks. It was one of many unfortunate things voters passed in November 2016, and it was put on the ballot by Farrell himself.
"You can offer services, you can offer shelter and housing to people but at a certain point, as a city we need to draw the line and say 'this is a service-resistant population, we need to take down those tent encampments because they are unhealthy for the entire city of San Francisco'," Farrell said.
The narrative that San Francisco's thousands of unhoused people are resistant to services is a convenient one for politicians to spout. If they don't want help, why bother offering it? But evidence proves otherwise; the city's waitlist for a shelter bed hasn't dropped below 1,000 in more than a year.
When she replaced Farrell last July, Mayor London Breed only increased pressure on authorities to sweep homeless camps, and points proudly to a drop in the number of tents in the city. With little to no housing options available, however, the homeless population has yet to recede.
With more than 8,000 homeless people living on the streets of San Francisco, the enforcement of a law that allows authorities to seize what little shelter people have is creating a public health crisis, the results of which haven't been witnessed on this scale in years. My project with the USC Annenberg 2019 California Fellowship seeks to expose just that.
The health effects of encampment sweeps are nuanced, and vary from person to person. But one recurring result of these sweeps is the difficulty unhoused people have in holding on to their medical prescriptions. When bags and tents are thrown into the trash, medication often goes with them. This can be antibiotics for staph infections, antidepressants, or the vital, life-saving cocktail of drugs that treat Hepatitis C.
Victims of encampment sweeps also suffer from losing their community, however informal and temporary it might be. As camps are broken up and people scatter, they lose a life-saving safety net. For the estimated 22,500 IV drug users in San Francisco, this means there aren't friends nearby to monitor use and, if necessary, administer naloxone in the case of an overdose. Many health workers attributed the rise in overdose deaths over the summer to the increase of encampment sweeps and the resulting change in drug-use patterns.
There are also significant mental health side effects of these sweeps. Starting over from scratch is exhausting for many homeless people, and combined with the loss of community, many people rely on drugs like speed to stay awake at night to better protect themselves against theft, rape and physical assault. The psychotic breakdowns that occur when people are tired, have lost their IDs, and no longer have medications are easily visible on a daily basis for anyone visiting the city's downtown.
Sweeps of homeless encampments also appear to increase when inclement weather moves in. Hours before a massive storm hit in February, police and public works employees confiscated tents from dozens of homeless people taking refuge in a Tenderloin alley. As the media warned San Franciscans to take shelter during the deluge, the city rolled out just 75 additional mats for its 8,000 homeless people.
The resulting exposure to the elements was devastating; two days after the sweeps, I witnessed a freezing cold, soaking wet, wheelchair-bound homeless man be taken away in an ambulance. The same day, I was sent photos of another man's dead body lying unsheltered outside a department store downtown. 
"Living on the streets is not fun for us, by any means," a homeless woman named Caitlin told me last month. "It's hard seeing them able to joke about us losing our stuff. It's a really big impact, it makes a big big difference for us. You're told for so long the police department is here to help, and then they do stuff like that."
San Francisco's determination to remove the evidence of homelessness without offering any real solutions is creating a new wave of public health crises on our streets. This is something frontline workers have been very aware of for months, but there has yet to be any data or coverage that addresses the varied public health side effects of these encampment sweep policies.
In reporting on this issue I plan to put the voices and experiences of unhoused people at the center of the discussion, with an emphasis on solutions — be it creative efforts being made by frontline workers to adapt to a changing street homelessness crisis, or vital policy changes that can occur in local government to protect the city's most vulnerable population.