SF Has Fought Homelessness With No-Bid Jobs. Here's How Urban Alchemy Has Used Them As a Springboard (Part 2)
Image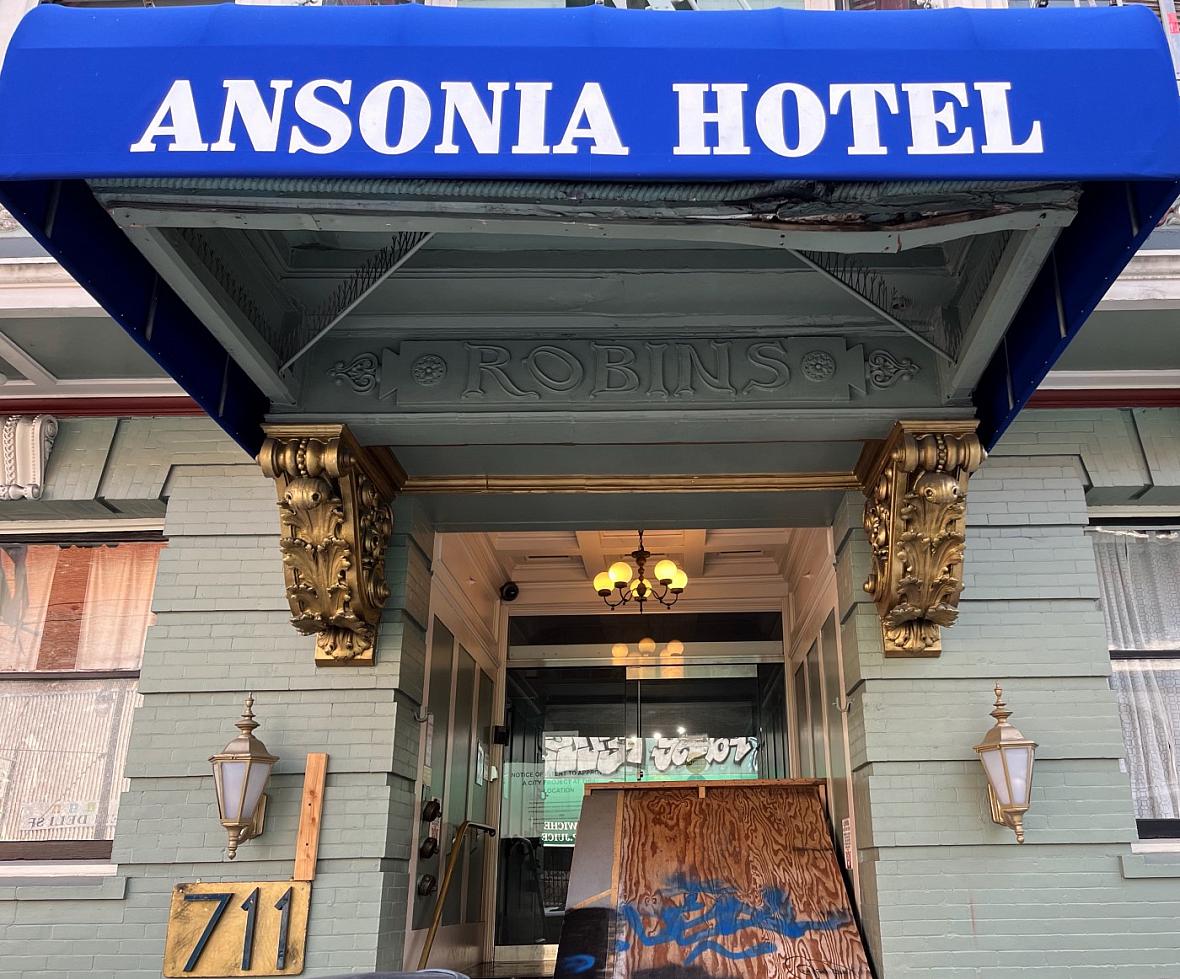 Published on
April 26, 2022
Urban Alchemy's work began under a different name. In 2014, the nonprofit Hunters Point Family was tapped by former Department of Public Works director Mohammed Nuru for a new program in the Tenderloin to keep public toilets open at night and to clean human feces from sidewalks. (Nuru is now facing up to nine years in prison as part of the City Hall corruption scandal.)
The pilot was a success — it became SF's Pit Stop program — and Hunters Point Family was hired by SF's transportation agency to keep subway station elevators clear of drug use and feces, which were making transit use unbearable for wheelchair users.
Hunters Point Family spun out Urban Alchemy to focus on this work in 2018.
By providing services that offer people a sense of dignity, Urban Alchemy likely scored points in City Hall, said UC Berkeley professor of city and regional planning Dan Lindheim: "As a former city manager, that's the sort of thing that warms my heart, because it's really needed."
SF then paid Urban Alchemy $1.2 million to run a site for people living in their vehicles: 24/7 security, hygiene services, meals, and connections to services. The site, near the Balboa Park BART station, got rave reviews from Sup. Safaí in a Feb. 2 hearing to discuss UA's $18.7 million no-bid contract to run the Ansonia, a former youth hostel turned homeless shelter.
"They did a phenomenal job in my district," Safaí said, while stressing that the vehicle site was a "different type of service" than the Ansonia. (By the time the vehicle site closed in March 2021, nearly half of the 55 households it served had moved into permanent housing, according to the city's Department of Homelessness and Supportive Housing, or HSH.)
When the pandemic scrambled the city's homelessness strategy, Urban Alchemy parlayed the hygiene and vehicle work into much more.
'Pretty philanthropic'
In the pandemic's chaotic early days, half of HSH employees were seconded to the Department of Emergency Management. Shelters were closed. Funding was uncertain. No one had any idea how deadly COVID might become, and the growing sidewalk encampments had put housed neighbors on edge.
There was enormous pressure to move fast. The city began leasing empty hotels all over town, calling them shelter-in-place (SIP) hotels. But finding staff to work in them was a problem.
Many providers that already ran housing and shelters couldn't move their staff. Homeless Prenatal Program executive director Martha Ryan said many of her employees were juggling work with children at home. "What staff am I going to find to feel safe?" Ryan told The Frisc in June 2020.
Urban Alchemy stepped up. "Urban Alchemy was one of the first providers to jump in to help with SIP hotels, which was pretty philanthropic of them at a very tough time," HSH deputy director of communications and legislative affairs Emily Cohen told The Frisc. (Calling it philanthropic might be a bit of a stretch, given UA was paid at least $1 million for the early hotel work, according to their contract.)
In the Tenderloin, UA also got no-bid city contracts to run two sanctioned tent sites, and University of California's Hastings School of Law hired the nonprofit to provide security — as an alternative to police — on its campus. "Our experience with Urban Alchemy has been nothing short of transformative," Hastings chief operating officer Rhiannon Bailard told The Frisc.
Urban Alchemy CEO Lena Miller touted her group's work in a January 2021 interview with Catherine Peery of KPDO-FM, a community radio station on the San Mateo coast.
When COVID first hit, Miller said, UA hired and trained more than 120 people in five days, for expanded Pit Stop work. Soon after came the hotel request. "We were feeling very proud that we got to staff a hotel, and they came to us first because they knew how wonderful our work was," she recalled.
(The interview came around the time Half Moon Bay was converting a local property to a SIP hotel and had yet to find a contractor to run it. Peery called the interview a chance to learn more about UA's approach.)
Some of Miller's claims from that interview don't check out. She told Peery that UA had received second place in HSH's quality rankings. "They rated all the hotels," Miller said. "We came in number two in terms of quality." She called it "a hell of a feat."
HSH spokeswoman Deborah Bouck said she didn't know anything about a ranking system.
Miller also said that UA staffed "the first three SIP hotels and then all the other providers who'd been doing this residential stuff forever, they came afterwards, but we knocked it out of the ballpark."
The Frisc could only verify two SIP hotel jobs in the early pandemic days. The firm's third hotel job didn't come until the fall of 2020. It turns out one of those two early hotel jobs ended on a bad note.
A serious allegation
UA's first pandemic hotel assignment was at the Hotel 587, on the corner of Eddy and Larkin streets in the Tenderloin.
The assignment began some time after the city started leasing hotels in April 2020 and lasted only a few months. On the contract there's no clear start date; HSH simply amended UA's previous vehicle site contract (which was no-bid) to allow for "as needed" hotel work through November 2020. This type of amendment was done for other organizations as well, said HSH's Cohen, citing the need for expedience in the pandemic's early days.
Image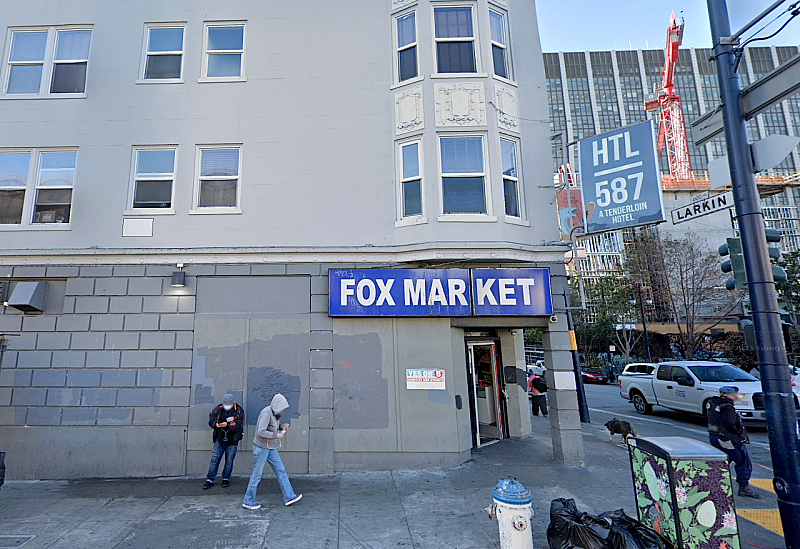 UA left the 587 well short of November, although they were not contractually obliged to stay. In late July, as they were wrapping up, a UA employee was accused of sexually assaulting a female guest at the hotel, according to a "critical incident report" obtained by The Frisc through a public records request. The report, heavily redacted, says the guest alleged a UA staff member sexually assaulted her in her room on July 25, 2020.
HSH's Cohen confirmed that an allegation was recorded: "There's an incident that alleges that an Urban Alchemy employee went into [a] guest room uninvited and sexually assaulted someone at the hotel."
Cohen said she hadn't seen the report until The Frisc brought it to her attention, and that HSH wasn't directly responsible for the SIP hotels at the time of the alleged incident. However, she acknowledged that HSH sent a staff member to the hotel on July 30. "We went out and supported the guest to facilitate a 911 call and offered to meet with the police with the woman," Cohen added.
Cohen also said the department didn't know if criminal charges were filed: "It became a police matter after July 30, 2020."
(A request for police records returned a report of a "suspicious act toward female" at the hotel, accusing a UA employee, but the date and time don't quite match up. The officer's report states that "due to the victim's statement and a lack of physical evidence, I was unable to determine whether a sexual assault or rape took place.")
Cohen said that, according to UA officials, one of their employees had been suspended.
When asked for their description of the incident, UA spokesperson Michael Clinebell sent this: "While we cannot discuss an individual case, Urban Alchemy takes seriously any allegations or occurrences of improper conduct by one of our Practitioners. We investigate such situations promptly, and we take disciplinary action when warranted including termination."
(The Frisc requested an interview with Urban Alchemy CEO Lena Miller, who declined. The organization responded instead to written questions. All comments from UA in this report came via email through Clinebell.)
Image
Another nonprofit, Hospitality House, had signed up to run the Hotel 587 starting in August, based on a contract signed July 15, which Hospitality House executive director Joe Wilson confirmed to The Frisc.
When asked why UA left the 587 in July when its contract didn't expire until November, Clinebell sent this reply: "Other providers came back to work after the initial COVID shutdown, allowing them to take sites like this while we shifted to the new [tent] sites the city was opening. These sites were a new, highly visible and sensitive model for the city, and we thought it was a good idea to put more focus there at the time."
In September 2020, UA began a new $5.7 million contract to run La Luna Inn in the Marina district. It is UA's only contract with HSH that it has won against other bidders.
The Frisc interviewed several business owners and workers near La Luna. All said that, as far as they could tell, Urban Alchemy has done a good job. For example, Carl Lewis, who has worked at United Liquor and Deli on Chestnut Street for 14 years, said some La Luna residents have been his customers, and he commended UA for helping at least one resident get his act together and find permanent housing. The manager of a motel across the street from La Luna also praised UA for alerting her to a potential break-in.
These are all anecdotal reports, but they're important for HSH, which wants to win hearts and minds of neighborhoods across the city. They could also help UA expand its footprint.
The firm isn't shy about its ambitions. UA says it plans to expand to three new urban areas and push revenue over the $100 million mark by 2025. It also quietly hired Jeff Kositsky, who was the inagural HSH director in 2016, as director of advancement last fall. His LinkedIn page says he is helping with UA's national expansion and fundraising. He did not respond to requests for comment.
Beyond SF
Urban Alchemy has already parlayed early success in San Francisco into a Southern California expansion. The executive director of the Los Angeles Board of Public Works wrote in a 2018 document that UA was "the only and most qualified candidate to provide services" to alleviate a health emergency on Skid Row.
That led to work at a large encampment at Echo Park Lake, where an LA city councilman hired the nonprofit to do street outreach, according to The Hollywood Reporter.
UCLA researchers have followed the organization down south. Their report, released March 24, said that in LA, Urban Alchemy has reneged on a promise to pay workers a fair wage, to give adequate training, to guarantee them housing, and to provide mental health treatment.
There have been labor complaints up north too. A proposed class-action lawsuit, Reyes v Urban Alchemy, filed last year by more than 450 SF employees, alleges Urban Alchemy didn't pay workers in full and denied rest and meal breaks.
When asked if the UCLA report and lawsuit signal a need to change its labor practice, UA spokesperson Clinebell sent lengthy descriptions of the firm's hiring and training practices. For example, UA provides employees with an average starting wage of $21 an hour, benefits, and "a career path both within and outside the organization."
Image
In addition, the spokesperson wrote that UA employees "complete a rigorous training program" that includes "conflict resolution, trauma and toxic stress, harm reduction, de-escalation, motivational interviewing, etiquette with guests of all backgrounds, cultural competence, leadership, and emotional intelligence."
He also wrote that in addition to training, employees' past experience in incarceration is crucial: "In our experience, the best people to facilitate the kind of healing we envision are those who understand what it means to harm a community. Incarceration taught Urban Alchemy staff instincts you can't learn in a classroom."
According to an SF Standard story in March, Urban Alchemy staff might not have proper certification to perform security duties. When asked about those charges, Clinebell wrote that UA is an alternative to police and security: "Urban Alchemy does not enforce laws, force people to move, or take responsibility for protecting property. We develop relationships with people and encourage them to treat their neighborhood with respect."
UA continues to expand in California. In November, Los Angeles mayor Eric Garcetti introduced Urban Alchemy as the city's partner in a $2.6 million program to divert some 911 calls to an outreach team instead of the police.
Image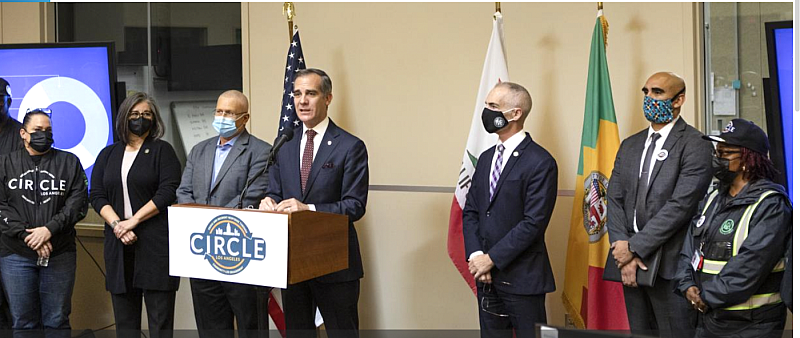 In San Francisco, UA's "ambassadors" are part of the $8.8 million Mid-Market Vibrancy Plan and won an $1.8 million contract at the Tenderloin Linkage Center. Conditions can be dangerous; in February a UA staffer was shot on the job in broad daylight.
Across the Golden Gate Bridge, the city of Sausalito hired UA in December — a six-month contract worth $500,000 — to run an encampment in the town's Marinship Park. UA got the contract because "UA provides security with their services," according to Sausalito Mayor Janelle Kellman. "Security costs include having two people onsite 24/7, which gets expensive."
On Feb. 10, less than two months in, UA supervised a move of the camp from a muddy field to tennis courts within the park. That night, a camp resident set fire to two tents, one of which hid a propane tank. The tank exploded, and fortunately no one was injured. The woman was taken into police custody.
Image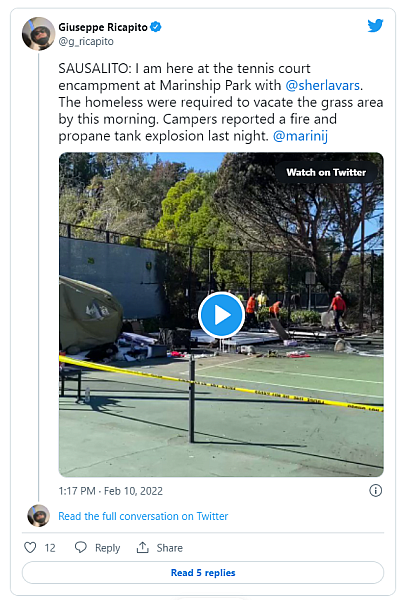 It's unclear how a propane tank wound up in a tent, and if it was supposed to be there. Kellman declined to comment about the explosion, citing an ongoing investigation. But Kellman wrote that "we're very pleased with [UA's] management. They bring a level of experience, competence, and empathy that is very helpful." (UA referred questions about the camp to Sausalito officials.)
Robbie Powelson, president of the Marin County Homeless Union, lives at the camp and agreed about the empathy — or, as he told The Frisc, some UA workers "come and shoot the shit" with camp residents. However, Powelson also felt that some of their workers "are not equipped to deal with the situations in the camp."
June will mark six months for UA at the camp. Kellman declined to say whether the contract will be renewed beyond that.
A unanimous vote
In San Francisco, at the Feb. 2 hearing about the Ansonia, some neighbors were upset about the former youth hostel turning into a homeless shelter. That's not unusual for the city — or any city. But among the concerns was Urban Alchemy itself. "I have no confidence in Urban Alchemy keeping the neighborhood safe for residents and the community," said neighbor Kevin Feely.
Mark Jenkins, manager of the Courtyard by Marriott Hotel a few doors down, said he wanted more specifics. "I'm concerned until there's a more detailed plan for Urban Alchemy — this is the largest number of individuals under their care," he said.
This wasn't just a typical NIMBY performance. Supervisors who are pro-homeless — including Matt Haney, who has tried in vain to force SF's wealthier neighborhoods to build their fair share of shelters and services — also raised questions about the scope of the work.
Despite these concerns, the supervisors voted unanimously six days later to give UA the contract — even Rafael Mandelman, whose criticism of SF's spending would accompany his new homelessness shelter bill a few weeks later.
Image

That's because SF's lack of shelter and housing for unhoused people trumps oversight concerns. The battle over housing often plays out when market-rate homes are proposed or officials debate more density for the city's quasi-suburban neighborhoods.
But these battles — in San Francisco, around the Bay Area, and across the state — all contribute to homelessness. When resources are scarce, the most vulnerable find themselves without them. So when the Ansonia came up as a way to put a roof over 250 people's heads, SF's supervisors ended up saying, "Yes, please."
While money for more of this housing has begun to flow more freely to groups like Urban Alchemy, the homes won't appear overnight, especially in neighborhoods that have bitterly resisted housing for decades. That means San Francisco will continue to act in emergency mode, with money spent quickly through a department that has relatively few checks and balances.
Staff writer Kristi Coale (@unazurda) writes about homelessness and more for The Frisc. She reported this story as a USC Annenberg Center for Health Journalism 2021 Data Journalism fellow.
[This story was originally published by The Frisc.]
Did you like this story? Your support means a lot! Your tax-deductible donation will advance our mission of supporting journalism as a catalyst for change.